June 16th, 2012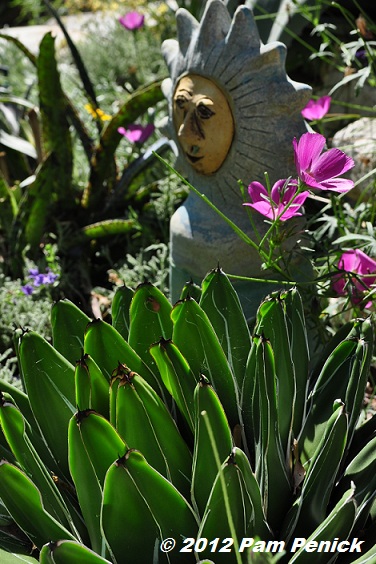 As summer's Death Star begins to bear down on central Texas, and as our blessed spring rainfall dries up, the plants that continue to look good no matter what are the baddest of the bad boys: the spiny-tipped agaves and yuccas. No really, don't be afraid of these spiky beauties. Their evergreen symmetry and architectural form give so much to the garden year-round, and they just bask in our long, hot summers. And they aren't all giants like the silver American agaves that grow to the size of Hummers and threaten to swallow small bungalows. This artichoke-shaped beauty, for instance, is 'Queen Victoria' agave (A. victoriae-reginae), which is only about 10 inches tall and one foot wide—perfect for a container or raised bed.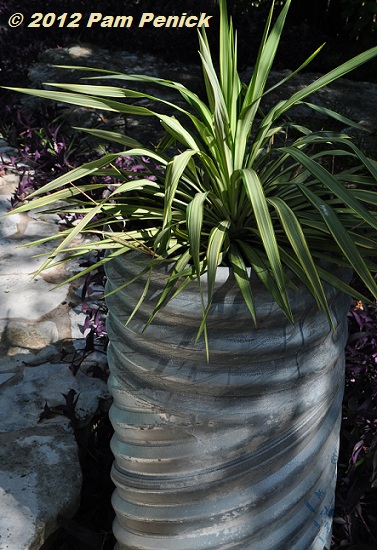 'Margaritaville' yucca (Y. recurvifolia 'Margaritaville') glows a pale, citrusy yellow and will have you humming along to Jimmy Buffett. I've planted mine in a cast-off steel culvert pipe.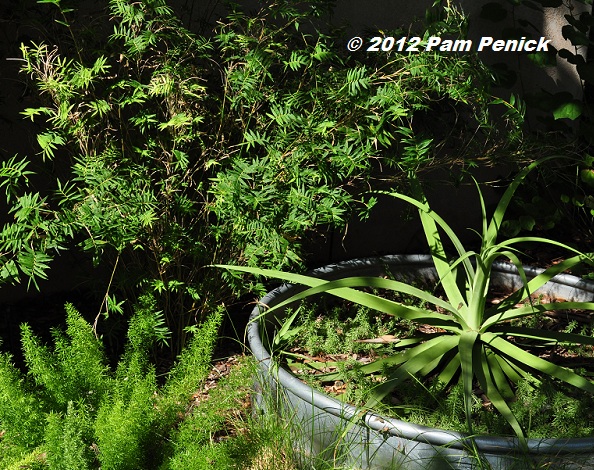 Squid agave (A. bracteosa) has wonderfully expressive "arms" and enjoys part-shade. This one's swimming in a stock-tank planter, underplanted with 'Angelina' sedum (which only does so-so for me). Soft-textured 'Tiny Fern' bamboo (Bambusa multiplex 'Tiny Fern'), a small-growing clumper, foxtail fern (Asparagus densiflorus 'Meyersii'), and Texas sedge (Carex texensis) round out this generally dry, shady bed.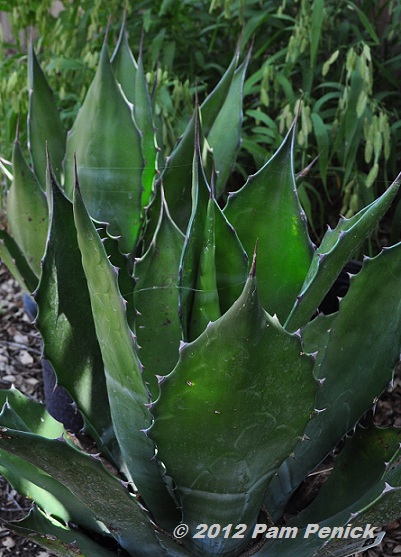 If you saw my recent post about Curt Arnette's garden, you'll know that I was coveting his gorgeous 'Green Goblet' agave (Agave salmiana var. ferox 'Green Goblet'). After calling nurseries all over Austin yesterday, I hit the jackpot at Tillery Street Plant Co., where owner John told me he had ten 5-gallon plants in stock for $25 each. Whoo-hoo! Plant lust took over, and I bought two, having no idea where I will put them. Had. To. Have. There goes my plant allowance for a while.
How about you? What gorgeous foliage plants are you enjoying this month? Please join me in posting about your lovely leaves of June for Foliage Follow-Up, a way to remind ourselves of the importance of foliage in the garden. Leave your link to your Foliage Follow-Up post in a comment. I really appreciate it if you'll also include a link to this post in your own post (sharing link love!). If you can't post so soon after Bloom Day, no worries. Just leave your link when you get to it.
All material © 2006-2012 by Pam Penick for Digging. Unauthorized reproduction prohibited.
posted in
2nd garden--2012
,
Agaves
,
Bamboo
,
Containers
,
Foliage Follow-Up
,
Garden art
,
Stock tanks
,
Succulents
,
Wildflowers
,
Xeric plants
,
Yuccas