November 13th, 2006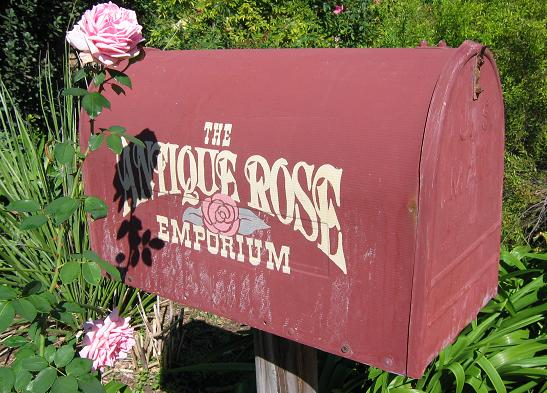 My weather wish was granted over the weekend: cool temperatures, blue skies, decidedly fall-ish weather. It was perfect for a Saturday trip to Independence, Texas, and a pilgrimage to the Antique Rose Emporium. Along with Barton Springs Nursery and Natural Gardener, it's one of my favorite nurseries in the Austin area. (This is a stretch, as the Emporium is located an hour and a half east of Austin, but being able to stroll its grounds for an hour is worth the drive. As an added attraction, Blue Bell Creamery is located in nearby Brenham; for only a dollar, you can enjoy a large scoop of the best ice cream in the country and bring home your own paper Blue Bell hat as a souvenir.)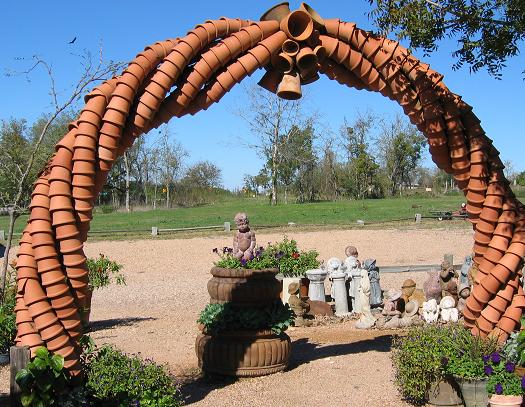 Planted amid the rolling, green fields of tiny Independence, the Rose Emporium's 21-year-old display gardens enthrall me on every visit. You enter the nursery from one of two gravel parking lots, each punctuated by an arch of stacked and braided terracotta pots. These folks want to wow you at every step.
Tempting paths beckon in every direction. I can never decide which way to roam first: the sunny rose display, the playful children's garden, the ponds, the labyrinth, the ornamental-grass garden, the nursery's several gift shops located in old log cabins and other antique structures amid colorful cottage gardens?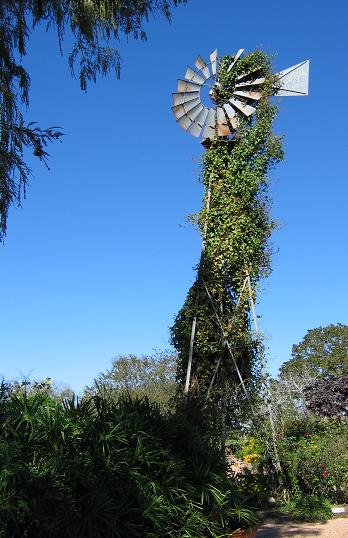 At the heart of the Rose Emporium, three features stand out: a towering, vine-covered weathervane, reminiscent of the plains . . .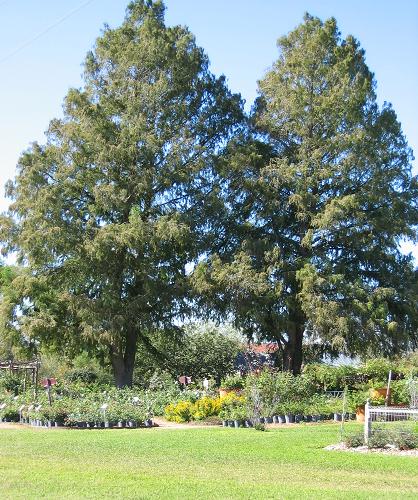 . . . majestic, twin bald cypresses growing along a creek . . .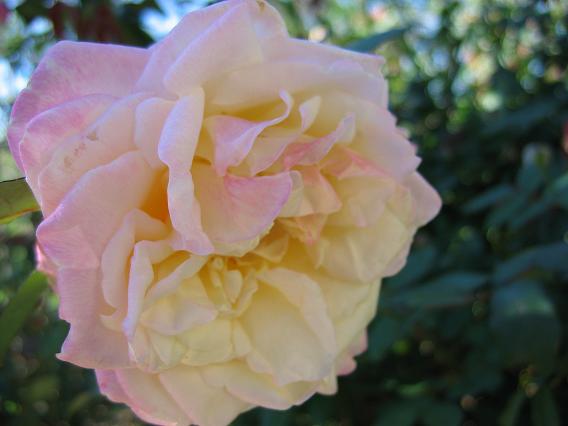 . . . and, of course, seemingly an acre of roses for sale. Aside from the potted roses in the retail area, the display gardens teem with mature shrub roses, climbers, noisettes, teas, ramblers, floribundas . . . the list goes on.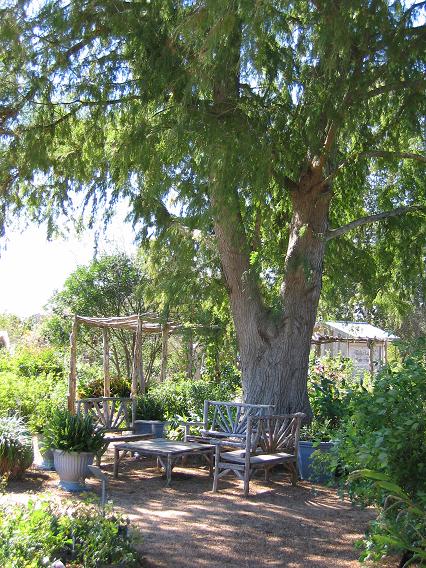 When my nose isn't buried in rose petals, I admire the various garden rooms on the property. Under the sheltering arms of one of the cypresses, a cedar seating arrangement looks like the perfect spot to relax with a glass of iced tea.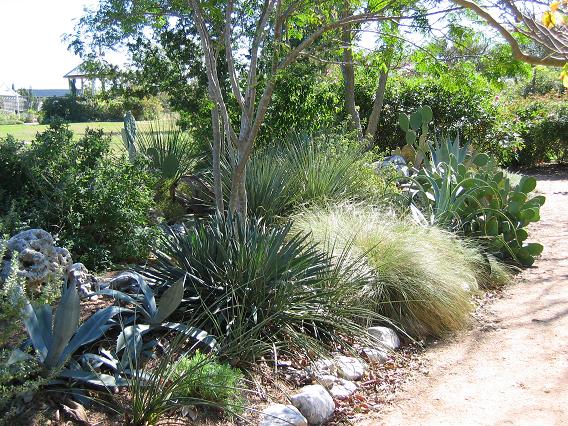 The xeric garden, planted high and dry on a graveled berm (not unlike the one in the David-Peese garden), showcases yuccas, agaves, desert willows, native grasses, sotols, and cacti.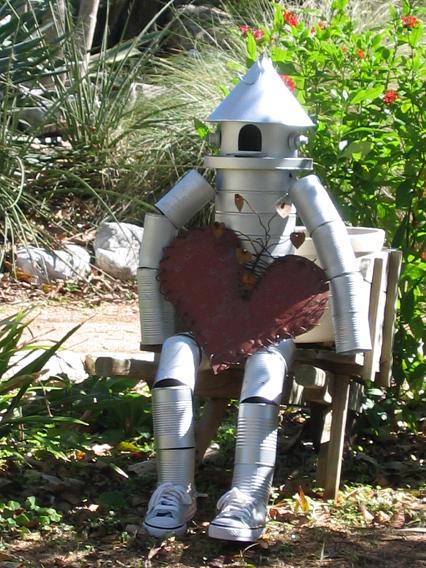 Across the gravel path, the children's garden mixes metaphors to fun effect. Both a Wizard of Oz and Beatrix Potter theme vie for attention, but it's all a hit with kids. Fenced by pint-sized, purple pickets, part of the garden is dedicated to rows of vegetables, with Peter Rabbit accessories. The rest includes a yellow-brick road leading under a low arbor, an antique bicycle with a basket leaning against a tree, and a tin man who's found a heart.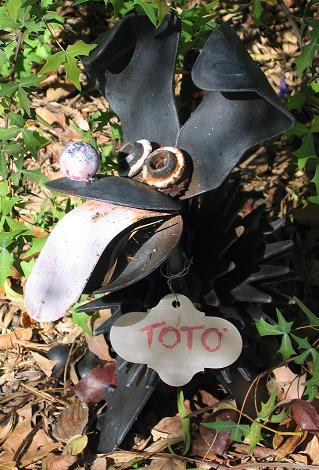 And Toto too.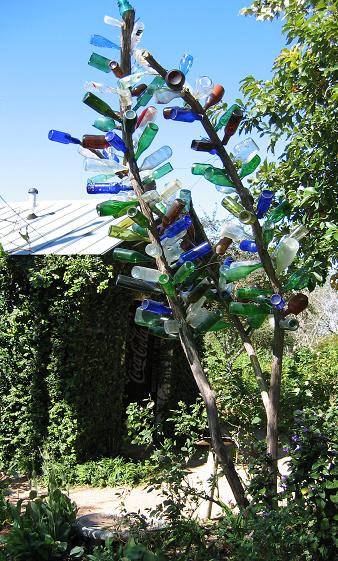 Oh, everyone's got to have a bottle tree these days. This colorful one goes natural on the skeleton of an old cedar tree (juniper actually, but we stubbornly call 'em cedars here in Texas).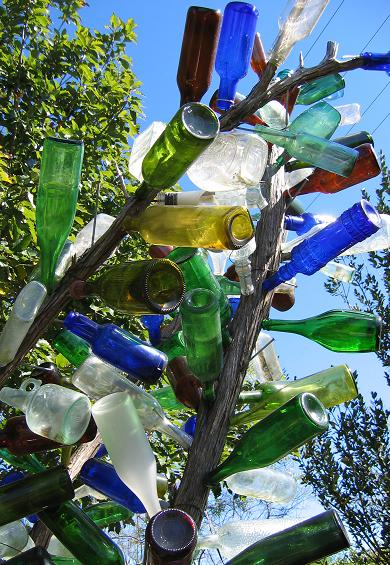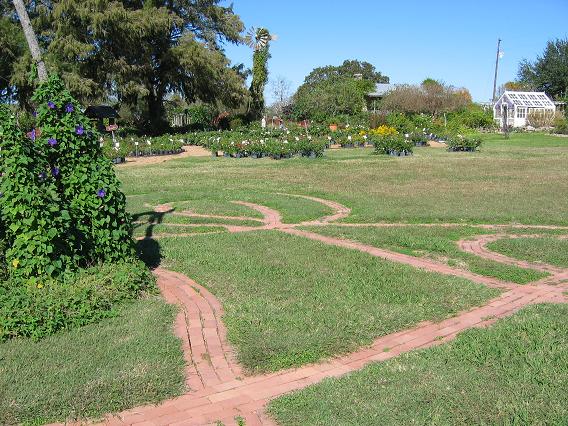 Farther afield, a pole tepee draped in morning glories stands at the center of a winding brick labyrinth.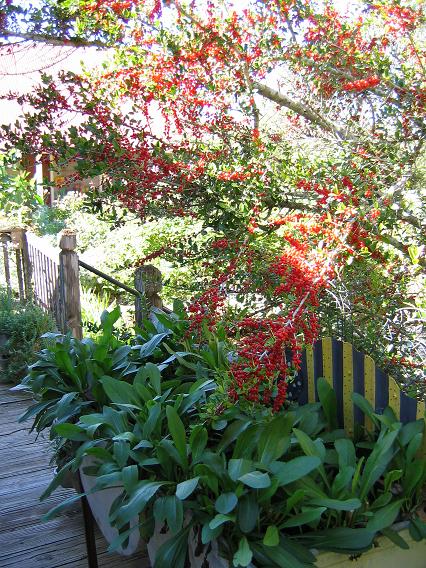 A yaupon holly sags under the weight of its beautiful red berries.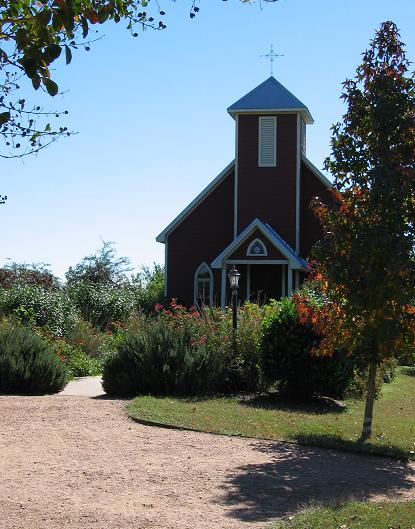 The chapel, painted a New England-ish shade of red, looks old but was constructed in 1998, though the front door "with English stained glass transom is over 100 years old," according to their website.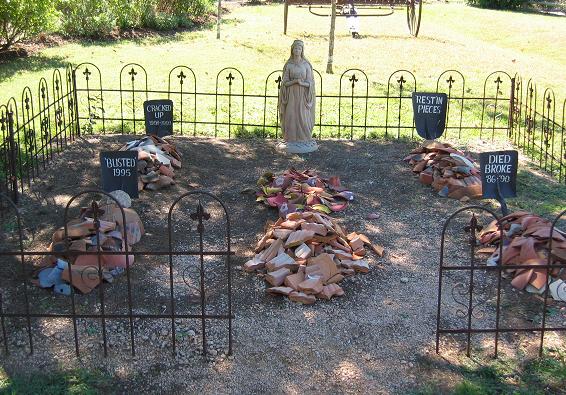 In the churchyard, a tongue-in-cheek pot graveyard will crack you up as well.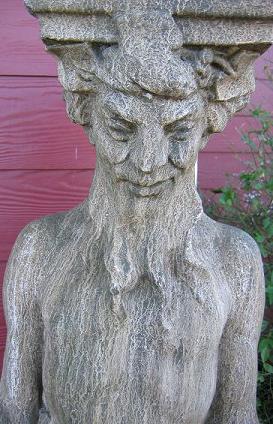 Decidedly Green Man-like figures stand at either side of the chapel's entrance—a bit of paganism at the door of the church? (Interestingly, I read on the internet that Green Men frequently appear in English medieval church architecture.)

Wine-colored shrimp plants, bunched en masse near the chapel, echo the building's rich color.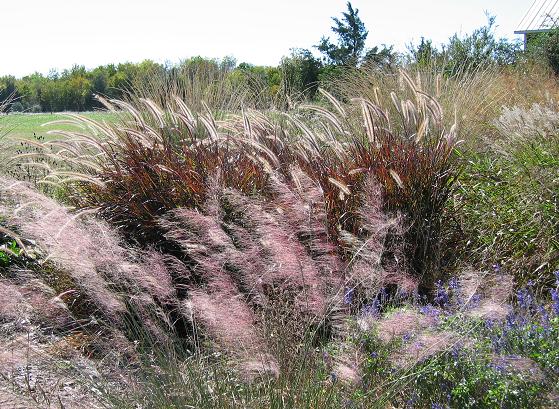 If ever there's a time to visit this ornamental-grass garden, last weekend had to be it. Gusts of cool wind hissed through the grasses, waving their feathery inflorescences in all their beautiful colors and textures. From front to back: Gulf Coast muhly, purple fountain grass, and Lindheimer muhly (I think).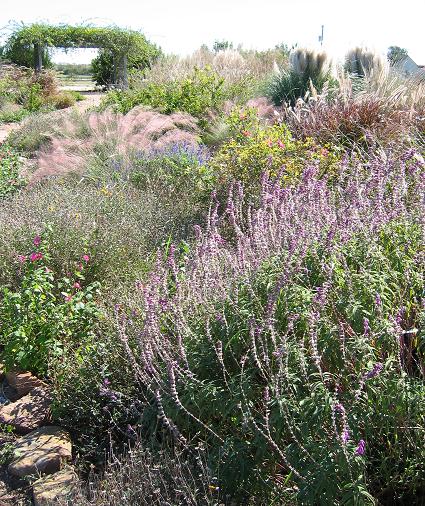 More of the grass border, as viewed lengthwise.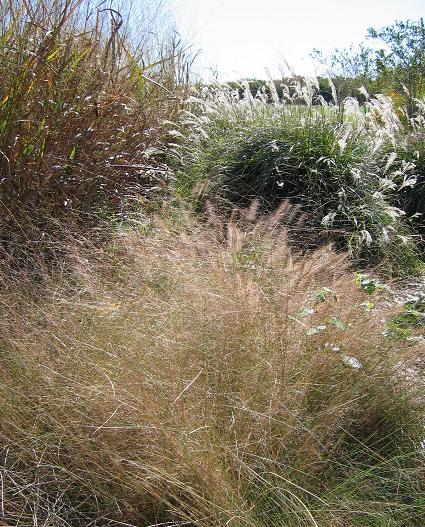 And more. If you had the space, what fun it would be to dedicate an entire section of the garden to ornamental grasses for one grand fall display like this one.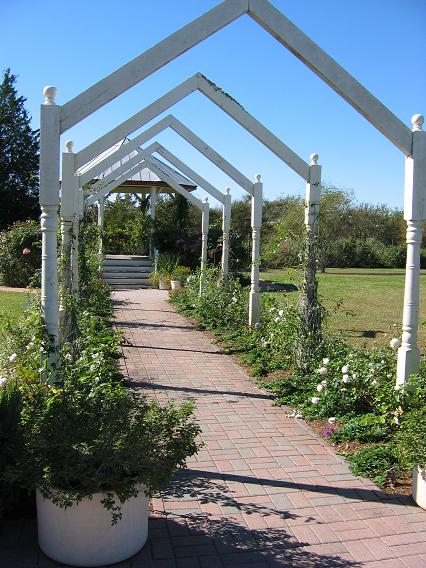 At the rear of the display gardens, a restored Victorian house stands amid trellised roses, cottage-garden beauties like Mexican mint marigold and crinum lilies, and both natural-cedar and painted arbors like the one pictured here.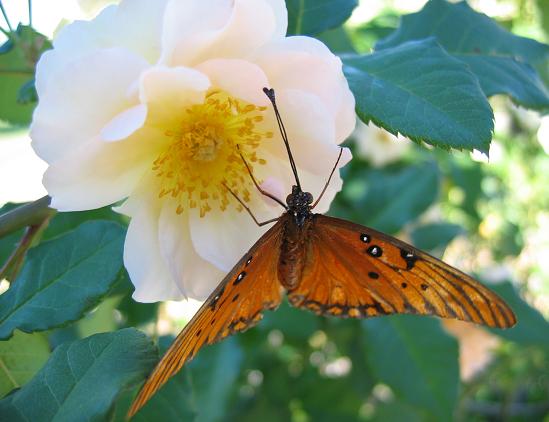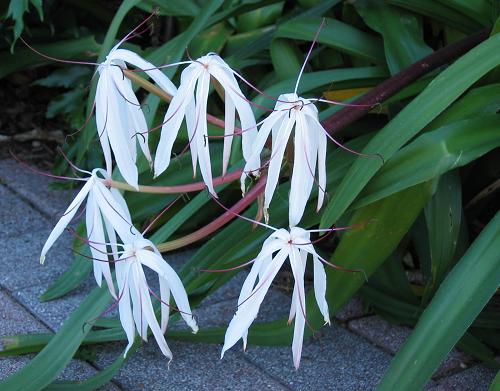 Crinum lily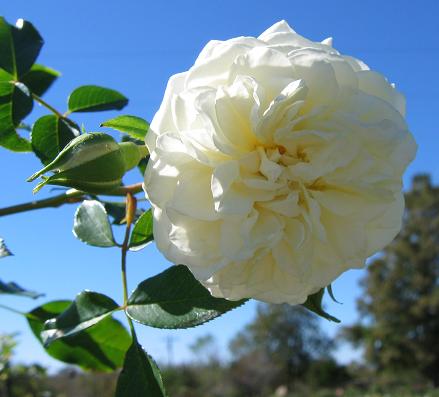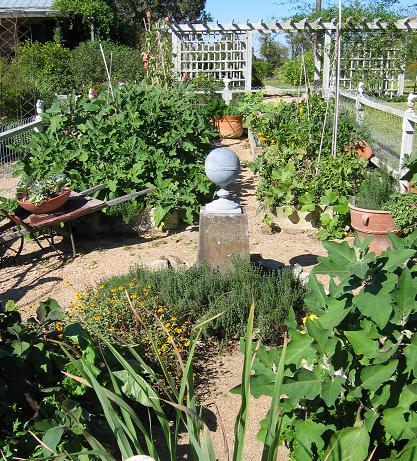 Heading back to the retail side of the nursery, a series of fenced gardens attracts your attention. Here, a working kitchen garden bursting with produce in raised beds almost makes me want to try my hand at vegetable gardening.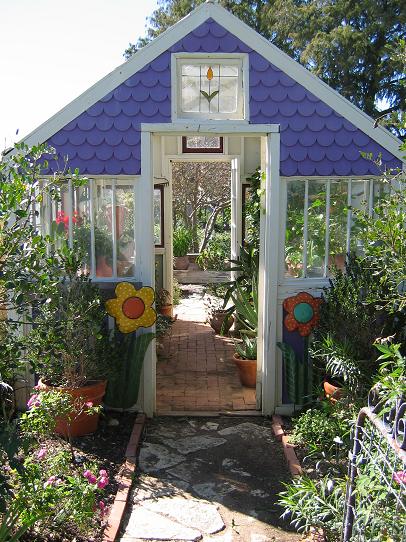 Next door, a diminutive, purple greenhouse offers up a selection of succulents and a few decorative items.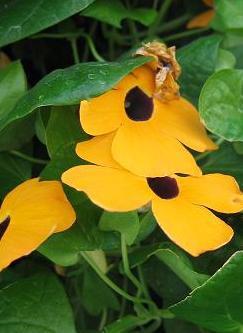 Inside, in one corner, a black-eyed Susan vine twines its way up a couple of stakes.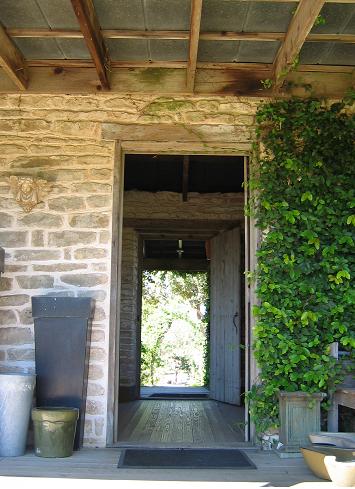 One of the more charming features of the Rose Emporium is its multiple, honor-system gift shops. Throughout the grounds you'll stumble on old stone houses, log cabins, and garden sheds, slightly decrepit but clean and packed with garden ornaments, pots, tools, hats, et cetera. No employees standing guard. No cash register nearby. No security cameras, so far as I can tell. If you see something you like, you tote it out to the central check-out building and pay there. If you just want a place to sit and rest a spell, you can do that too. Each house or shed has a shady porch or two with generous swings and benches.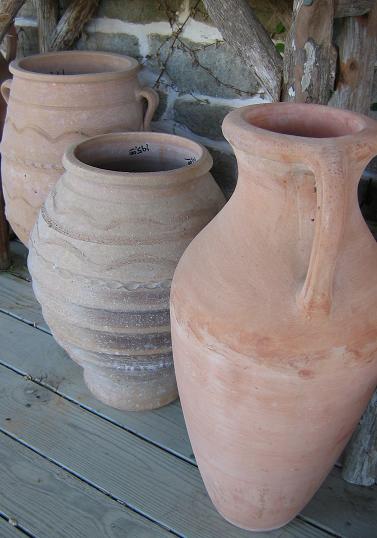 Terracotta pots for sale

When at last your spouse's patience has expired and it's time to go, you walk under a heavily shaded loggia to the check-out building. Of course, more garden gifts await you inside. But what I covet is this arbor, and its dramatic transitioning from sun to shade. Most of my visits have been at hotter times of the year, and then the arbor provides cool relief from the sun. This time I found shelter here from the brisk wind, and it felt several degrees warmer beneath the draped vines. At home, wouldn't this be a great spot for a dining table and friends sitting around with glasses of wine?
Alas, at last it was time to leave. My only consolation was knowing we were heading to the Blue Bell Creamery in nearby Brenham. And sweet consolation it was.