June 12th, 2012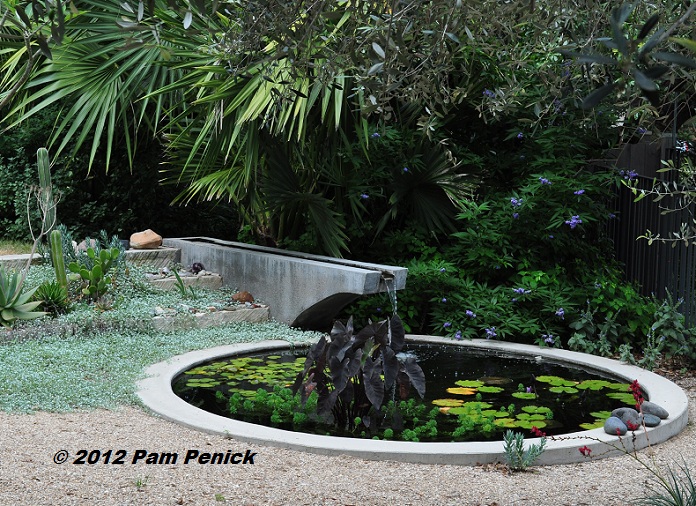 Landscape architect Curt Arnette, of Sitio Design, is one of the best and yet most modest garden makers you'll meet in Austin. Back when I was a newbie gardener, breaking ground at our first house in Austin, he and his wife Melisa were our across-the-street neighbors. What a stroke of luck for me! Over the years, Curt and I each turned our blank-slate front yards of St. Augustine grass into gardens—his a beautiful, New Orleans-style, low-walled courtyard lush with palms under a majestic live oak. Mine was, well, much less impressive, my first baby-gardener experiment, but I learned a lot from Curt, especially about the importance of foliage, structure, and pruning, before we each moved with our families to new (old) homes with new blank-slate yards.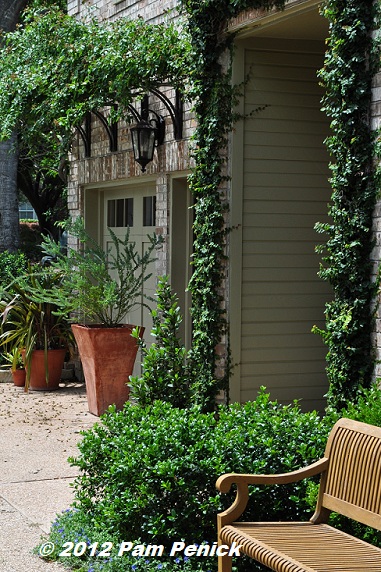 In the years since, I've seen a couple of his professionally designed gardens on tours and at Lou Neff Point along the Hike and Bike Trail at Lady Bird Lake. Occasionally I'm asked by garden-tour planners if I can recommend any gardens that haven't been seen on tour, and I always suggest Curt's personal garden, which he's been making for about 10 years on a quiet cul-de-sac in the Circle C neighborhood in southwest Austin. But Curt demurs with a laugh, protesting that it's not tour-ready and doesn't yet match the vision in his head.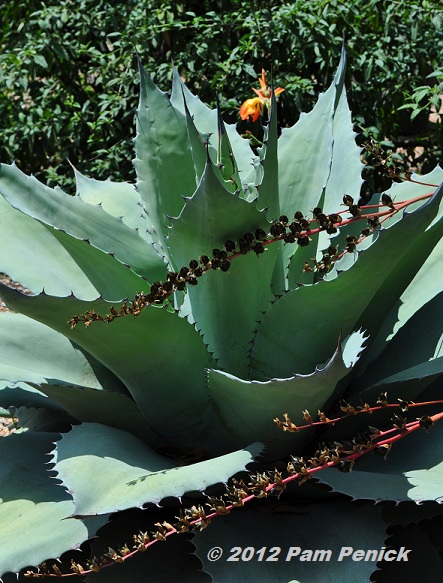 Sadly for Curt, reticence is lost on me, and I have a (likely annoying) habit of popping by his garden unannounced to see what's new. Last time I brought a group of garden bloggers with me, my companions on the recent Gardens on Tour; we just happened to be in the neighborhood, so naturally I suggested we do a drive-by of "this great garden I know about." Poor Curt! We ambushed him while he was out working in the garden—really working, trimming and pulling out plants—not just puttering with a glass of iced tea in hand. After recovering from his surprise at the impromptu tour, Curt graciously invited us and all our snapping cameras into his garden, asking only that we explore the front of his corner-lot garden, not the back, where he had another project going on.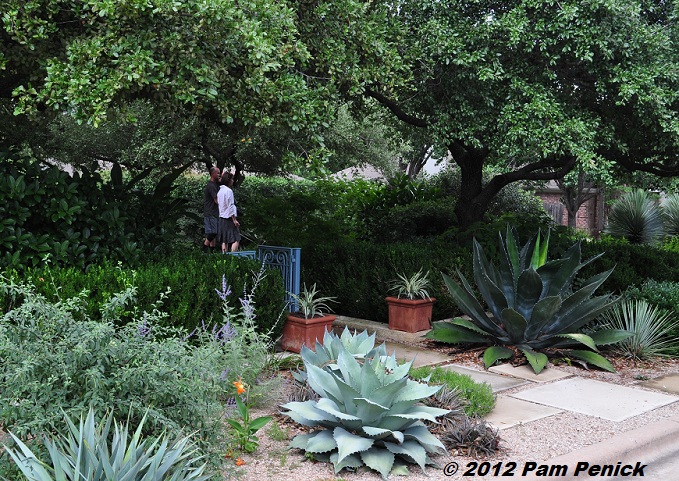 Allow me to be your tour guide! Curt's garden never fails to wow me right at the curb. On a street of mostly traditional lawns and foundation shrubs, his garden stands out immediately. The public space along the curb is dry and mostly sunny; agave, sotol, yucca, and dasylirion flourish here, their spiky, architectural forms softened by silvery mounds of 'Powis Castle' artemisia, purple-blooming salvia, and blond, billowing Mexican feathergrass.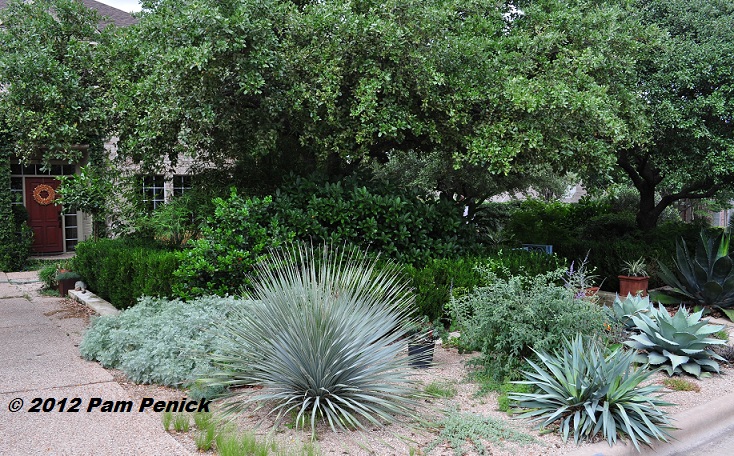 A wider view from the street, near the driveway. In contrast with the public face of the garden, a shade-dappled private garden is hidden behind a low boxwood hedge backed by taller evergreen shrubs, whose entrance is marked by a free-standing blue iron gate, with one side enticingly left open.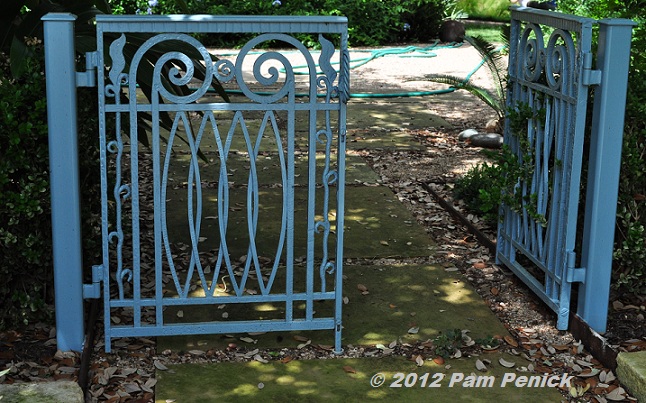 Curt found the gate, French-made in the 1800s, at Dreyfus Antiques years ago and used it in the courtyard garden at his first house before bringing it along to his new home and garden. Curt told me that his neighborhood's HOA restrictions did not allow him to build the low courtyard wall he wanted, so instead he used a clipped hedge of 'Wintergreen' boxwood to create a feeling of enclosure and privacy.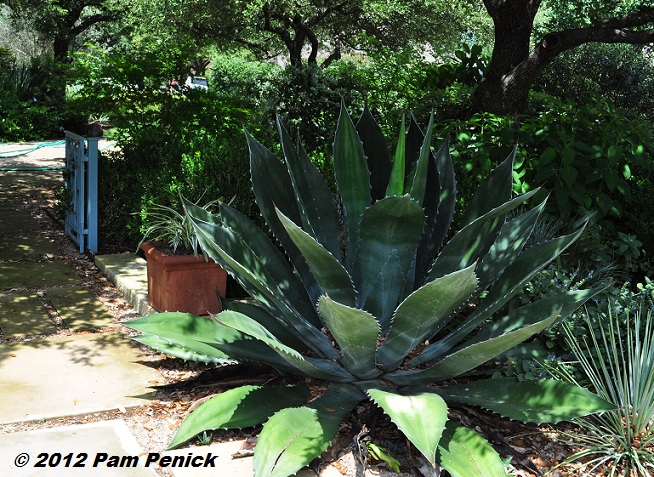 Before we step through the gate, let's explore the outer garden first. An emerald 'Green Goblet' agave (Agave salmiana var. ferox 'Green Goblet') marks one side of the entry walk. Ooh, I really need to find room for one of these in my garden.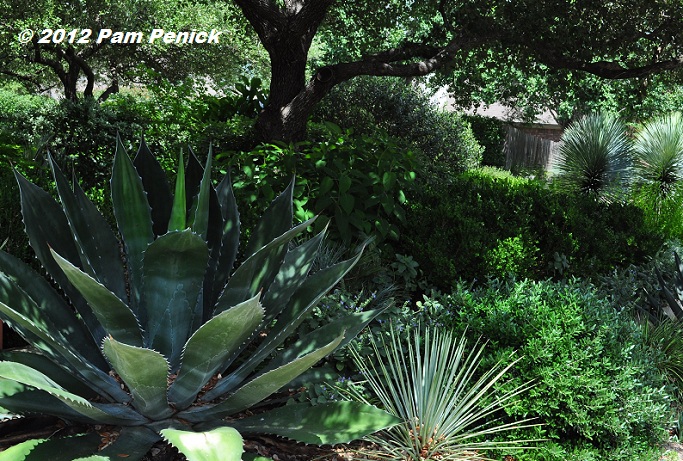 Panning to the right, we see a tapestry of foliage in front of that boxwood hedge.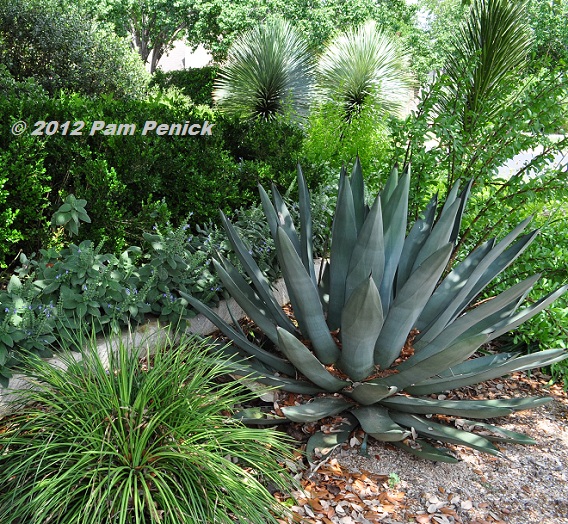 One of my favorite agaves, 'Sharkskin'—and it's a biggie—is softened behind by a fringe of heartleaf skullcap (Scutellaria ovata), which peeks out at the feet of the boxwood hedge.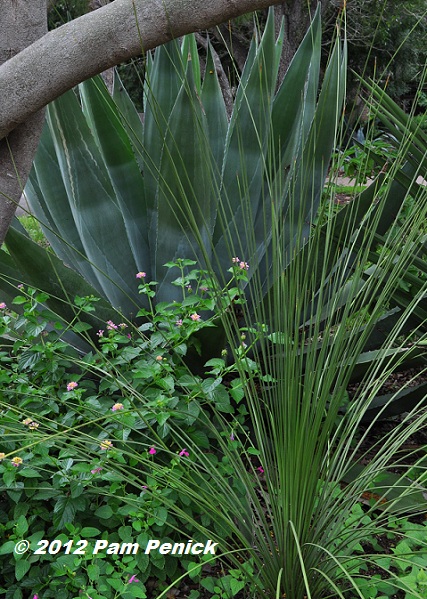 Toothless sotol (Dasylirion longissimum) creates an airy scrim of thin leaves.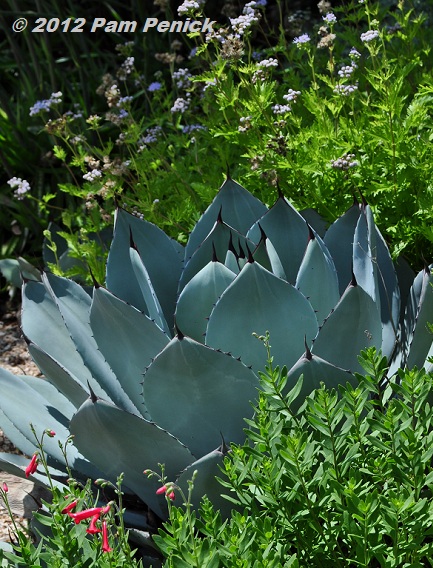 And look at this gorgeous, blue artichoke agave (Agave parryi var. truncata) paired with Gregg's mistflower and rock penstemon.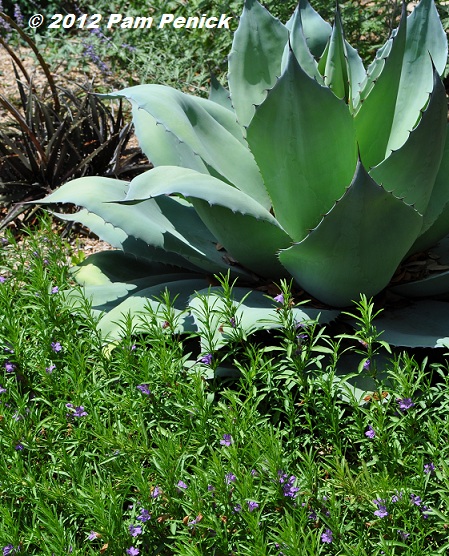 A blue-green 'Whale's Tongue' agave (A. ovatifolia) is softened with a feathery clump of snake herb (Dyschoriste linearis), a native groundcover I'm going to try in my garden this fall.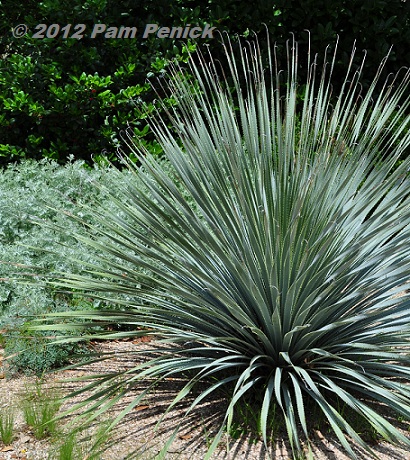 Wheeler sotol (Dasylirion wheeleri)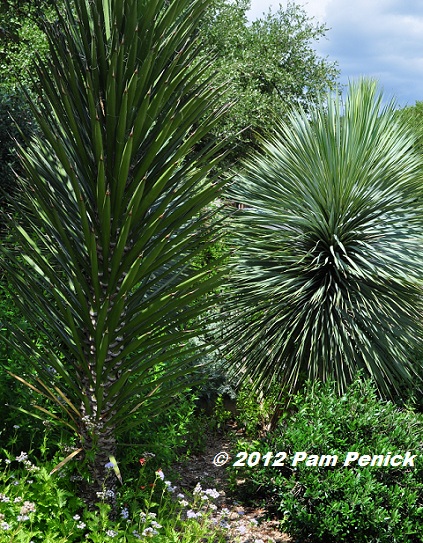 Yucca australis (syn. Yucca filifera) and Yucca rostrata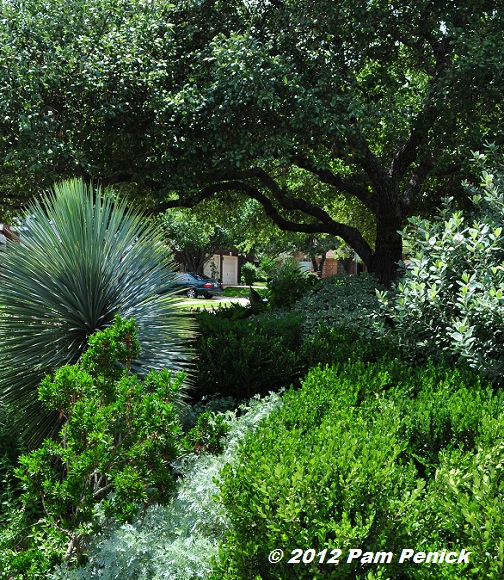 Moving around the corner, this is the view from the busier street that runs alongside the house and garden: an effective and tactile screen of foliage in greens, silver, and blue-green.

Entering the private courtyard through the iron gate…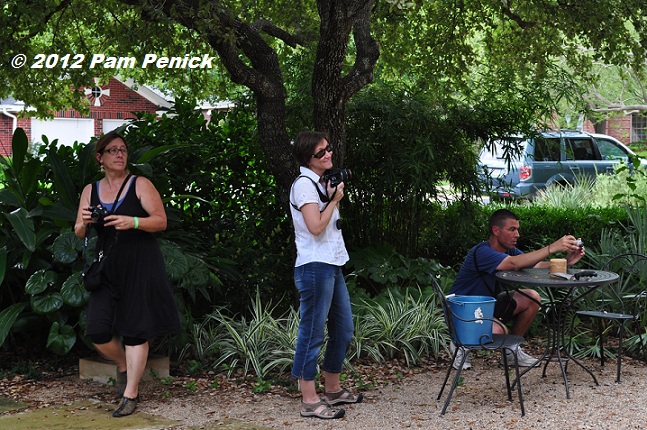 …you step into an open, gravel-floored room, with a bistro table and chairs for relaxing in the shade of the live oaks. Renee, Daphne, and David were busy framing photos too.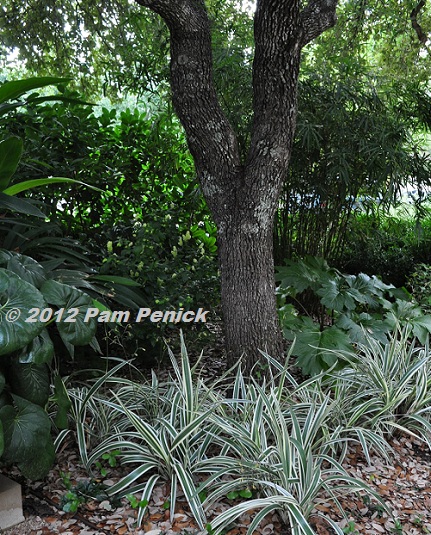 Variegated flax lily (Dianella tasmanica 'Variegata'), clusters at the foot of a tree, brightening a shady corner.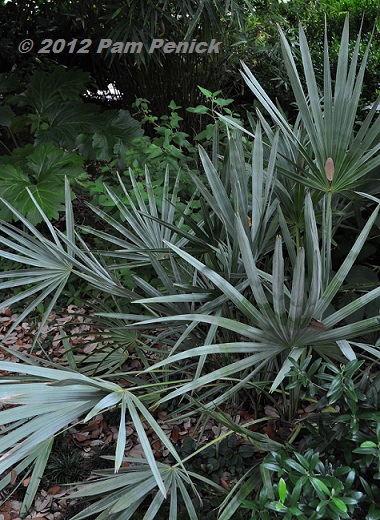 As do the frosted, spiky fronds of silver saw palmetto (Serenoa repens).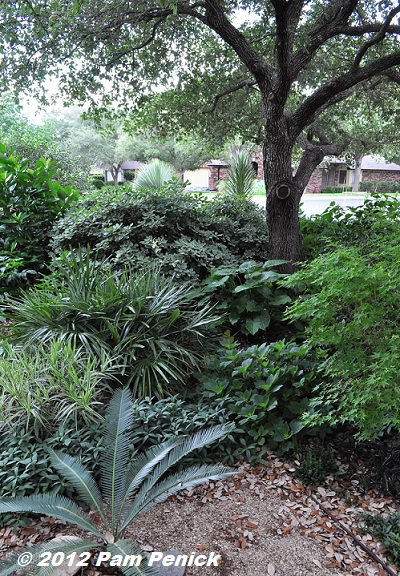 Steel edging set into the ground, with only the top line visible (at bottom right), defines the straight-lined planting beds—although a single, feather-shaped Dioon edule breaks out and takes root in the gravel patio.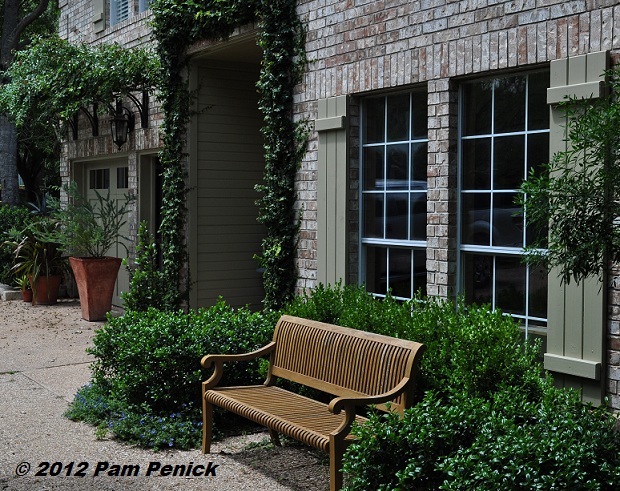 Curt and Melisa detected a French influence in the architecture of their suburban brick home, so Curt added a bit of French flavor to the courtyard design as well, with Old World-style shutters, soft green paint, a handsome bench set into a boxwood parterre, an iron arbor over the garage, and climbing vines over the doorways. Evergreen fig ivy outlines the front entry, while a 'Mermaid' rose clambers above the garage doors.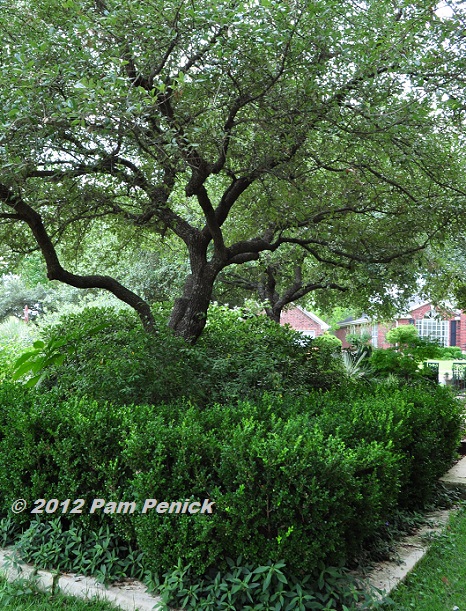 Now we're heading around the side of the house. Whereas steel defines the courtyard patio, limestone blocks define the planting beds outside the hedge and separate them from a small area of lawn in the side garden.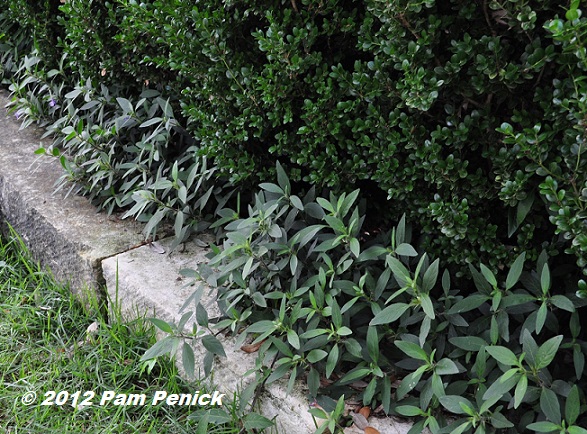 Curt doesn't overlook even the smallest planting opportunity, like placing groundcovers along the base of the boxwood hedges. This is blue shade ruellia (Ruellia squarrosa), a variety I'd never heard of before.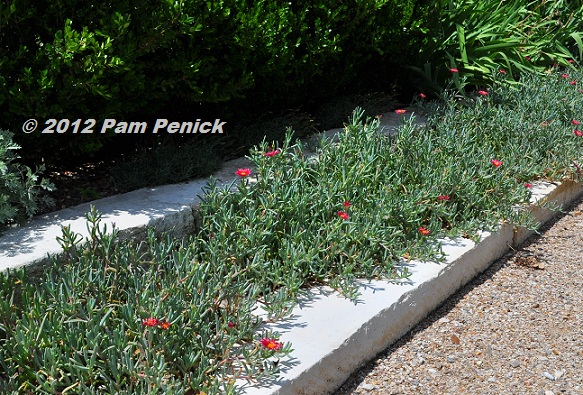 Ice plant offers blue succulent foliage and colorful flowers on this gravelly, one-step retaining wall.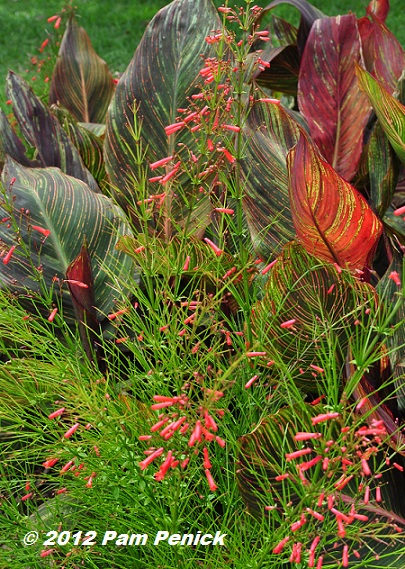 Here's a vibrant, sun-loving combo that inspired my own recent purchases: 'Tropicanna' canna and firecracker fern (Russelia equisetiformis).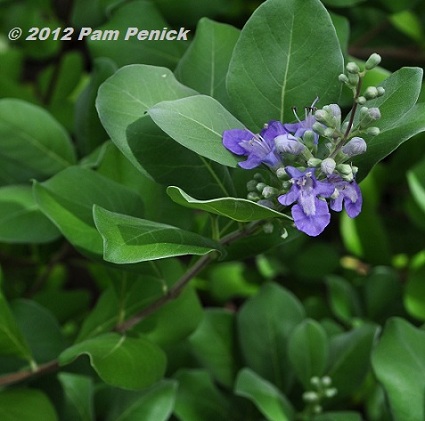 Curt uses beach vitex (Vitex rotundifolia) as a shrubby screen between the street and his side garden, along with bamboo muhly (Muhlenbergia dumosa) and spineless prickly pear (Opuntia), not pictured.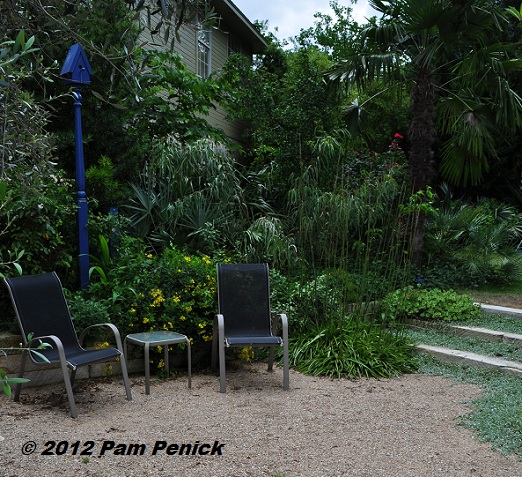 Peeking over the low wrought-iron fence that encloses Curt's back garden, you see a more tropical-looking garden, with a gravel patio surrounded by an exuberance of palm foliage.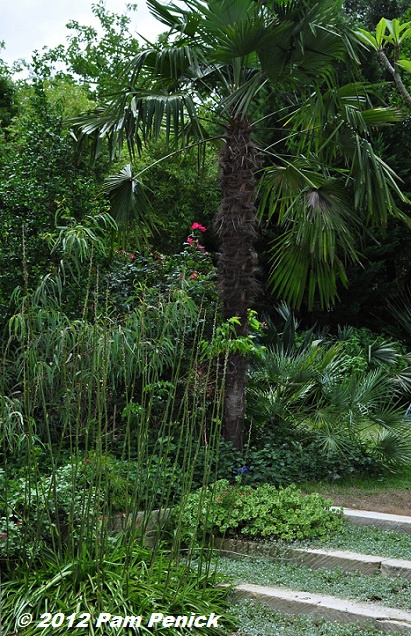 A mass of strappy Manfreda maculosa blooms beneath a tall windmill palm, as silver ponyfoot (Dichondra argentea) foams over limestone steps.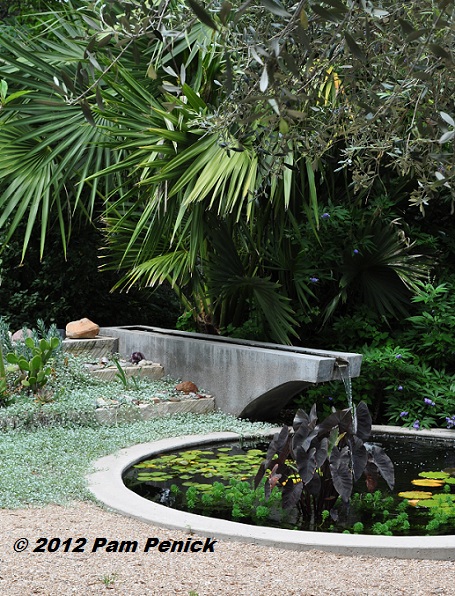 Curt constructed a concrete-edged, circular pond just inside the fence, with an offset rill-like fountain pouring into it.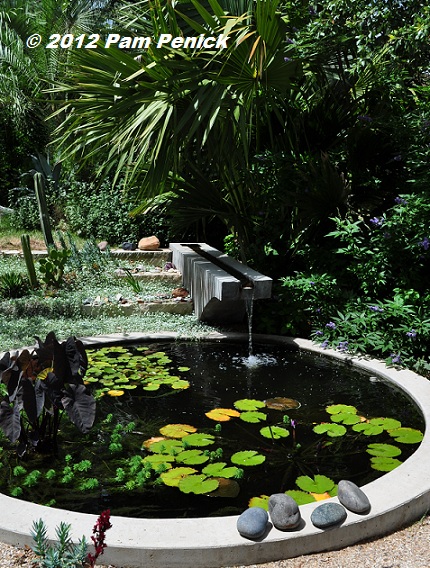 Simply beautiful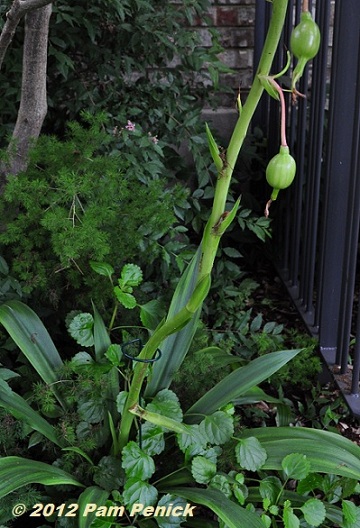 I noticed a false red yucca (Beschorneria yuccoides), with rounded seedpods dangling from a recent bloom spike, in the shade of a Japanese maple alongside his house, and mentioned that I'd just bought one at Peckerwood Garden's recent plant sale. It dawned on me later that Curt's garden reminded me of Peckerwood in its mingling of southwestern desert plants, tropical-looking palms, and a variety of shrubs, and in its reliance on foliage texture and form over flowers. I emailed Curt to ask whether he'd been influenced by Peckerwood. He replied that John Fairey, Peckerwood's owner, was one of his design professors at Texas A&M, and that Fairey's garden did indeed have a big influence on him.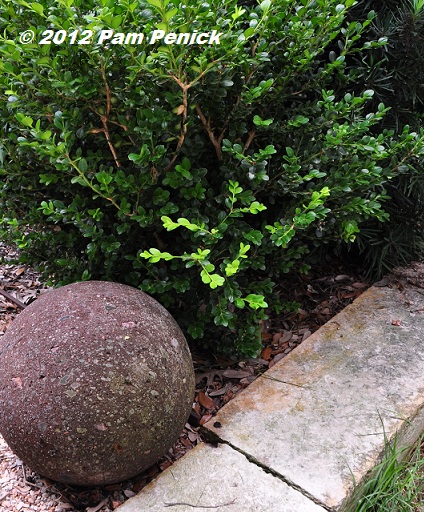 When asked about his other gardening influences, Curt replied, "I like Big Bend and the variety of plants out there. I like the work of Steve Martino, Roberto Burle Marx, and Raymond Jungles. I also like minimalist, contemporary gardens. I like a lot of different styles but don't care much for overly formal gardens or gardens that rely too much on flower color. I prefer more leaf color and texture."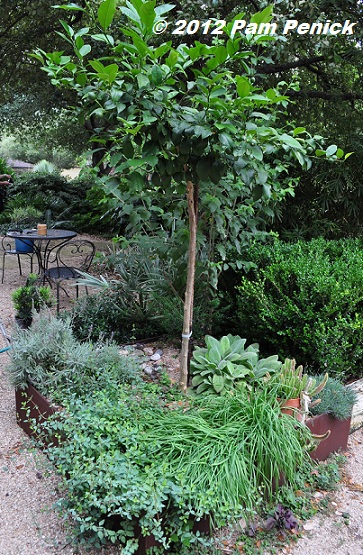 Curt's own garden illustrates the beauty and year-round interest of a garden created from a mix of striking foliage plants combined with plenty of filler groundcovers and mid-size shrubs. Those of us gardening in the dry shade of live oaks should especially take note. And anyone contending with restrictive HOAs can also learn from Curt's example of how to substitute creatively—in this case, a hedge for a wall—and still fulfill your garden dreams. Thank you, Curt, for the tour and for your continual inspiration!
All material © 2006-2012 by Pam Penick for Digging. Unauthorized reproduction prohibited.
posted in
2nd garden--2012
,
Agaves
,
Cactus
,
Containers
,
Design
,
Fountains
,
Garden tours 2012
,
Gates
,
Groundcovers
,
Palms/Cycads
,
Paths
,
Patios & decks
,
Ponds
,
Pruning
,
Seating
,
Trees
,
Vines
,
Water features
,
Xeric plants
,
Yuccas