May 31st, 2012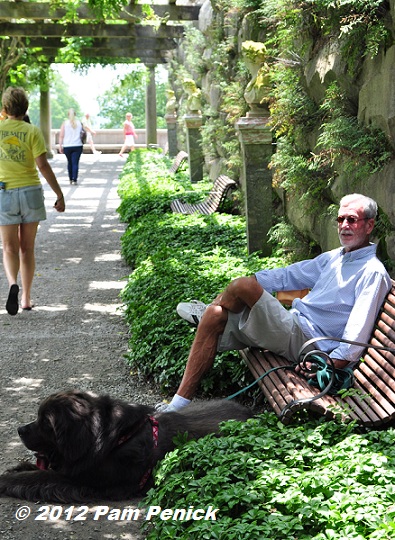 The "big" garden visit on the recent Garden Bloggers Fling in Asheville, North Carolina, was, of course, the Biltmore House gardens. I took a lot of photos of the gardens almost exactly a year ago, on a less-crowded and less-sunny morning (links at the end of this post), so I didn't go photo-crazy this time. Instead I just walked around and took in the views. This image ended up being my favorite. I'm surprised they even allow dogs in the garden, but we saw a few, including this big boy lounging with his master in the shade of the wisteria arbor.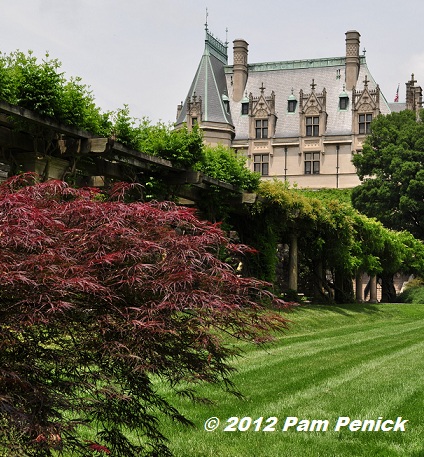 Castle in the sky—the House itself was not on our tour, although tickets were available to anyone who made time before or after the tour to go see it.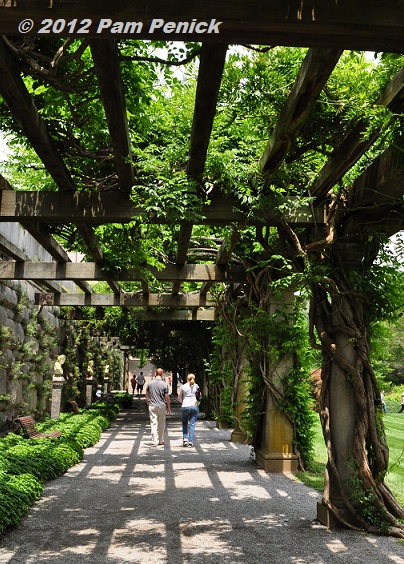 The wisteria arbor provided welcome shade on this hot afternoon.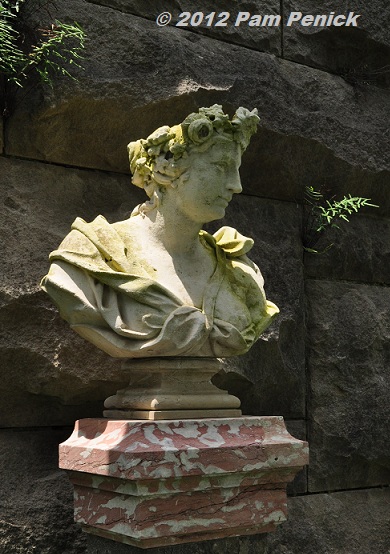 Classical adornment…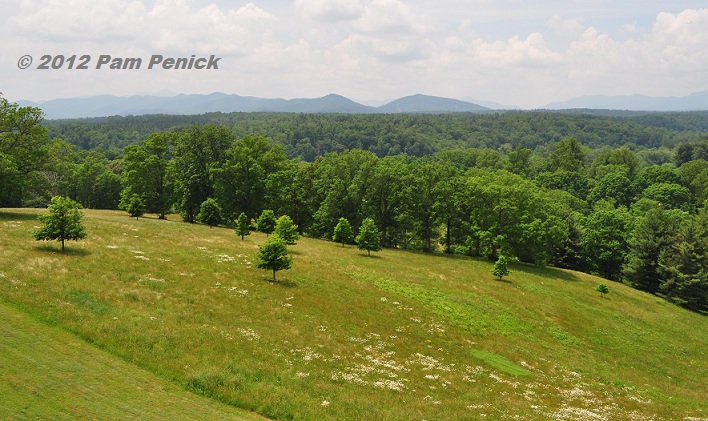 …and natural beauty—the Vanderbilts had it all when they built their summer home here.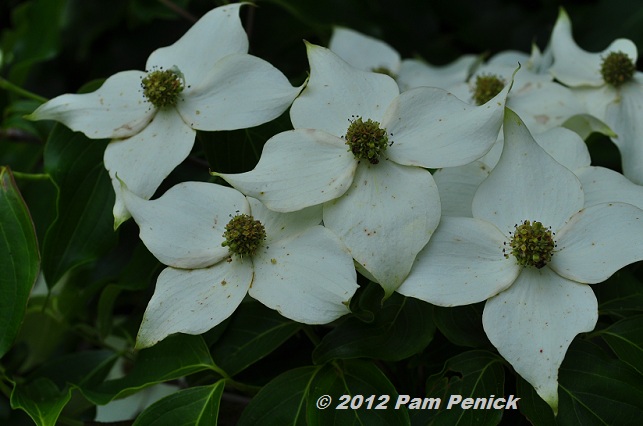 A few dogwoods were in bloom.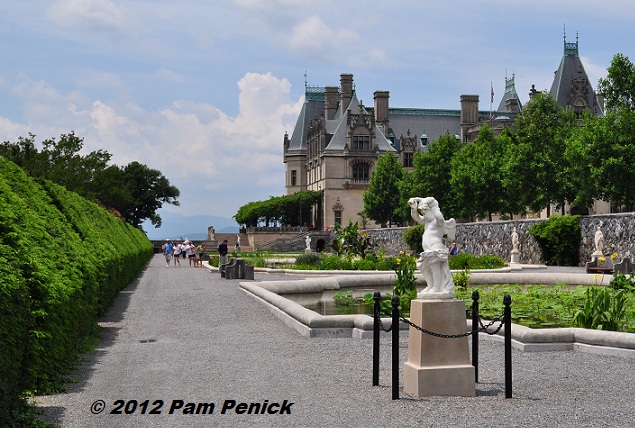 And the formal ponds in the Italian garden were revving up for summer glory.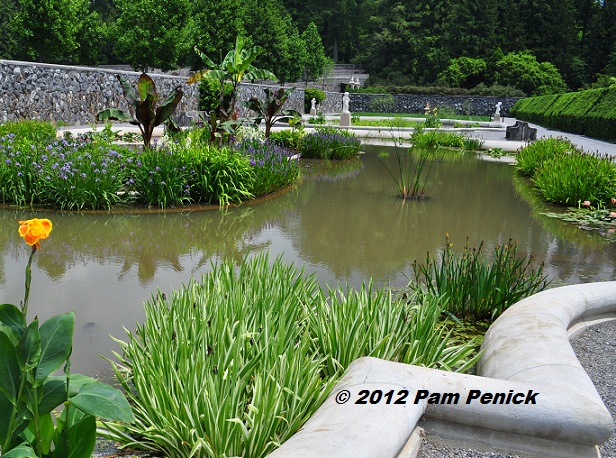 The lotus weren't blooming yet—too early…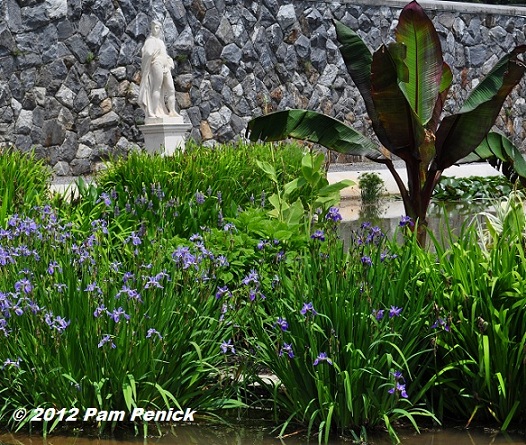 …but an island in the pond offered the surprising sight of a banana tree growing out there, surrounded by Japanese iris.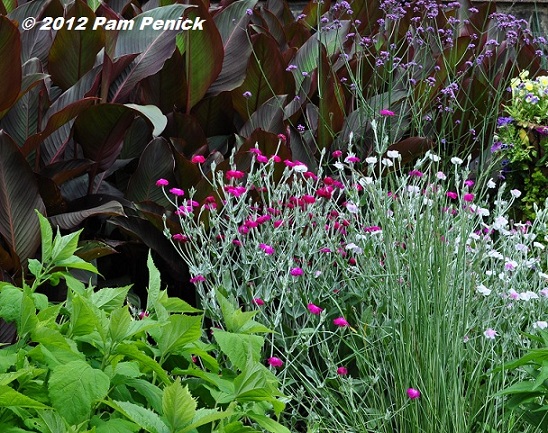 I'm declaring rose campion (Lychnis coronaria) to be the Asheville Fling's signature plant. I saw it everywhere we went. Here a hot-pink and a white variety are paired with bronze canna and tall verbena.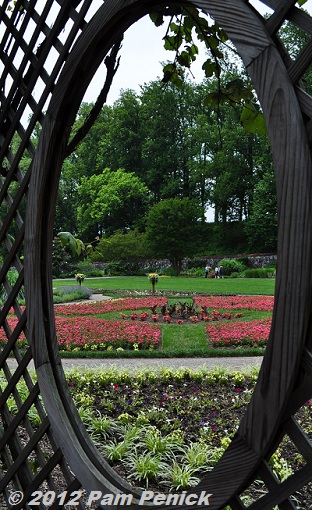 Oval windows in the grape arbor, which leads from the upper gardens to the conservatory garden, look out on the formally planted Walled Garden.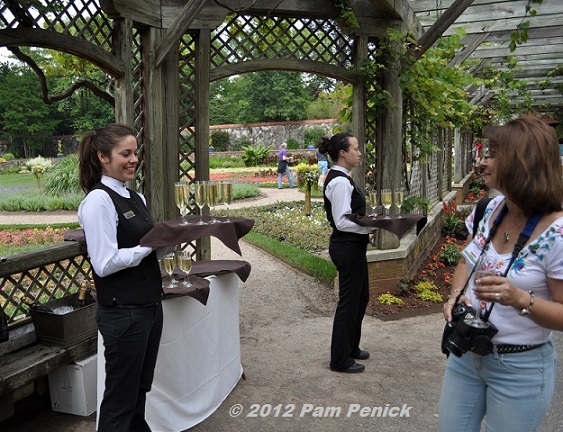 Here we bloggers were treated to champagne in the garden. I'd have felt like Lady Vanderbilt herself, if only I'd been wearing a long, sweeping dress and big-brimmed hat. That's Diana of Sharing Nature's Garden enjoying a glass too.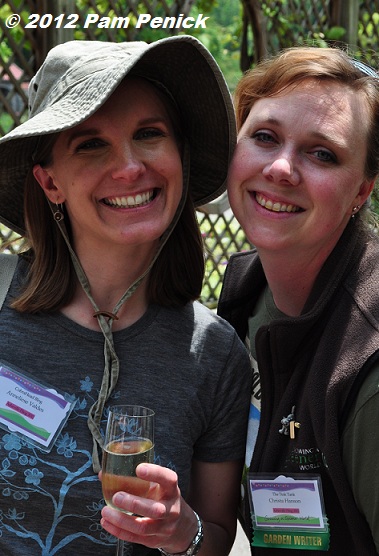 Anneliese Valdes of CobraHead's blog and Christa Hanson of Growing a Greener World TV—all sweetness and light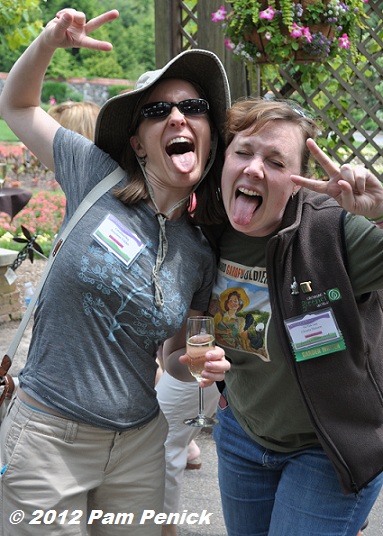 Moments later they are in full photo-bomber mode. Which is the truer portrait? I'm not saying.
For a look back at the recycled-art garden of Christopher Mello, click here. Next up: A sampling from the North Carolina Arboretum and Amy Stewart's macabre and wonderful Wicked Plants exhibit.
And if you'd like to see more of the Biltmore House gardens, I wrote four posts about it last summer. You'll find pics of Biltmore's formal gardens, the Frederick Law Olmsted-designed shrub garden, a gorgeous limelight-colored perennial border, and Biltmore's glass house and conservatory garden.
All material © 2006-2012 by Pam Penick for Digging. Unauthorized reproduction prohibited.
posted in
Arbors
,
Botanic/Public Gardens
,
Fling Asheville
,
Garden art
,
Garden structures
,
Garden tours 2012
,
Lawns
,
Ponds
,
Sculpture
,
Seating
,
Travel
,
Trees
,
Trellis
,
Windows