December 24th, 2008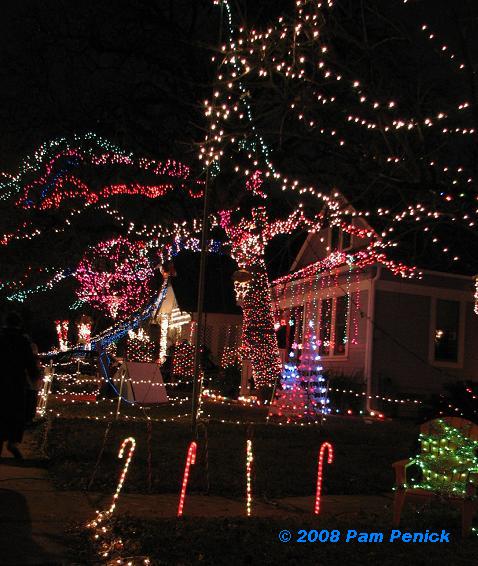 While the Zilker Christmas Tree and the Trail of Lights attract thousands of light-peeping visitors each December, for sheer Austintatiousness, the most famous Christmas display has for 20 years been on 37th Street just east of Guadalupe.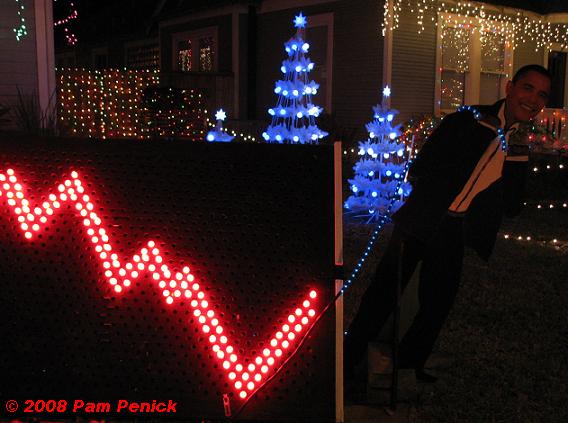 Politics and humor mix saucily with creative lighting. This year, at one house, President-elect Obama strains to pull up the plummeting stock market.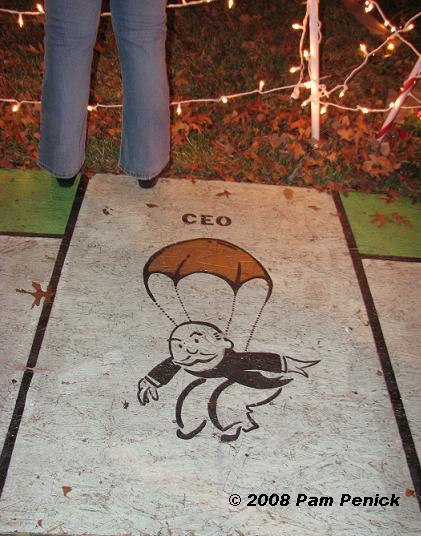 The sidewalk out front has been transformed into a human-sized Monopoly board illustrating the bankruptcies and bailouts of the financial and auto industries.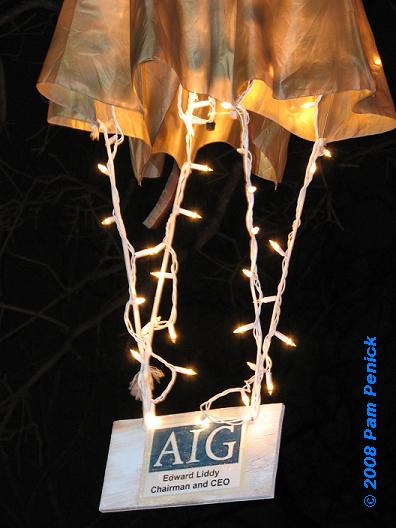 Look up in the trees, and you see the CEO of AIG's golden parachute in lights, along with several others.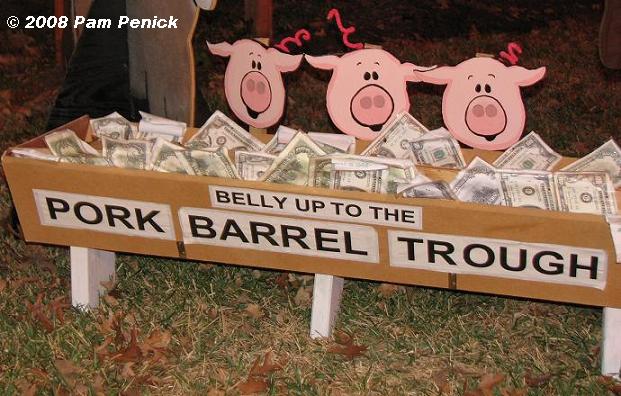 There's plenty of political humor to go around.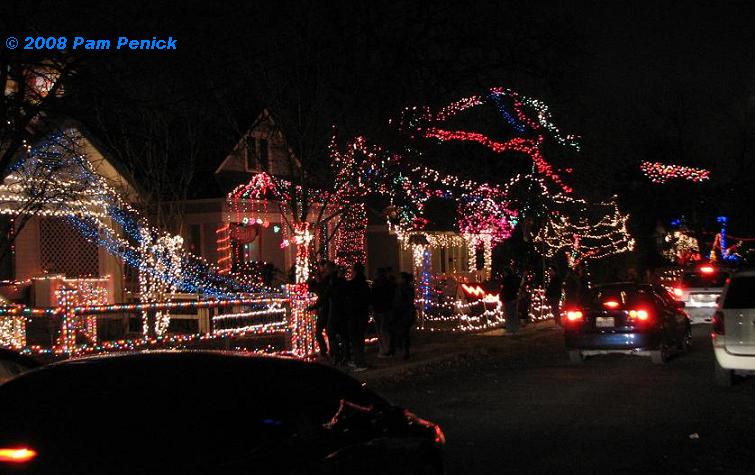 The only way to really appreciate these displays is to park the car and walk the two-block stretch of small cottages. I'm always surprised by the line of cars waiting to drive down the street because they just can't see the details that way.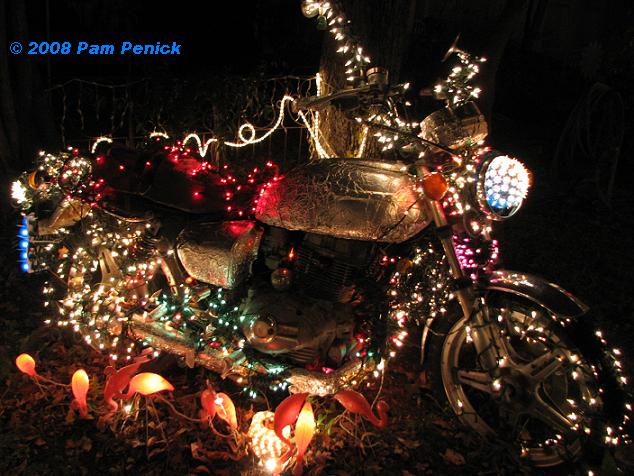 In the last couple of years, the founders of the light show have moved, and the spectacle has faded considerably. It's creative and well-lit but nothing like what it once was. I'll never forget the guy who wrapped his home in black plastic and swathed it in colored blocks of lights, Lite Brite-style. An open gate invited visitors through the front and back yards, where every surface was fantastically lit. Not a Santa or snowman to be seen, but an old grill spouted red lights for flames, a sink poured blue lights, and strings of pill bottles, tic-tac containers, and wine bottles stuffed with lights caused the electric meter to spin crazily. Enthusiastic visitors pinned dollar bills to his back-yard clothesline to help offset the electric bill. Another homeowner made a volcano of lights on his roof that actually smoked and erupted periodically. Yet another made a manger scene with the baby cheeses—literally, a baby gouda and other small cheeses.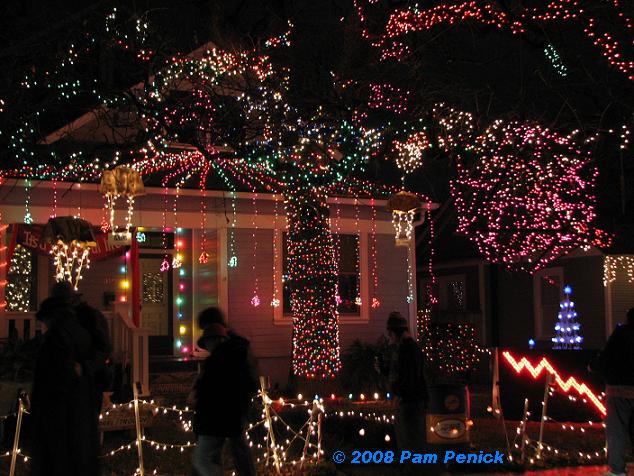 Ah well. All things must end. There's still fun to be had, and the new owners are wonderful sports for continuing with the tradition. This house is one of the best-decorated this year.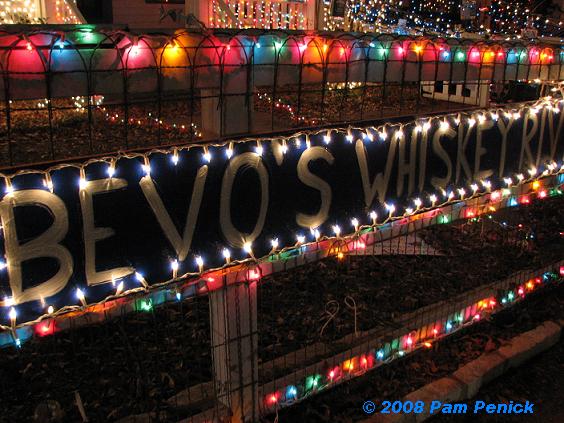 University of Texas and Willie Nelson fans will appreciate Bevo's Whiskey River.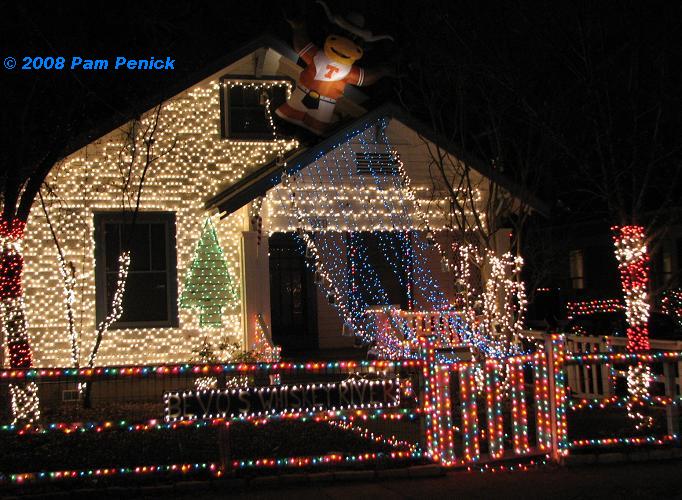 Bevo dances atop the house, and a river of blue lights and empty whiskey bottles flows toward the street.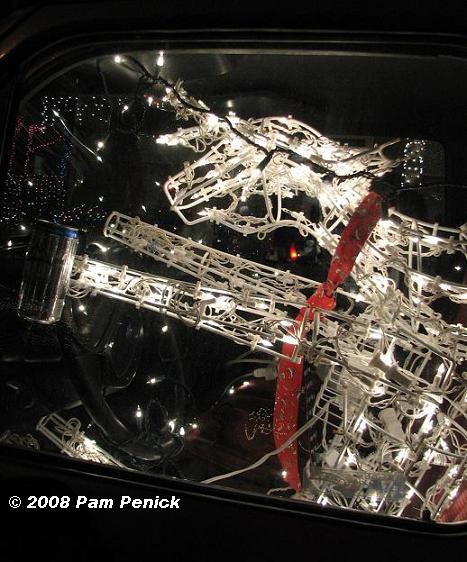 In the same theme, a lit reindeer (in both senses) holds a can of Coors Light while sitting in a car parked along the street. A dashboard littered with crushed empties shows that he definitely should not be behind the wheel.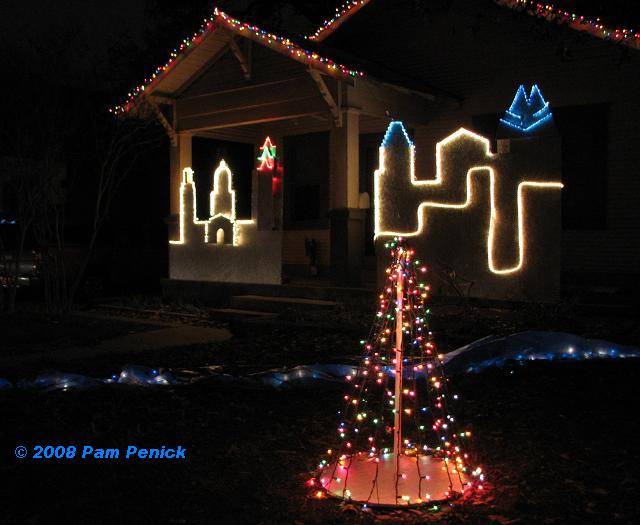 This was another favorite of mine: the Austin skyline replicated in lights on this home's facade, with a Colorado River of blue lights running through the yard, a miniature Zilker Christmas Tree, and, spanning the river (not visible here), a lighted replica of Hwy. 360′s Pennybacker Bridge.
Thanks, 37th Street, for reminding me why I love Austin. Merry Christmas to you and to my readers far and near!
All material © 2006-2008 by Pam Penick for Digging. Unauthorized reproduction prohibited.