May 13th, 2012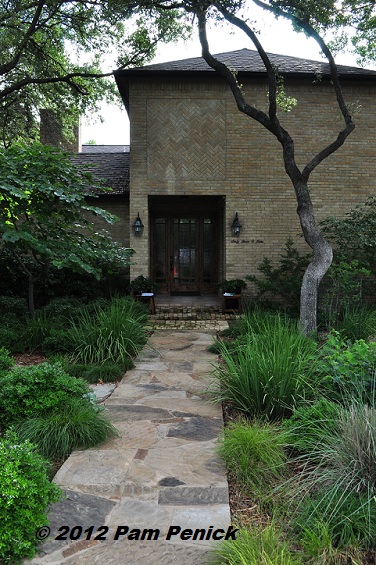 Selected to inspire the 99%, not the 1%, this year's Wildflower Center-sponsored Gardens on Tour in Austin was a big success. Past years have sometimes leaned too heavily on mansions with fantasy hardscaping and gardens that seemed beyond the reach of the average Joe. But this year the homes were, with one fun and interesting exception, attractive middle-class suburban homes with practical, grass-reducing, liveable gardens to complement them.
I toured with a group of garden-blogging friends, and we started at 6309 Shadow Mountain Drive, a Northwest Hills garden that was redesigned in 2007 by Cathy Nordstrom of Sans Souci Gardens. At the entry, a lovely pieced-stone walk leads through shade-tolerant bicolor iris (Dietes bicolor), dwarf yaupon holly (Ilex vomitoria 'Nana'), Berkeley sedge (Carex divulsa), and Texas sedge (Carex texana) to the front door.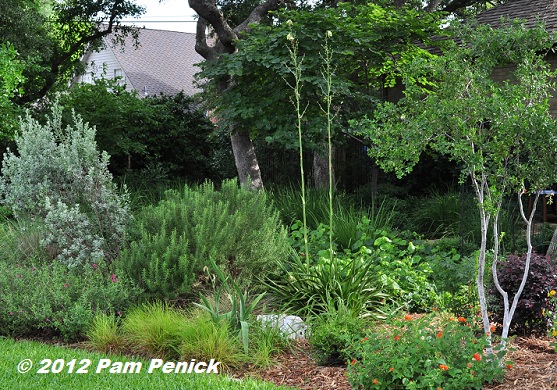 From the street, a ribbon of grass along the curb keeps a manicured look for the neighbors, while a berm of deer-resistant perennials, shrubs, and understory trees offers screening for interior spaces.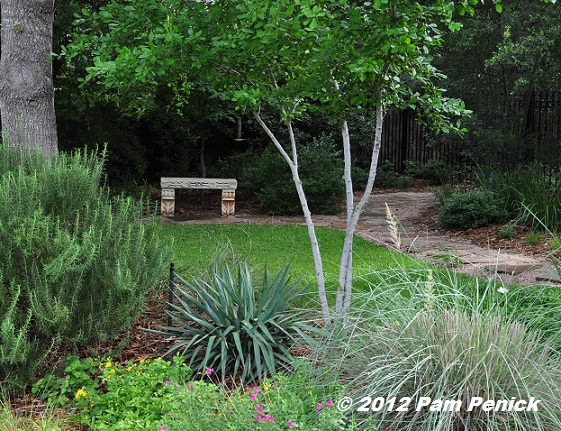 Peeking past rosemary, lantana, yucca, and muhly grass, you glimpse a pocket lawn with an inviting bench at one end. The flagstone path on the right…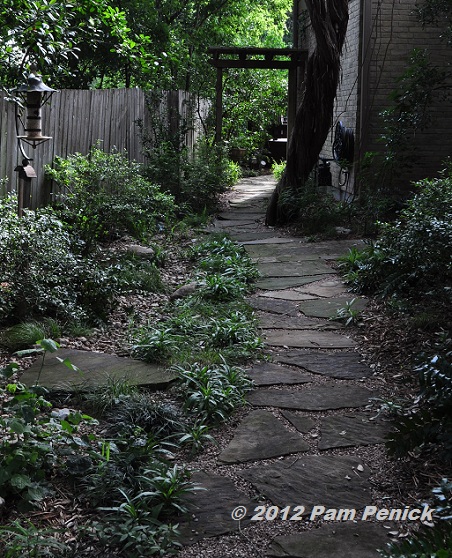 …leads around to the side garden, a shady oasis from the Texas sun which has been made into more than just a pass-through with a slightly curving path, pretty groundcovering plants, the retention of a focal-point juniper tree with a beautifully twisted trunk, and a wooden arbor announcing the transition to the back garden.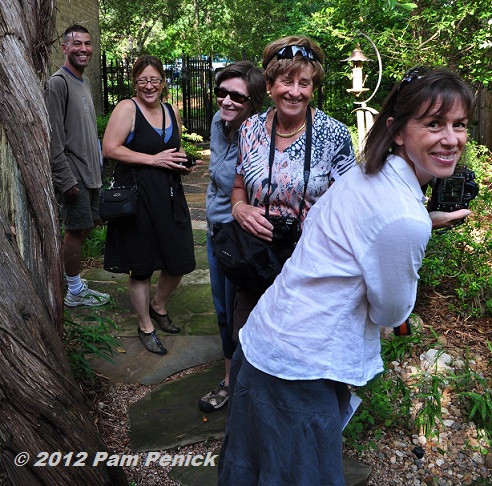 Our group was already having a great time, as any plant lovers do when set loose in a garden together. Here's David Cristiani of The Desert Edge, who drove all the way from Albuquerque to see Austin's native gardens and visit with fellow plant nerds; Renee Studebaker of Renee's Roots, who specializes in edible gardens and wears great shoes; Daphne Richards, our local extension agent who appears each week on "Central Texas Gardener," sometimes with her dachshund Augie; Jenny Stocker of Rock Rose, whose gorgeous garden recently appeared in Southern Living; and Catherine Jones, whose beautiful, contemplative nature photos can be seen at The Whimsical Gardener.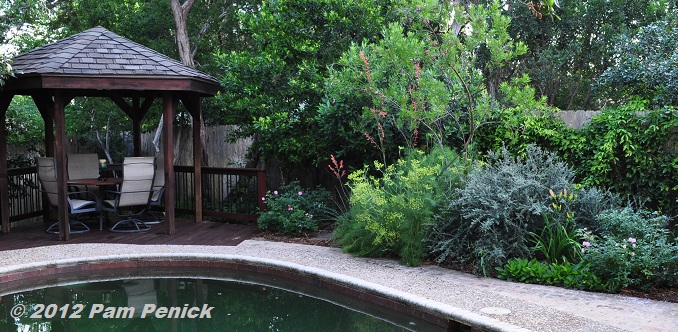 In the back yard, a narrow, xeric garden backs a swimming pool and gazebo.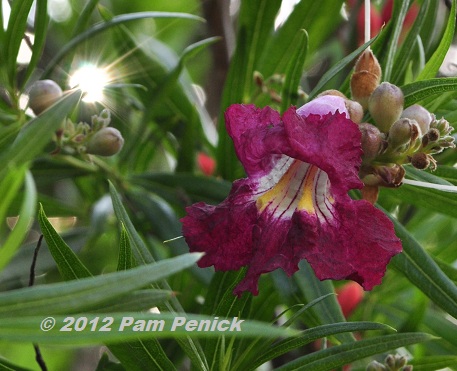 Desert willow (Chilopsis linearis) was in bloom.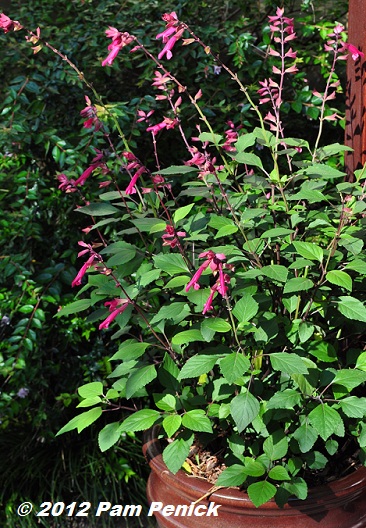 So was 'Wendy's Wish' salvia, an Australian cultivar that I'm trying in my own garden this year.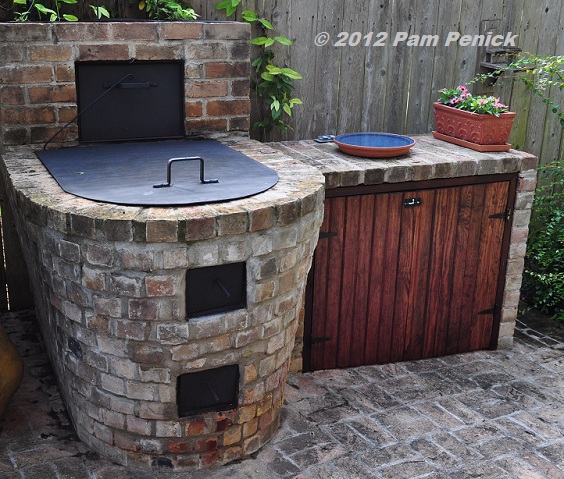 I liked this tidy, reasonably scaled pizza oven and outdoor-kitchen counter.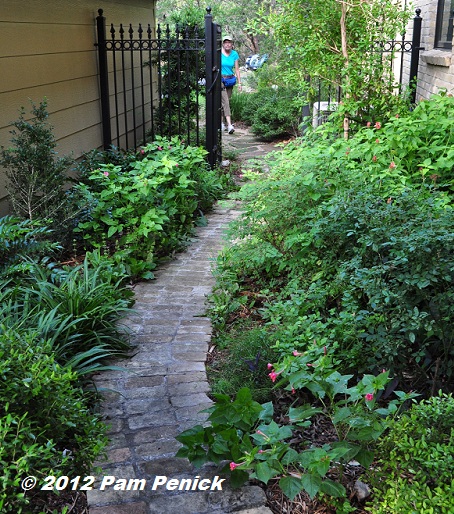 Coming around the other side-garden path we spotted Linda Lehmusvirta, producer of "Central Texas Gardener" and blogger at Central Texas Gardener Blog. This side garden shows what you can do with a narrow, shady space: curve your path in an arc (don't give in to squiggles), plant a mix of evergreens and shade-tolerant flowering plants with a narrow profile, and open up the space to views and breezes with a see-through, wrought-iron fence or gate.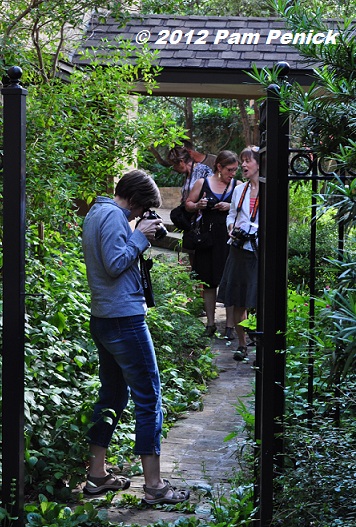 We nearly had this garden to ourselves, thanks to our opening-time arrival, and we talked and shot photos to our hearts' content.
Up next: An art-collector's Indonesia-meets-Texas garden at Ridgecrest Drive
All material © 2006-2012 by Pam Penick for Digging. Unauthorized reproduction prohibited.