May 11th, 2012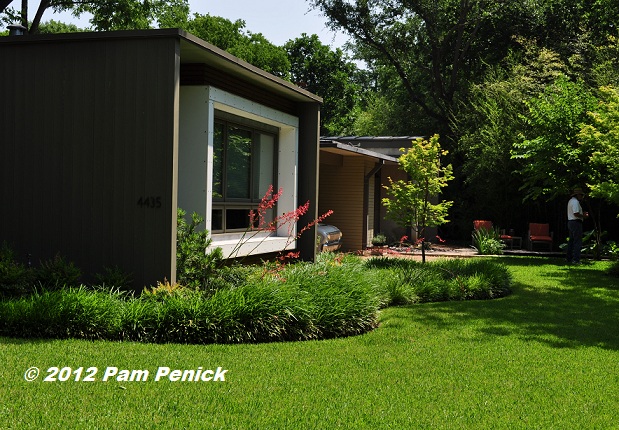 My second stop on the Garden Conservancy's Open Days tour last weekend was the Middleton Farm Garden, a contemporary home with homesteading flair in suburban north Dallas. Here's the official description:
A suburban oasis loosely composed as three distinct aspects. A casual, manicured space of green lawn, bamboo enclosure, and trickling water that emanates from a small koi pond comprise the first garden. A lush and rampant garden of flowering trees and enclosing evergreens gives privacy and a natural expression to the pool and outside dining patios and a respite from the unrelenting summer sun. The third garden is business, comprised of irrigated raised beds filled with vegetables and culinary herbs with a backdrop of peach trees.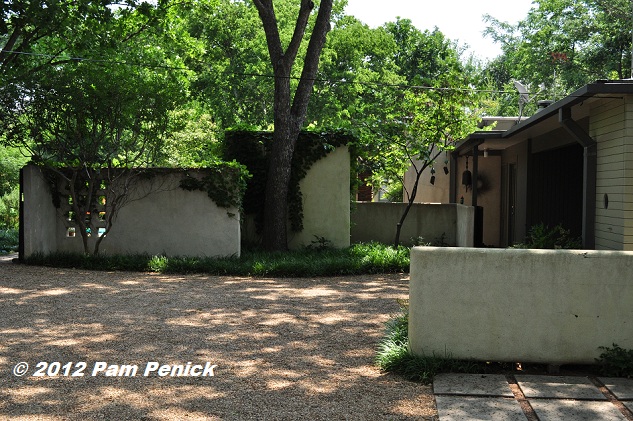 I didn't start with the lawn, bamboo, and koi pond mentioned above. Instead I headed around back, through this parking court with a modernist assortment of concrete walls…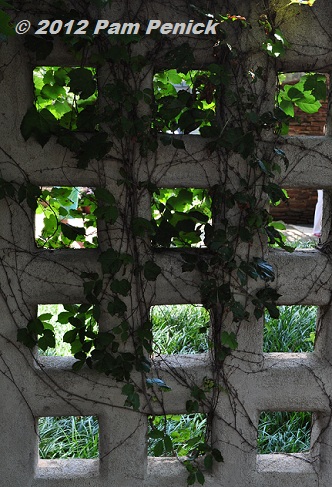 …past this perforated wall festooned with ivy…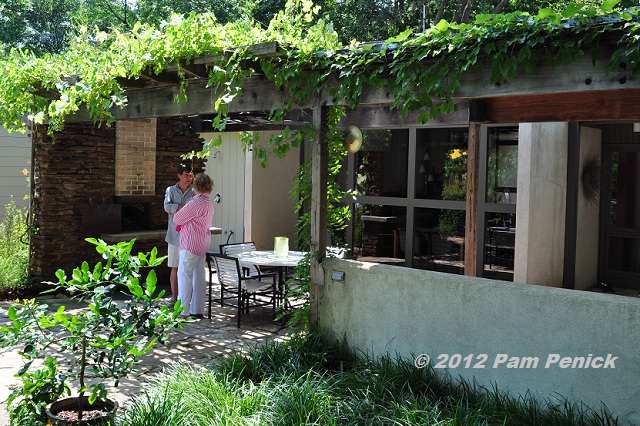 …and into the back garden, where a patio shaded by a grape arbor offers protection from the summer sun.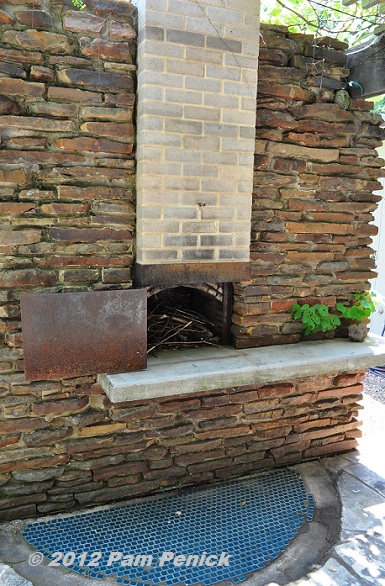 A built-in pizza oven promises tasty meals on the patio.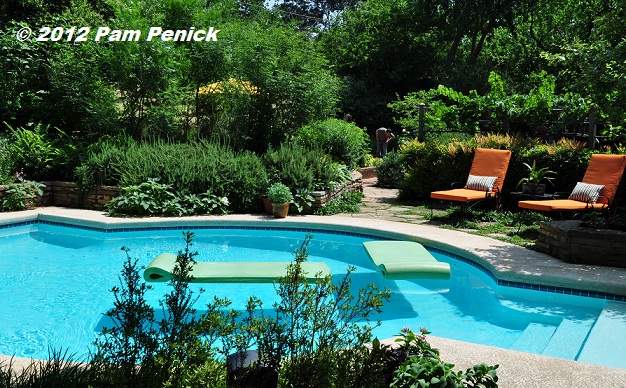 Just off the patio, a swimming pool beckons. I like the narrow decking lined with herbs and other plants, and the way the rest of the yard is screened from view, creating an intimate pool area and making you want to explore the rest of the garden.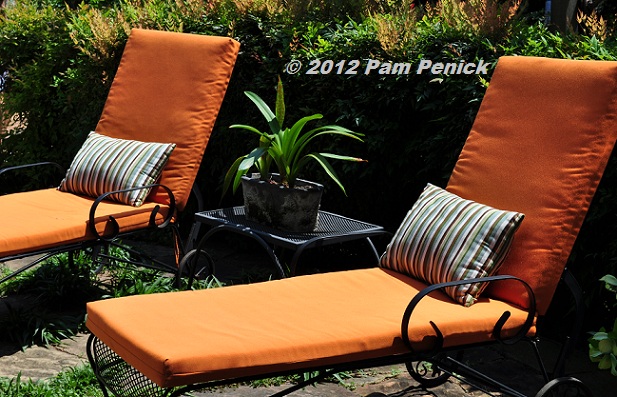 New growth on a hedge of nandina echoes the orange-cushioned chaises.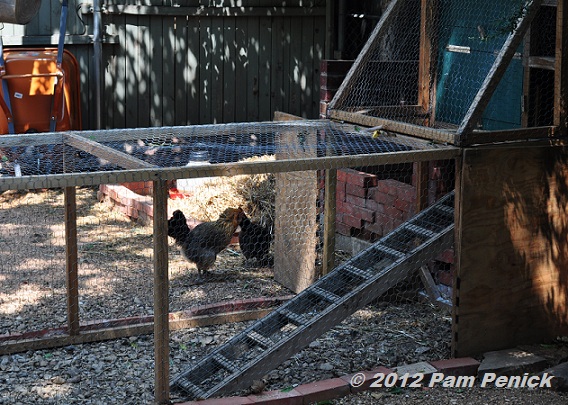 Behind the pool area and a shed was this surprising sight: chickens! Is Dallas turning into Austin?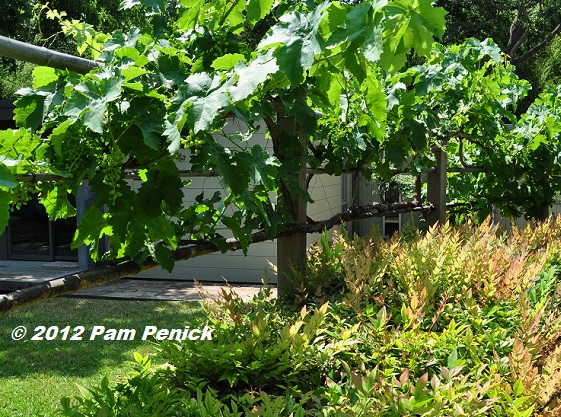 Stroll past that nandina hedge by the pool, with another grape arbor espaliered above it…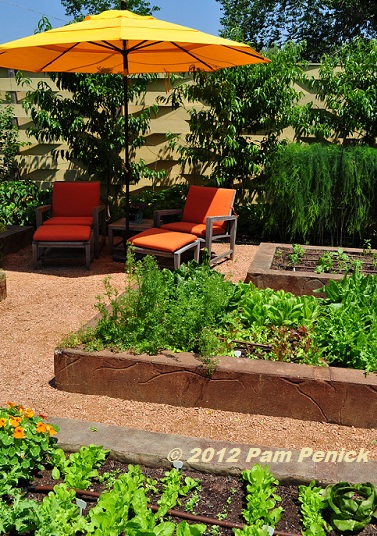 …and you enter a sunny, welcoming vegetable garden with etched-concrete raised beds.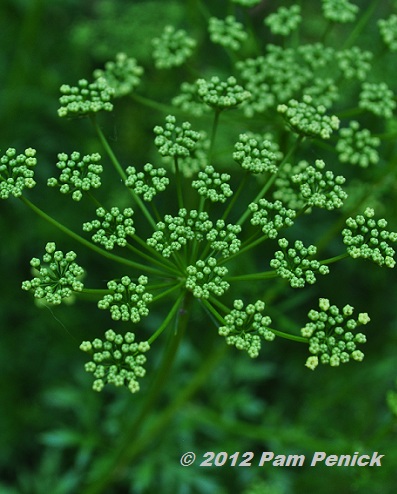 Dill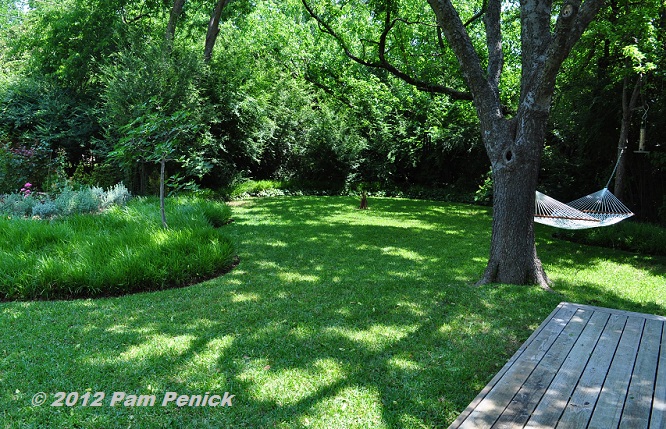 Partitioned from the vegetable garden by a perennial bed, this shady oasis opens up on the other side of the garden.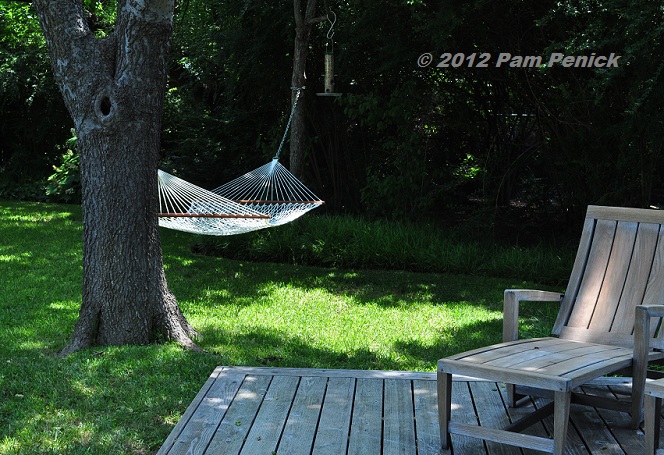 Looks like a peaceful place to relax with a good book.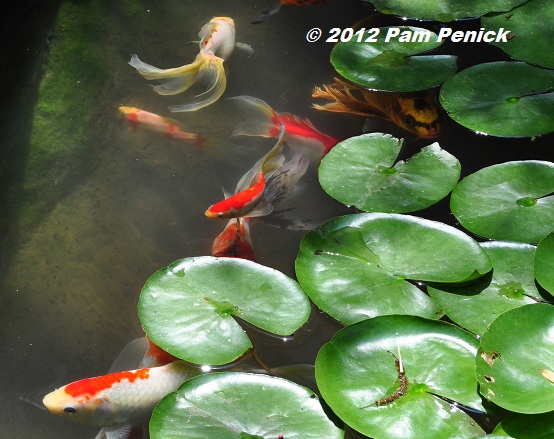 A stand of black bamboo screens the side yard and part of the front yard from the view of neighbors, sheltering a small koi pond and seating area.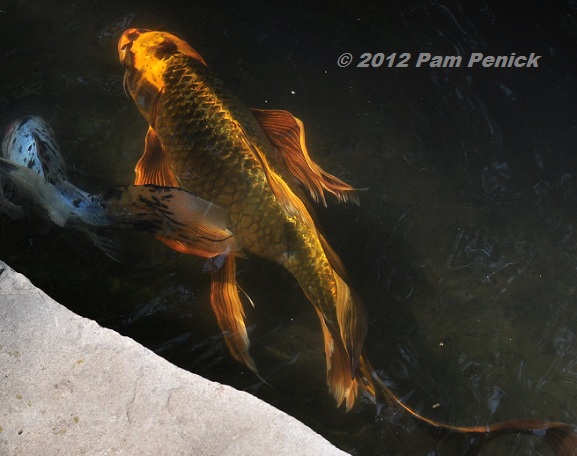 Koi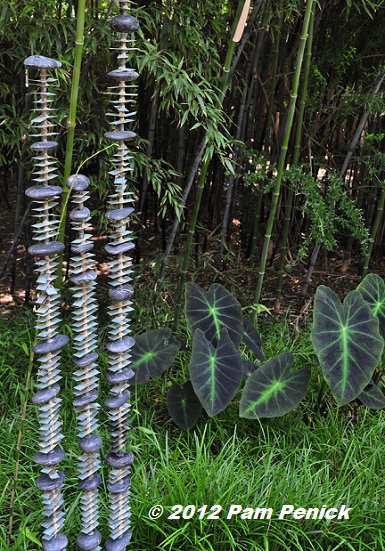 A rock sculpture complements a bamboo, elephant ear, and liriope combo perfectly.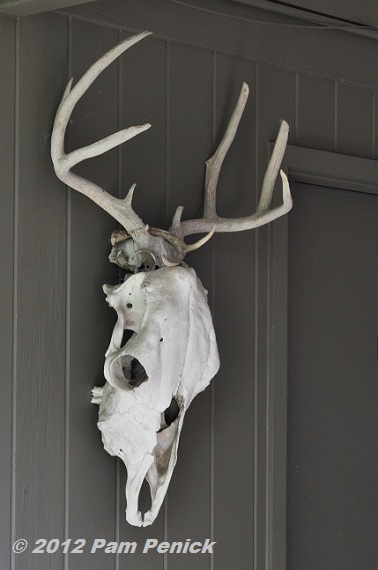 Homemade sculpture: cow skull and deer antlers
I really enjoyed the division of space in this garden, creating various garden rooms for entertaining, growing food (and munching on it?), and relaxing.
Coming up next: The native-plant Passmore Garden. For a look back at the palm collector's garden of Matthew Nichols, click here.
All material © 2006-2012 by Pam Penick for Digging. Unauthorized reproduction prohibited.
posted in
Arbors
,
Bamboo
,
Chickens
,
Edibles
,
Fish
,
Garden art
,
Garden tours 2012
,
Lawns
,
Patios & decks
,
Ponds
,
Seating
,
Travel
,
Trellis
,
Vines
,
Water gardening