April 19th, 2012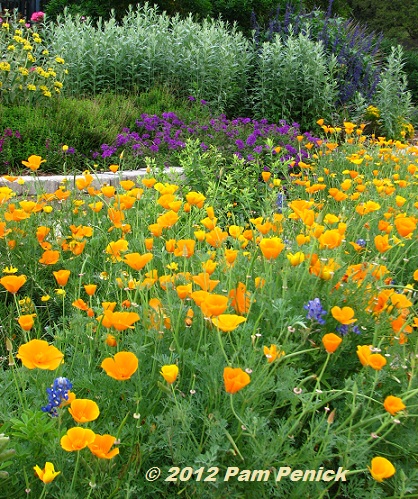 I've written about a number of independent nurseries in Austin, but somehow I've missed Shoal Creek Nursery, located in west-midtown on Hancock Drive. Tucked into the southwest corner of Allandale neighborhood, you kind of have to know where it is to find it, but it's worth a visit, especially since new ownership took over several years ago (it used to be called Park Place Gardens), expanding the plant selection, spiffing up the display yard, and remodeling the exterior to give it a more welcoming look. Here's their streetside garden in full spring bloom.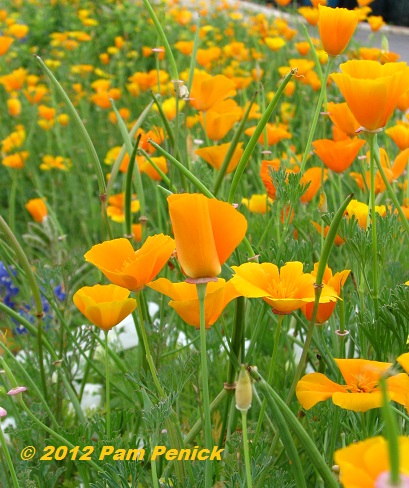 California poppies

A few large planters brimming with colorful annuals brighten the parking lot.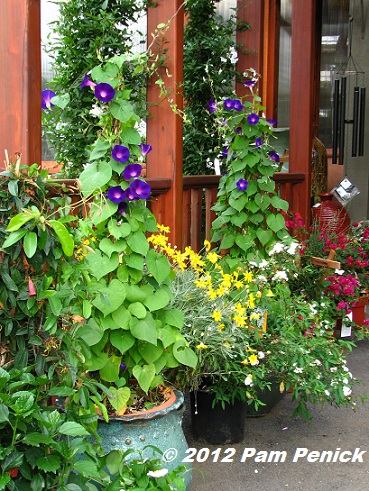 The entry arbor was lined with trellised morning glories when I visited recently.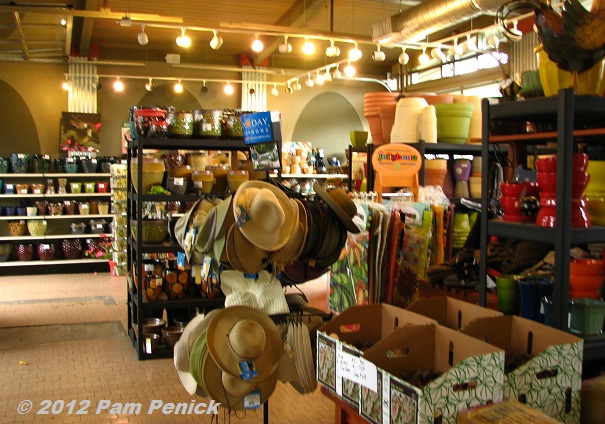 You walk through the garden shop, where you can find seeds, bulbs, tools, hats, decor, and the like, to get to the display yard out back.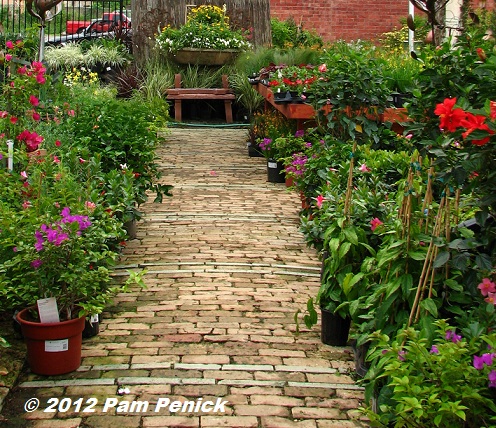 The outdoor display is enticing with old brick paths…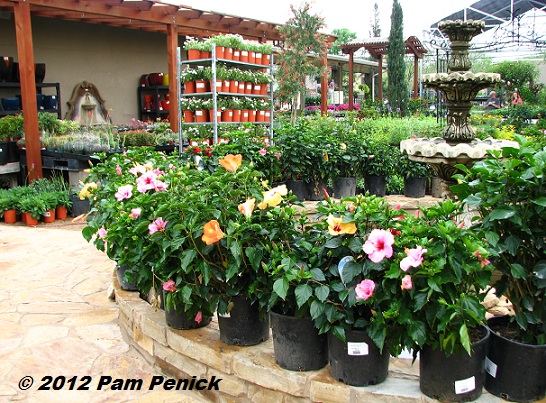 …fountains, arbors, and other focal points to draw you through lushly packed tables…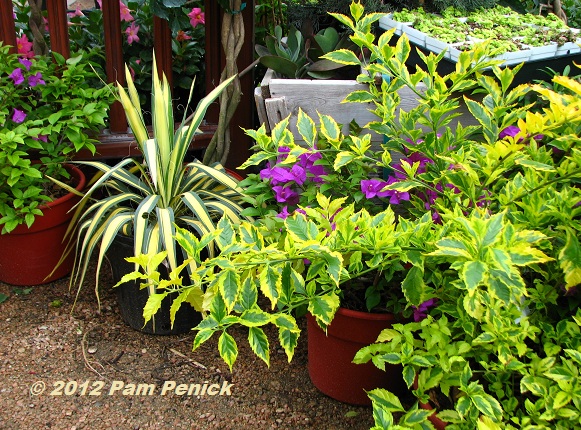 …and complementary groupings of plants, like this 'Color Guard' yucca, purple bougainvillea, and 'Gold Edge' duranta.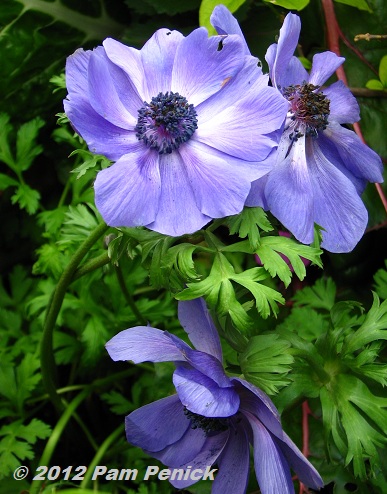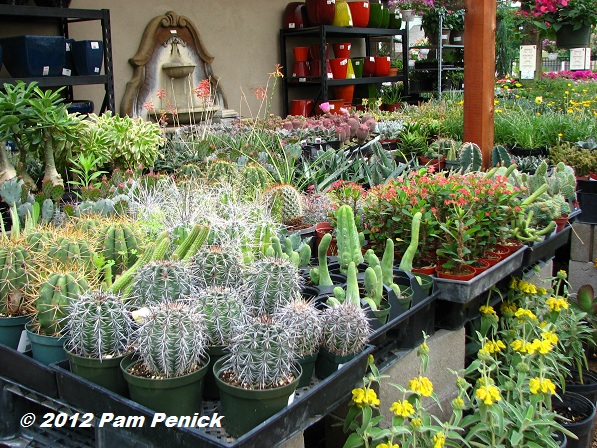 Shoal Creek Nursery has a very nice succulent and cactus selection.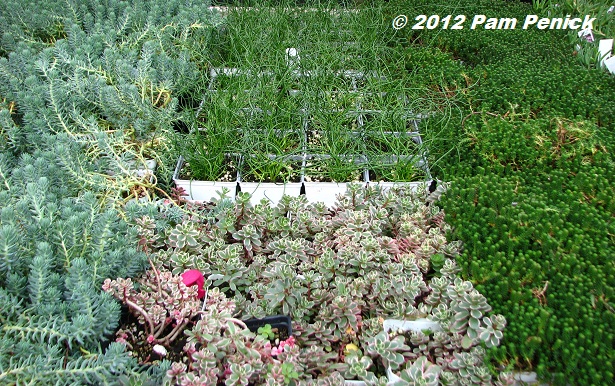 I picked out a few of these to refresh my succulent planters.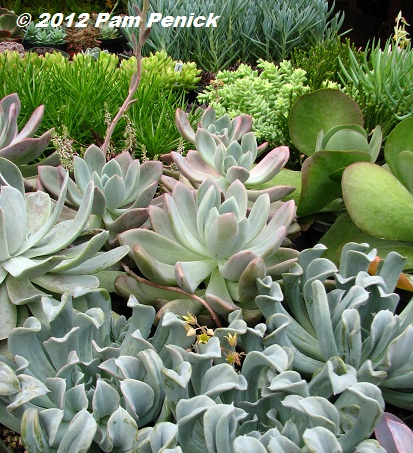 More succulent goodness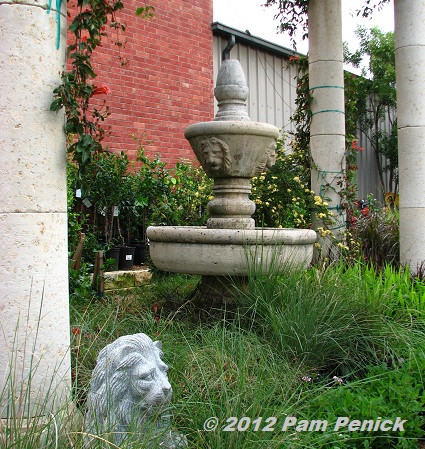 Lions lurk amid the ornamental grasses.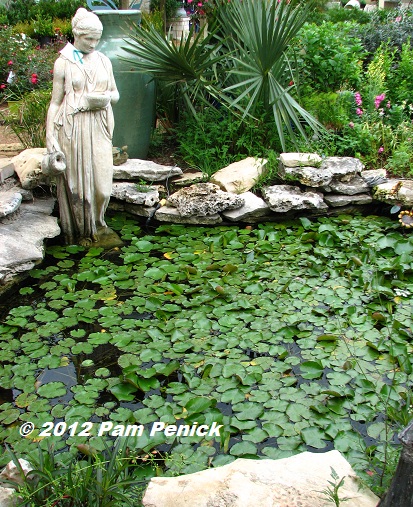 A small pond will be a water lily showcase in a few more weeks.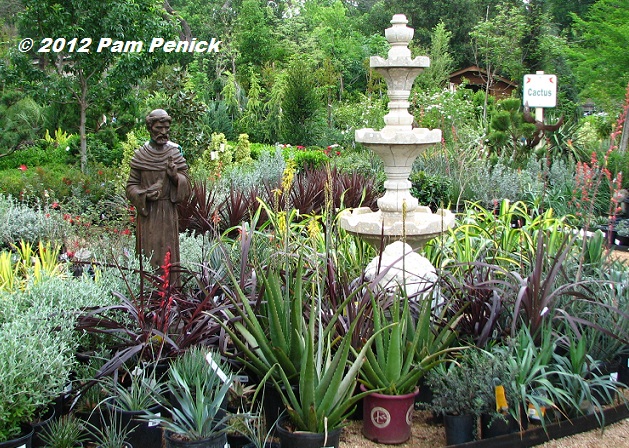 Here's my favorite section of the nursery: the rear display yard, where you can find shrubs, trees, and plenty of xeric plants like these aloes and yuccas.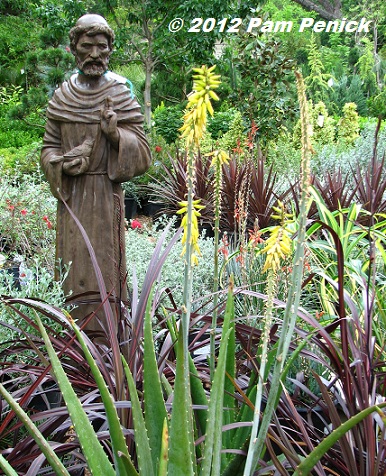 St. Francis examines a beautiful aloe in bloom.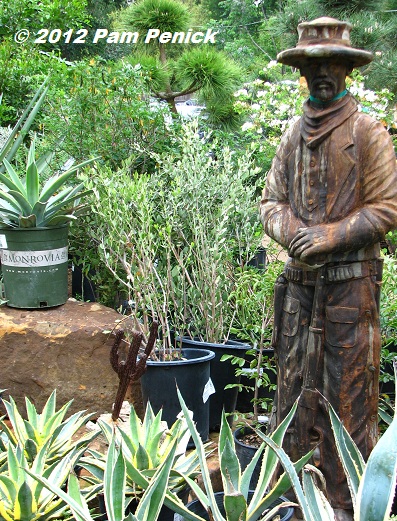 Or perhaps you need a cowboy statue to grace your agave garden? He's not as traditional a choice as St. Francis, but hey, this is Texas. Just add a wagon wheel and a cow skull, and you're all set.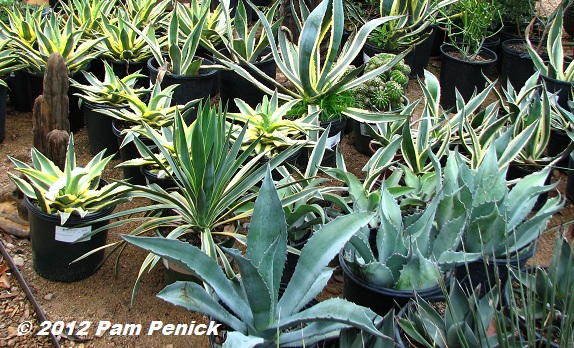 Beautiful agaves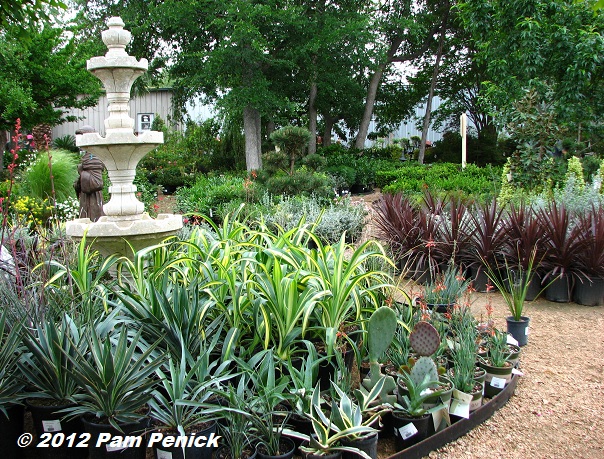 An attractive display of yucca, opuntia, and cordyline. Are those taller, variegated plants a type of furcraea?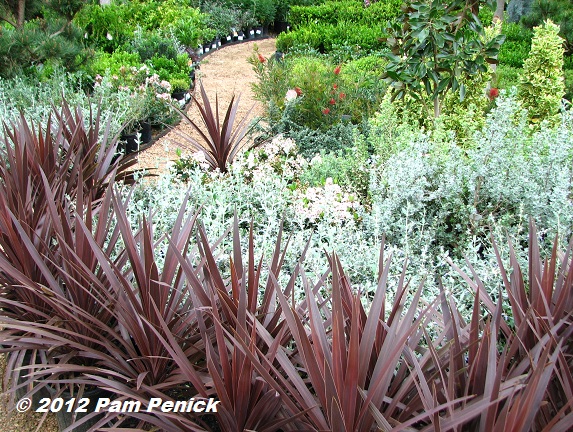 Don't you love this combo of 'Red Star' cordyline with silver Texas sage? (The cordyline does better for me in part shade or dappled shade, however, not the full sun that the Texas sage likes, so maybe this combo isn't one you could easily replicate in real life.)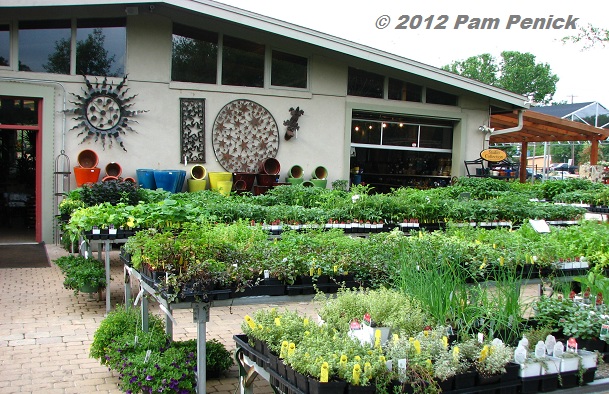 The rear courtyard contains a huge selection of edibles.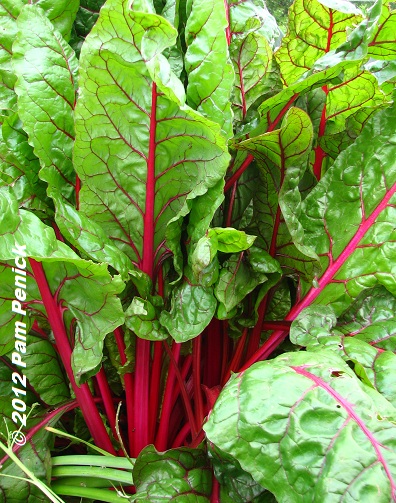 Chard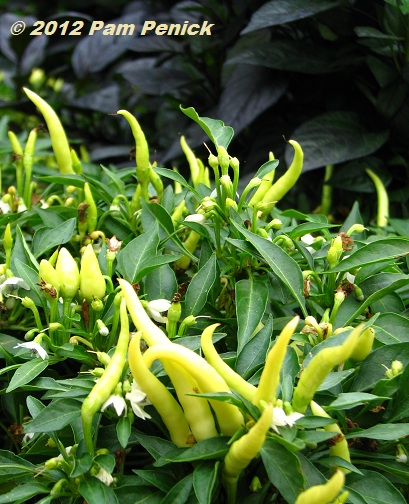 Peppers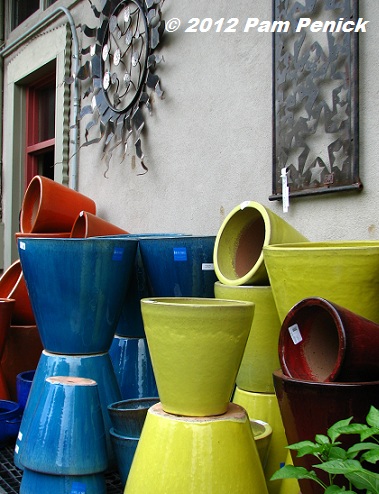 You can find a good selection of colorful pots back here too.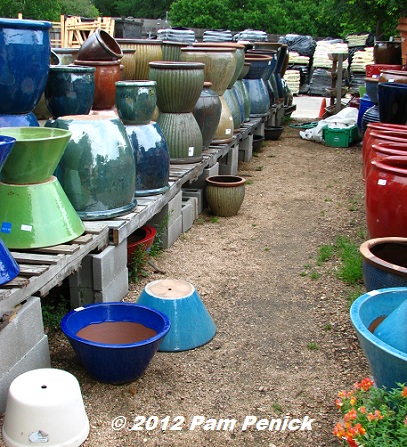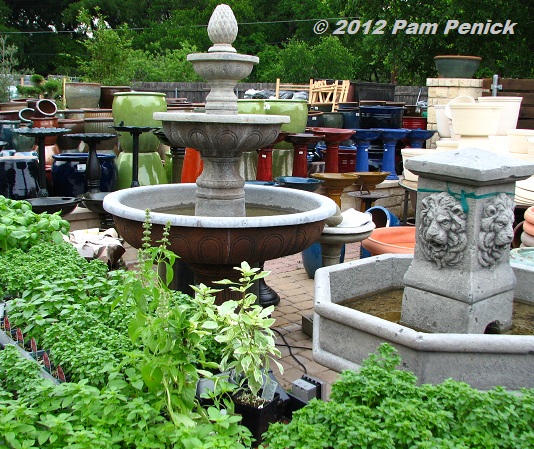 They have some nice classical fountains as well. This tiered lion fountain is similar to one I saw last year on the Dallas Open Days tour, and perfect for a small courtyard.
Austin is lucky to have neighborhood nurseries like Shoal Creek, which carry such a great variety of plants and accessories. Be sure to visit the next time you're in the neighborhood.
All material © 2006-2012 by Pam Penick for Digging. Unauthorized reproduction prohibited.
posted in
Agaves
,
Aloes
,
Arbors
,
Cactus
,
Containers
,
Decor
,
Edibles
,
Fountains
,
Garden art
,
Grasses
,
Nurseries & Shops
,
Paths
,
Ponds
,
Sculpture
,
Spring color
,
Succulents
,
Texas natives
,
Xeric plants
,
Yuccas