March 29th, 2012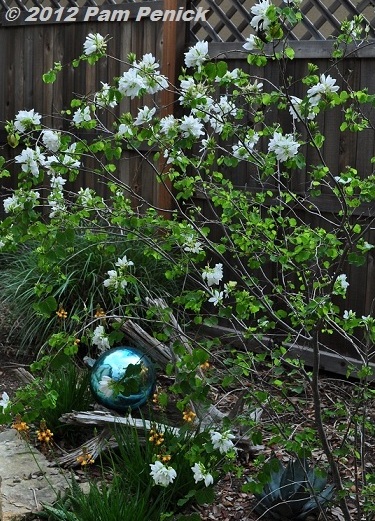 Almost everyone (in central Texas' zone 8 or 9) has room for an Anacacho orchid tree (Bauhinia lunarioides) in their garden. After all, it only grows 8 to 12 feet tall and 6 to 10 feet wide, with an airy habit and tiny, semi-evergreen leaves shaped like deer hoofprints. Although native to the thin limestone soils west and southwest of Austin rather than the deep clay found in parts of our city, this spring-blooming tree seems to grow fine in gumbo clay, or at least so I found in my former garden.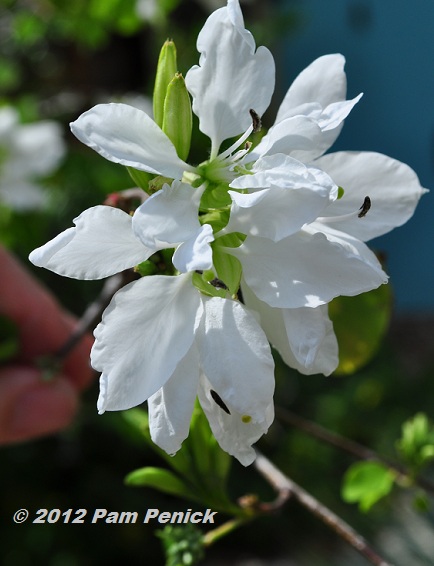 I'm growing a new one in my current garden, and it's looking gorgeous this spring, with flowers like white linen handkerchiefs tied to the ends of its branches. They are slightly fragrant, and bees love them.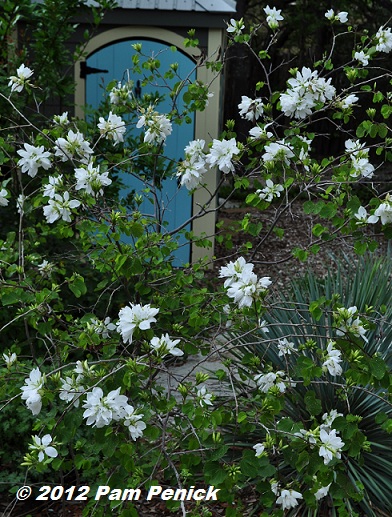 When not in bloom, its silvery gray bark is attractive, and did I mention those cute cloven leaves?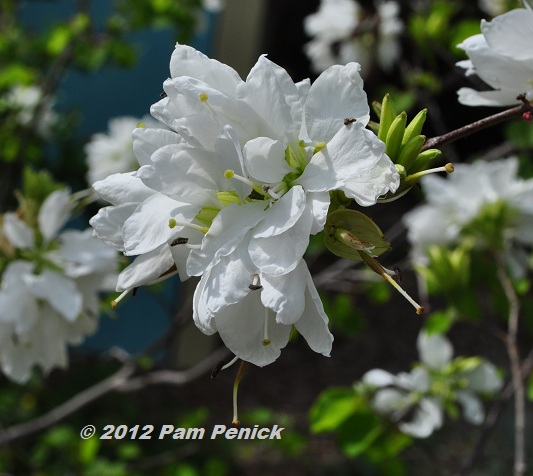 It's a drought-tolerant small tree (when established) for full sun or light shade. So go on, central Texas gardeners, and plant one. You know you have a spot for it.
Note: My Plant This posts are written primarily for gardeners in central Texas. The plants I recommend are ones I've grown myself and have direct experience with. I wish I could provide more information about how these plants might perform in other parts of the country, but gardening knowledge is local. Consider checking your local online gardening forums to see if a particular plant might work in your region.
All material © 2006-2012 by Pam Penick for Digging. Unauthorized reproduction prohibited.