October 23rd, 2006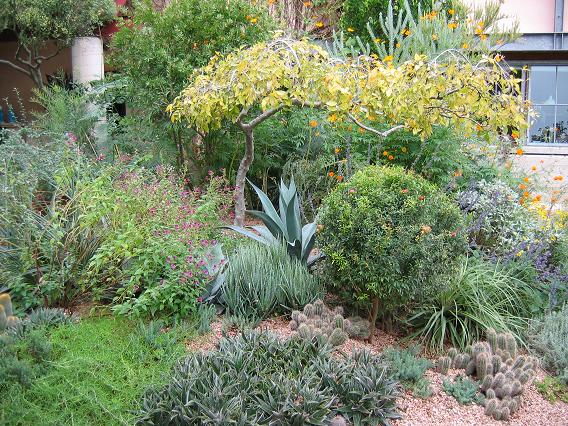 Entry garden. A gravel path flows around this sunny, graveled berm. It literally stopped me in my tracks as I gazed at the intriguing plant combinations.
"Does this make me look fat?" I heard Gary Peese ask someone, fussing with his shirt as the Open Days tour of his and partner James David's garden commenced. There was certainly no need to worry about how their garden looked. It was fat, bulging with fascinating plants from all over the world, rich stonework, a huge lot, and a sense that years of creative design and experimentation—not to mention a whole lot of money—had wrought one of the most beautiful and charming gardens in Austin.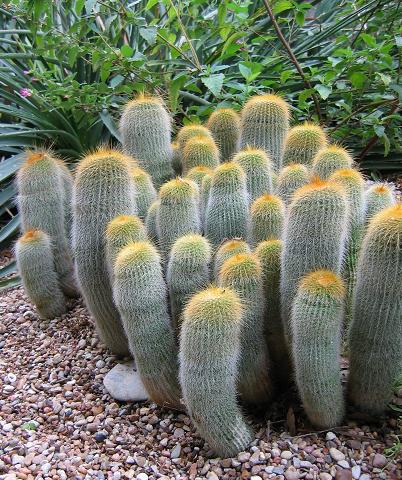 Cacti in the entry-garden berm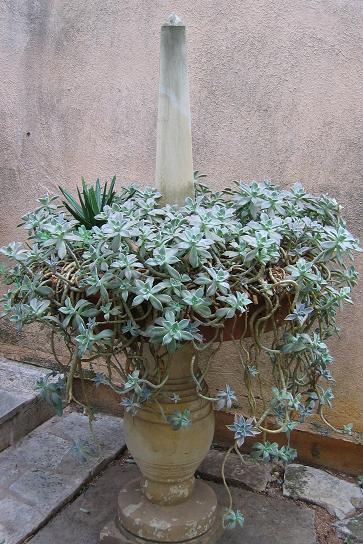 Container planting with stone obelisk
Meandering down a wooded hillside behind the house—a contemporary cottage—the garden's paths branch here and there, opening into intimate garden rooms and secluded seating areas.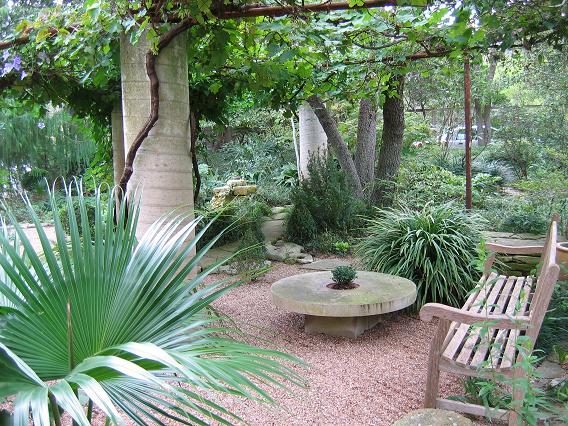 A teak bench and limestone table invite relaxation under a leafy arbor.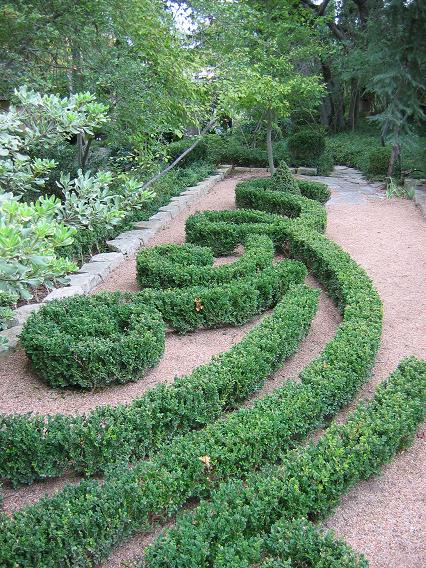 The Embroidery Garden, as I believe Peese called it when he explained to me where the different paths led. This long, narrow space contains boxwoods planted in a loop-de-loop design that does resemble needlework.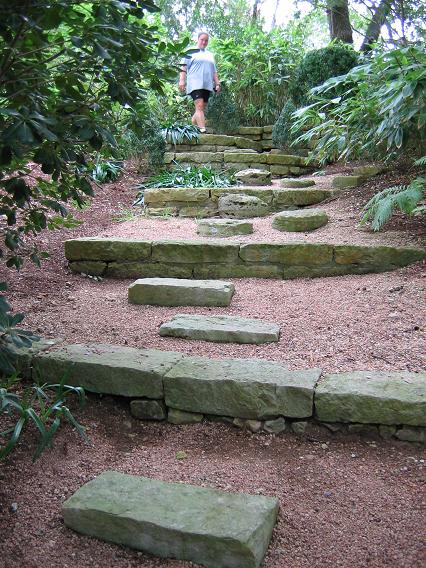 Working its way down the slope, the woodland path segues into an elegantly simple staircase composed of limestone blocks and decomposed granite.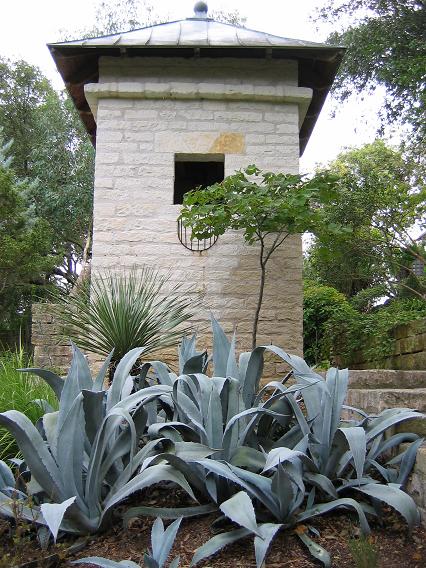 In the midlevel garden, a limestone dovecote towers above a clump of agaves.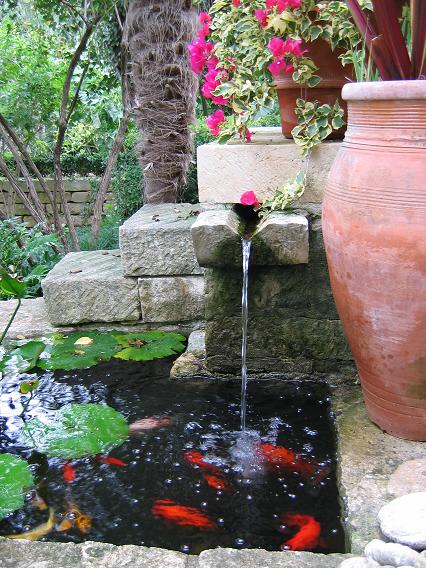 A limestone trough spills water into a small goldfish pond near the house.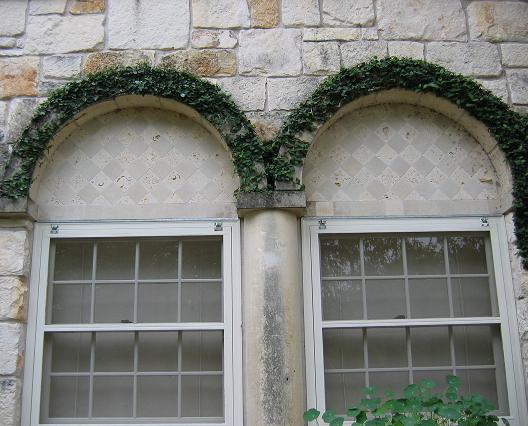 Ivy-covered "eyebrows" above the windows—another eye-catching, old-world detail. Just think how many hours it would take someone over the course of a year to keep that fig ivy from spreading all over the house and windows. It's trimmed as precisely as a banker's mustache.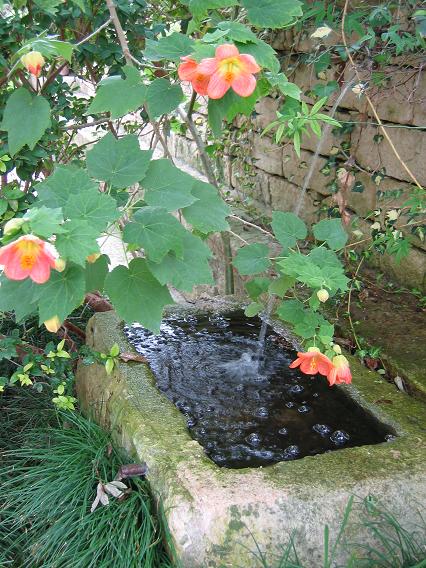 Water runs all through this garden. Here, near a dining table, trickles a simple basin fountain.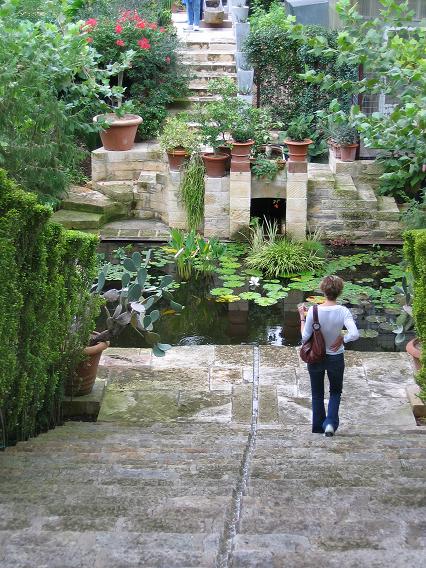 A runnel divides the limestone staircase leading down to the large goldfish pond. I found this little stair-stream delightful and thought how much my kids would have enjoyed hopping over it or just sitting next to it, trailing their fingers through the cool trickle.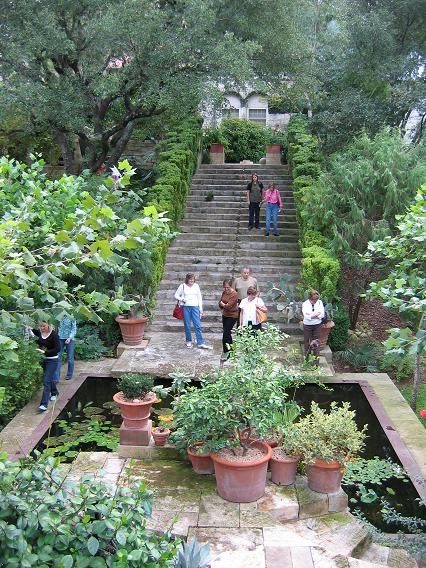 Here's the view from the other side of the goldfish pond, looking back up the stair-stream toward the house.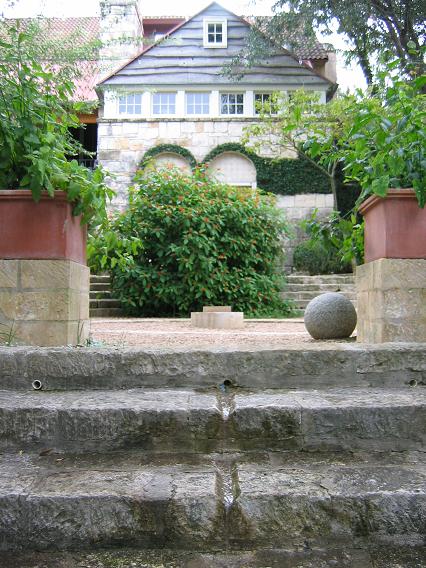 And again, at the top of the stair.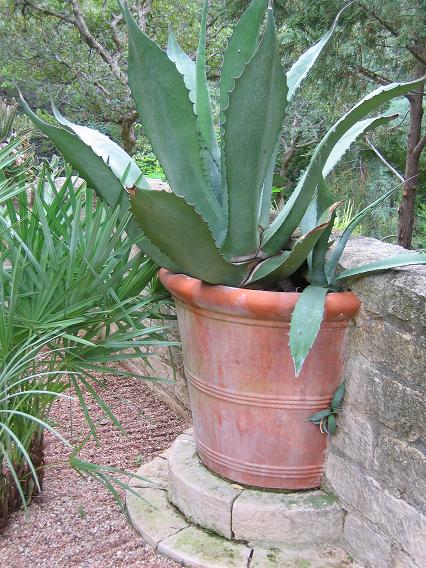 How cool is this? A large terracotta pot is built into the wall, or at least cut in half and mortared to look so. The agave looks terrific planted there, and notice the pup poking out of a crack between the pot and the wall. I love the quirkiness of it.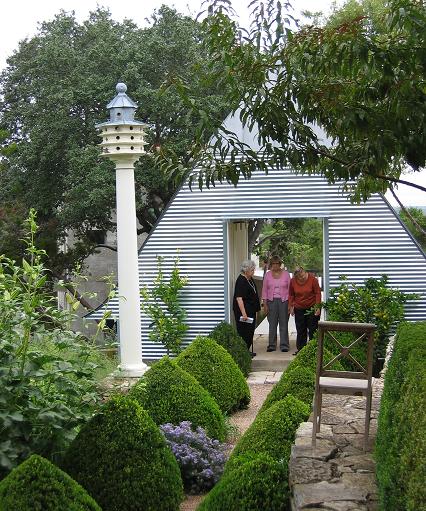 On the sunnier side of the garden, a line of pyramidal boxwoods echo the shape of a triangular, corrugated-metal shed.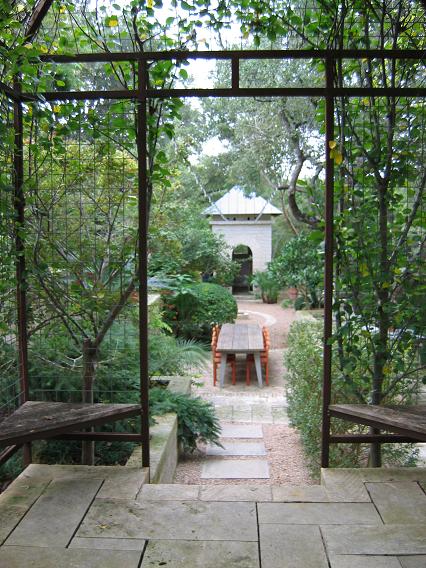 Looking from an iron gazebo across the terraced dining area to the dovecote. Notice the gorgeous limestone floor in this gazebo.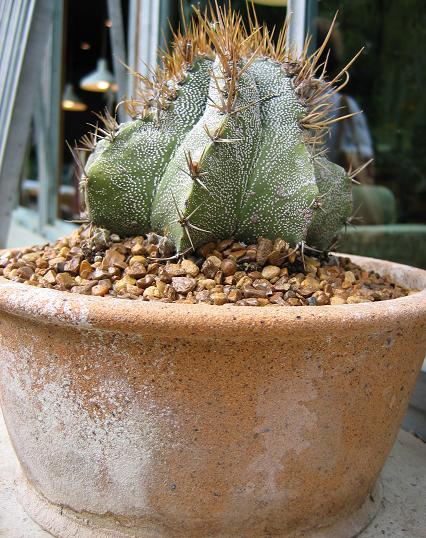 A potted cactus sits on a window ledge.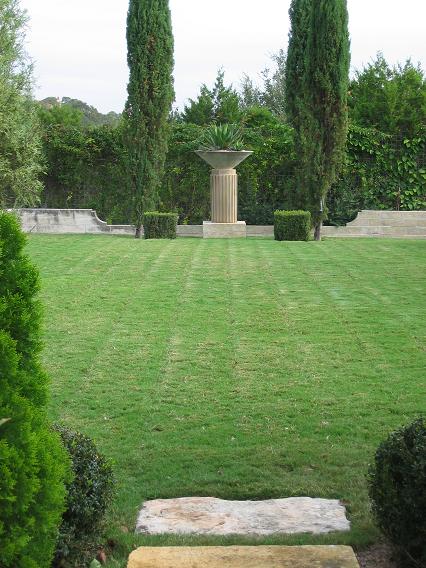 Croquet anyone? A formal lawn finishes out my tour of the garden.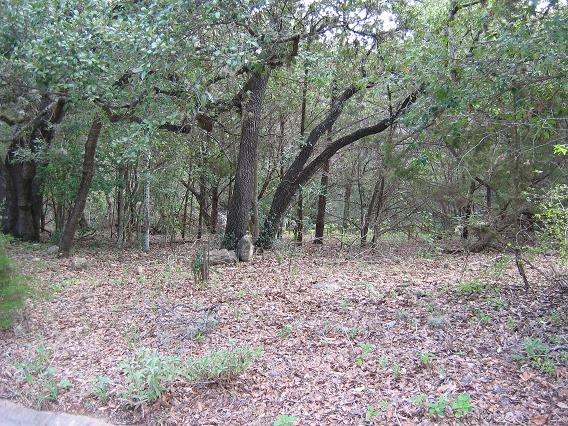 I had to include a photo of the untouched lot across the street from the David-Peese garden in order to contrast what you see here with the garden they created. In this hilly, wooded Rollingwood neighborhood, they're probably gardening on thin caliche (limestone) soil under heavy juniper and oak cover. David and Peese obviously transformed what was a scrubby slice of nature into their own Garden of Eden.
Many of David and Peese's plants are unknown to me. When I asked a volunteer from Gardens (a local nursery started by David and Peese) about the origin of the plants in the garden, he answered, "The Mediterranean, Mexico, Australia. Basically anyplace with a climate similar to ours." What about cold-hardiness, I wondered. He replied that although many of these exotics required babying for a few years, they could and would adapt to our extreme climate. Hmmm. I wonder how many man-hours that babying amounts to? And how much water does it take to get this garden through our hot, dry summers? "Our water bill is out of sight!" David cheerfully confessed to an inquiring visitor.
Well, thank goodness it's their bill and not mine, but I'm awfully glad they're willing to share their garden with us thriftier gardeners. Visiting their Old-World-meets-New-World garden was the highlight of my day.
As I promised yesterday, more posts about the Open Days tour are forthcoming. Join me tomorrow for a tour of the Arth garden.
All material © 2006-2008 by Pam Penick for Digging. Unauthorized reproduction prohibited.
posted in
1st garden--2006
,
Agaves
,
Arbors
,
Containers
,
Fountains
,
Garden tours 2006
,
Hillside
,
Paths
,
Rills
,
Sculpture
,
Water gardening