March 13th, 2012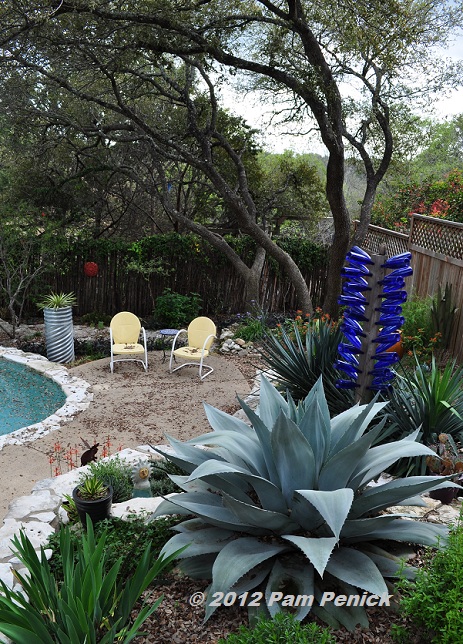 Close-ups are great for appreciating the beauty of a single plant, but it's harder to convey the overall feeling of a garden with a wide shot. While taking a break this afternoon from design work, I stepped into the back garden with camera in hand and took this series. It really conveys the feeling of my hillside Austin garden, I think—its spiky, evergreen foundation, limestone walls and cedar fencing, abundance of vertical accents, and overstuffing of focal-point pots. The carpet of live oak leaves on the patio (and in the pool) would convey to any central Texan that this is mid-March, when our evergreen canopy trees—see those contorted trunks in the background?—disrobe briefly as new leaves push forth.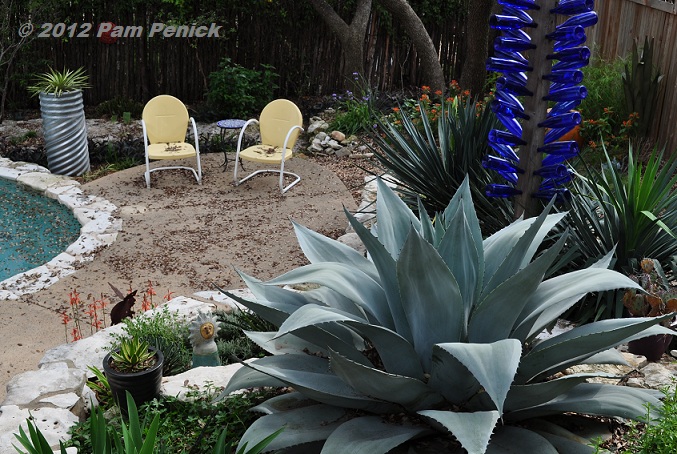 We're looking down on my garden from the upper patio next to the house. Moby, my beloved 'Whale's Tongue' agave (A. ovatifolia), anchors the upper raised bed. In the bed that steps down behind him, a trio of softleaf yuccas (Y. recurvifolia) and bottle tree riff on each other's still-armed form. By the yellow motel chairs, a 'Margaritaville' yucca tops a spiraling culvert planter. I like stair-stepping vertical accents down the slope—think exclamation-point cypresses in Tuscany, minus the timeless sophistication!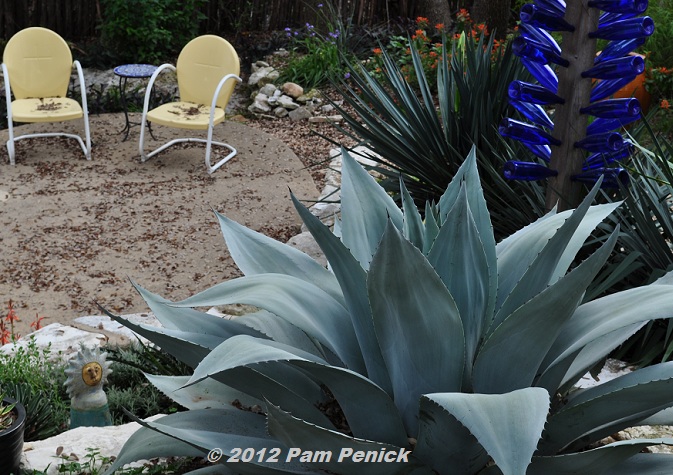 Inching closer, extraneous detail gets filtered out, and you notice the purple spiderwort and orange Mexican honeysuckle blooming in the background. The softleaf yucca is sending up a bloom spike too.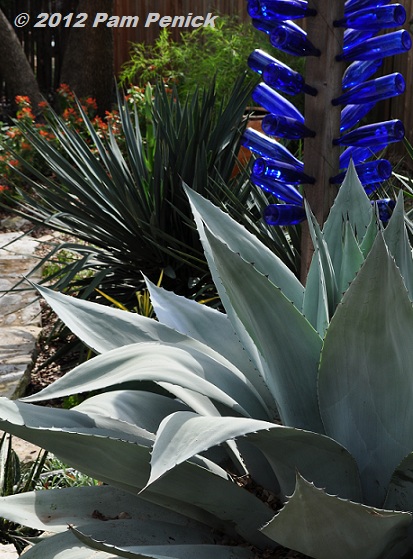 Closer still and lower, you notice the afternoon light incandescing the leaves of the Mexican weeping bamboo (Otatea acuminata aztecorum) in the background. In front, Moby's broad, cupped, powder-blue leaves serrated with orange teeth take center stage.
Of course, I have other "rooms" in my garden, but this section really says Tecolote Hill to me. Perhaps not coincidentally, it's also the first area I started planting when I moved in 3-1/2 years ago. How about you? Does a certain area of your garden represent the overall feeling you're going for, even if it's a new garden like mine?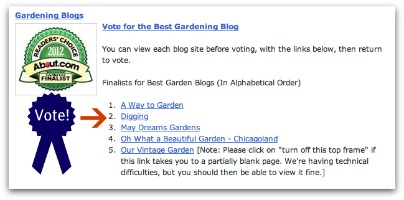 By the way, my blog Digging is a finalist for Best Gardening Blog in the Readers' Choice Awards at About.com. I'd love to have your vote. You can vote once a day (it's on a 24-hour cycle) until March 21. So vote early and often! Thanks for your support! (And thank you to Pamela Price for the vote graphic.) Click to VOTE.
All material © 2006-2012 by Pam Penick for Digging. Unauthorized reproduction prohibited.