March 16th, 2012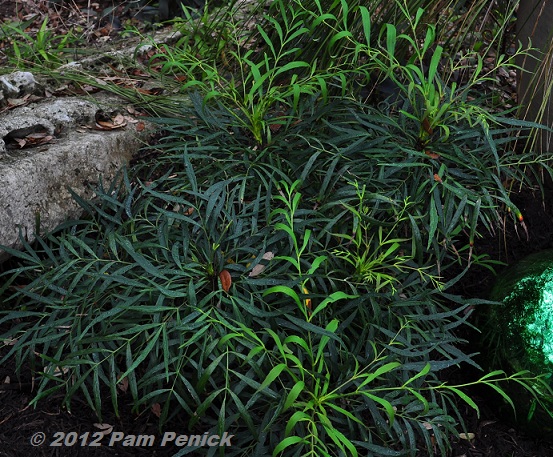 Mahonia eurybracteata 'Soft Caress' is new to the nursery trade and beginning to pop up in local garden centers. I recently bought this big 7-gallon 'Soft Caress' on discount at Hill Country Water Gardens, where they gave me a deal so I could trial it in my garden. If you're interested, they have more 7-gallons, and I've also seen it offered at Red Barn (5 or 7 gallons) and Barton Springs Nursery (one small one).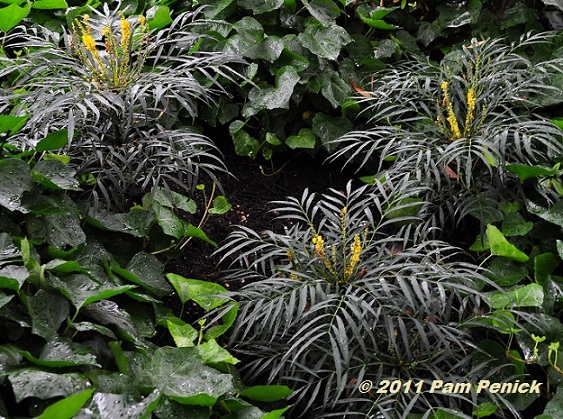 I first saw 'Soft Caress' mahonia last spring in the Rister-Armstrong garden on the Dallas Open Days garden tour. It was love at first sight! From the cultivar name you might guess that it's a non-prickly mahonia, and you'd be right. It has a mounding habit and needs full shade in our hot climate. Like all mahonias, it's considered deer resistant.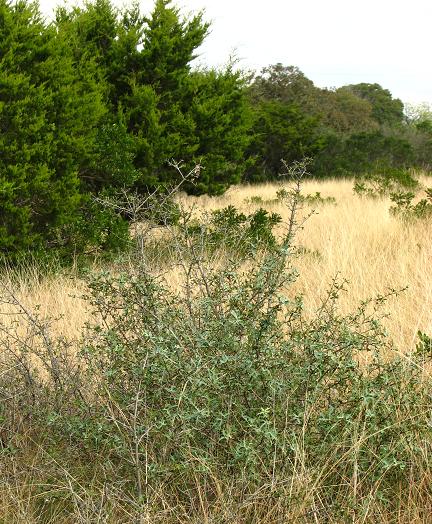 Oregon grape holly (Mahonia aquifolium), native to the Pacific Northwest, may be the best-known mahonia, and it grows in shade in Austin too. But we also have a native mahonia that takes sun or shade and grows well in garden settings too: agarita (Mahonia trifoliolata), seen here growing wild in a savannah at Lost Maples State Natural Area.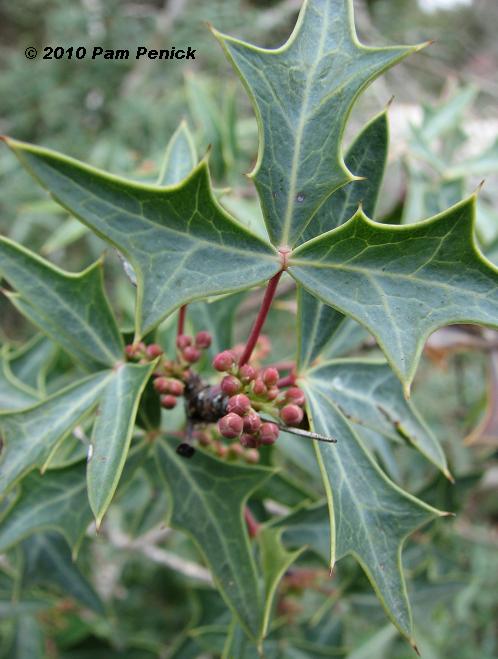 And at the Wildflower Center…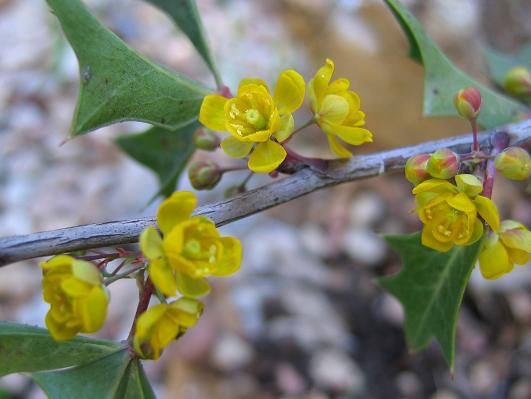 I grew it in my former garden and keep meaning to add it to my current garden. Its blue-green leaves are lovely year-round, and in spring it holds small clusters of yellow flowers along its woody stems.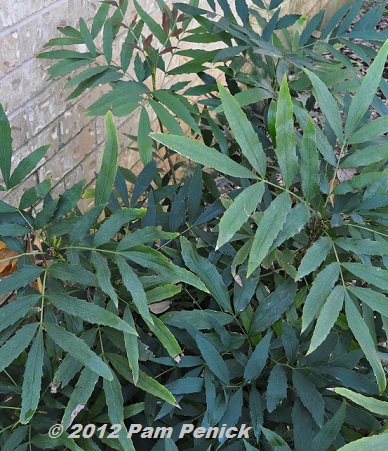 I inherited two Chinese mahonias (Mahonia fortunei) with our current house and have grown to admire their handsome leaves, drought tolerance, and deer resistance. I'd never seen them for sale in Austin until recently, at Red Barn. I nearly snapped up several more before realizing I didn't know where I'd put them.
So there's my mahonia tribute. Join me in posting about your lovely leaves of March for Foliage Follow-Up, a way to remind ourselves of the importance of foliage in the garden. Just leave a comment here with a link to your foliage post, and please include a link to Digging in your post. If you can't post so soon after Bloom Day, no worries. Just leave your link when you get to it.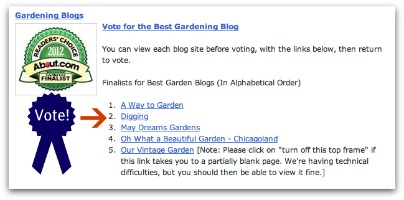 By the way, my blog Digging is a finalist for Best Gardening Blog in the Readers' Choice Awards at About.com. I'd love to have your vote. You can vote once a day (it's on a 24-hour cycle) until March 21. So vote early and often! Thanks for your support! (And thank you to Pamela Price for the vote graphic.) Click to VOTE.
All material © 2006-2012 by Pam Penick for Digging. Unauthorized reproduction prohibited.