March 8th, 2012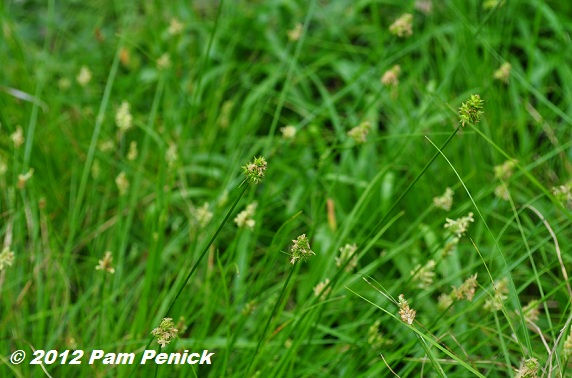 If you're lucky enough to have shade in central Texas, you may be unlucky in your attempts to grow traditional lawn grass. St. Augustine is the only dependable turf grass for shade, and during the drought, thirsty St. Augustine dried up and blew away all over Austin last summer. Not everyone wants to install a garden in place of lawn, which is why a sweet but tough native sedge is getting so much attention these days.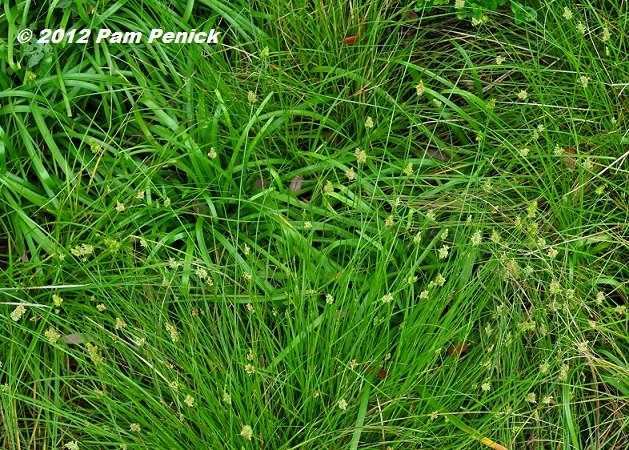 In dry shade, dappled shade, or even a little morning sun, Texas sedge (Carex texensis Carex retroflexa 'Scott's Turf') makes a short, evergreen, tufty carpet that never needs mowing and requires little water once established. It can take light foot traffic (lay a stepping-stone path if you walk through it every day) and looks especially charming interplanted with bulbs, meadow-style. In my garden, I've planted a few swaths of Texas sedge along the edges of shady beds, intermingled with the strappier, evergreen foliage of pink rain lilies (Zephryanthes 'Labuffarosea').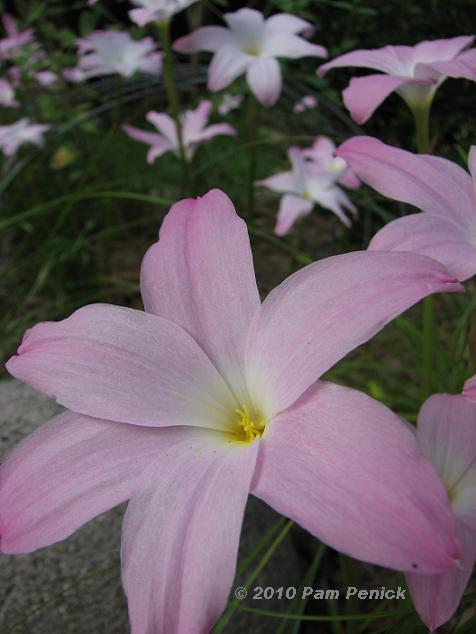 In bloom, the candy-pink rain lilies rise on slender stems above the grassy sedge.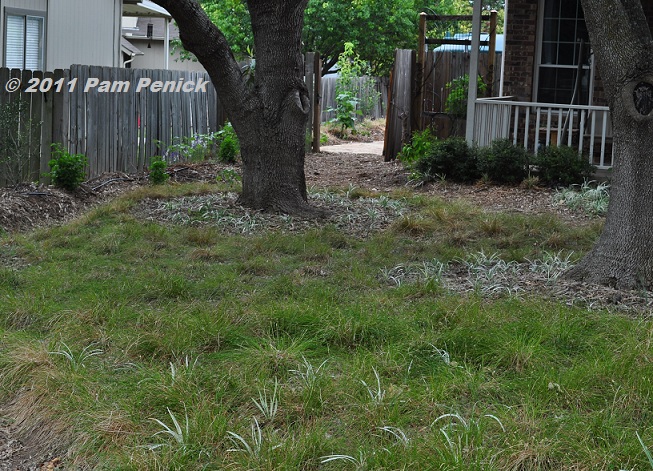 My friend Sheryl Williams, who blogs at Yard Fanatic, replaced her traditional lawn with Texas sedge a few years ago and loves its neighbor-pleasing grassy look and undemanding nature. Once she got it established she never watered it in the summer of 2010 and only a handful of times in the heat- and drought-challenged summer of 2011. (Click for a tour of Sheryl's north Austin garden.)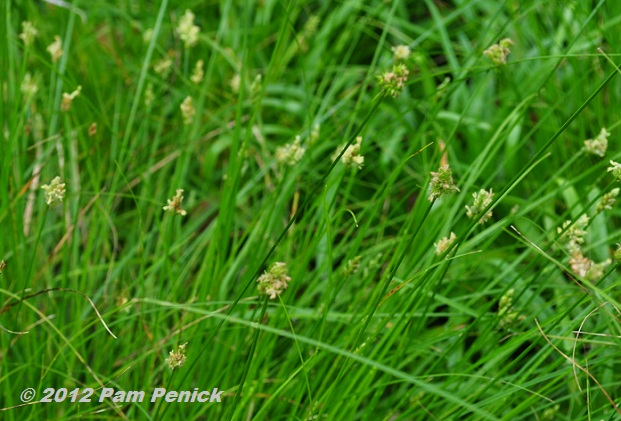 You can find flats of Texas sedge under the name 'Scott's Turf' (named after local plantsman and author Scott Ogden, who identified it for them) at Barton Springs Nursery, where they grow it from seed. If you need more convincing of the merits and beauty of this little sedge, visit The Grackle, where Lee loves Texas sedge too.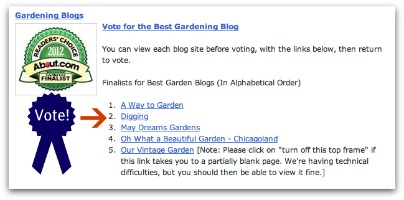 By the way, my blog Digging is a finalist for Best Gardening Blog in the Readers' Choice Awards at About.com. I'd love to have your vote. You can vote once a day (it's on a 24-hour cycle) until March 21. So vote early and often! Thanks for your support! (And thank you to Pamela Price for the vote graphic.) Click to VOTE.
Note: My Plant This posts are written primarily for gardeners in central Texas. The plants I recommend are ones I've grown myself and have direct experience with. I wish I could provide more information about how these plants might perform in other parts of the country, but gardening knowledge is local. Consider checking your local online gardening forums to see if a particular plant might work in your region.
All material © 2006-2012 by Pam Penick for Digging. Unauthorized reproduction prohibited.