February 16th, 2012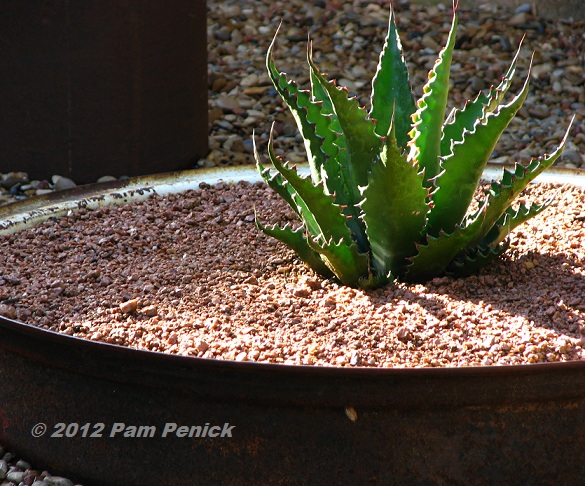 Hot on the heels of Bloom Day, we're once again celebrating Foliage Follow-Up, praising the oft-unsung hero of all good gardens: plants with beautiful or intriguing foliage. My theme this month is bold foliage. Well, that's my theme most months, as I have a weakness for plants with a bit of architecture or weirdness. Here's my newest acquisition: Agave gentryi 'Jaws.' It is well named. Just look at those teeth! (Cue the Jaws soundtrack.) It's just a baby shark now, but it will grow. Will it ever be safe to go into the garden again?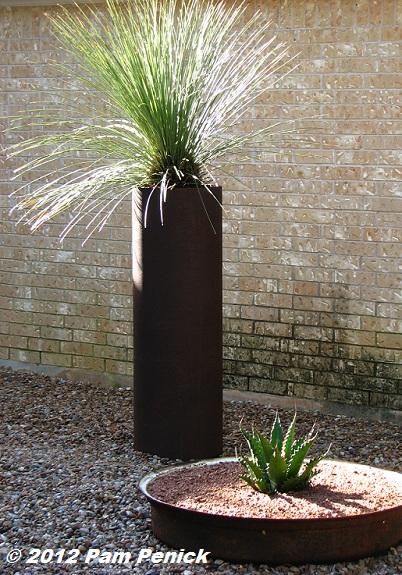 It has its own aquarium to swim in. I wanted to get all trendy in my new Zen garden and have a Cor-Ten steel ring constructed to plant it in, a la Tom Spencer's marvelous circular Cor-Ten planter. But I cheaped out and trolled Craigslist until I stumbled on an ad for old tractor rims. Oh yes I did! I planted up a rusty tractor rim and think it looks kind of industrial-modern. "What's next?" the neighbors may be wondering. "Tires and old boots?" That's the infamous toothless sotol (Dasylirion longissimum) in the steel pipe. And I still need to scrub clean that brick. Sigh.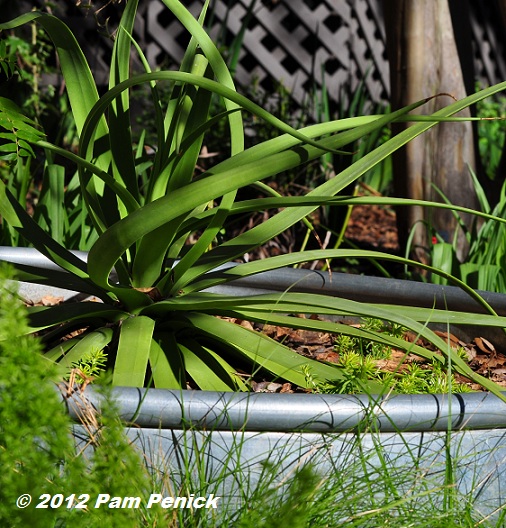 Why are so many agaves named for sea creatures? My largest squid agave (A. bracteosa) waves its tentacles in a stock-tank planter aquarium.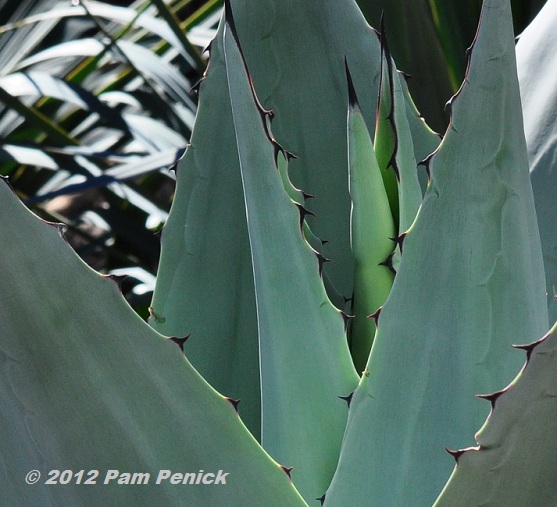 And Moby, the 'Whale's Tongue' (Agave ovatifolia), manages to look both menacing and touchable. Mind the teeth!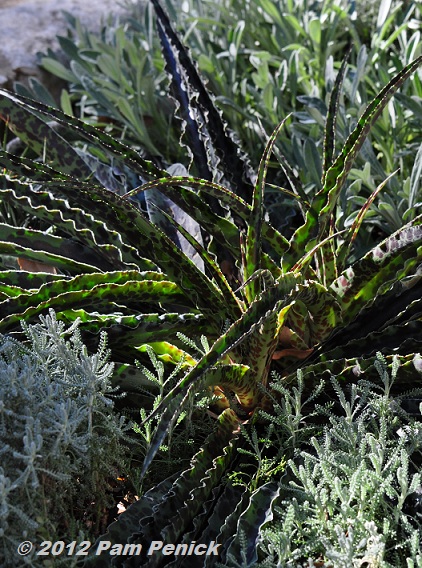 'Chocolate Chips' manfreda is looking delicious in the gravelly raised bed, alongside silver santolina and gazania foliage.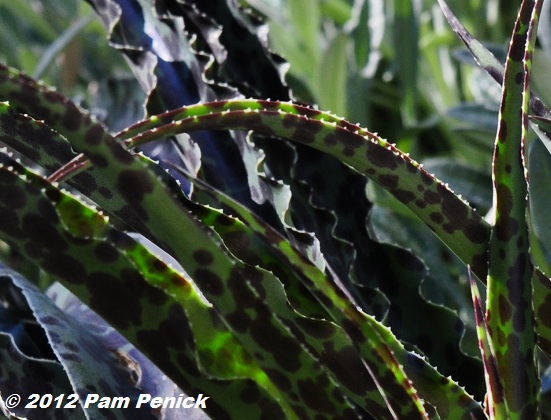 Ruffles and spots—this plant has it all.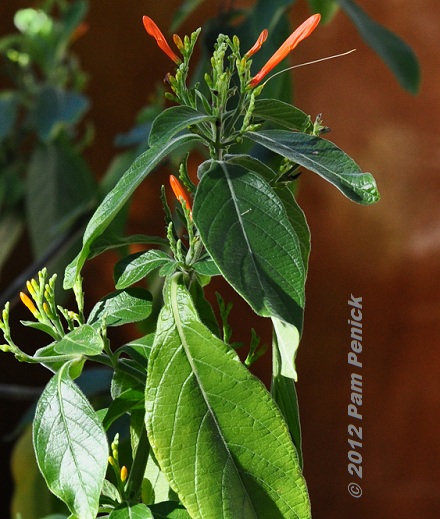 OK, there's nothing bold about the loose, shrubby form of Mexican honeysuckle (Justicia spicigera). But I do like the shiny leaves, and look—it's about to open up those hummingbird-attracting orange flowers.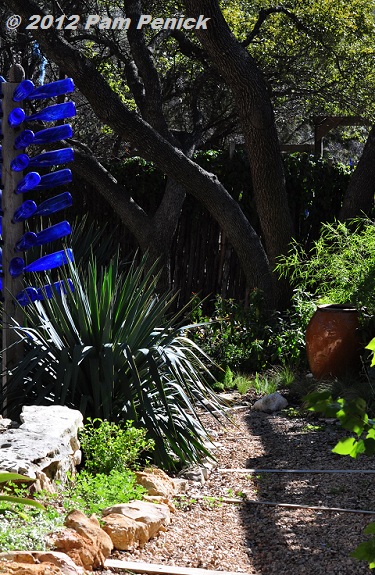 The afternoon sun lights up a softleaf yucca (Y. recurvifolia) and Mexican weeping bamboo (Otatea acuminata aztecorum) along the bottle-tree path. In the foreground at left, those glowing leaves are self-seeded bluebonnets (Lupinus texensis), which should be flowering by this time next month.
Join me in posting about your lovely leaves of February for Foliage Follow-Up, a way to remind ourselves of the importance of foliage in the garden. Just leave a comment here with a link to your foliage post, and please include a link to Digging in your post. If you can't post so soon after Bloom Day, no worries. Just leave your link when you get to it.
All material © 2006-2012 by Pam Penick for Digging. Unauthorized reproduction prohibited.