January 26th, 2012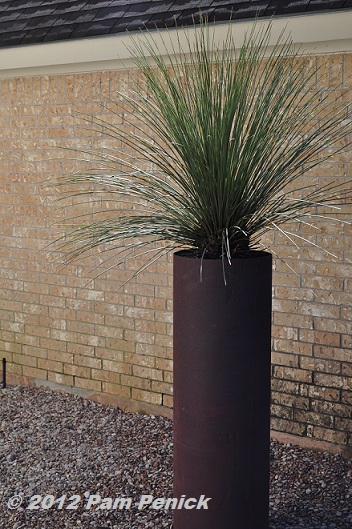 A few months ago Link Davidson, who has a talent for collecting and repurposing industrial leftovers in gardens (see the garden he designed for his neighbor, Wendy), sold me a piece of heavy steel pipe. He even delivered it to my house, and let me tell you, it is extremely heavy. I found the perfect place for it in the new gravel garden I've started between the garage and the front entry. I had help burying two feet of its length in the ground for stability, and I eagerly planted it up with a large toothless sotol (Dasylirion longissimum) that I found on sale at Big Red Sun.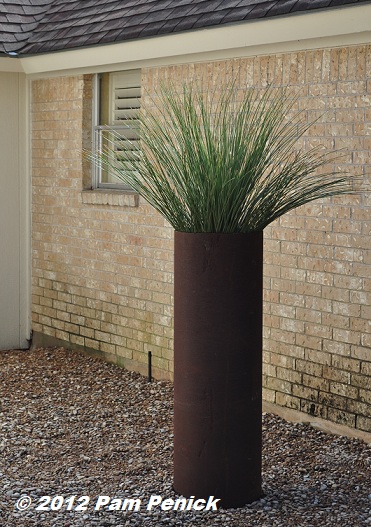 Uh-oh. This is how it looked after I finished watering it in and top-dressing it with gravel. Have you ever made this mistake? Believe it or not, I did measure the height of the root ball and thought I'd filled the pipe with enough soil to ensure the plant sat high, allowing its lower leaves to fall horizontally. But clearly I goofed, and by the time I stood back and saw my error, the plant had somehow gained about 25 pounds, and I couldn't budge it. When my teenage son came home from school, I set up two stepladders on either side of the pipe, and we both grabbed handfuls of leaves and pulled. It wouldn't budge. My husband came home and we tried again. No dice.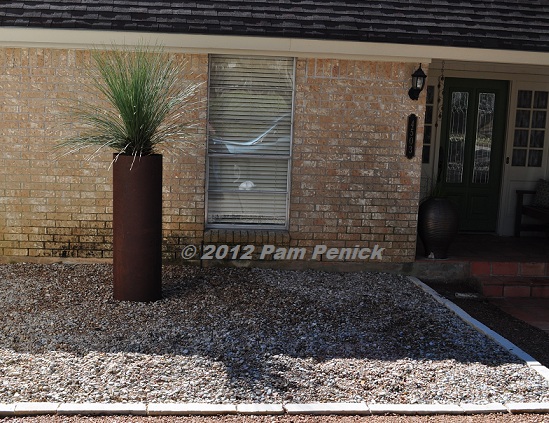 So this morning I paid for my initial hastiness with a slow excavation of handfuls of soil and gravel until half the root ball was exposed. I bungeed the sotol's long, breakable leaves into a vertical ponytail, climbed the stepladder, jammed my arms down the sides of the pipe, and heaved it out. I felt like a farmer who'd just assisted in the difficult birth of a calf: dirty, sweaty, a little bloody, but triumphant. And here it is, raised to the right height this time, looking great in that rusty pipe planter, in the new gravel bed with a crisp limestone edge. I still have much to do: clean the stained brick siding, paint the wood siding on the garage (not visible here), and soften the whole space with more xeric plants. I will try not to be so hasty with the rest of it.
All material © 2006-2012 by Pam Penick for Digging. Unauthorized reproduction prohibited.