January 1st, 2012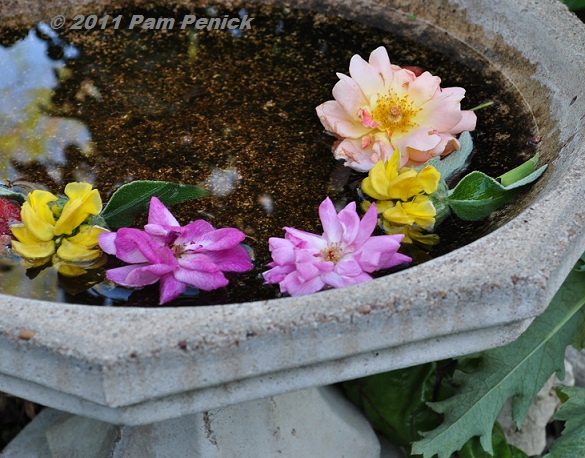 Do you ever think about what a garden blog requires? Entertaining and informative writing, arresting images, and, for fodder, all those hours spent gardening or visiting other gardens. Keeping a garden blog "fed" regularly is like working a part-time job—for free.
It's also, of course, a creative outlet like no other, where you can publish anything you want (with no editor or publisher saying yea or nay), and where you can converse with others who share your passion. And all that gardening and garden visiting that gives you material for your blog? Why, that's pure joy! That's why we're all here, because we share a love of gardening, plants, and nature.
The new year has me ruminating over what Digging has meant to me for the nearly six years I've been blogging. The best analogy is that it's a magic portal to a world I'd never have discovered otherwise, peopled by fellow garden lovers, beautified by their gardens, and brimming with shared experiences. I am so grateful for all of you, your interest, your comments, and your friendship. Thank you for sharing this sweet old world with me (and thanks to Lucinda Williams for the phrase).
Enough sentimentality. This post was meant to be a response to a year-end post by Les at A Tidewater Gardener. Les is an incredible photographer, especially of open vistas of natural beauty. He chose his top 10 images from 2011, and I decided, spur of the moment, to do the same. I quickly learned that choosing a favorite image is not an objective process; each choice hinges on the emotional or technical back-story. If you take photos, try it—you'll see. For this moment in time, however, here are my favorite photos from 2011, and why.
Pictured at top, colorful roses floating in a birdbath in Lucinda Hutson's festive, romantic garden last spring. Aside from the beauty of this vignette, I like that it reminds me of Lucinda's garden and her hospitality and her special touches to make everything lovely.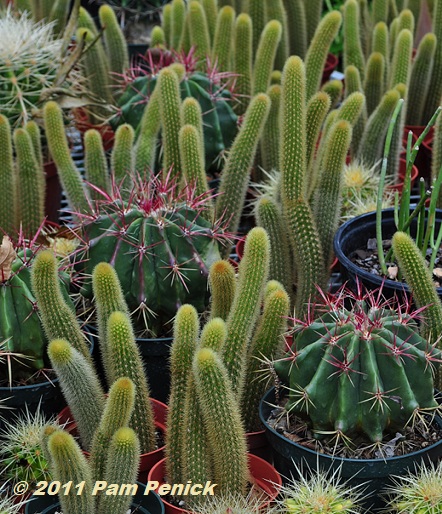 This one appeals to me for the pattern and lively form of the plants, which I saw during a visit to Big Red Sun. Aren't they fun?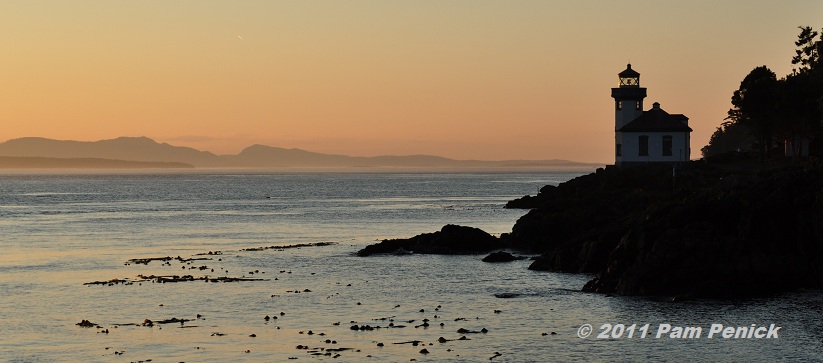 During a stay in the San Juan Islands, Washington, this summer, we visited Lime Kiln Lighthouse at sunset. This is my favorite image of the dozens that I took.

Another instance of being in the right place at the right time. I wrangled a last-minute, early morning visit (brazenly inviting myself over) to Michael McDowell's prairie garden during a trip to Dallas and happened to catch it at peak fall bloom, with the morning light illuminating the garden beautifully. Thank you, Michael!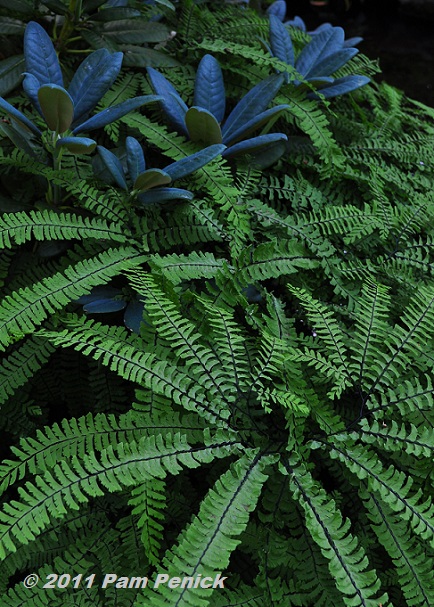 A quieter image, but I like the whorling form of the fern and the contrast with the glossy, blue leaves in the background. This is from Seattle's Dunn Gardens, and it reminds me of the lush beauty of that region, so different from the rugged, prickly beauty of my home terrain.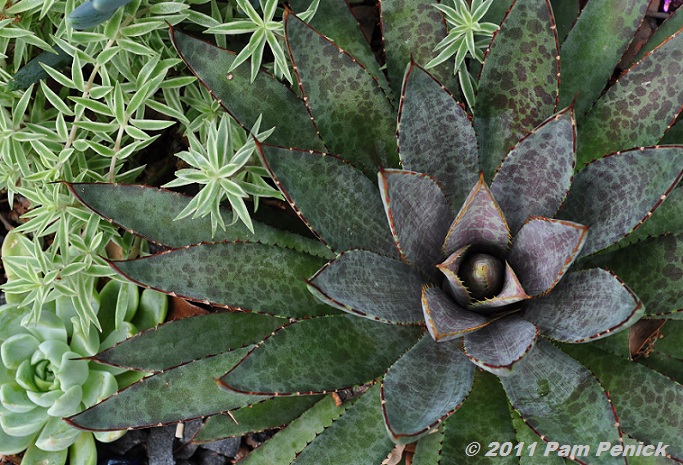 Stars and rosettes. This, to me, is a happy image from my own garden during a difficult summer. The freckled beauty is 'Bloodspot' mangave. Plant love!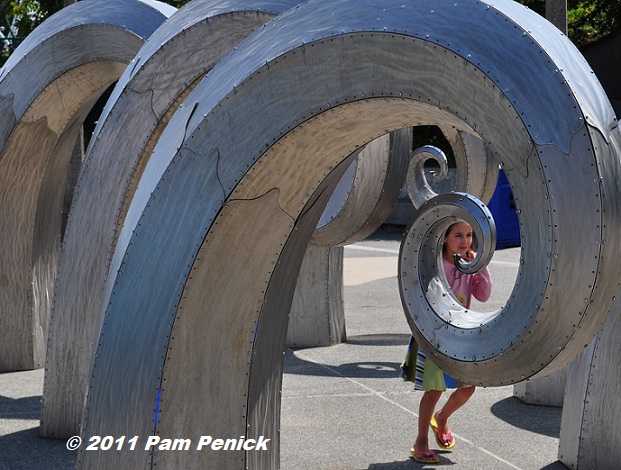 'Salmon Waves' at Chittenham Locks in Seattle. I like this photo because I was able to capture a little girl's face in the curl of a wave as she darted by. This sculpture was so dynamic, and her presence adds to the overall feeling of motion and gives the photo a focal point.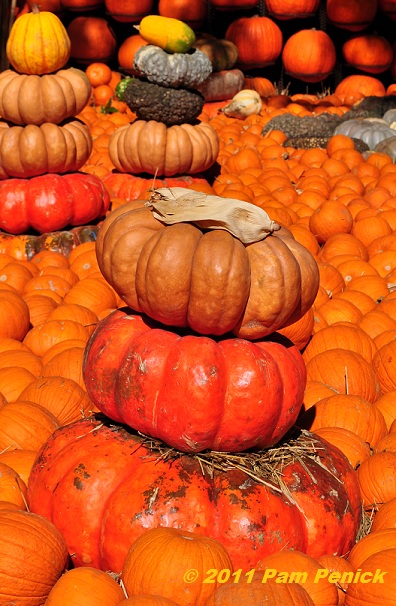 Hm, I had a lot of colorful shots to choose from. Why this one? Not because of any technical superiority, obviously. I think I just liked the warmth of the pumpkins, and fall is my favorite time of year. And it reminds me of a fun visit with my family at the Dallas Arboretum last October.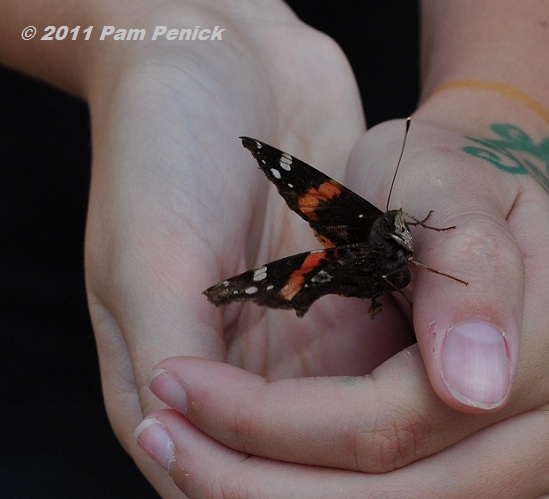 A child's wonder. I shot this at the Lady Bird Johnson Wildflower Center, one of my favorite haunts throughout the year.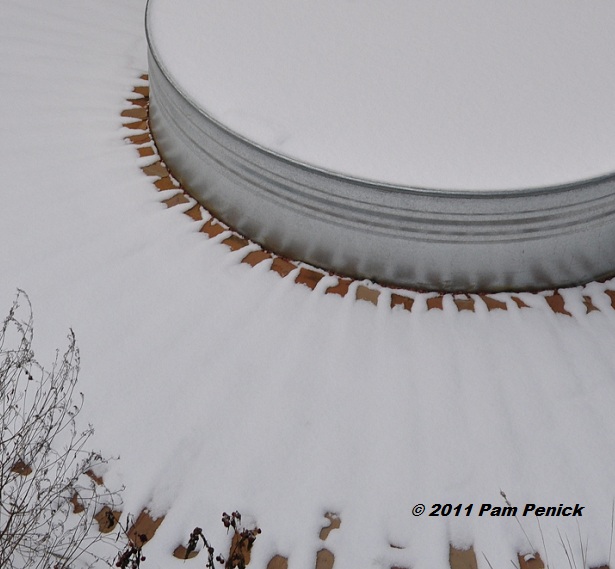 I like the modernistic geometry of this one. It's my stock-tank pond and surrounding stone path after Austin got an inch of snow in February.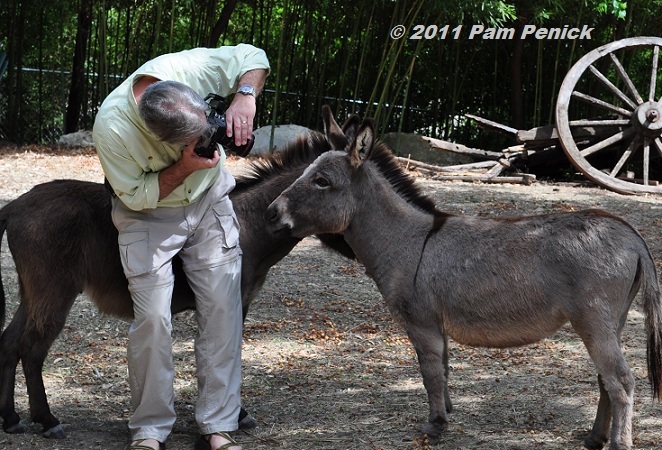 I love the humor of this one. Last April I showed Southern Living photographer Ralph Anderson around some local gardens. Ralph got interested in a close-up of a couple of irresistible miniature donkeys. I'm sure he got the better shot, but I still smile when I see this one.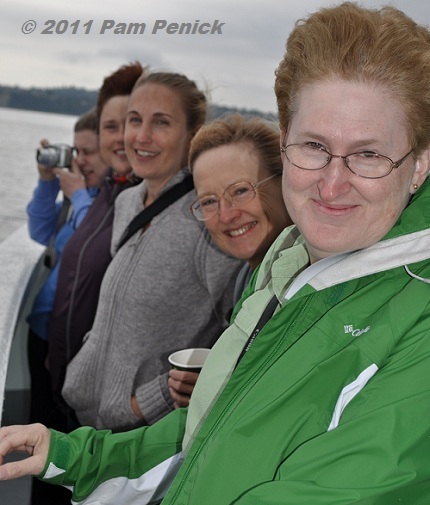 What do I love about this shot? The smiling chorus-line of faces of garden blogging friends, and Kathy shooting the view at the end of the row, as we rode the ferry on the final day of the Seattle Garden Bloggers Fling. I hope to see old and new garden blogging friends—and capture more scenes like this—at this year's Fling in Asheville, North Carolina. All you bloggers who haven't yet attended, find a way to make it happen! The destinations, which change yearly, are wonderful, but it's really meeting the people behind the blogs that makes it worthwhile.
Plants, gardens, friends, and fun—that's what blogging has given me. And I hope Digging has given you similar enjoyments. Here's to another year!
All material © 2006-2012 by Pam Penick for Digging. Unauthorized reproduction prohibited.