December 22nd, 2011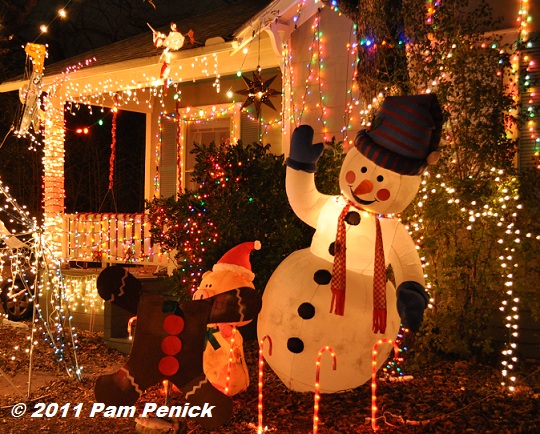 Would it be Christmas in Austin without a spin under the Zilker Tree and a stroll down 37th Street? We intended to do both last night, but a welcome rain shower allowed only 37th Street. No matter—the Zilker Tree is lit until New Year's Eve, and a dizzying spin still awaits. Here, meanwhile, are the lights of 37th Street for your enjoyment.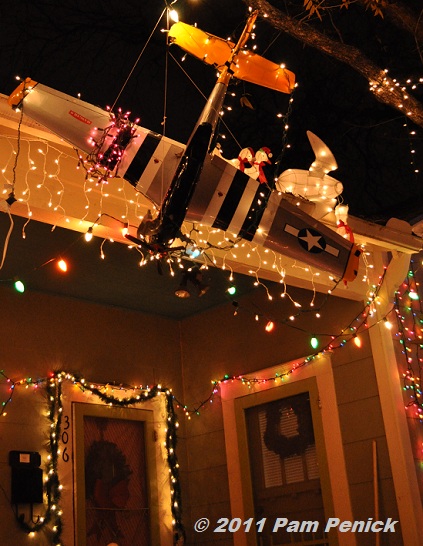 The spectacle that was once 37th Street has faded considerably since its heyday a decade ago, but we still make the pilgrimage to see Austin's funky Christmas spirit alight with playful, good-spirited humor. We appreciate the gift these neighbors (many of them new to the street's holiday tradition) continue to give their fellow citizens by lighting up their homes and front yards so uniquely for everyone to enjoy. You won't see a lot of Santas or tasteful lighting on this block. Expect the unexpected. Here a model airplane soars through the trees, with—what on earth?—wing-walking Christmas geese and perhaps a winged blimp.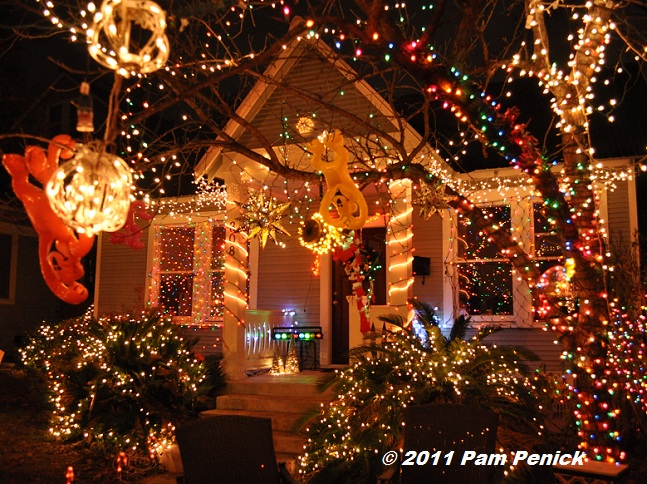 Inflatable monkeys dangle from tree limbs at this house. Actually, monkeys were a theme at several houses this year. Wonder what's up with that?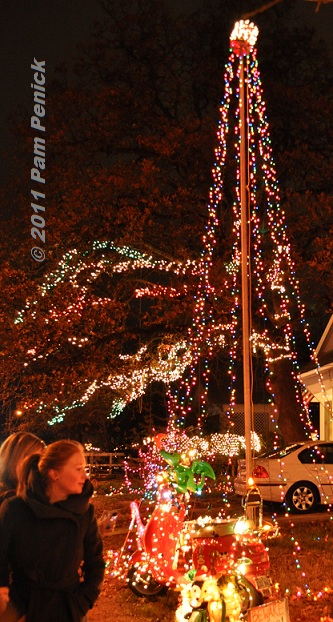 A tall pole is transformed into a tree of lights.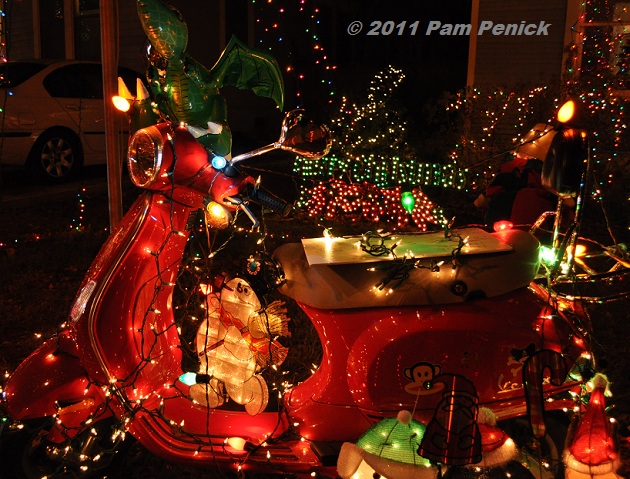 Parked beneath it? A scooter with Frosty the Snowman…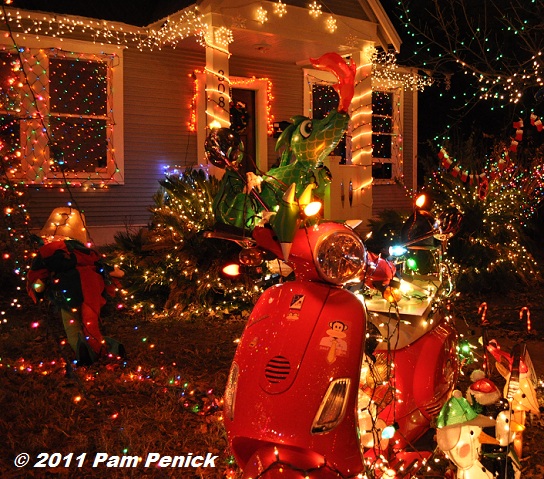 …and an inflatable, fire-breathing dragon on board.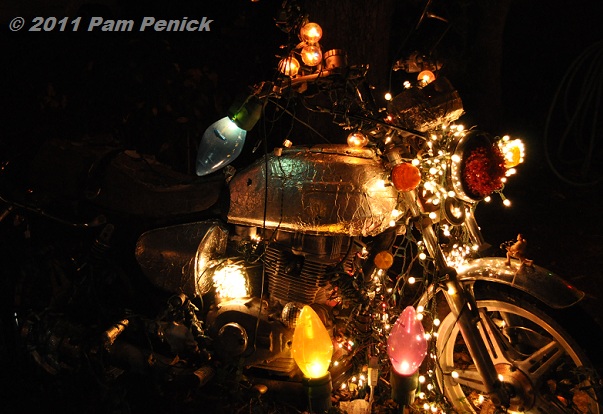 Elsewhere, a foil-covered motorcycle glowed with lights…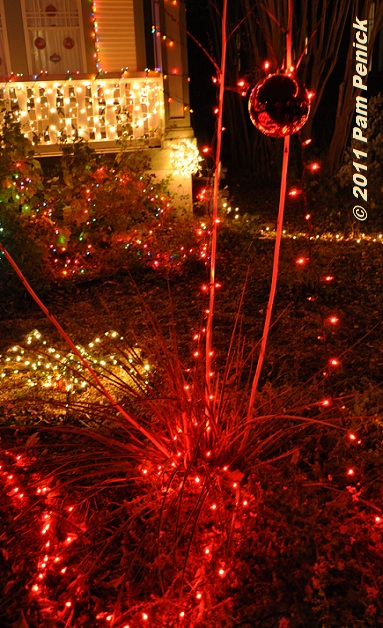 …and a red yucca (Hesperaloe parviflora) imitated Charlie Brown's Christmas tree, a single red ball dangling from its dead flower stalk.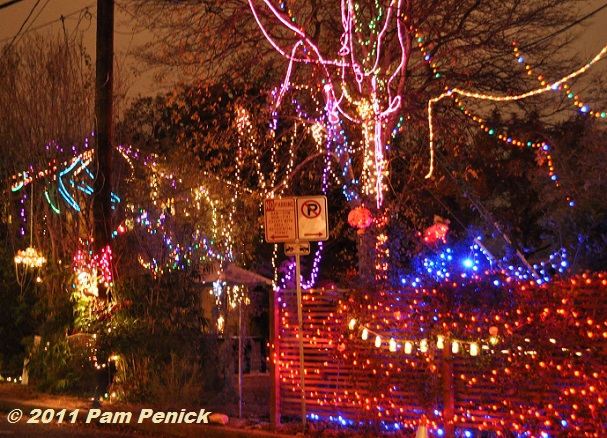 A bigger light display beckoned a block south, so we moseyed over to see what the 36th Street neighbors were up to.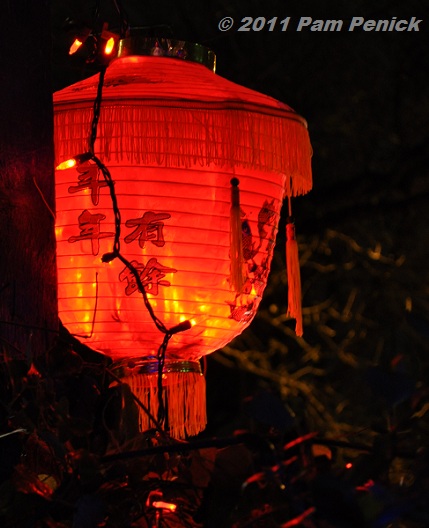 Festive red lanterns had been raised…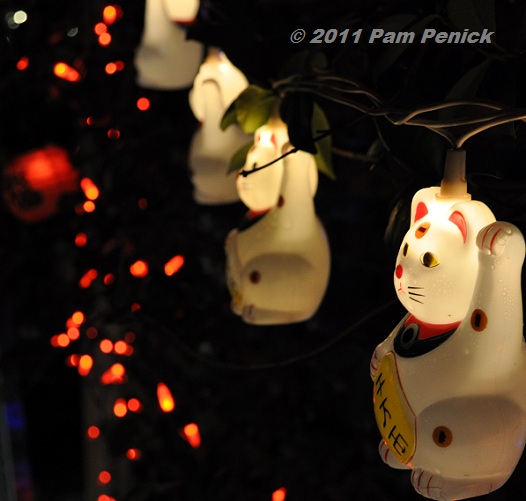 …as well as strings of Japanese cat lights.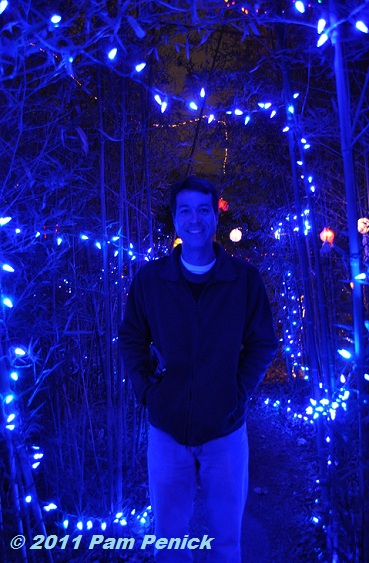 A blue-lit tunnel of bamboo led to…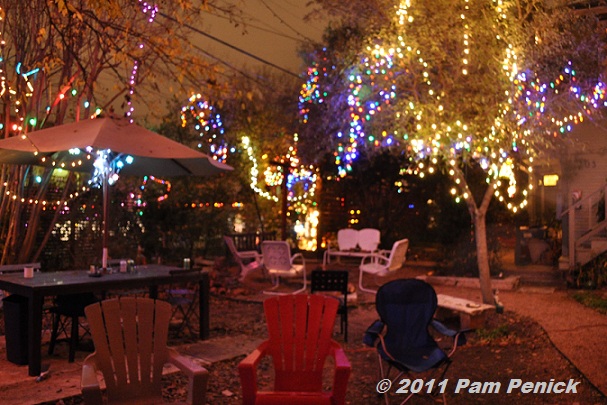 …a supremely Austin style front yard. Doesn't this look like a fun place to hang out?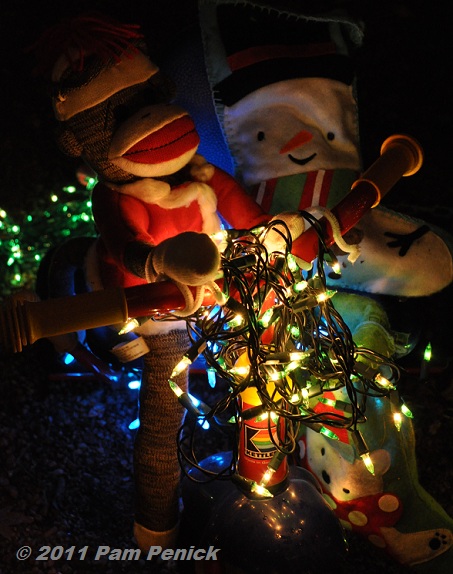 Next door, sock monkeys ruled. Here's one in a Santa suit riding a trike with a snowman.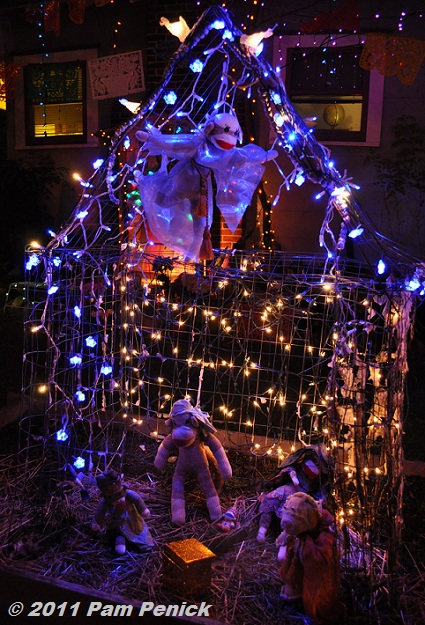 These sock monkeys, each in costume, made up a unique Nativity scene. (Not the most unusual Nativity scene I've seen on 37th Street, however. That honor goes to a miniature manger populated by the Baby Cheeses.)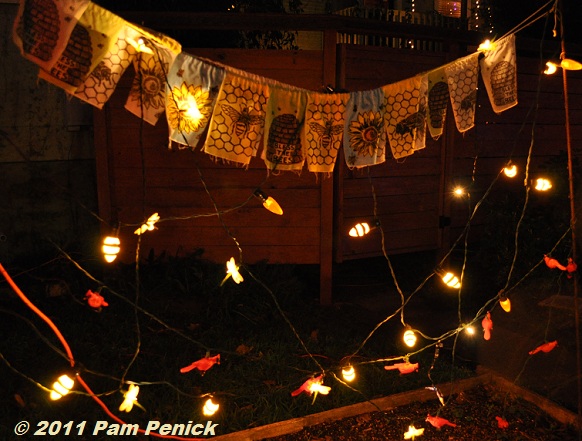 A Christmas tribute to the birds and the bees?
A festive and cheery stroll it was, despite the drizzle. After we got home the rain came down in earnest—another gift of rain for parched Austin. It's the best Christmas gift I can think of right now. I am grateful.
May your Christmas wishes come true as well. Have a wonderful holiday, wherever you are!
******************************************
For more 37th Street Austintatiousness, click for a politically themed 37th St. display from 2008.
All material © 2006-2011 by Pam Penick for Digging. Unauthorized reproduction prohibited.