November 8th, 2008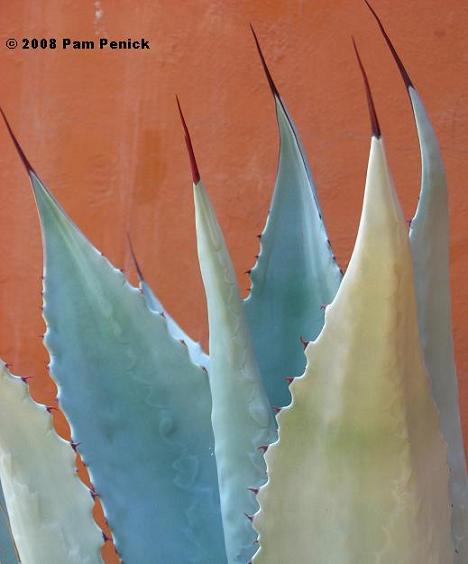 Funny name and all, Peckerwood Garden is a place I'd wanted to see for years. But because it opens to the public for only a handful of days each year and it bars children under 12 from visiting (for safety reasons), as well as the fact that it's a two-hour drive from Austin, I never could make it happen.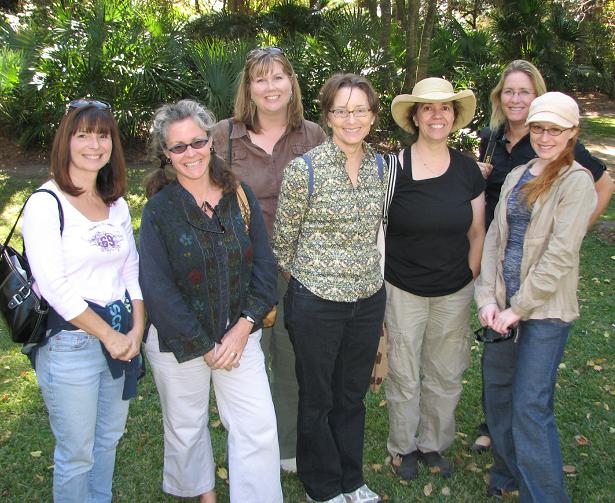 Enter the Austin garden bloggers. On Friday, Diana of Sharing Nature's Garden organized a road trip for the Austin garden bloggers, and seven of us took two cars and headed east toward Houston to get a private, guided tour of Peckerwood. Here we are near the end of our tour: Diana, Cheryl, me, Libby, MSS, Vertie, and Lori. My thanks to our welcoming and knowledgeable guide, Chris, for taking our photo.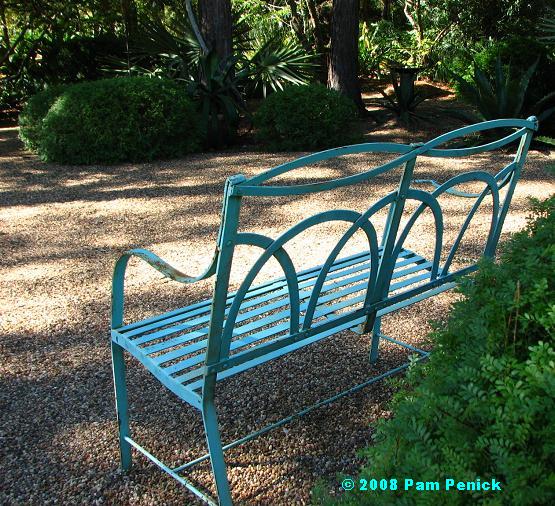 Peckerwood is a collector's garden—and arboretum—created by architecture prof and plant hunter John Fairey, who planted his first tree in 1971. Today the garden is a nonprofit conservancy, but John continues to reside there, and he graciously greeted us when we arrived. Here is how he describes his amazing garden on its website:
[Peckerwood] is a collection of more than 3,000 plants including many rarities; it is a conservation garden containing examples of numerous threatened species, many of which are no longer found in the wild; it is a laboratory garden testing a wide range of "new" plants and our Mexican discoveries. It is a garden with a mission to encourage other gardeners to see a beauty in landscape that is consistent with our plants and climate; it is a pioneering garden exploring new plants and cultivation methods and aesthetic concepts for other gardeners. It is a garden that looks to the future, not to the past.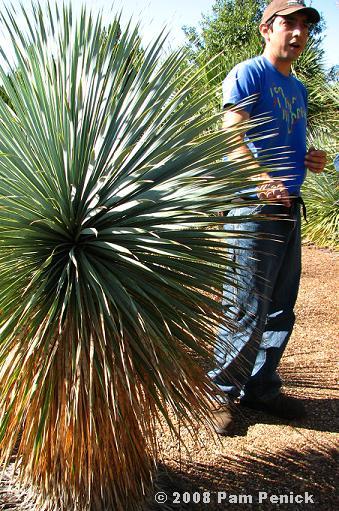 Our visit would not have been the same without our guide, Chris, a young man who's been at Peckerwood only two years but seemed to know everything about its plants and the history of the garden. A former Austinite, he now works at Peckerwood alongside just one other gardener (plus John Fairey), not only maintaining what's there but continually trying new plants and opening new garden spaces.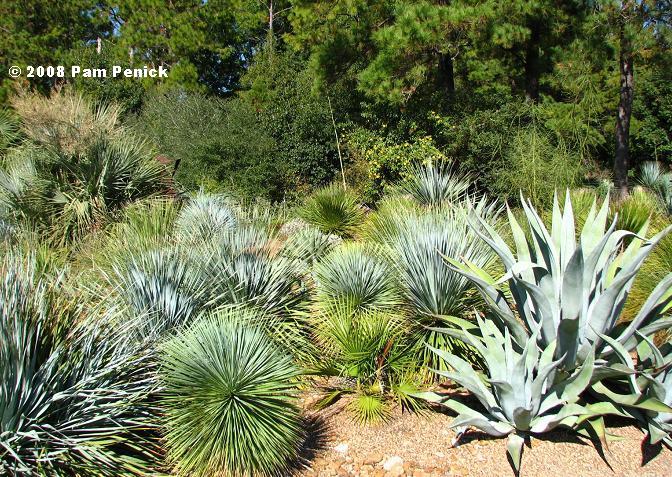 This shimmering desert garden greeted us as we entered. The green clouds of pines rising behind the agaves and yuccas looked incongruous to me—pines don't generally grow in Austin; you have to go to East Texas to see them—but the effect was lovely. The garden straddles the line between acidic East Texas and alkaline central Texas, so they can plant a broader spectrum of plants than we can in Austin. This area also gets a lot more rain than Austin, but they explained that by planting high on sharp-draining, gravelly berms, the xeric desert plants have no trouble surviving wet winters. In fact, Chris reminded us, cacti enjoy good soil and extra water, but they must drain well or they'll rot.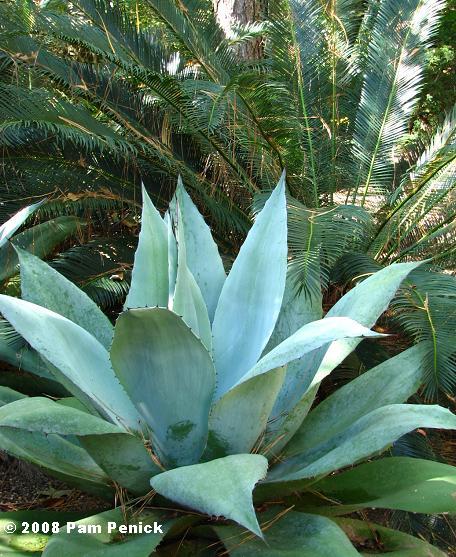 Rather than take you on a sequential tour of the garden, from dryland to shade garden to oak arboretum, I'm going to just jump around and show you my favorite scenes. Of course, there had to be a 'Whale's Tongue' agave (A. ovatifolia ). Chris pointed out a biggie in the dryland garden, but I spotted this one paired with a cycad in a shadier section.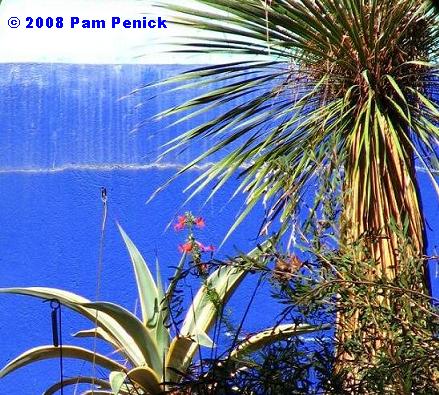 More beautiful blues, this time from a variegated agave in front of a painted stucco wall. I shot this photo across a spring-fed stream lined with tall bald cypresses (John had planted every one from seedlings or seeds). But because the bridge had washed out, we were not allowed to cross over. Rotten luck! I'd seen pictures of this section of the garden at Soul of the Garden and in an article by Scott Calhoun, and I was very disappointed to miss seeing it up close. Well, it's one more reason to go back another time.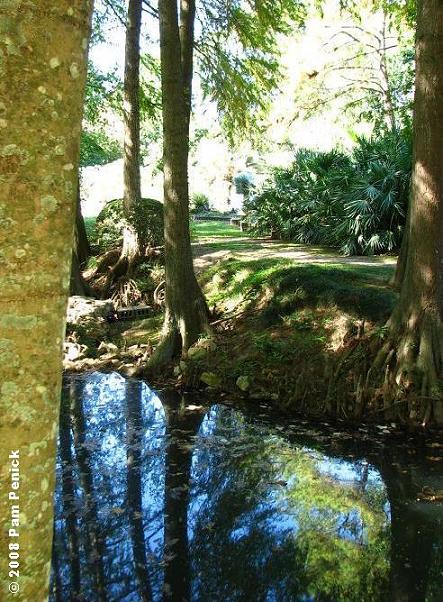 Here's an image of the creek itself, its still water turning the cypresses upside down.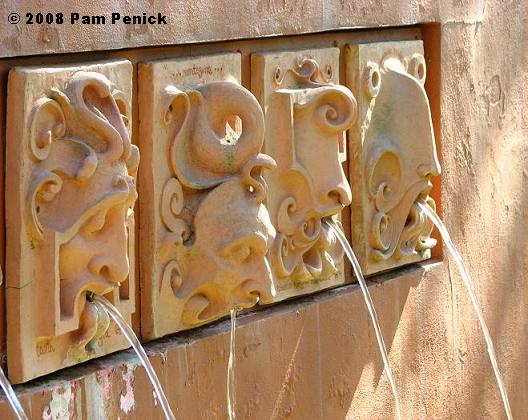 Another water feature also serves to screen John Fairey's home and create a semi-enclosed sitting area.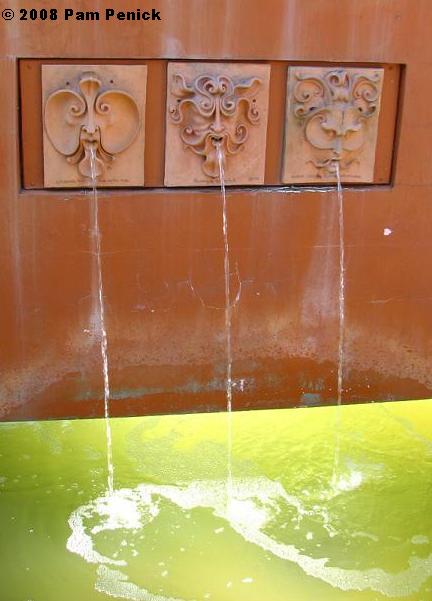 This wall fountain is double-sided, with amusing, clay-tile faces on each side spitting water into a green pool that flows under the wall and into a rectangular, formal pool.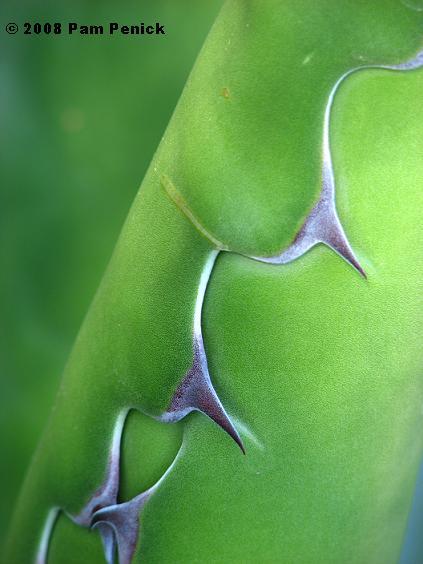 A furled agave leaf, tightly bound with a thorny embrace.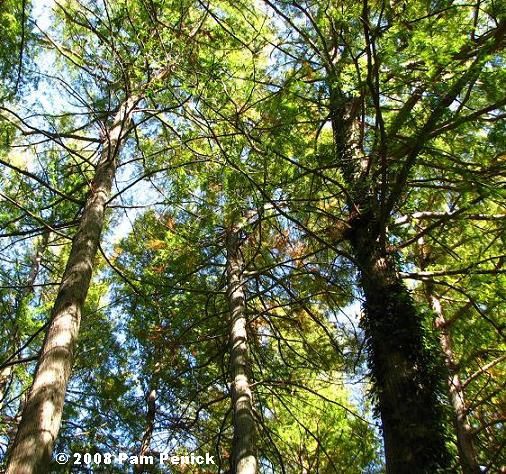 I was astonished and impressed to learn that John planted every tree—every tree—in the mature, forested shade garden. That sweep of tall pines and the massive cypresses lining the creek and the huge oaks? Yes, every one.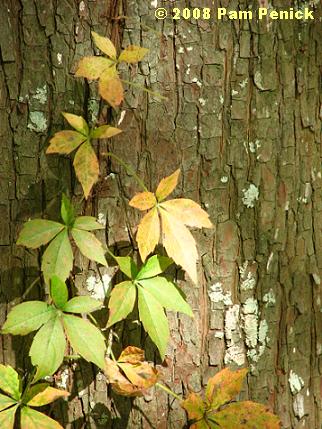 Virginia creeper (Parthenocissus quinquefolia ) climbing a bald cypress (Taxodium distichum )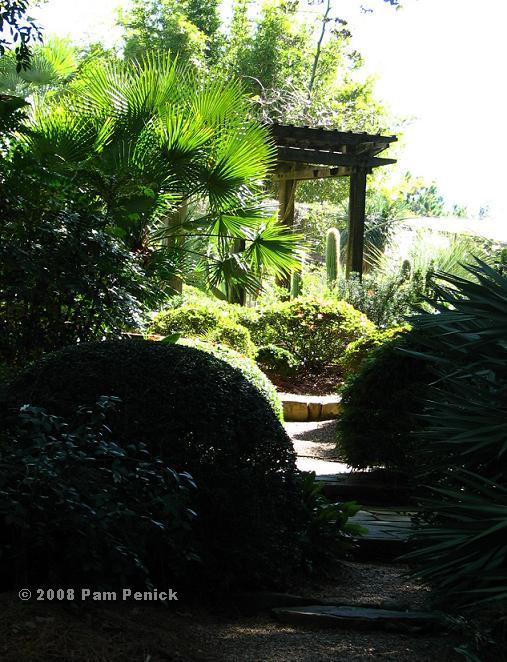 This path leads from the lower shade garden toward John's house and the spitting-face fountain.

The Gulf muhly grasses (Muhlenbergia capillaris ) were in pink autumnal splendor.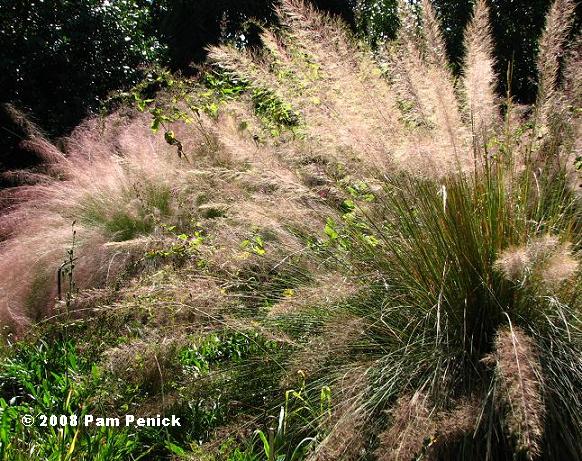 And this excited my attention. A Lindheimer muhly (Muhlenbergia lindheimeri ) had crossed with a Gulf muhly (on left), Chris explained, to create a new, beautiful hybrid (on right). It had the height and form of the Lindheimer but the pink inflorescence of the Gulf muhly. Will we be seeing this in nurseries one day?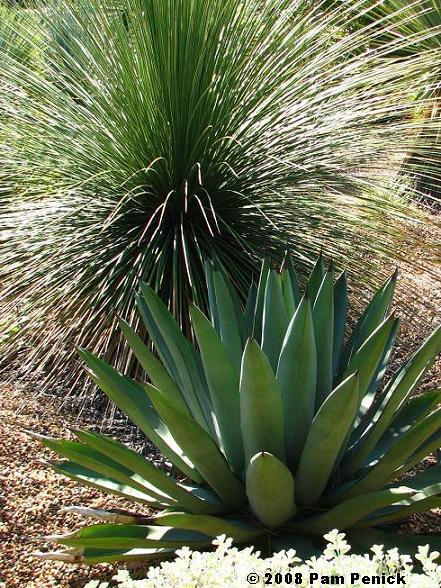 In the dry garden, sharkskin agaves (Agave ferdinand-regis x scabra ), with their handsome, smooth leaves and black-tipped spines, paired with sotols and yuccas.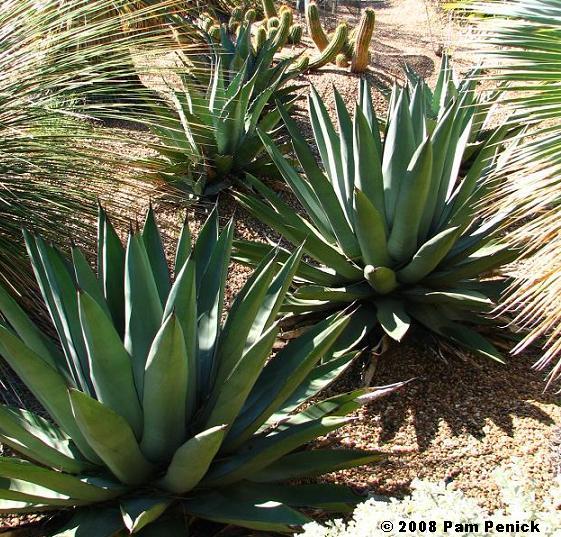 If only I had room for one of these! By the way, has anyone else noticed how many agaves have names relating to sea creatures? I'm thinking of squid agave, octopus agave, 'Whale's Tongue' agave, and sharkskin agave. You could do an ironic ocean theme with a dry garden. Just throw in a few giant clam shells, like in Lotusland.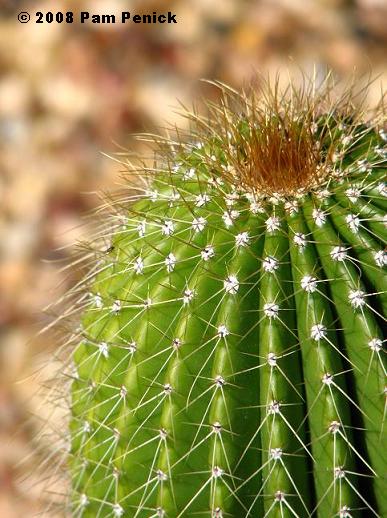 Small cactus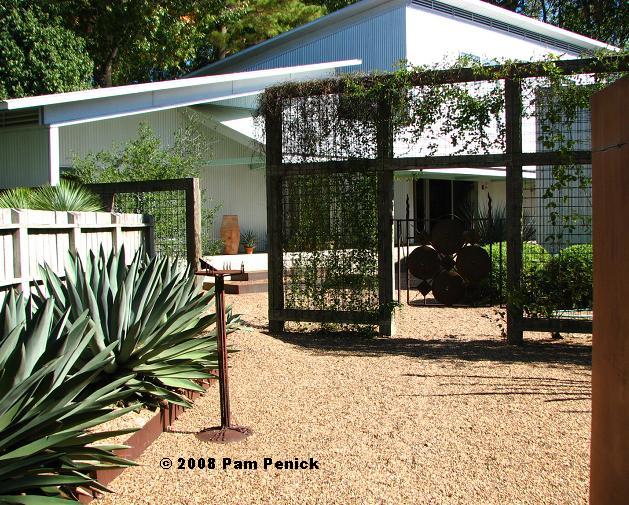 Near the spitting fountain, this wood-and-wire trellis screen creates a friendly division between the private space of John's house and the public spaces of the garden. That's a line of sharkskin agaves on the left.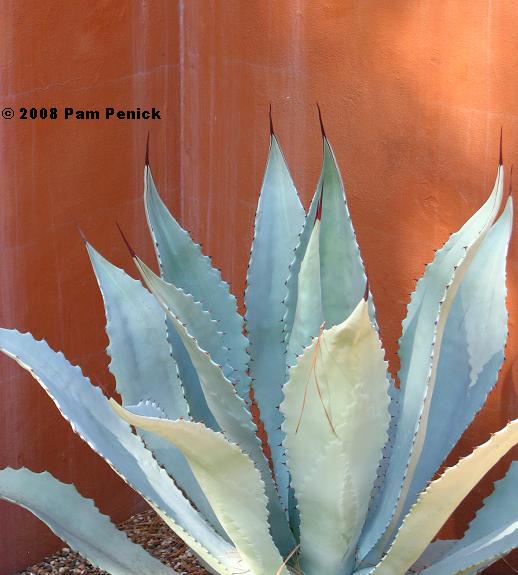 This silvery blue agave nestled against the orange wall of the fountain. The tips of its spines matched the color of the wall.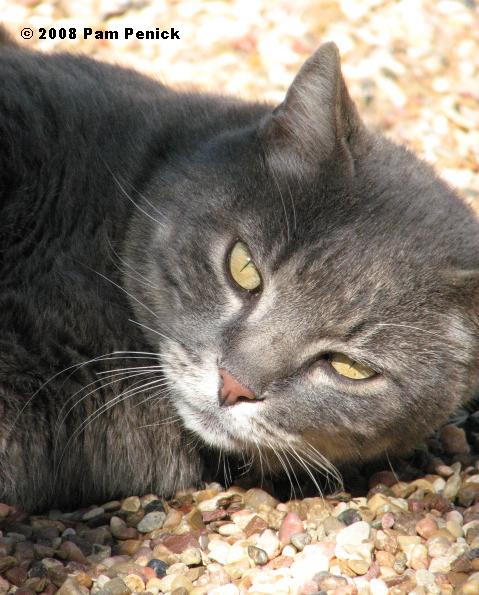 Mewing and friendly, this gray cat appeared as we rested by the fountain.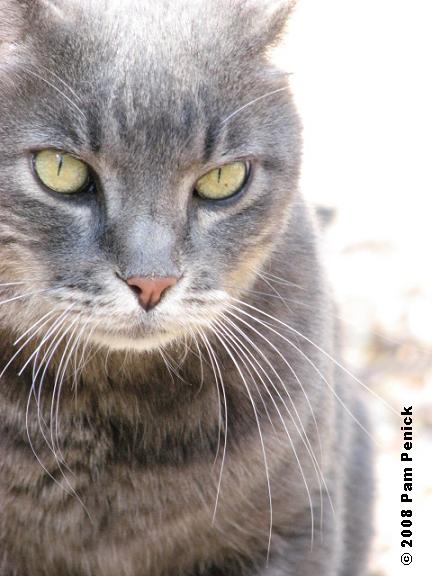 What beautiful yellow eyes and handsome whiskers.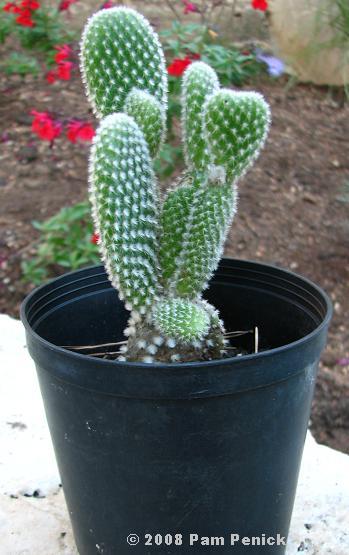 This little fellow has handsome whiskers too. When our tour ended, I bought this beavertail prickly pear (Opuntia basilaris), which Chris told me grows to about three feet tall and wide while the pads remain small, like mouse ears. Well, maybe not that small, but that's what they remind me of.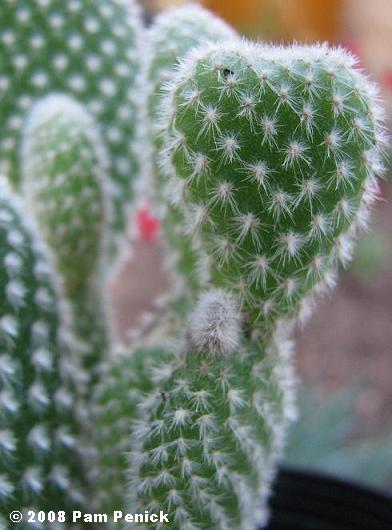 I'm glad I could bring a piece of Peckerwood home with me. Even if it does sound funny to say so.
All material © 2006-2008 by Pam Penick for Digging. Unauthorized reproduction prohibited.
posted in
Agaves
,
Cactus
,
Fountains
,
Garden blogging
,
Garden tours 2008
,
Grasses
,
Seating
,
Succulents
,
Trees
,
Walls
,
Water features
,
Xeric plants
,
Yuccas