November 16th, 2011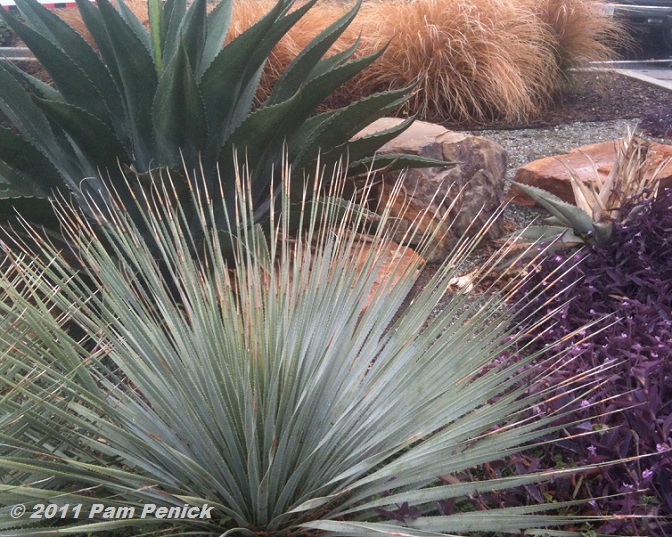 Has the landscaping at a strip mall ever made you look twice? North Star Home Center, an ordinary shopping strip at Burnet Road and Anderson Lane in North Austin, is doing something right because every time I drive by I'm craning my neck to see how the plants look. Yesterday while running an errand I pulled in and took a few shots with my cell phone camera (again!) for Foliage Follow-Up. This is simple, attractive, and hardy landscaping for a hot, sunny space—think streetside, where lawn grass fries in summer.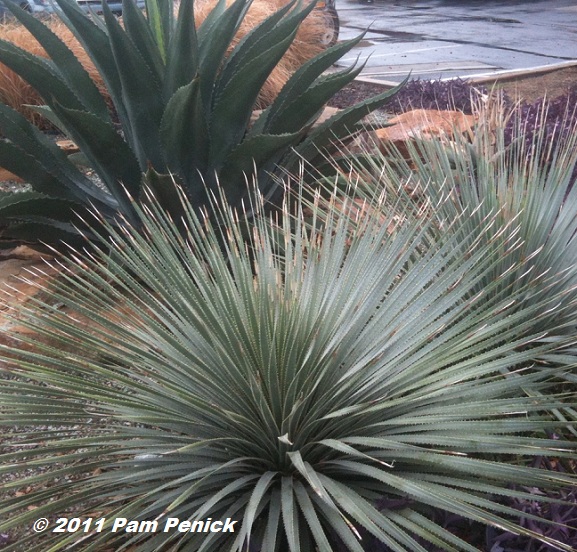 There are only four species: Wheelers sotol (Dasylirion wheeleri), Agave (A. scabra or A. salmiana var. ferox, perhaps?), purple heart (Tradescantia pallida), and Miscanthus grass. That's two species of structural evergreen shrubs (the large agave stands alone; the sotols are grouped to one side), one medium-size ornamental grass for seasonal interest and movement (planted en masse along the back of the bed), and one groundcover to fill in below with summer color. Simple!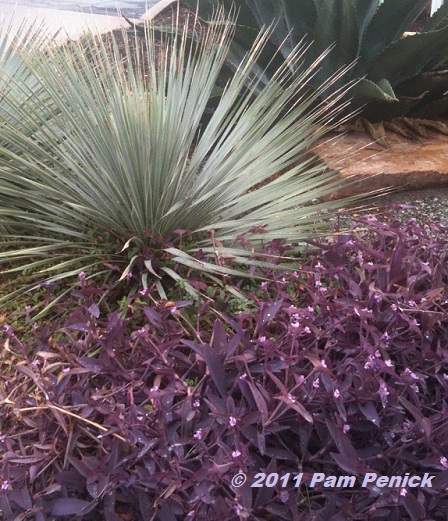 Purple heart is often used as a shade-tolerant groundcover in Austin, but in full sun its color deepens beautifully. As you can see, it's still blooming and will do so until our first hard freeze turns the whole plant to mush. It can be cleaned up in fall for a neat look or left until early spring, which is what I do in my own garden.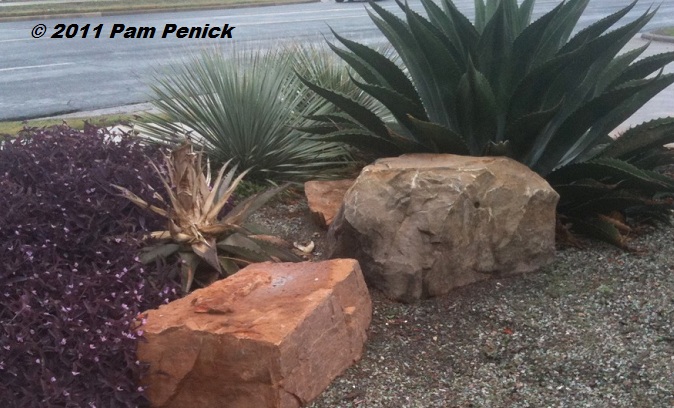 Another agave used to grow here (visible at left), but it bloomed this summer and then died, as agaves do. It should be removed. Crushed, recycled glass is being used to mulch these xeric plants—a nice touch. The City of Austin used to give away recycled glass for free, and perhaps it still does.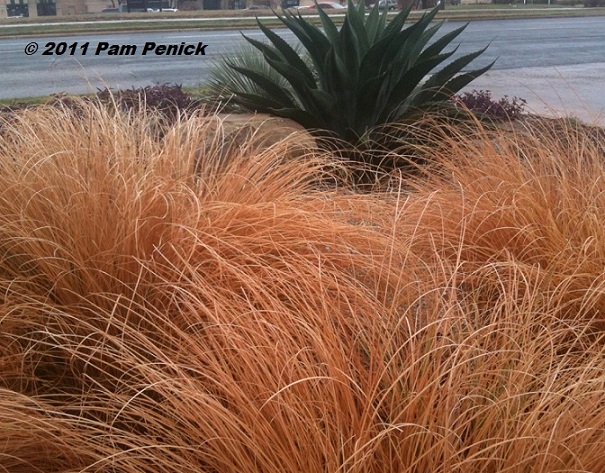 A shocking theft occurred here last year—shocking to me, anyway. A large and magnificently purple 'Santa Rita' prickly pear stood in front of the agave, surrounded by the glass mulch. In all seasons it was a crowning touch for this bed, but in winter, when its color deepened in response to the cold, it really stood out. I admired it every time I drove by, and many times I contemplated breaking off a pad in order to grow it in my own garden. But that's stealing, marring someone else's plant, and what if everyone did it? So I reasoned and kept my sticky fingers to myself. And then one day I drove by and—horrors!—the 'Santa Rita' was missing. I am sure someone else who'd been admiring it stole the darn thing. No doubt it's gracing someone's back garden right now.
Ah well. There is still much to admire in the landscaping here, and I appreciate the owner's efforts to keep it looking nice. If only more strip centers would follow their example and yank out the patchy grass or drought-browned shrubs.
So, what foliage is inspiring you today? Join me in posting about your lovely leaves of November—it's called Foliage Follow-Up, and it's a way to remind ourselves of the importance of foliage in the garden. Just leave a comment on this post with a link to your foliage post so everyone can find you, and please link to me in your post. If you can't get to it so soon after Bloom Day, no worries. Just leave your link when you get to it.
All material © 2006-2011 by Pam Penick for Digging. Unauthorized reproduction prohibited.