September 16th, 2011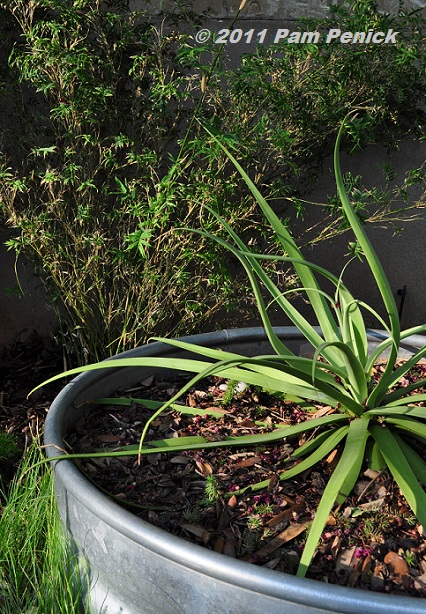 Not that it's been the easiest summer to try a new bamboo, a thirstier plant than I usually bother with, but they provide such leafy, touchable, evergreen texture in the garden that I'm willing to give 'em a little extra love, i.e., water. No thirsty annuals or tropicals for me, but a couple of beautiful clumping bamboos? Yeah, baby.
This is 'Tiny Fern' bamboo (Bambusa multiplex 'Tiny Fern'), which is softening a blank corner of my foundation. The Great Outdoors says it stays small (4-5 feet) and is hardy to about 18 F. Online sources say it's root-hardy even in zone 7, though it will die to the ground. (Can anyone growing this in zone 7 confirm?) It's a clumper, not a runner, so it won't take over my garden. I'm hoping that I've given it enough sun. Can you imagine wanting more of the Death Star, my summer-weary fellow Texans?
A large squid agave (Agave bracteosa), transplanted from my former garden, shimmies in a shallow stock-tank planter edged with Texas sedge (Carex texensis). An evergreen textural combo for September's Foliage Follow-Up!
What foliage is inspiring you today? Join me in posting about your lovely leaves of September—it's called Foliage Follow-Up, and it's a way to remind ourselves of the importance of foliage in the garden. Just leave a comment on this post with a link to your foliage post so everyone can find you, and please link to me in your post.
All material © 2006-2011 by Pam Penick for Digging. Unauthorized reproduction prohibited.