September 7th, 2011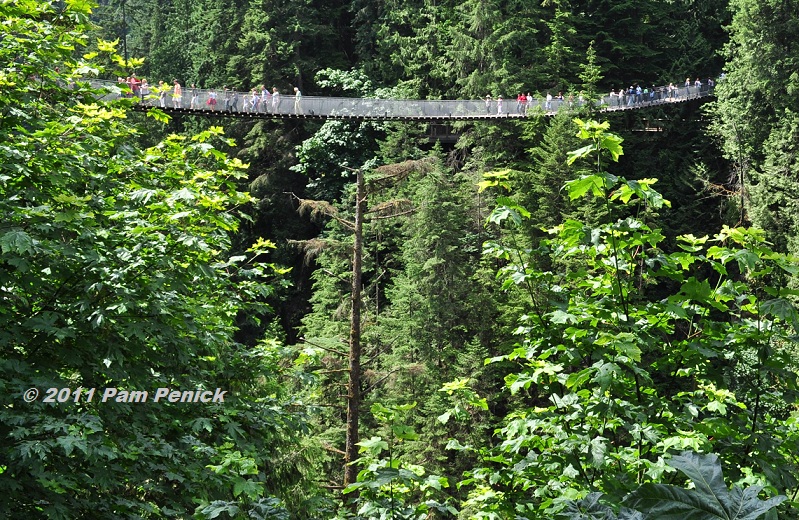 For vertigo-inducing views and a swing—and a bounce!—in your step, cross a gorge on a suspension bridge sometime. My family and I traipsed across this one, Capilano Suspension Bridge, last month while visiting Vancouver, British Columbia. Originally constructed in 1889 out of hemp and rebuilt with wire cable in 1903 and again in 1956, the bridge measures 450 feet long and dangles 230 feet above Capilano River.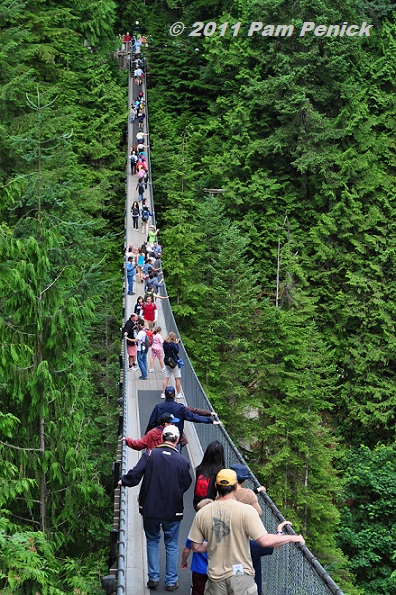 But numbers can't convey the thrill of walking across empty space on narrow planks that feel alive with swaying, rocking, and bouncing motion. I saw a few white-faced people shuffling across.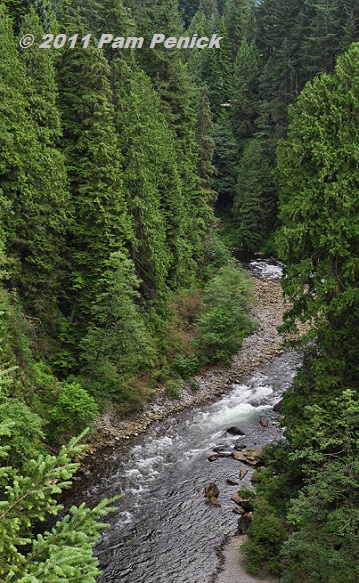 If you dare to look down—and of course you do for the thrill—you see the swift Capilano River.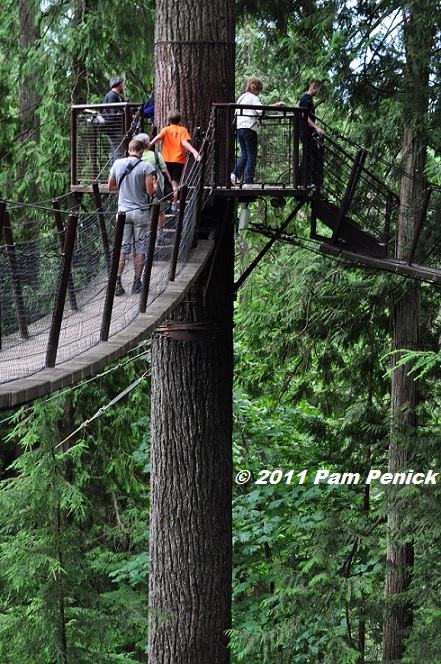 If the bridge was all the park offered, the admission price of $33 Canadian might seem a steep toll. But other attractions beckon the adventurous. On the far side of the gorge, you can ascend halfway up towering Douglas firs, Swiss Family Robinson-style. A series of 100-foot high suspension bridges lead to platforms built around massive trunks, offering a squirrel's-eye view.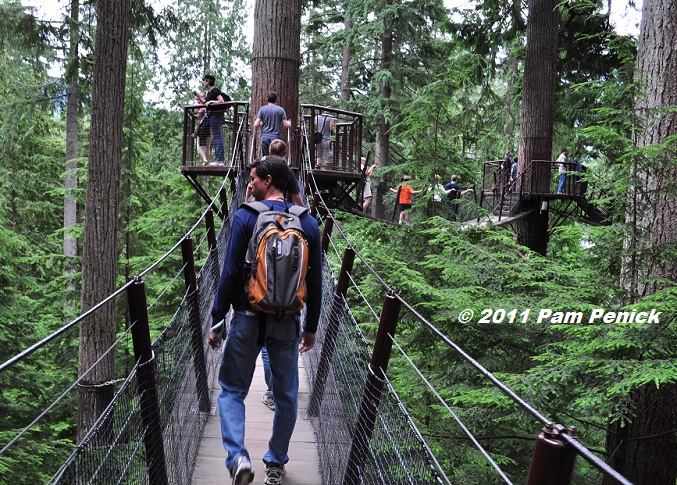 Even 100 feet up, there is plenty of tree left above us.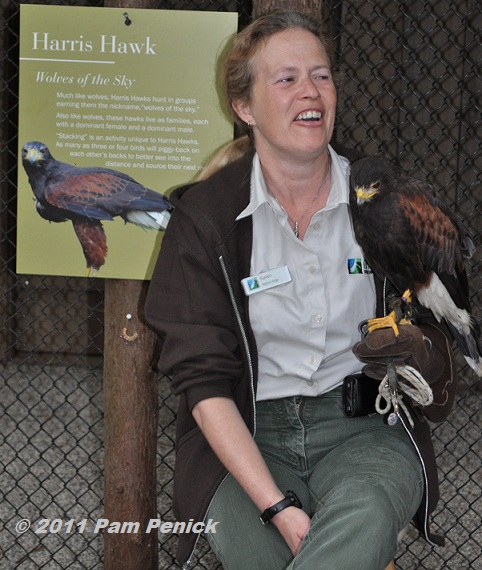 Back at ground level, boardwalks wind through the trees, around ponds, and alongside streams. We found a Harris hawk on display, along with other raptors.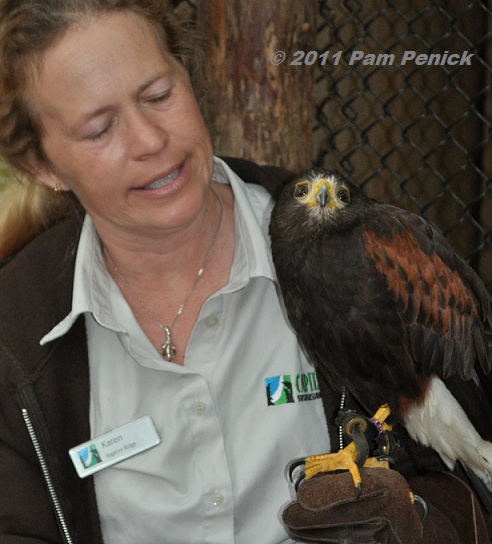 Its owner told us she travels down to the southwestern U.S., including Texas, to see these birds in the wild.

Recrossing the suspension bridge, we enjoyed an outdoor cafe lunch, served by young men and women in period costume (1900 or so?), and then we got in line for the park's newest attraction, Cliffwalk, a curving walkway suspended over the gorge by cables attached to the cliff face. At one end, a see-through glass walk projects out over the gorge for an even more exciting view.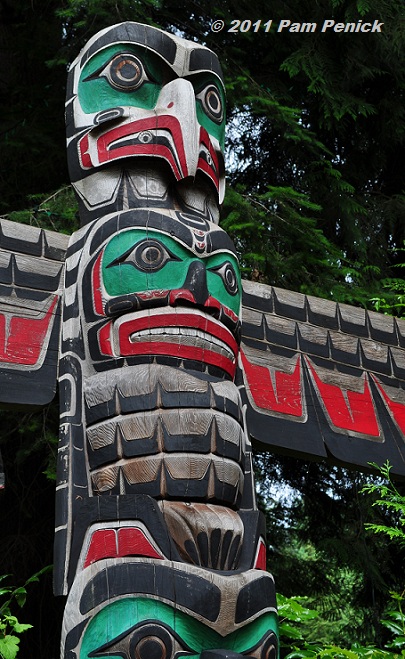 In addition to a few historical exhibits and a kitschy, all-things-Canadian gift shop, the park has an interesting display of First Nations (Native American) totem poles from the 1930s.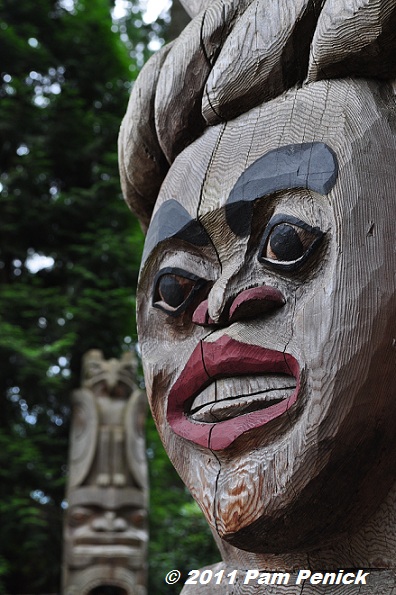 There were signs to explain their symbolism, for those interested in the cultural meaning.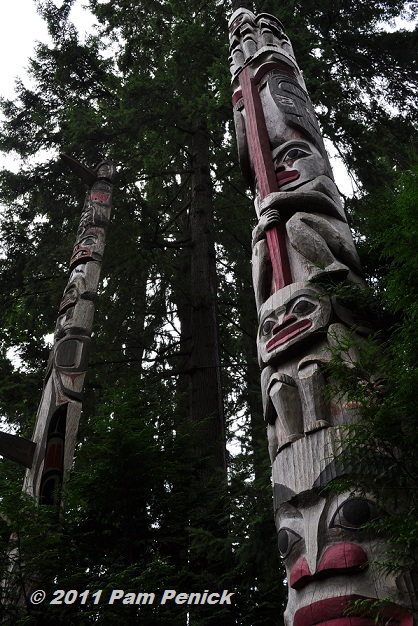 It makes perfect sense that the towering trees of this region would be worked into an art form by its native peoples.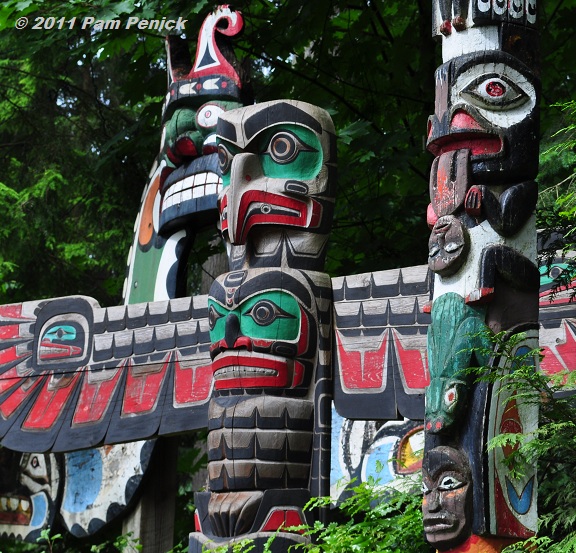 Fascinating, and a little frightening too, don't you think?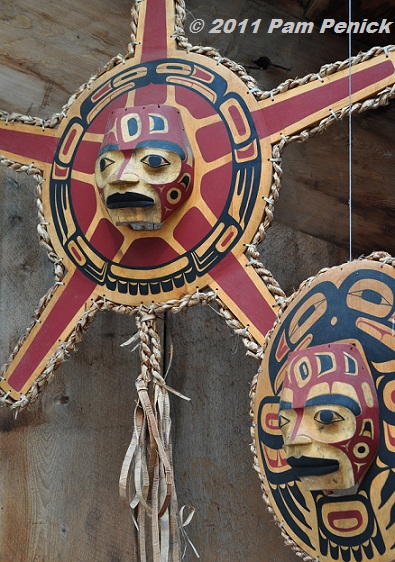 More native art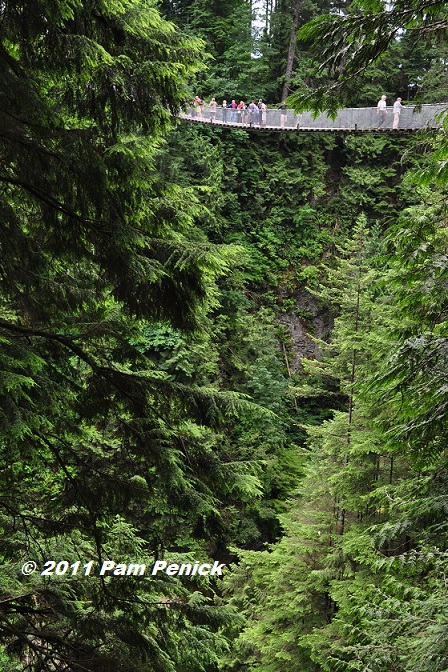 Vancouver offers great natural beauty on all sides, from mountains to ocean views. But we were glad to have made an outing to Capilano Bridge and spent some time amid the trees.
This is the last of a series of posts about my Pacific Northwest vacation in late July and early August. For a look back at my killer whale-watching adventure, click here. To go all the way back to the start of my northwestern trip, click for my tour of Portland's Danger Garden.
All material © 2006-2011 by Pam Penick for Digging. Unauthorized reproduction prohibited.