August 22nd, 2011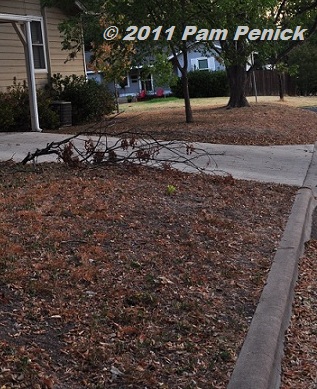 In the midst of a blazing summer, as we in central Texas and other drought-stricken parts of the country helplessly watch our lawns turn to straw and then dust, this month's Garden Designers Roundtable topic of "Lawn Alternatives" is surely the most timely ever. Faced with increasingly severe watering restrictions, even lawn lovers will concede that shrinking the lawn to a useable, manageable size makes good economic and environmental sense.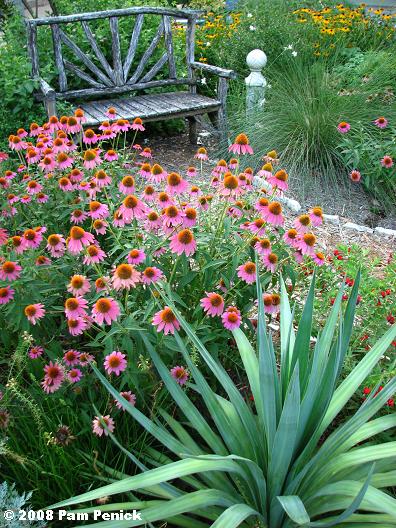 Why spend all that money and time mowing, edging, and pouring drinking water on thirsty lawn grass when you could have a songbird-attracting, drought-tolerant garden of tough ornamental grasses, prairie stalwarts like coneflowers, and structural evergreens like softleaf yucca? This is my former front garden, completely lawn-free.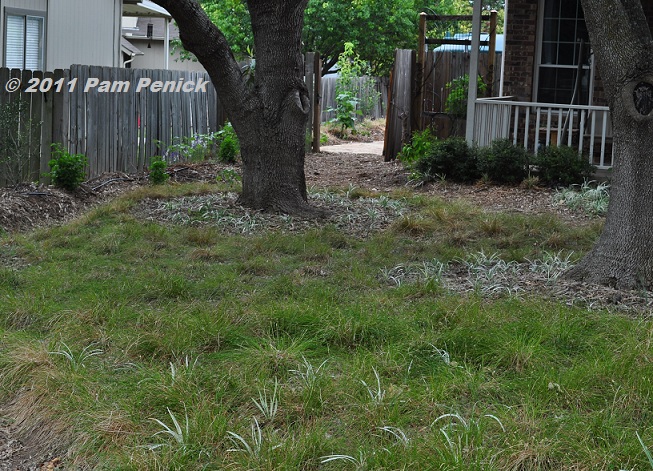 Or how about a nontraditional, drought-tolerant, native Texas sedge lawn, like Sheryl's? (Click for a larger tour.) The Austin blogger at Yard Fanatic is watering this alternative lawn only once every two weeks. Think how much money she saves.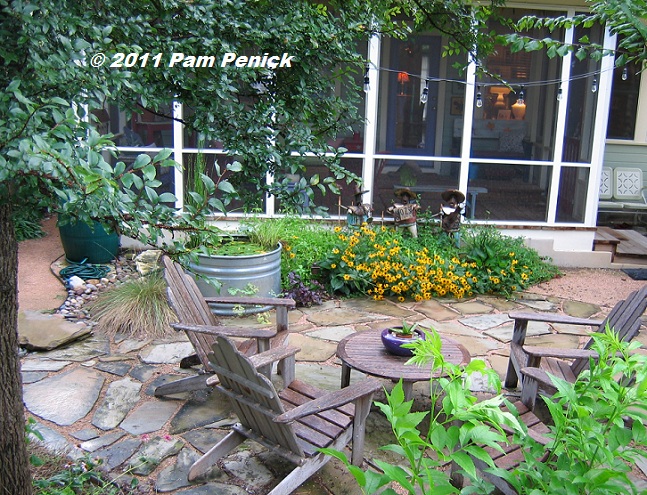 Or perhaps a new patio that beautifully covers up that dust bowl that used to be lawn by the back door where the dog goes in and out? (My former back garden)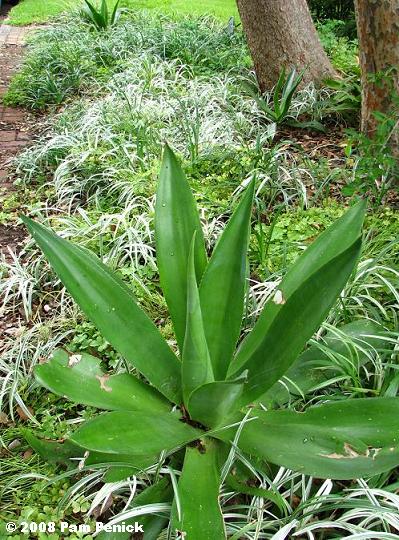 Or a low-growing groundcover of liriope, Aztec grass, and oxalis under the trees, where the grass gets shaded out? This is "Central Texas Gardener" host Tom Spencer's former front garden.
We can do better than the default lawn, people! There are so many great alternatives to the traditional lawn—some that mimic lawn grass, others that show how beautiful a lawn-less yard can be. Why settle for the green (or brown) carpet when you can have so much more?
My big announcement!
A lot of non-gardeners and new gardeners don't really know how to start the process of removing lawn, nor what to choose in its stead. With that in mind, I'm very excited to tell you that I have a contract with Ten Speed Press to write a book about this very subject! I've just started writing Lawn Gone!, to be published by Ten Speed in Spring 2013. I'm likely to be a little less regular about updating Digging for the next several months. I hope you will understand, and I also hope you'll join me on my new Facebook page called Lawn Gone to share your success stories, tips, and pictures. I'd love it if you would "Like" my page. Let's start a conversation about ditching the traditional lawn and how we're replacing it. I know you all will inspire me to keep writing and make my deadline!
We have a big group of designers participating in Garden Designers Roundtable this month. For more perspectives on "Lawn Alternatives," please visit the posts of my fellow Roundtablers and our special guests, five members of the Lawn Reform Coalition: Susan Harris, Billy Goodnick, Saxon Holt, Ginny Stibolt, and Evelyn Hadden. Links to all the posts can be found at Garden Designers Roundtable and below. Happy reading!
Susan Harris : Garden Rant : Takoma Park, MD
Susan Harris : Gardener Susan's Blog : Takoma Park, MD
Billy Goodnick : Cool Green Gardens : Santa Barbara, CA
Evelyn Hadden : Lawn Reform.Org : Saint Paul, MN
Saxon Holt : Gardening Gone Wild : Novato, CA
Ginny Stibolt : Florida Native Plant Society : Green Cove Springs, FL
Tara Dillard : Vanishing Threshold: Garden, Life, Home : Atlanta, GA
Susan Morrison : Blue Planet Garden Blog : East Bay, CA
Shirley Bovshow : Eden Makers : Los Angeles, CA
Scott Hokunson : Blue Heron Landscapes : Granby, CT
Rochelle Greayer : Studio G : Boston, MA
Rebecca Sweet : Gossip In The Garden : Los Altos, CA
Pam Penick : Digging : Austin, TX
Lesley Hegarty & Robert Webber : Hegarty Webber Partnership : Bristol, UK
Laura Livengood Schaub : Interleafings : San Jose, CA
Jocelyn Chilvers : The Art Garden : Denver, CO
Ivette Soler : The Germinatrix : Los Angeles, CA
Genevieve Schmidt : North Coast Gardening : Arcata, CA
Douglas Owens-Pike : Energyscapes : Minneapolis, MN
Debbie Roberts : A Garden of Possibilities : Stamford, CT
All material © 2006-2011 by Pam Penick for Digging. Unauthorized reproduction prohibited.