August 20th, 2011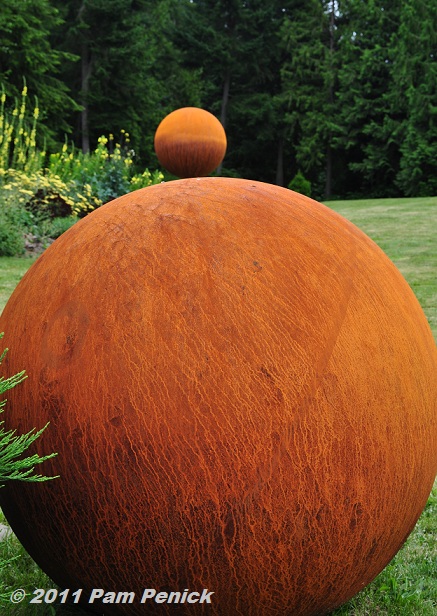 The final event of last month's Seattle Garden Bloggers Fling was an afternoon visit to Dragonfly Farms Nursery—"Where Abnormality is the Normality!"—in Kingston, WA, and a fun happy hour on the lawn.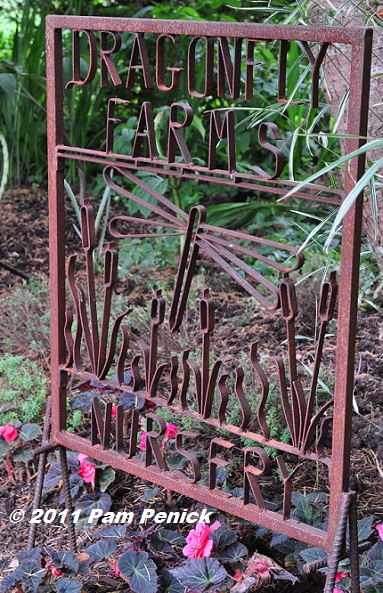 Dragonfly Farms offers not only an enticing selection of plants for sale but beautiful and whimsical display gardens. Consider the gigantic metal orbs pictured at top. (I had a little fun with perspective.)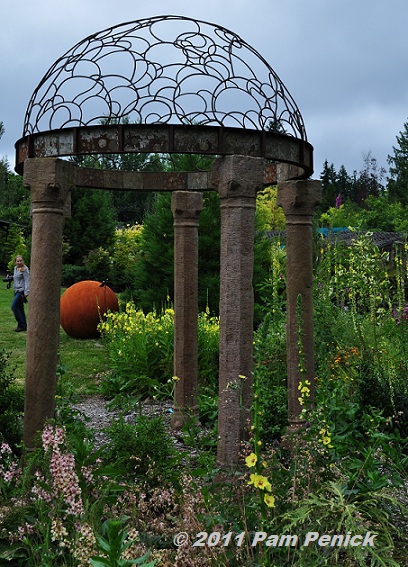 Their true size is apparent in this photo, with a fellow blogger in the picture for scale. In the foreground stands a temple of love, a classical garden ornament with a beautifully wrought metal dome. The gardens were sunny, despite the gray, drizzly day, with yellow flowers and golden foliage…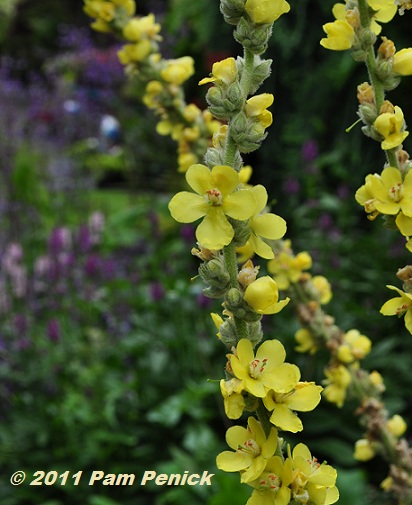 …like this…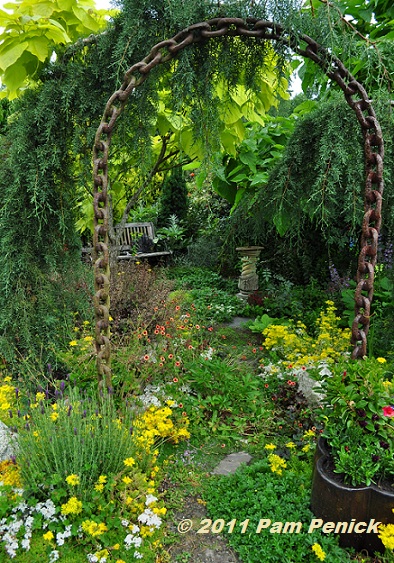 …and this. Check out the heavy chain archway—how did they do that?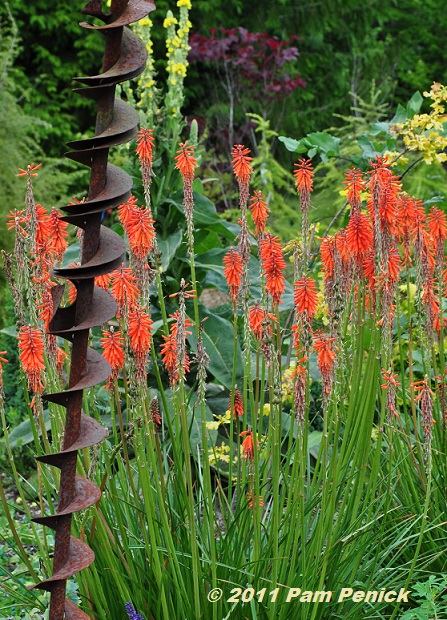 Farm implements stood in for sculpture throughout the gardens.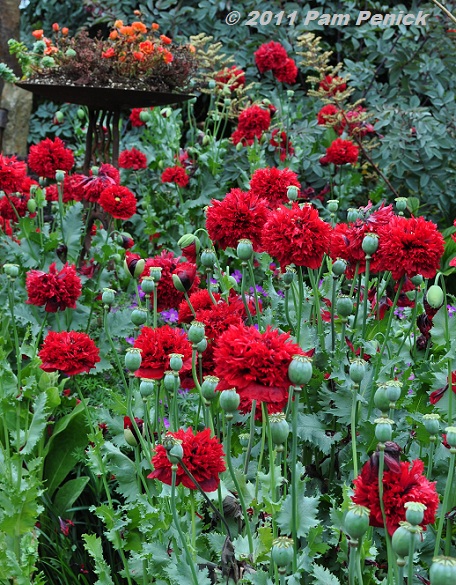 Plow discs have been made into succulent dishes.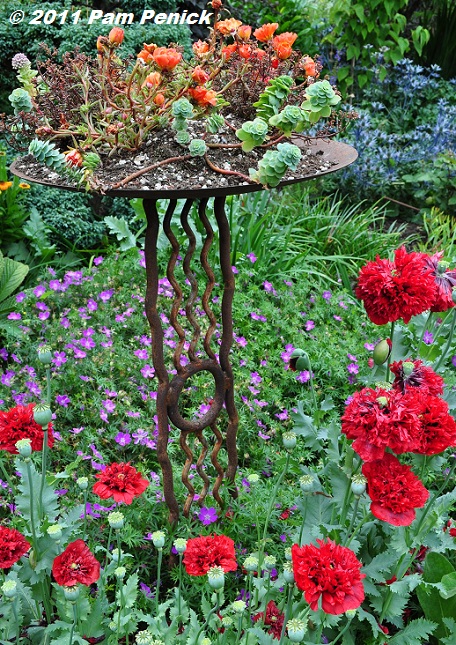 A closer look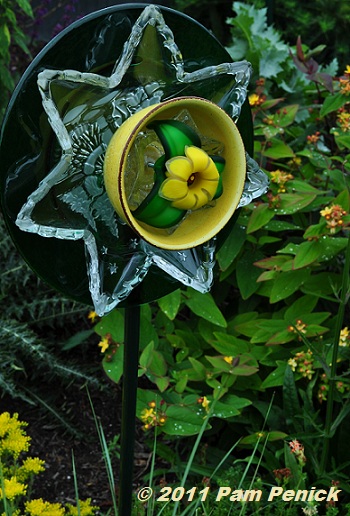 And bowls and plates find new life as garden-art flowers.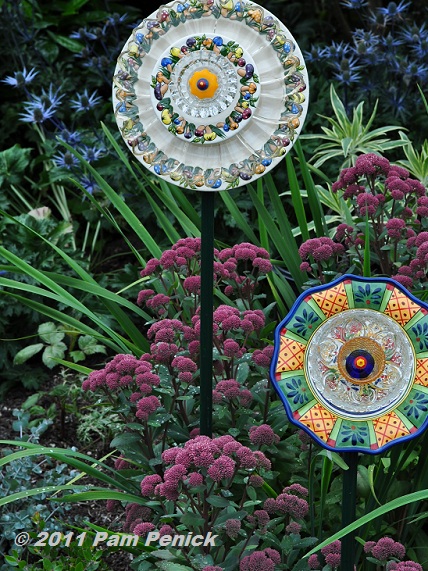 More china flowers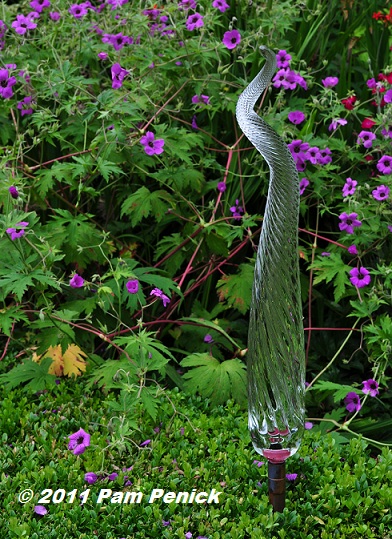 Seattle likes using decorative glass in the garden.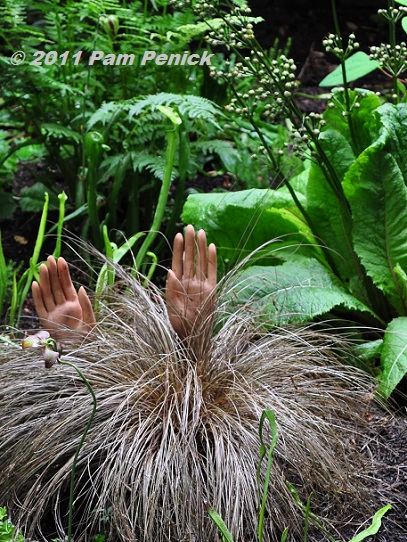 But mannequin hands? That's definitely "abnormal."

A rebar plant support frames this blue-and-yellow combo.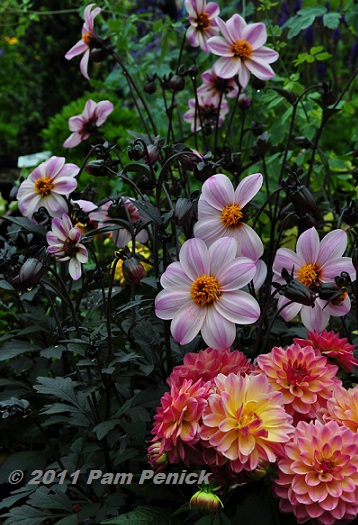 Dahlias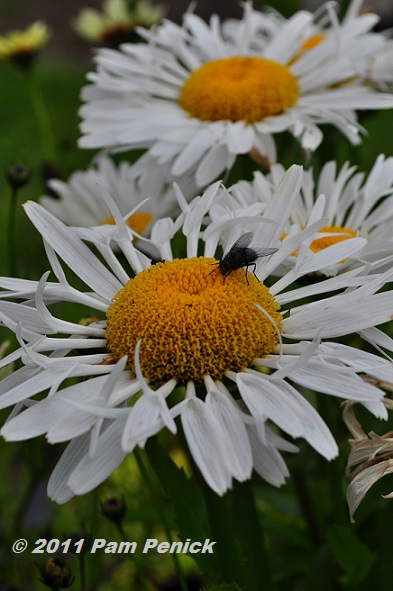 A fly rests on a daisy.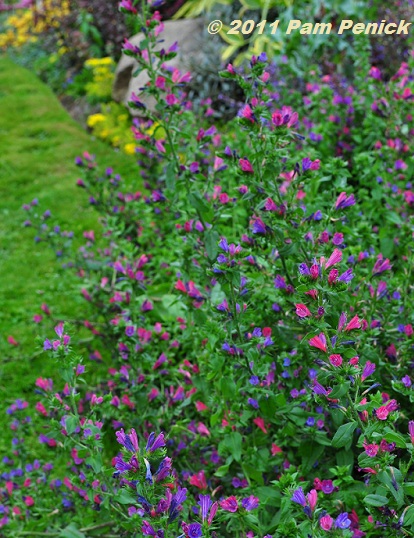 Bright summer color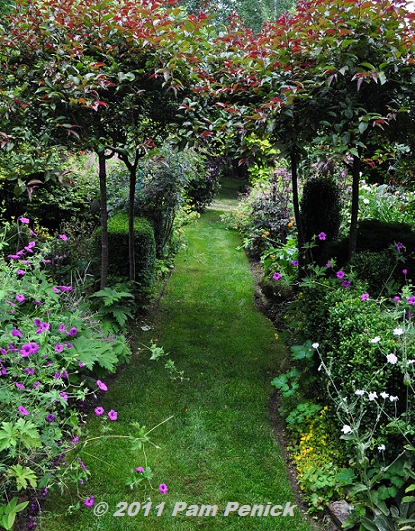 There's even a touch of formality with this short allee along a straight, grassy path.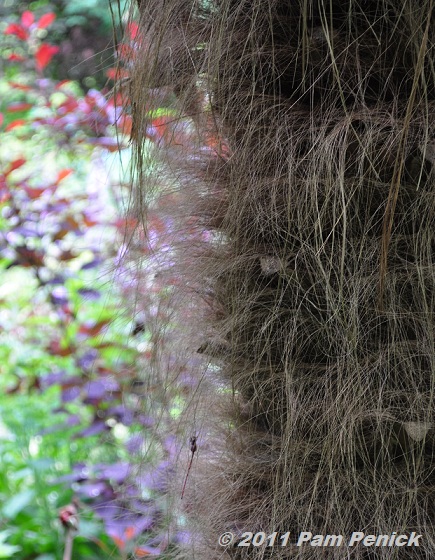 Did you expect to see a palm tree? I didn't. But its hairy trunk adds inviting texture to the garden.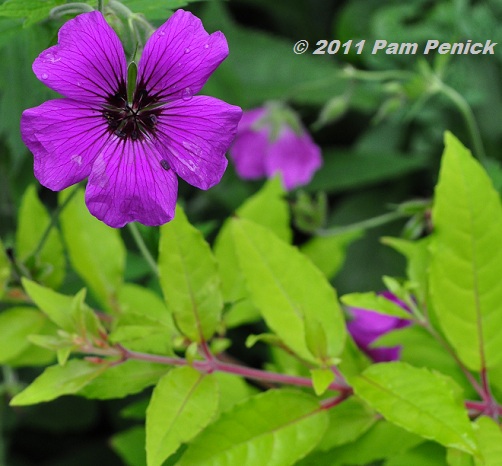 The flower color is echoed in the stems of this pretty plant.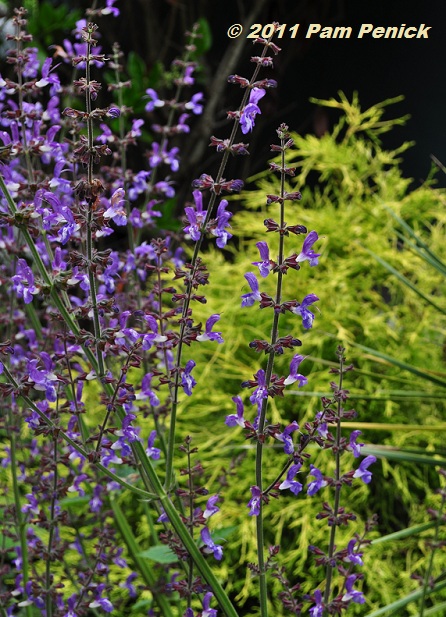 Purple and gold—lovely

And so is pink and gold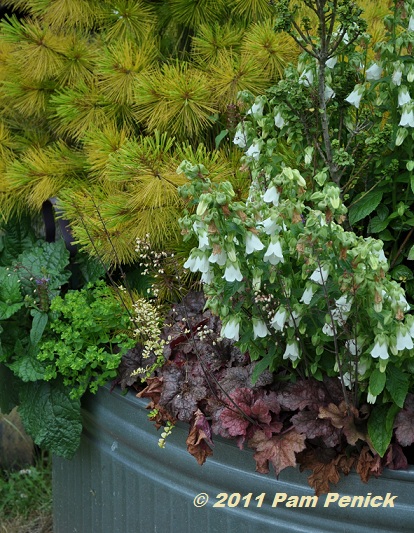 How about gold and white? I don't love this combo as much, but look—it's a stock-tank planter!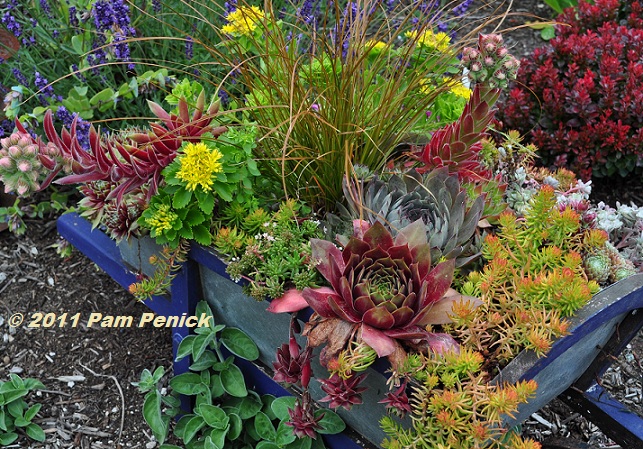 Colorful succulents in a tiny wheelbarrow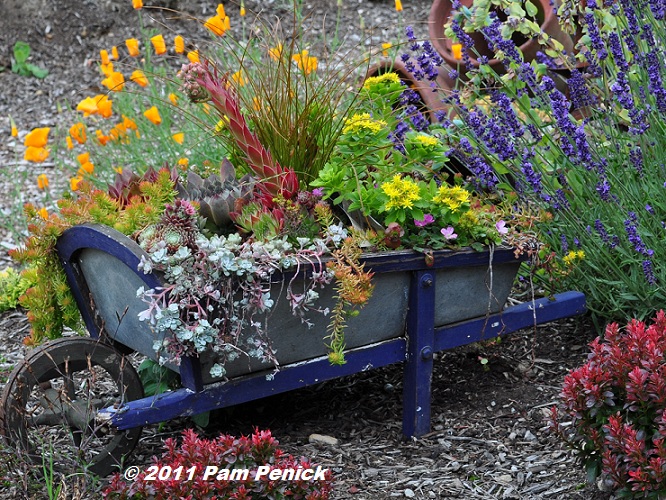 From the other side, with California poppies in the background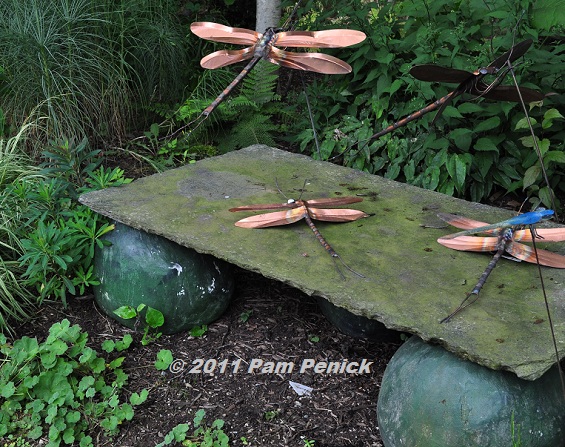 Of course Dragonfly Farms would have to carry some of these.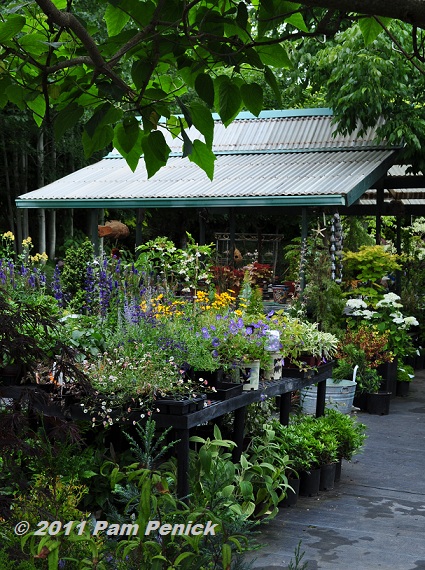 And for those willing to stuff plants in their suitcases, the sales tables beckoned. (Update 2015: Dragonfly Farms has permanently closed, unfortunately.)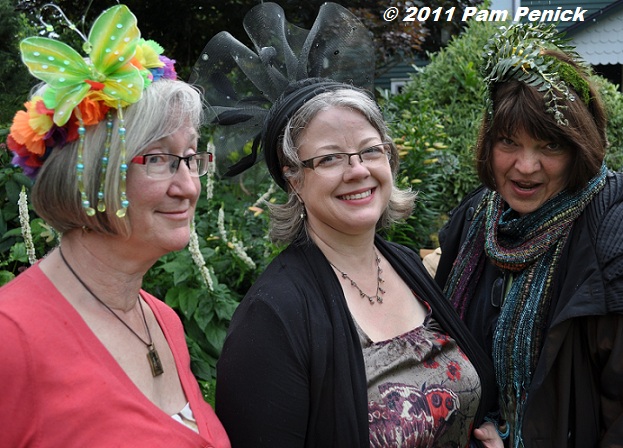 After touring the display gardens, we Flingers were treated to a happy hour by sponsor Proven Winners. I neglected to take any pics of the beautiful spread they served us, but I did snap this fashionable trio, who, inspired by the millinery at the recent royal wedding, sported fascinators to the last event of the Fling: Helen of Toronto Gardens, Caroline of The Shovel-Ready Garden, and Vicki of Playin' Outside. Rock that look, gals!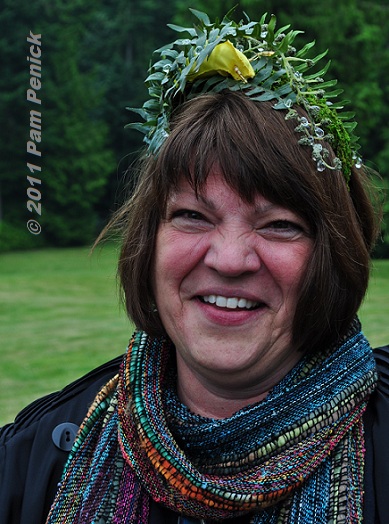 Take a closer look at Vicki's regionally appropriate fascinator. The yellow bit represents a Seattle banana slug! And those are fern fronds too. Clever, Vicki.


Soon it was time to say goodbye to a beautiful and welcoming city…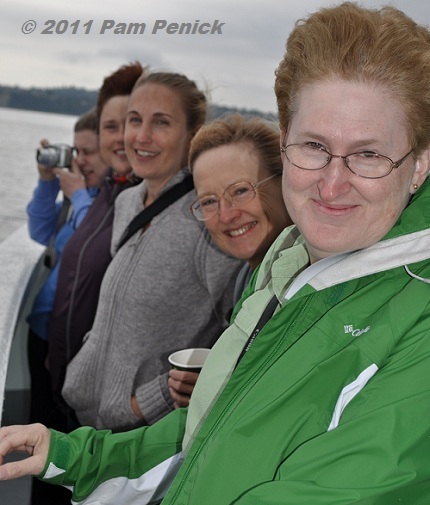 …as well as garden-blogging friends from all over the U.S., Canada, and the U.K. From right to left: Carol of May Dreams Gardens (Indiana), Lisa of Natural Gardening (North Carolina), Kelly of Floradora (northern California), Dee of Red Dirt Ramblings (Oklahoma), and Kathy of Cold Climate Gardening (upstate New York).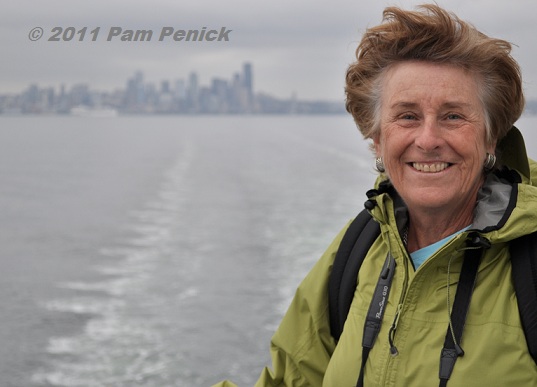 My Austin friend Jenny of Rock Rose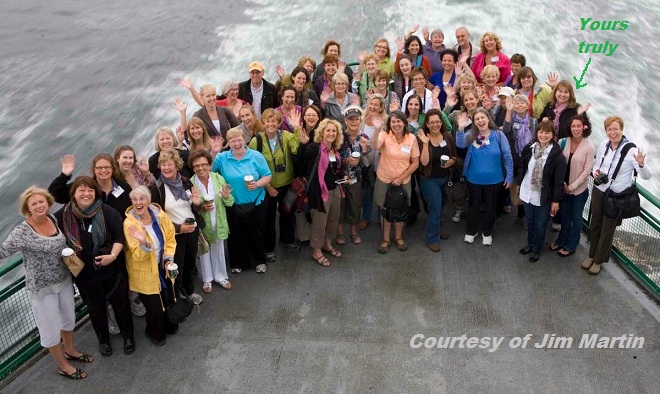 Happy gardening and garden-writing, y'all! Next year's Garden Bloggers Fling will be held in Asheville, North Carolina, organized by Christopher of Outside Clyde (details and dates TBA). I hope to see my fellow bloggers again then.
My thanks to Jim of Compost in My Shoe for permission to repost his photo of our group on the ferry to Bainbridge Island.
For a look back at my post about the tranquil Bloedel Reserve, click here.
All material © 2006-2011 by Pam Penick for Digging. Unauthorized reproduction prohibited.