August 11th, 2011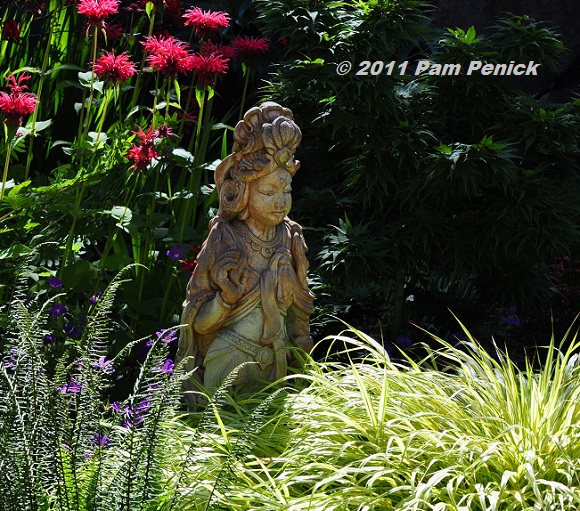 If you're lucky enough to live on a hilltop in Seattle, odds are you have a nice view of something, seeing as the city is surrounded by mountains and the sea. In the Epping Garden, which we visited on Day Two of the Seattle Garden Bloggers Fling, the nice view is rather stunning.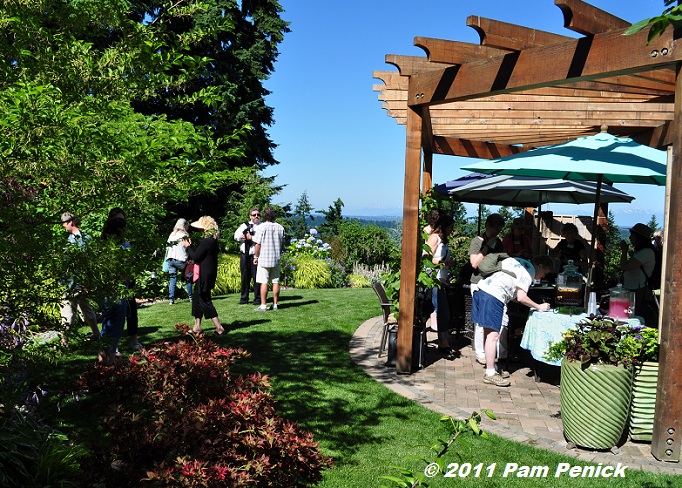 After piling out of the buses onto a terraced lawn and patio with a striking circular arbor, we gazed out over the slope to admire…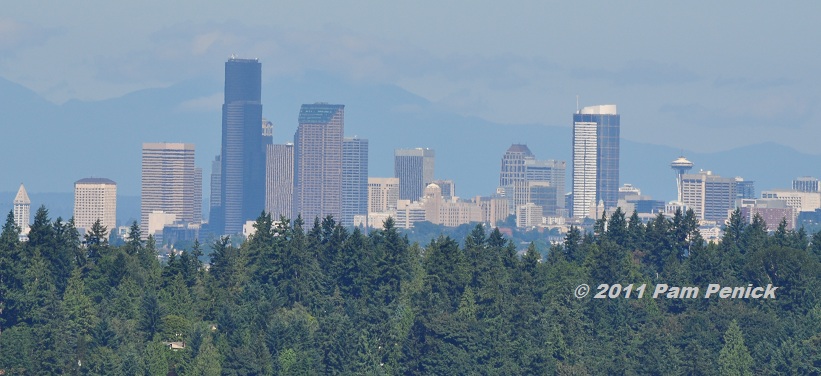 …the Seattle skyline and Olympic Mountains in all their glory.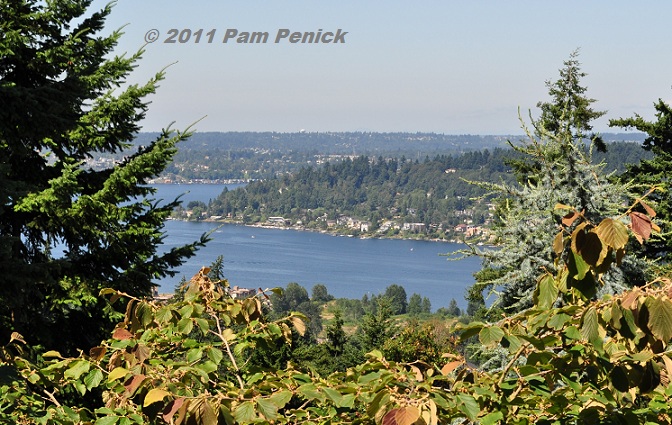 The view of Lake Washington isn't bad either.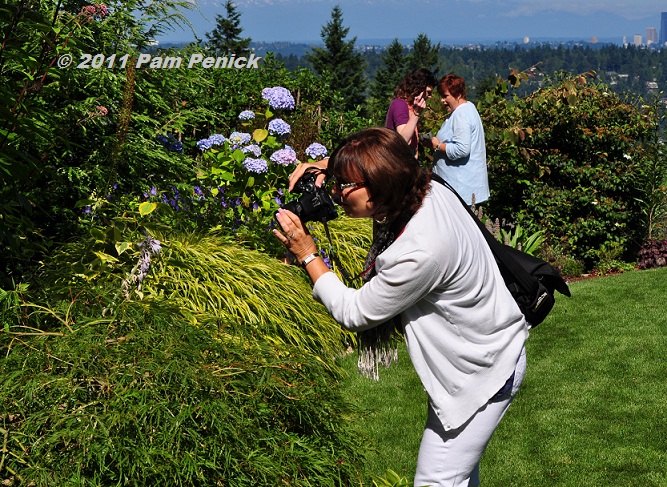 With riches like these viewable from the patio, do you bother to create a garden? But of course! Michelle and Christopher Epping have made a lush, lovely garden that took 3rd place in the 2007 Pacific Northwest Gardens Competition. Diana of Sharing Nature's Garden has managed to tear herself away from the skyline views to focus on the garden.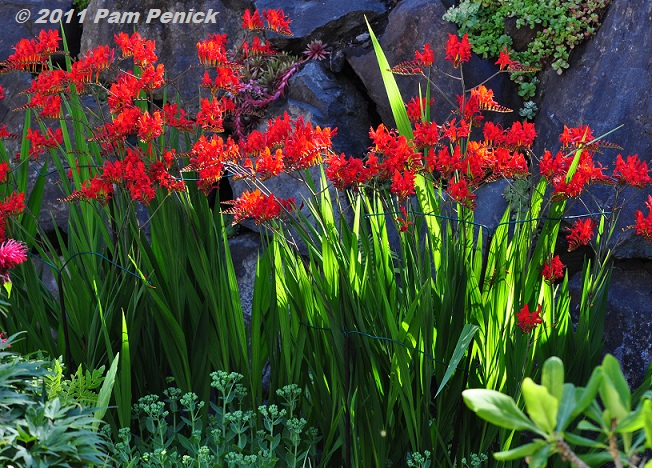 I made a beeline for a blazing stand of crocosmia (the Seattle Fling's signature plant?), where I took a bazillion pictures of this dramatic beauty against the charcoal boulders holding the slope.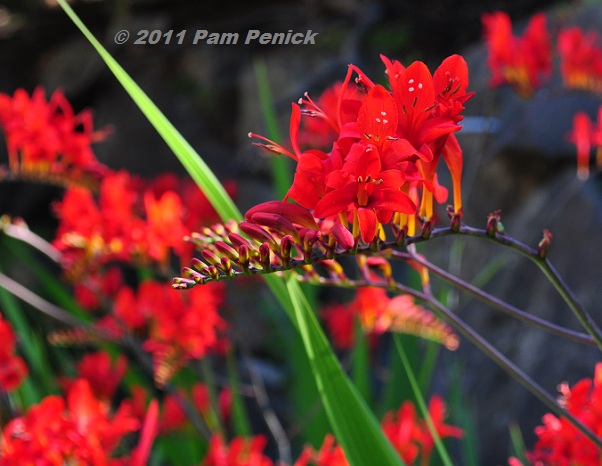 A closeup—like a bird's head, don't you think?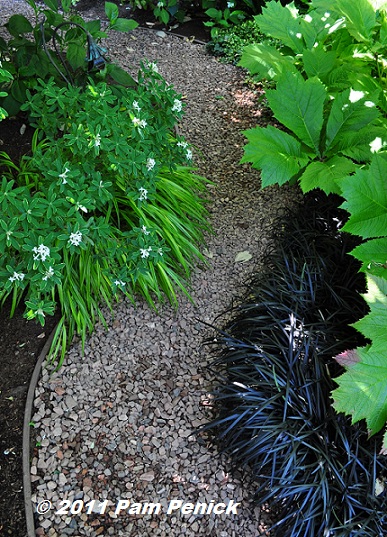 A curvy gravel path leads into the shady side of the garden.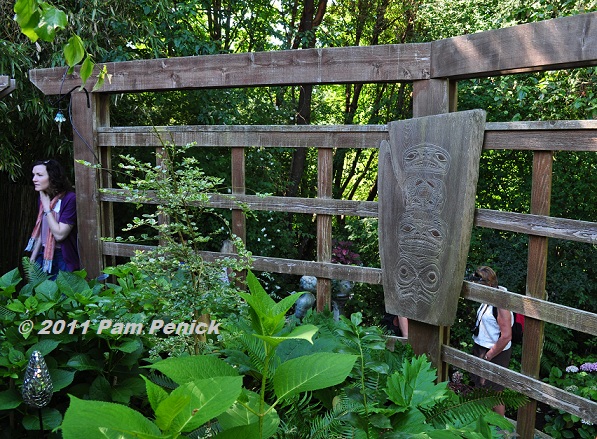 A vaguely Asian trellis screen is simply but beautifully constructed, with a V-shape bend in the middle. That's Andrea Bellamy of the Vancouver blog Heavy Petal on the left. I was delighted to meet her, having recently read and reviewed her new book, Sugar Snaps and Strawberries.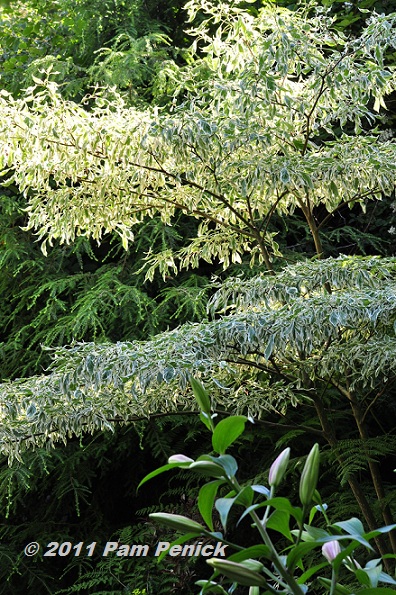 A variegated tree catches the morning light.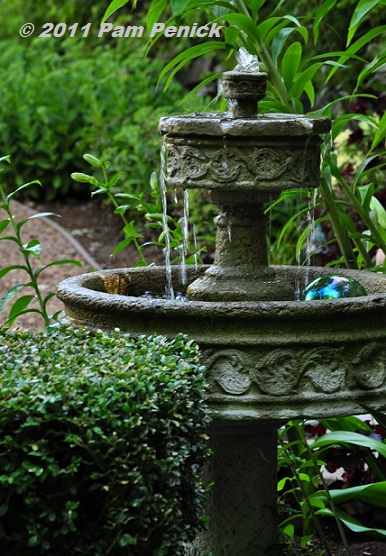 This tiered fountain adds water music to a quiet spot in the shade.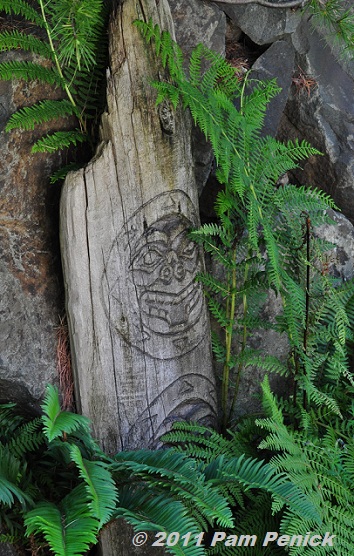 I liked these wood carvings found throughout the garden. They seemed as if they might be inspired by the totem poles of Pacific Northwest Indian tribes.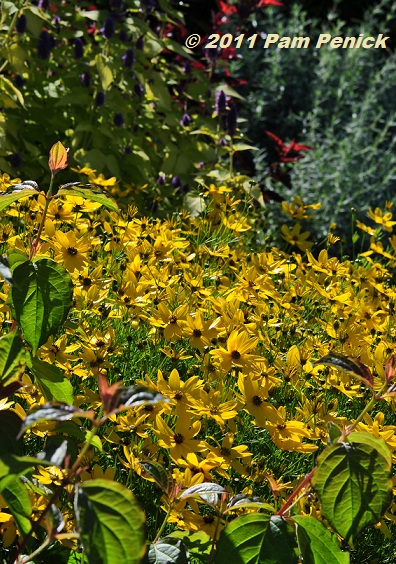 In the bright sunlight flowers glowed as if lit from within.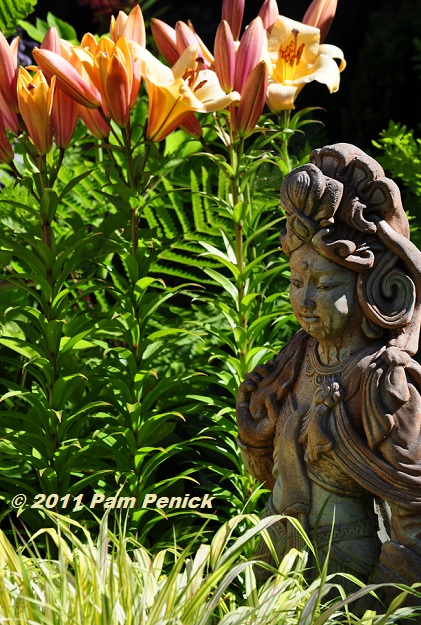 Among apricot lilies, a statue of Kuan Yin gazes over the garden.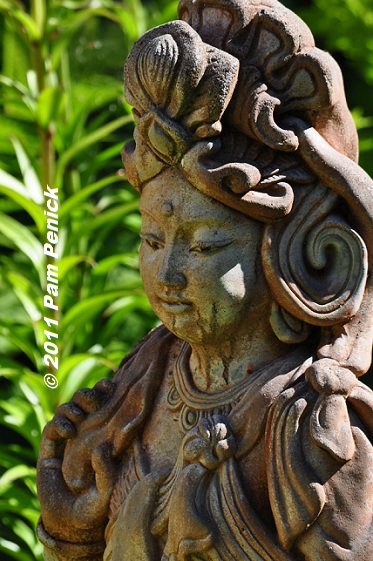 With views like this, no wonder she looks so serene.
Next up: The fantasy and woodland magic of the Lane Garden. For a look back at the stylish, colorful Ravenna Gardens, click here.
All material © 2006-2011 by Pam Penick for Digging. Unauthorized reproduction prohibited.
posted in
Arbors
,
Fling Seattle
,
Fountains
,
Garden art
,
Garden blogging
,
Garden structures
,
Garden tours 2011
,
Lakes
,
Paths
,
Sculpture
,
Travel
,
Trees
,
Trellis
,
Views