August 9th, 2011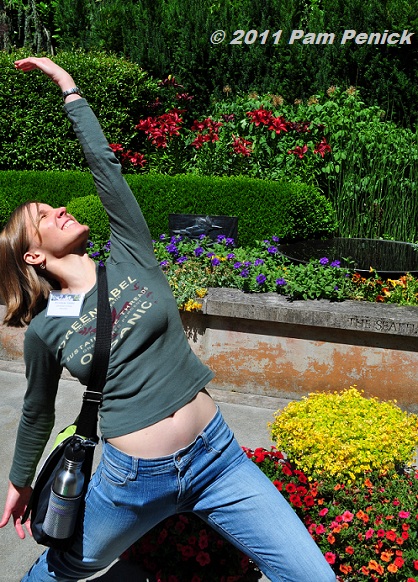 Anneliese of The CobraHead Blog strikes a pose in the Dunn Gardens
Following two private-garden visits on Day One of the Seattle Garden Bloggers Fling, we were bused to the Dunn Gardens for lunch and a docent-led tour.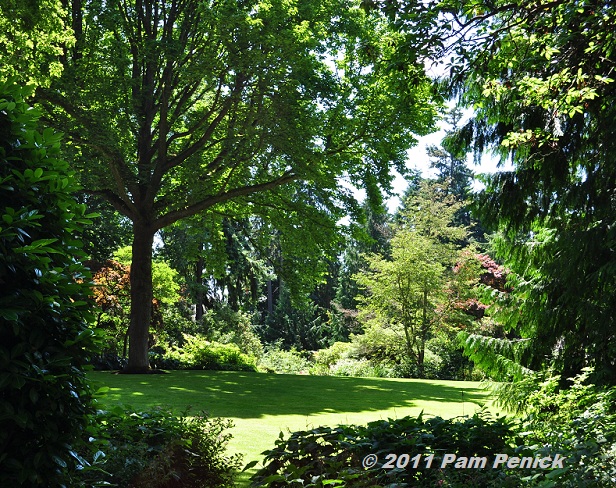 In 1915, in what is now the Broadview neighborhood, Seattle residents Arthur and Jeanette Dunn built a summer house on 10 acres overlooking Puget Sound and the Olympic Mountains. Arthur Dunn commissioned a landscape plan from the Olmsted Brothers, sons of Frederick Law Olmsted, and Arthur installed the design himself—a true do-it-yourselfer! Edward Bernard Dunn, their second child, a devoted gardener and garden writer, took over management of the gardens in 1947, following his father's death. Today the E.B. Dunn Historic Garden Trust preserves the gardens for the public.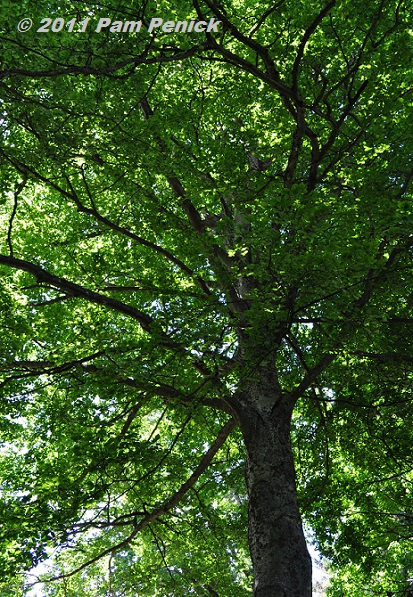 Tall trees draw the eye skyward, create a sense of enclosure, and frame views throughout the gardens.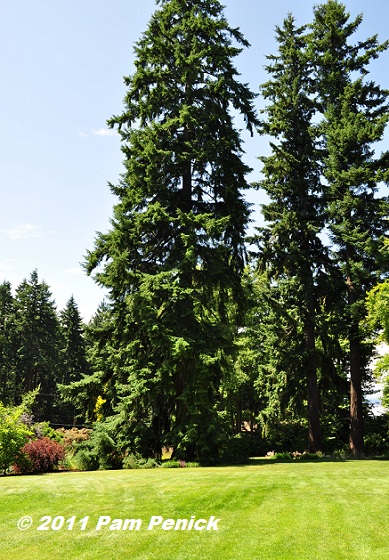 A stand of iconic Douglas firs (I think)

Woodland plantings beneath the trees take advantage of varying soil conditions. This shade garden is not irrigated, we were told, and drought-tolerant plants have been substituted for thirstier ones.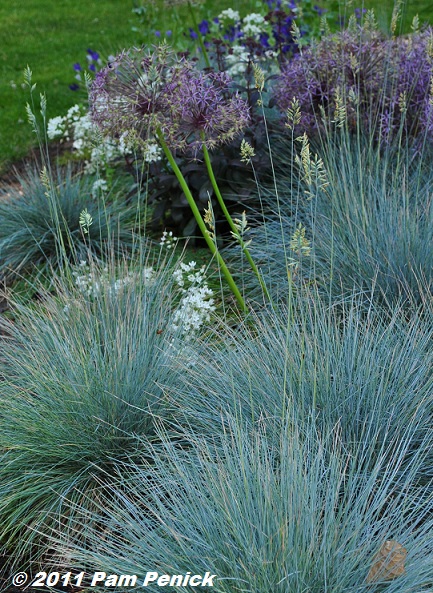 Blue fescue and purple globe alliums make a fine pairing.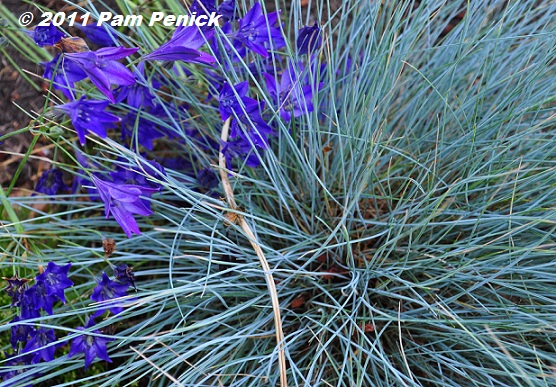 A little scilla Brodiaea is nice too. (Thanks for the ID, Frances.)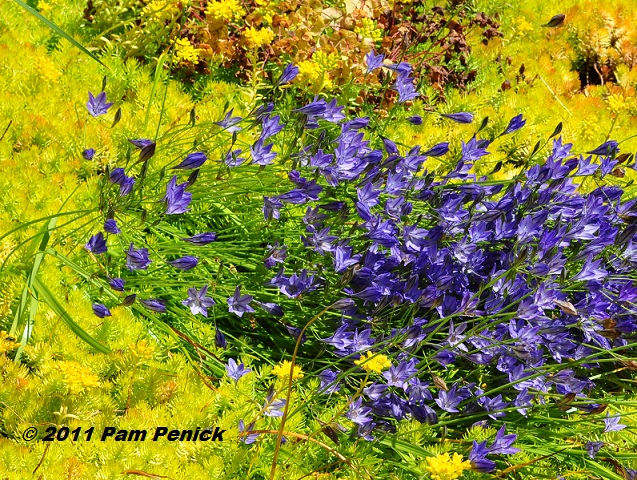 This eye-popping combo is courtesy of 'Angelina' sedum and brodiaea.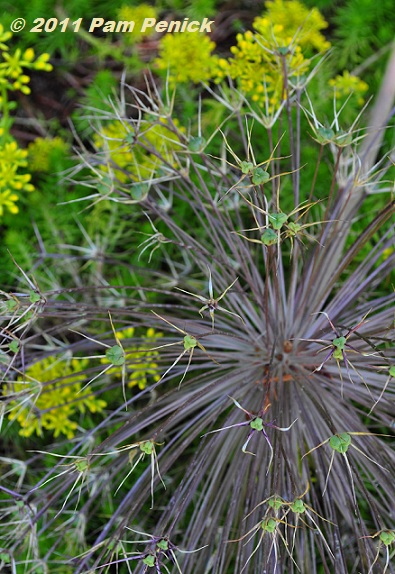 Alliums look just as pretty going to seed as they do in bloom.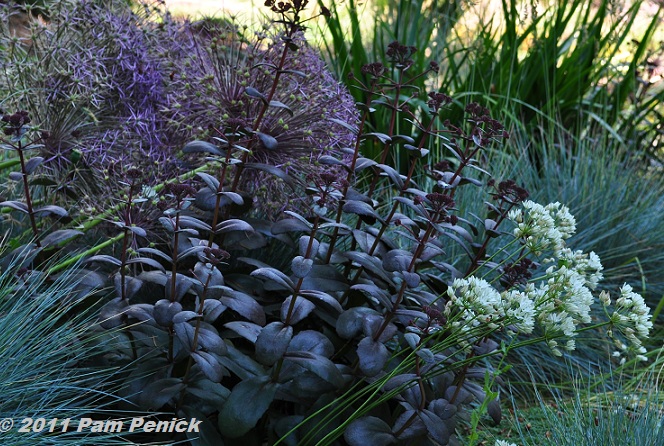 More sedums, allium, and blue fescue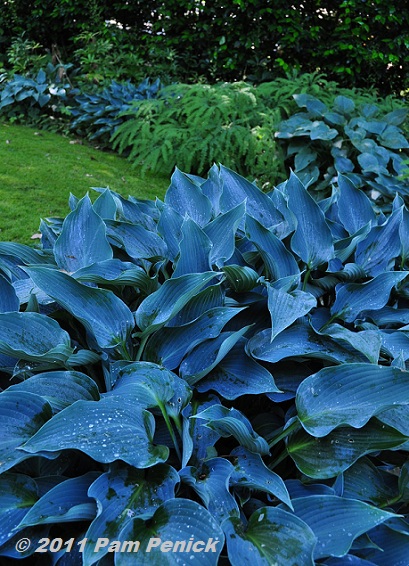 Under the shade of magnificent trees, hosta glows an otherworldly blue against green grass.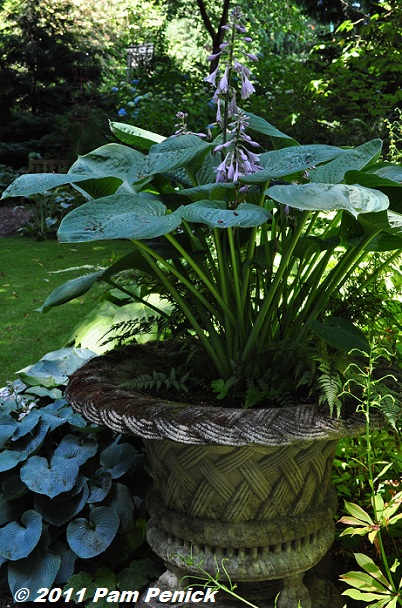 This hosta is elevated to a focal point in a pretty container.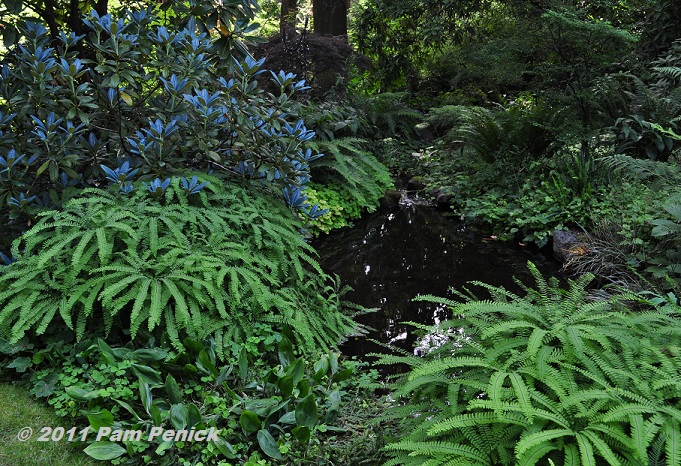 These woodland gardens are made for quiet contemplation.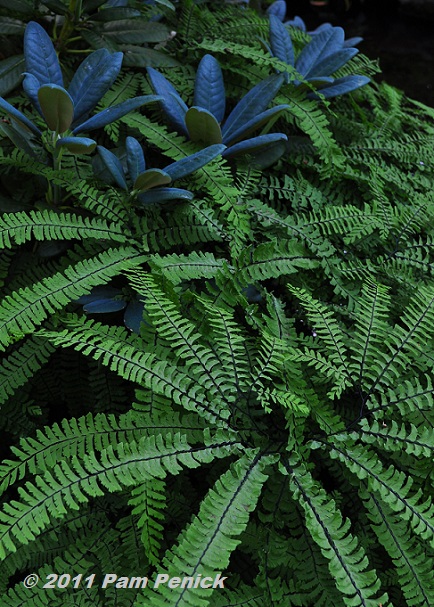 Beautiful greenery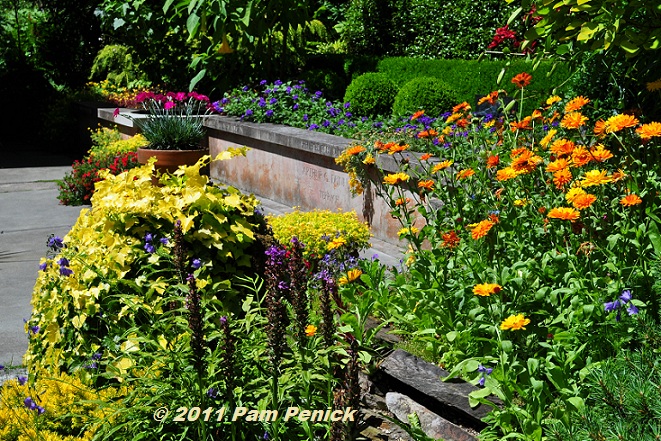 Shockingly bright after the green serenity of the woodland and sweeping lawns, the Curator's Garden is a personal garden kept by Charles Price and Glenn Withey, who have been curators at the Dunn Gardens since September 1997. Its lively plantings seem to ignite in the bright sunlight.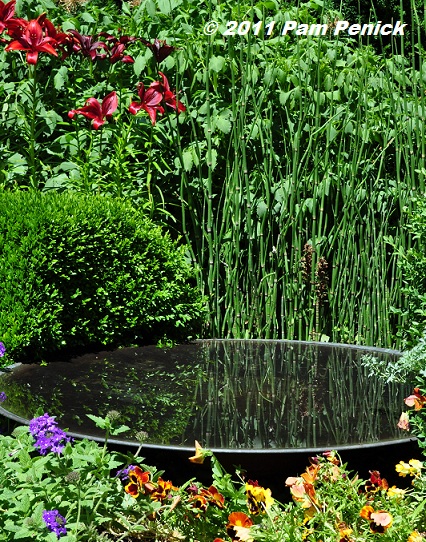 A shallow bowl makes a beautiful reflecting water feature.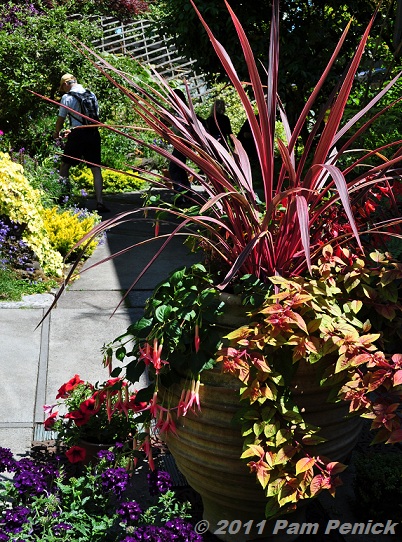 Hot-colored annuals spice up containers on the patio.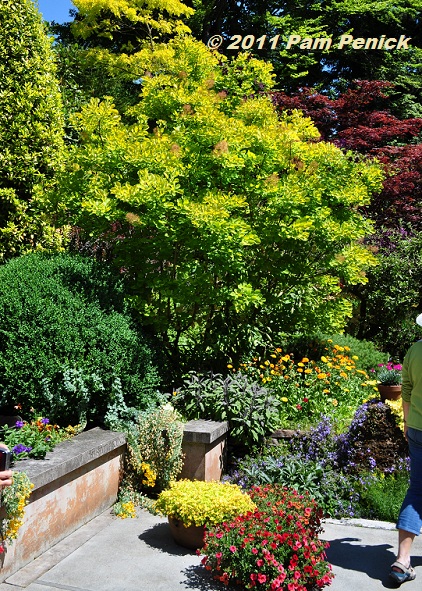 The chartreuse and burgundy foliage of these trees, washed-clean blue skies, and cool temperature almost fooled me into thinking it was autumn.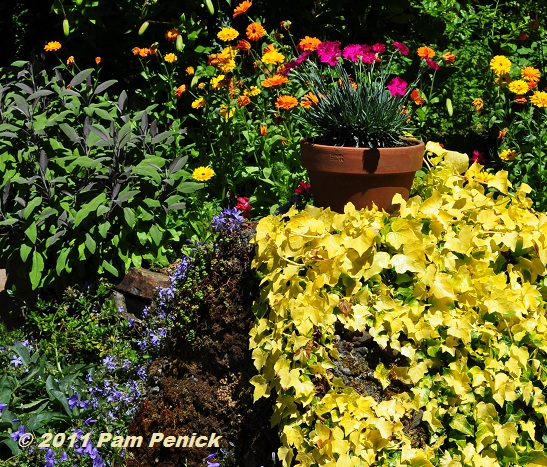 Ka-pow!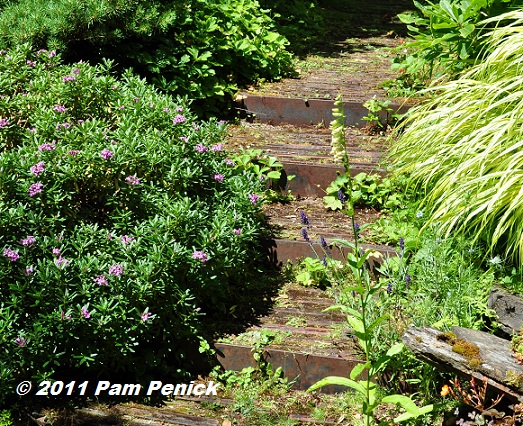 These stairs caught my eye: steel risers with stone laid on edge to pave the steps.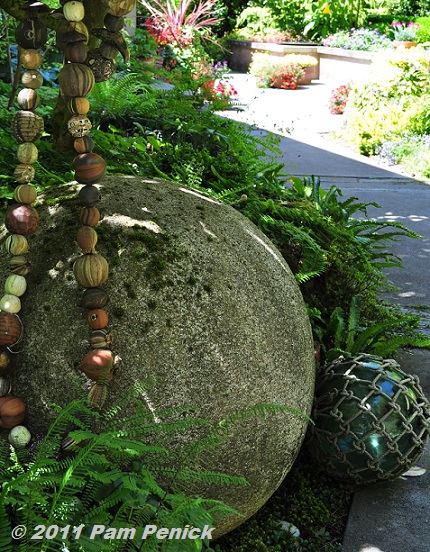 Orbs of all shapes and sizes accent a shady bed.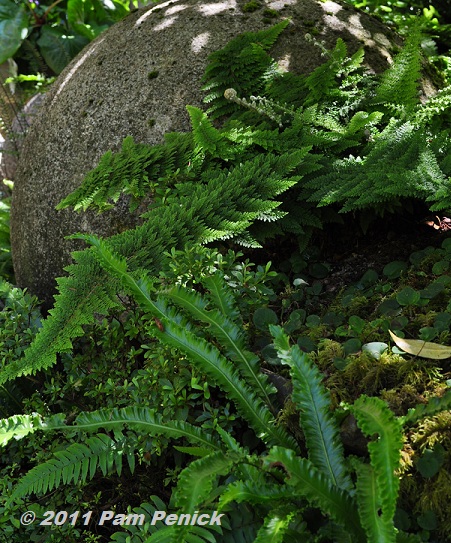 Ferns nearly cloak the stone orb, imparting a sense of age.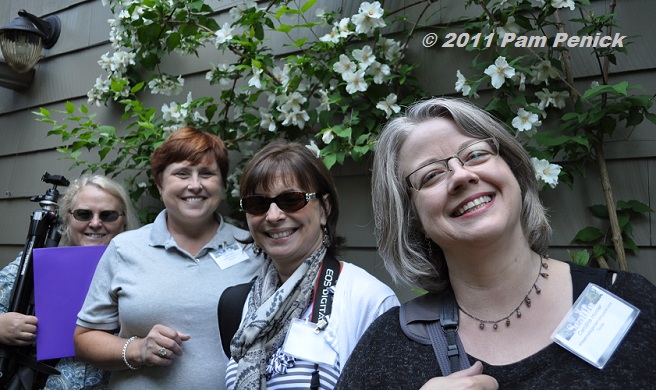 Yes, life is good in Seattle's gardens. From left to right, Debbie of Rainy Side Gardeners, Dee of Red Dirt Ramblings, Diana of Sharing Nature's Garden, and Caroline of The Shovel-Ready Garden.
Next up: A happy-hour visit to Ravenna Gardens. For a look back at the lovely Birrell garden, click here.
All material © 2006-2011 by Pam Penick for Digging. Unauthorized reproduction prohibited.
posted in
Containers
,
Fling Seattle
,
Garden art
,
Garden blogging
,
Garden tours 2011
,
Grasses
,
Groundcovers
,
Lawns
,
Paths
,
Ponds
,
Succulents
,
Summer color
,
Travel
,
Trees
,
Water features