August 4th, 2011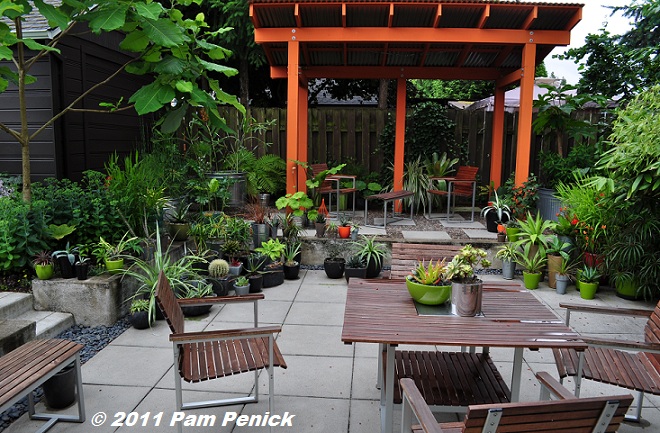 I'm baaack! Did you miss me? If you thought I'd gone AWOL from Austin's summer from hell, well, you were right. I left early for the Garden Bloggers Fling last month, flying into Portland, Oregon, on July 20 in order to meet blogger friend, foliage fiend, and fellow agave lover Loree of Danger Garden.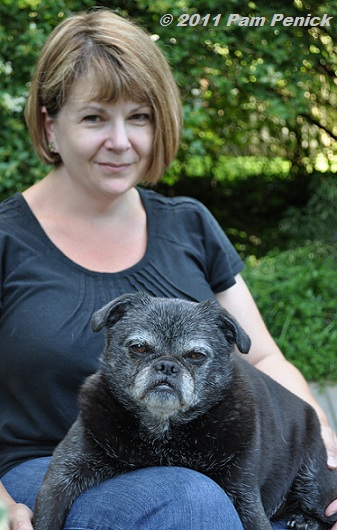 Loree and I had never met in person, nor even talked on the phone, but I knew we'd hit it off, and we did. She took me on a whirlwind tour of her favorite Portland nurseries plus downtown's Lan Su Chinese Garden on the day before the Fling, giving me a taste of her delightful, hip hometown. That evening we relaxed on her patio with a glass of wine and her adored dog Lila, aka Pony. I even got to meet Mr. Danger Garden. Both of them have art and design backgrounds, and it shows in their home decor and garden design. One word: stunning.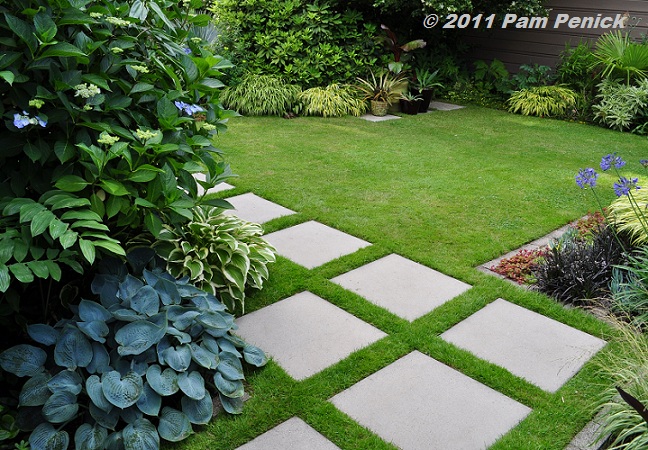 The back garden is the heart of the Danger Garden. With geometric, contemporary style, a concrete-paver path set in an emerald lawn (sighing over Portland's regular rainfall and cool summer temps) leads around the corner of the detached garage. There is no bare ground; layers of foliage blend together all the way to ground level. You immediately know that the leaf, not the flower, is the star of this garden.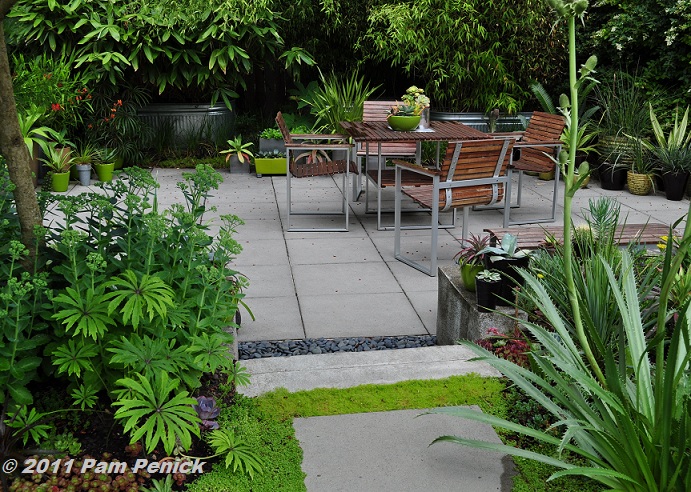 As you round the corner, a spacious sunken patio of concrete pavers framed by a strip of beach pebbles beckons you onward. The gleam of two stock tanks planted with a privacy screen of bamboo lightens the shady border behind the table and chairs.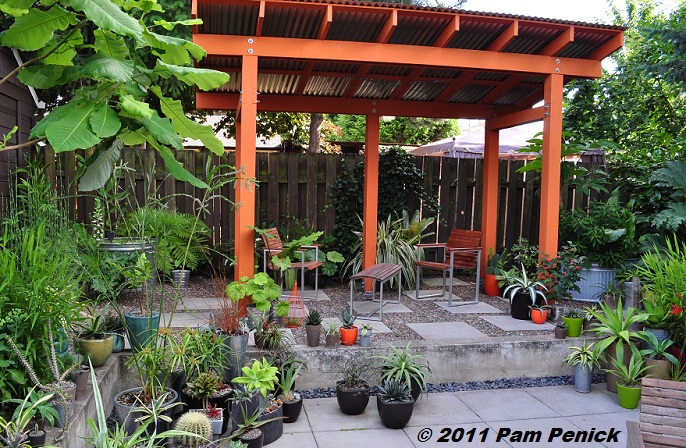 Looking left from the sunken patio, you see another enticing seating area under a hot-orange pavilion with a galvanized roof. Loree uses it for shade in summer and shelters her dry-loving desert plants beneath it during Portland's cool, rainy winters.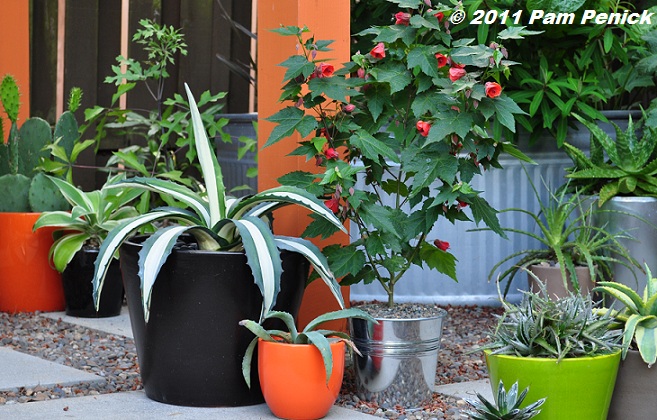 Loree has a LOT of potted plants. Most of her agave and succulent collection is housed in containers that can be moved for winter shelter. This vignette is composed of one of my favorite agaves, stripey A. americana mediopicta 'Alba', another little agave, and an orange-flowered abutilon in a shiny, steel pail.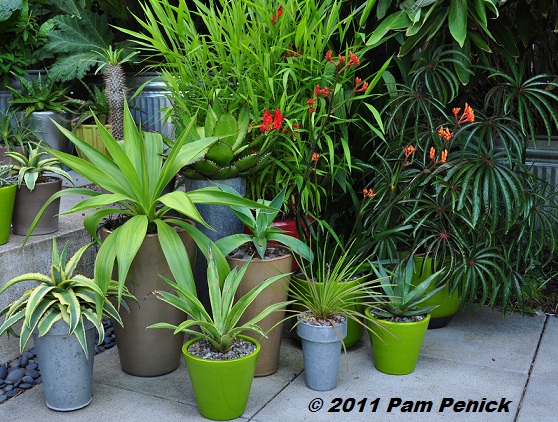 This corner of the patio holds more of Loree's extensive agave collection, plus a well-placed crocosmia.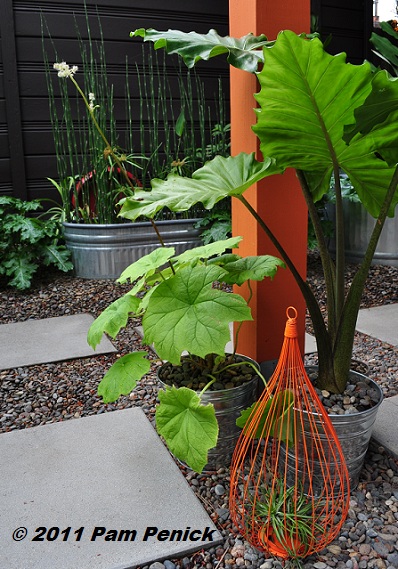 Looking left, another eye-catching display. The two stock tanks in the background contain bog plants and a container pond with…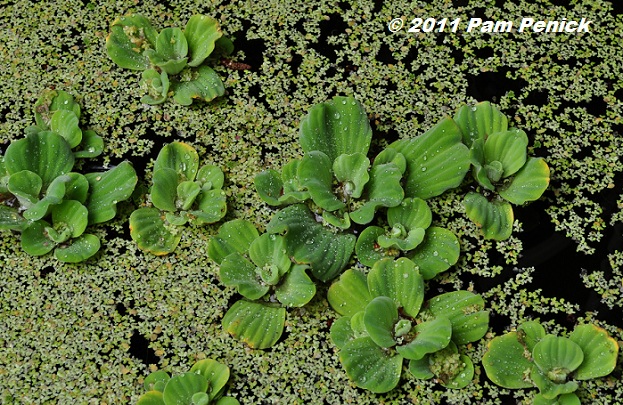 …water lettuce and duckweed.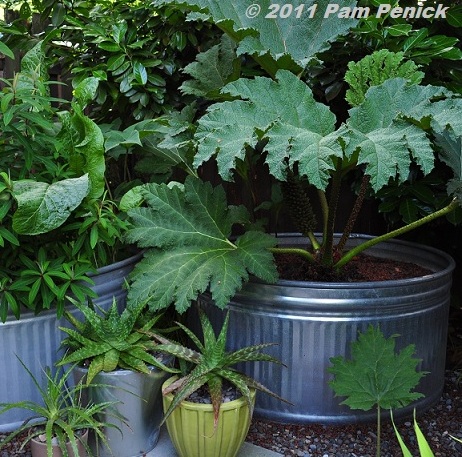 Loree has 11 stock tanks in her garden, including this one planted with Gunnera. Lest you wonder how she pulls this off in a small garden without it seeming like a cattle pen, let me assure you they work beautifully with her clean-lined, contemporary style. Interspersed throughout her leafy borders, they shine out here and there and elevate specimen plants, contain bamboo, house vegetables, and hold water.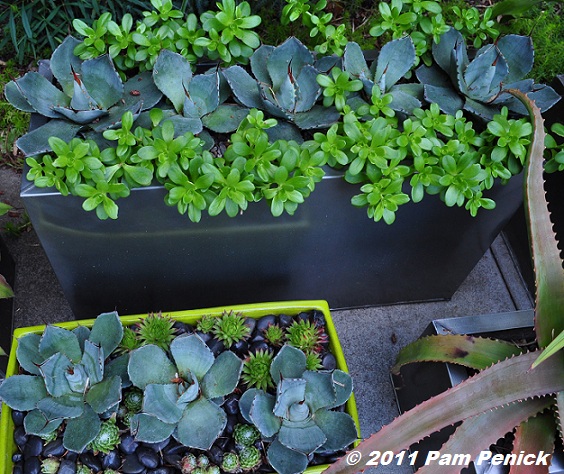 Multiple Agave parryi truncata underplanted with smaller succulents. I love this.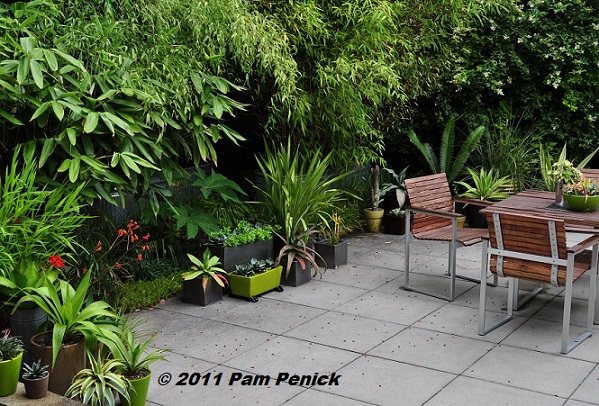 The back border of the patio. The bamboo screens neighboring houses. Stock-tank planters keep it contained and give it additional height.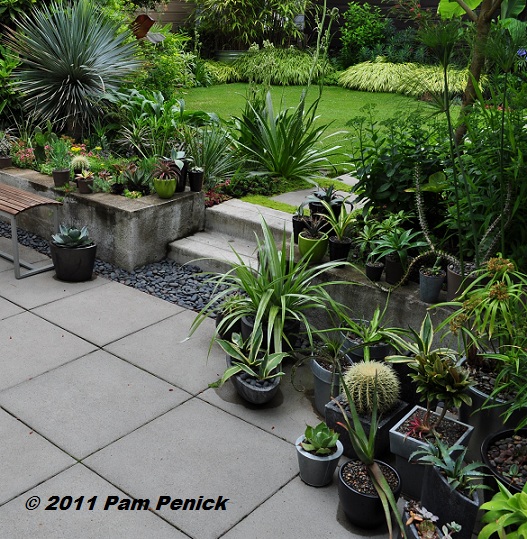 Two steps lead back up to the lawn behind the house. Loree uses the low retaining wall as a display ledge for more of her succulent collection.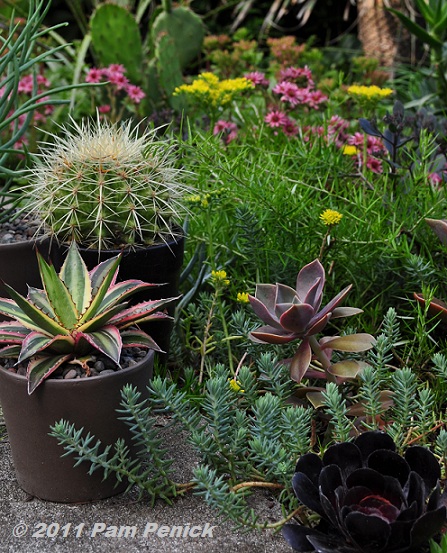 Golden barrel cactus, Agave lophantha 'Quadricolor', Echeveria, sedum, and Aeonium, with flowering sedum in the background. (Loree, please correct me if I mis-identify anything.)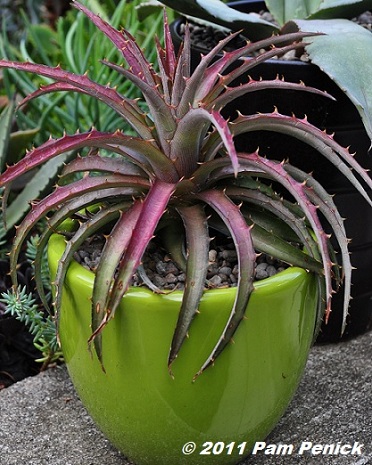 A pink Dyckia is charming in a chartreuse pot.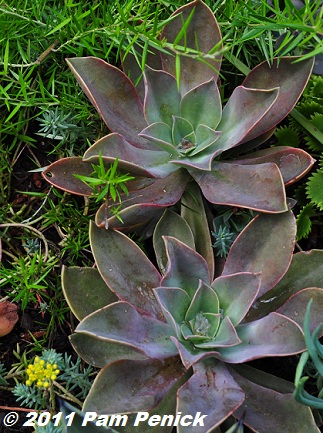 Echeveria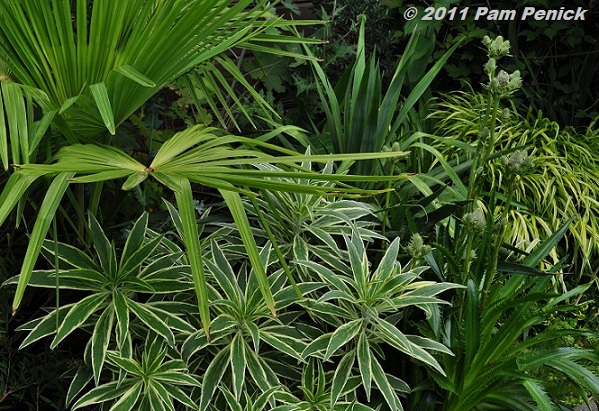 Loree is firm in her variegated plant choices, favoring the yellow-hued ones over those with white variegation. Mixed with various shades of green, they add a sunny brightness to her borders.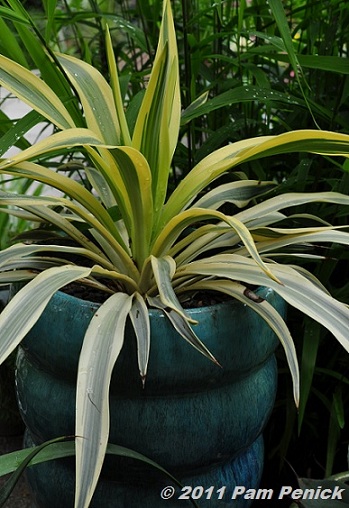 I think this is a Furcraea. Correction: It's Yucca 'Bright Star'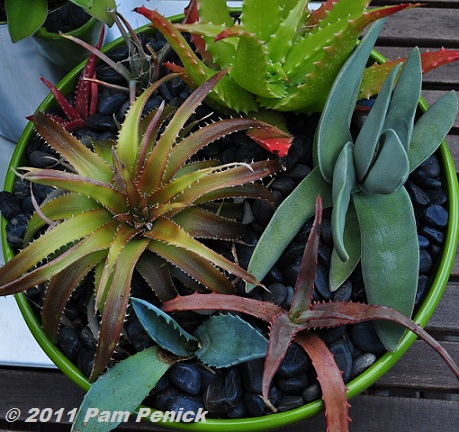 A bowl planter with a colorful mix of aloe, agave, and dyckia.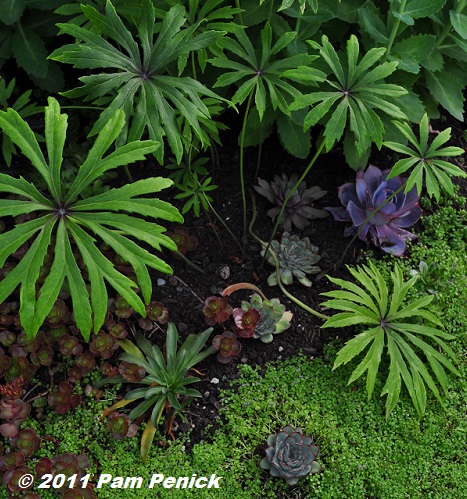 Tetrapanax (?) Shredded Umbrella Plant (Syneilesis aconitifolia) underplanted with echeveria and other succulents. What is that pointillist groundcover, I wonder? The groundcover, Loree tells me, is Corsican mint.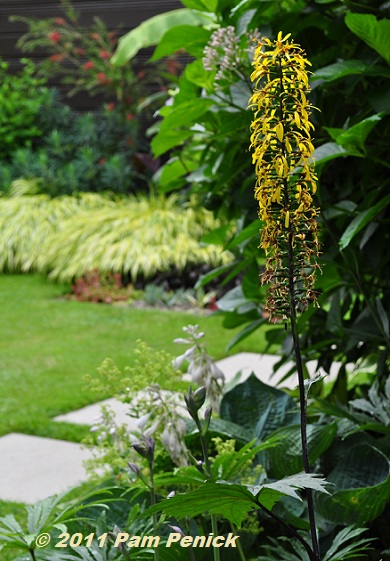 Ligularia and hosta in bloom prove that flowers aren't out of place in the Danger Garden, though they aren't the stars of the show.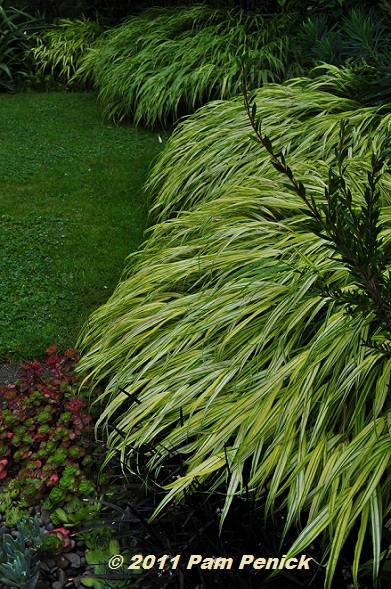 I covet this: Japanese forest grass (Hakonechloa). It probably grows like a weed in the Pacific Northwest, but it's much too hot and dry for it in Austin. I can fantasize though.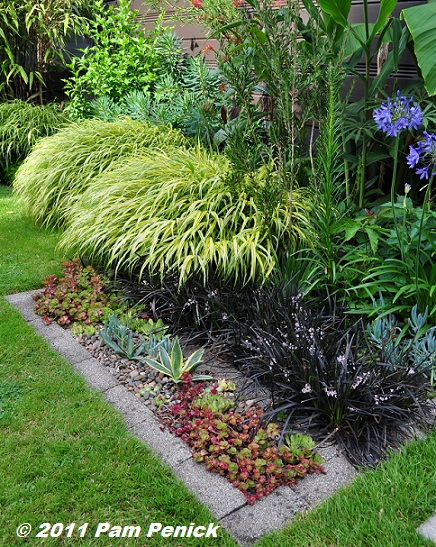 A ground-level, rectangular planting pocket contains more succulents.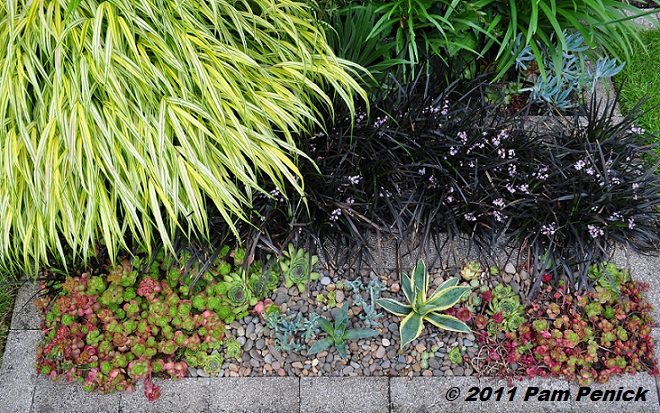 Just look at that contrast between the Hakonechloa and the black mondo grass—yum!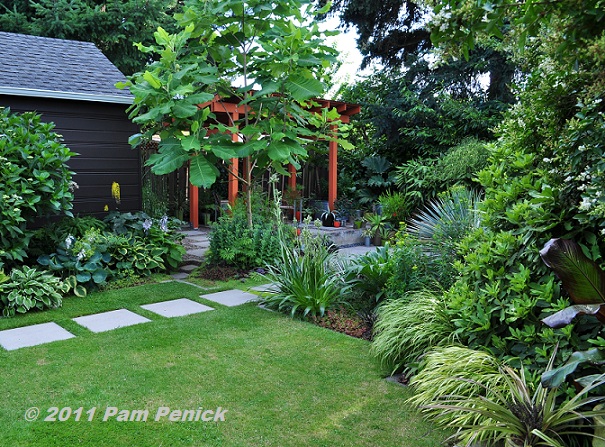 Looking back toward the patio from the right side of the lawn, you see Loree's bigleaf magnolia (Magnolia macrophylla). It really does have enormous leaves.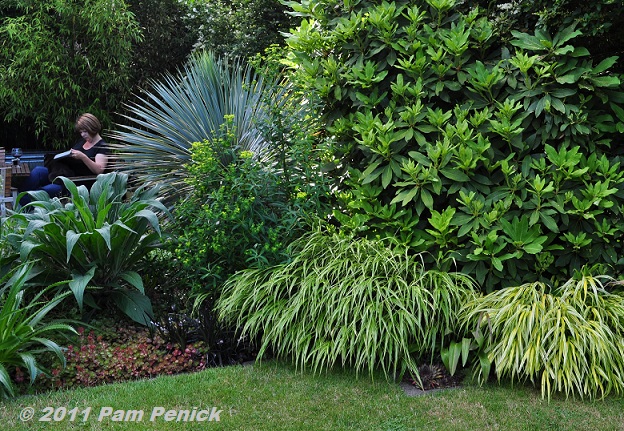 Loree catches up on her reading as her guest maniacally tries to photograph every square inch of her exquisite garden.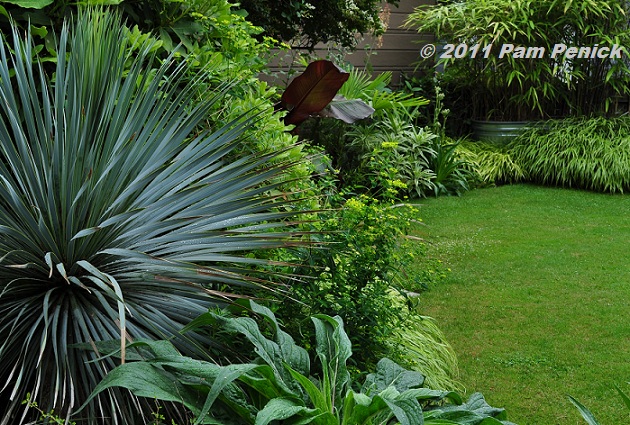 Yucca rostrata 'Sapphire Skies' is a sphere of spiky, blue leaves in the border between patio and lawn.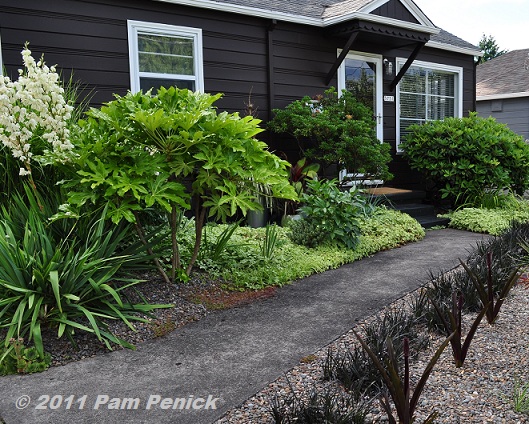 Loree recently redesigned her sloping front garden after a series of hard winters decimated some of her tender plants. Unlike her neighbors' grassy plots, Loree's front yard is a lawnless, gravel-mulched dry garden.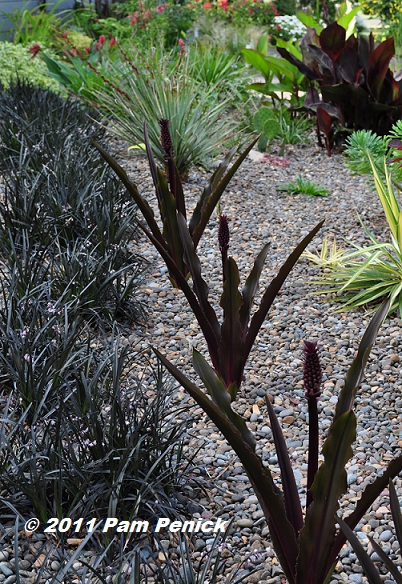 A line of black mondo grass and equally dark Eucomis 'Oakhurst' emphasizes the geometry of the design.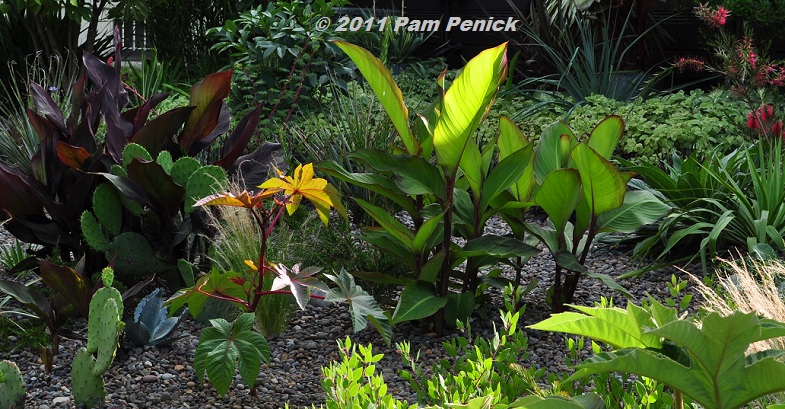 Cannas cozy up to Opuntia, an unusual combination with big-leaf playfulness.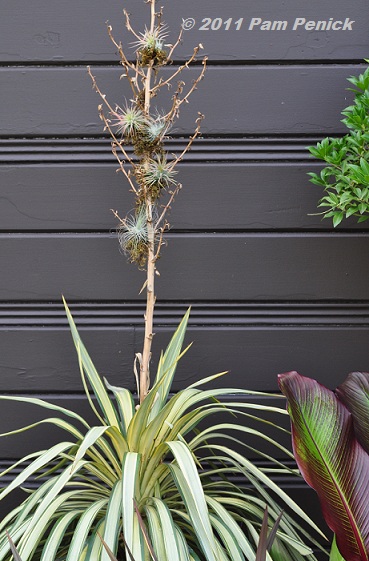 Here's another bit of playfulness: Loree affixed Tillandsia and a bit of moss to the dried flower spike of a Yucca recurvifolia 'Margarita' to dress it up.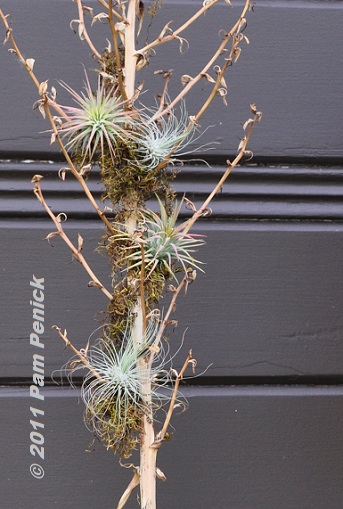 A closer look. Isn't this a fun idea?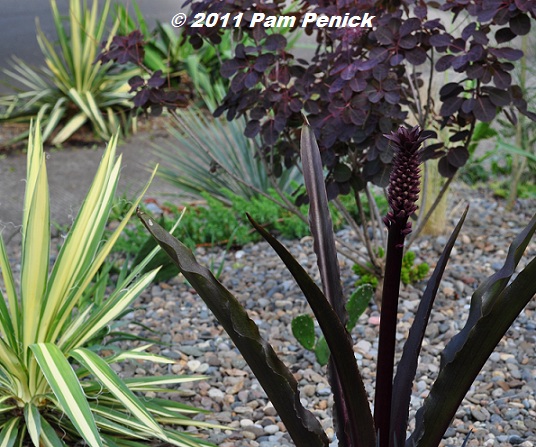 'Color Guard' yucca's yellow leaves contrast with the dark purple of Eucomis 'Oakhurst' and smoke tree.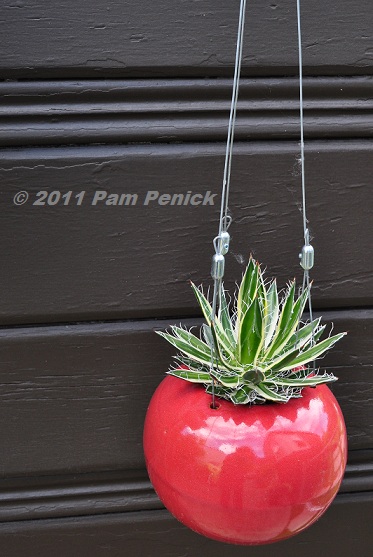 Agave schidigera 'Shira ito no Ohi' stands out in a red hanging pot.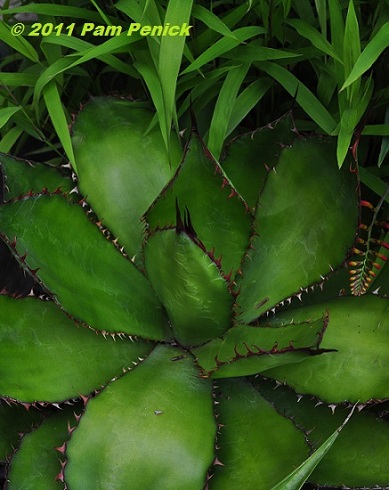 Agave bovicornuta's orange teeth pick up the color of the shade pavilion.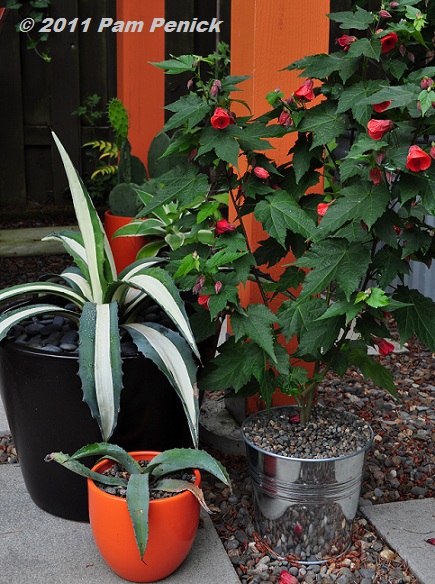 Loree doesn't place any man-made art in her garden, which I find unusual (most gardeners can't resist, including me). But when you design as she does, with plants as sculptural focal points, the garden itself can be the work of art.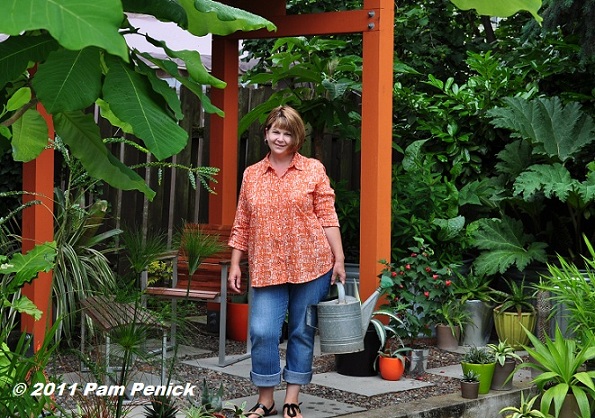 Loree, thanks so much for your hospitality! Meeting you and seeing your garden in person was a highlight of my trip. Oh, and I fully expect to see your garden in a gardening magazine one of these days.
Coming up next: A peek at Loree's favorite Portland nurseries, Cistus and Joy Creek.
All material © 2006-2011 by Pam Penick for Digging. Unauthorized reproduction prohibited.
posted in
Agaves
,
Aloes
,
Arbors
,
Bamboo
,
Cactus
,
Containers
,
Decor
,
Design
,
Dogs
,
Fling Seattle
,
Garden blogging
,
Garden structures
,
Garden tours 2011
,
Grasses
,
Groundcovers
,
Lawns
,
Paths
,
Seating
,
Stock tanks
,
Succulents
,
Travel
,
Trees
,
Water features
,
Water gardening
,
Xeric plants
,
Yuccas