July 16th, 2011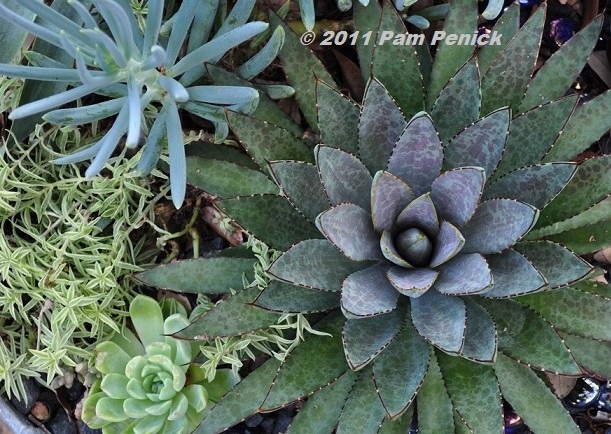 It's Foliage Follow-Up, a day of celebrating leafy beauty in the garden. After I took my photos, I noticed that they fell into one of two categories: the fierce, pointy leaves of yuccas, agaves, dyckias, and mangaves, and the fine texture of various grasses or grass-like plants.
First, the fierce. Pictured above, 'Bloodspot' mangave along with softer succulents like blue chalk fingers, variegated sedum, and echeveria.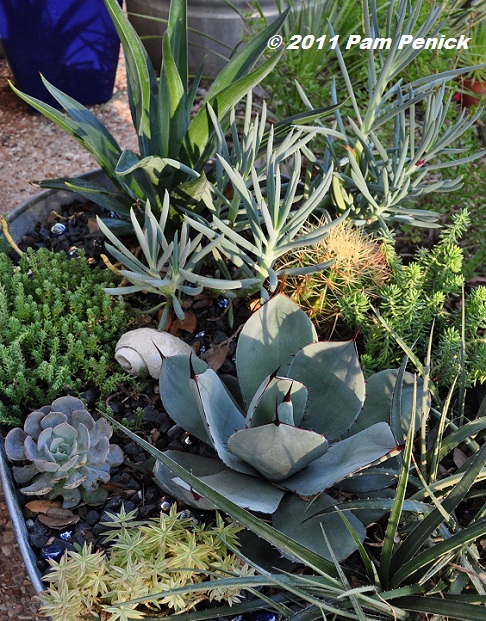 In another planter, spiky-fingernailed Agave parryi var. truncata keeps company with sedums, echeveria, blue chalk fingers, golden barrel cactus, and dyckia.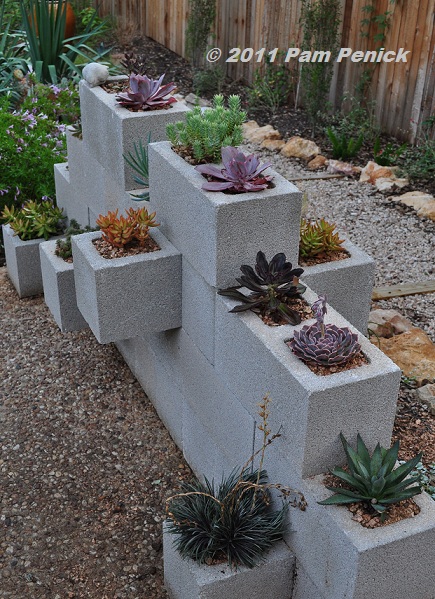 There are fierce plants in the cinderblock-wall succulent planter, like mangave, dyckia, and small agaves, along with softer sedums and echeveria.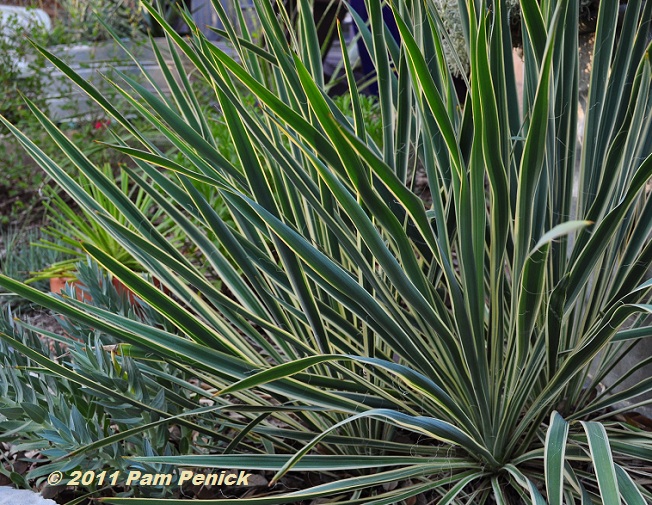 'Bright Edge' yucca (Y. filamentosa 'Bright Edge') adds stripey color to its strappy, pointed leaves.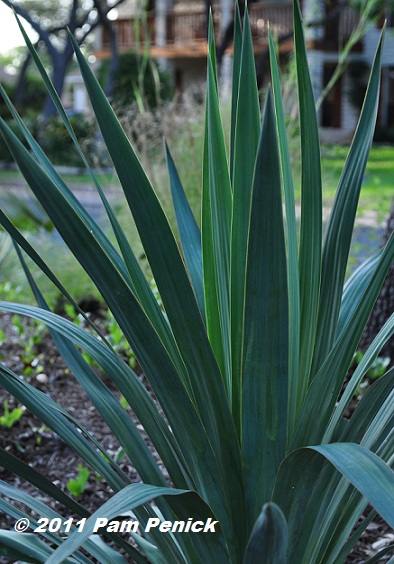 Softleaf yucca (Y. recurvifolia) is serene blue-green.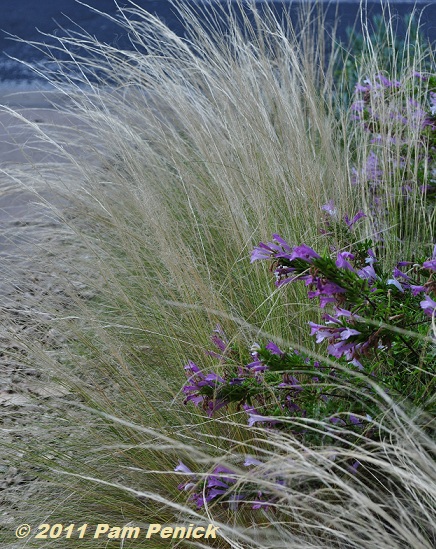 And now for the fine, starting with blonde-headed Mexican feathergrass (Nassella tenuissima), seen here with lavender-flowered Mexican oregano (Poliomintha longiflora).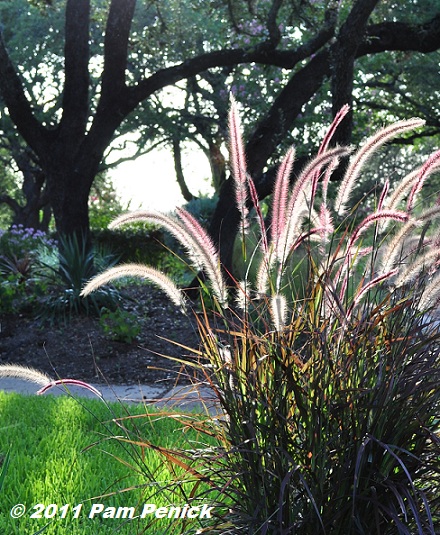 Stunning purple fountain grass (Pennisetum setaceum), an annual most years in central Texas, backlit with graceful live oaks in the background.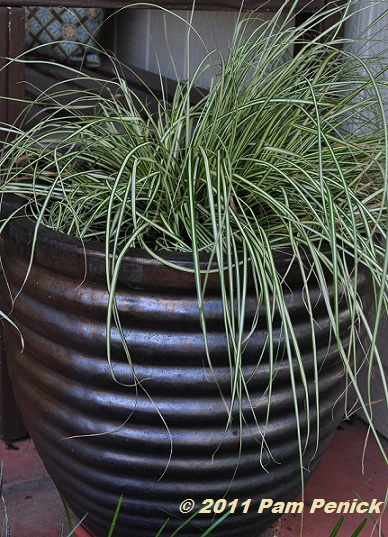 Variegated Japanese sedge flows over the edge of a bronze pot.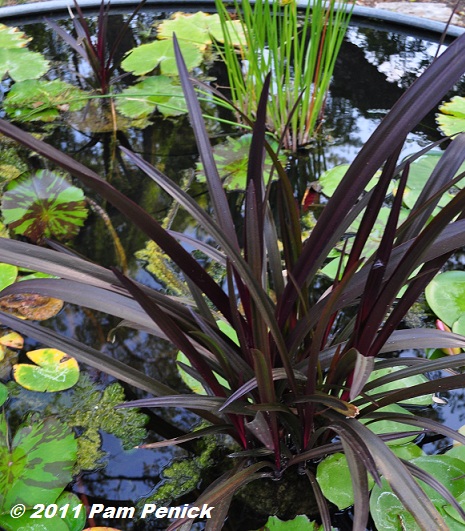 A eggplant-colored crinum's strappy leaves arch over the surface of the stock-tank pond.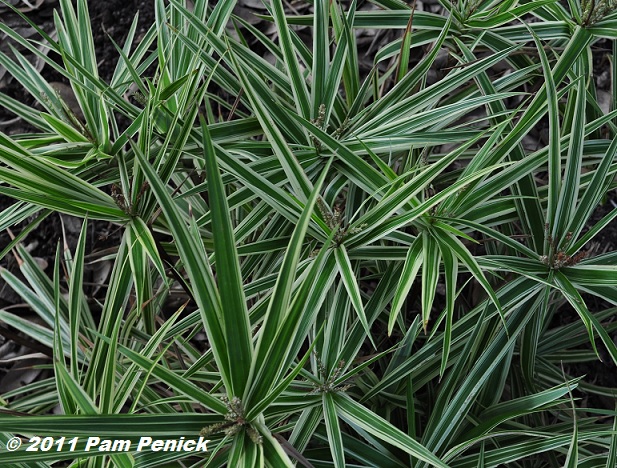 And 'Sparkler' sedge (Carex phyllocephala 'Sparkler') is an explosion of cool, striped leaves.
So what foliage is inspiring you today? Join me in posting about your lovely leaves of July—it's called Foliage Follow-Up, and it's a way to remind ourselves of the importance of foliage in the garden. Just leave a comment on this post with a link to your foliage post so everyone can find you, and please link to me in your post.
All material © 2006-2011 by Pam Penick for Digging. Unauthorized reproduction prohibited.
posted in
2nd garden--2011
,
Agaves
,
Containers
,
Foliage Follow-Up
,
Grasses
,
Succulents
,
Texas natives
,
Trees
,
Walls
,
Water gardening
,
Xeric plants
,
Yuccas