June 30th, 2011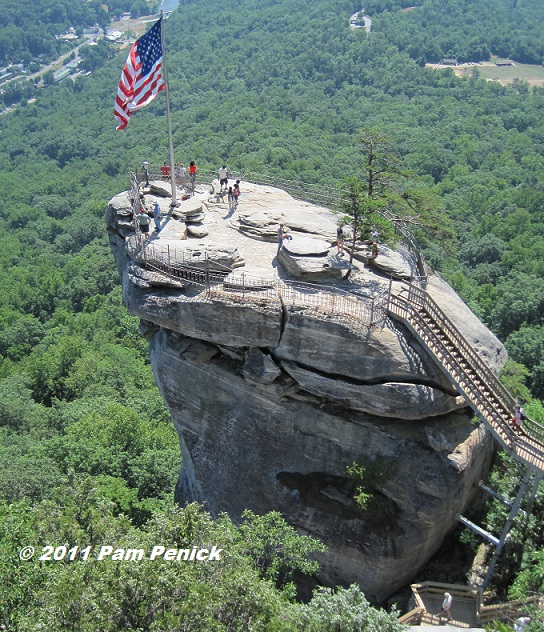 Ever since my Carolina childhood, the mountains of western North Carolina have been one of my favorite weekend destinations. During a recent vacation I had the pleasure of introducing my children to some fun hikes and nature outings in the Asheville area.
Pictured above is a view from Chimney Rock State Park, which after a century of private ownership recently became a state park. As my kids scrambled up ahead of me (how well I remember that youthful energy; where does it go?), I panted my way up several flights of steps to the top of the 315-foot monolith, where an incredible vista of green mountainsides and narrow Lake Lure spreads out before you. From here we huffed and puffed our way up to Exclamation Point, a bald rock face at 2,480-foot elevation. Sadly, the cliffside trail that used to lead on from there to a cascading waterfall where The Last of the Mohicans was filmed is no longer open. In fact, that trail doesn't even appear on the map or the website, and it took a bit of sleuthing on my part to figure out how we'd missed the best part of the Chimney Rock experience, in my opinion. Probably there were safety concerns about the steep drop-offs along the trail, but I'm saddened that it was simply closed down rather than improved for safety.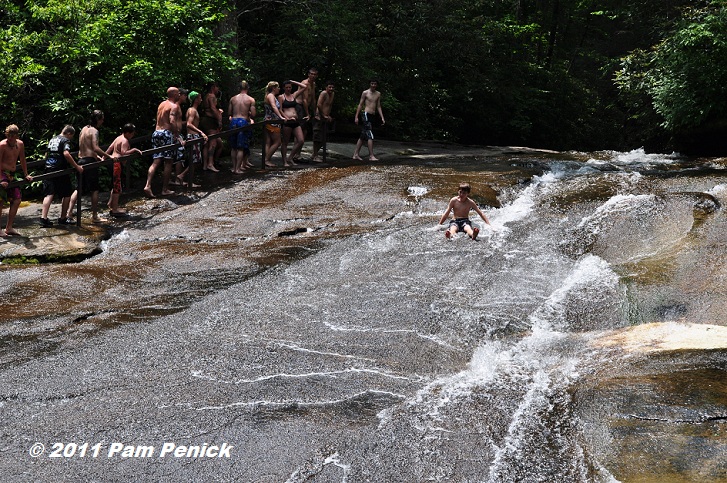 Happily, Sliding Rock in the Pisgah National Forest is still as I remember from my childhood. An icy stream slides over a smooth, 60-ft sloping rock, and those who brave the cold water are rewarded with a natural slip-and-slide that picks up speed all the way to the pool at the bottom. My children slid a couple of times and were done. I remember, as a little kid, sliding for an hour with my sister and older cousins, making long chains with teenage boys who were happy to hang onto 16-year-old girls in cutoffs and bikini tops. I didn't see any of that on this visit; it was an orderly, solitary bunch taking turns zipping down the rock, with only an occasional whoop to let the spectators know what they were missing.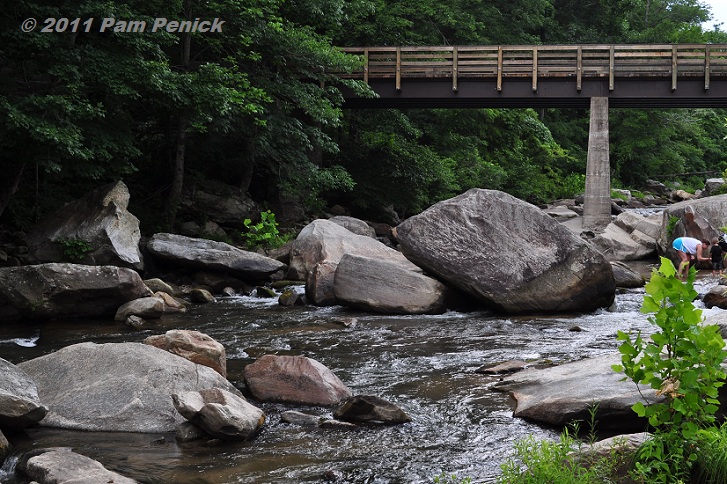 What else did we do? Aside from hiking, sliding, and visiting Biltmore House, which I blogged about earlier this week, we poked around and rock hopped in the Rocky Broad River, which flows through Chimney Rock Village. Look at the size of those boulders.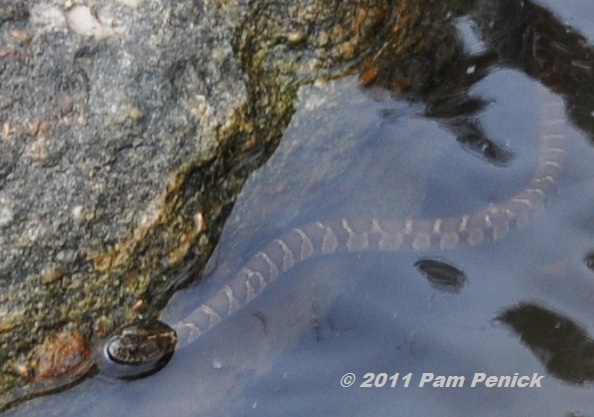 We spotted three water snakes there…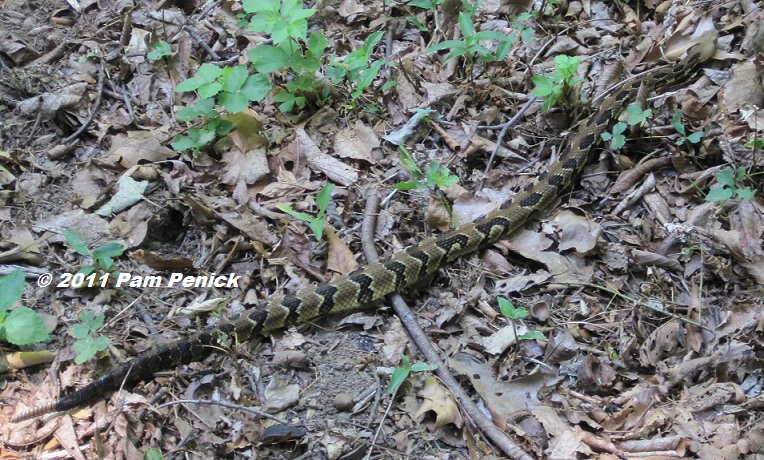 …and a rattlesnake along the Chimney Rock park road—the first one we'd ever seen in the wild.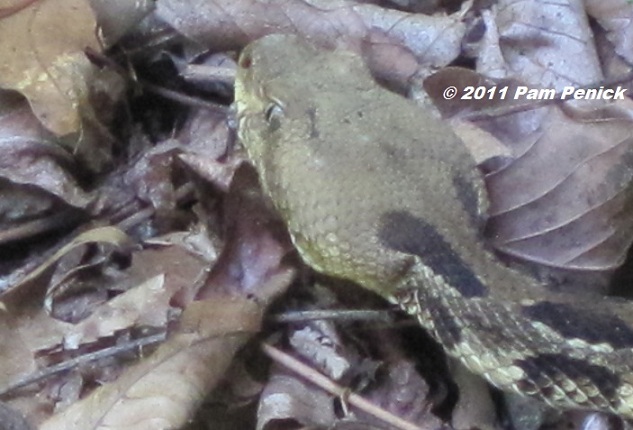 No, I didn't get too close. I used the telephoto and didn't get near enough to earn a warning rattle.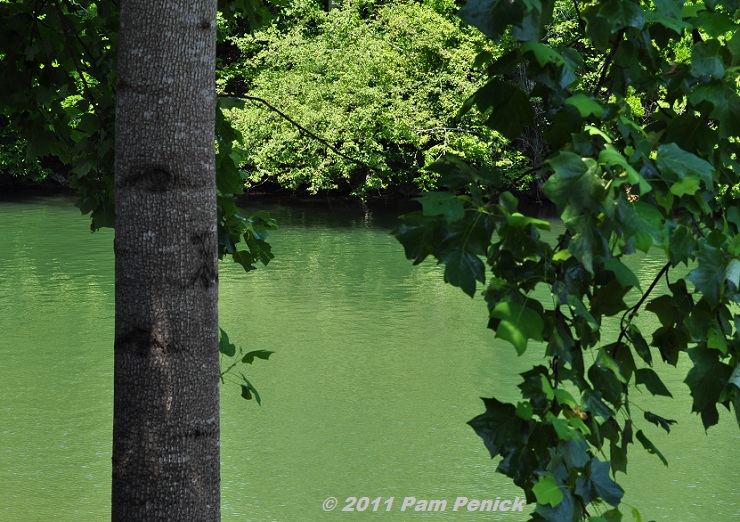 We enjoyed lunch at Larkin's on the south end of beautiful Lake Lure.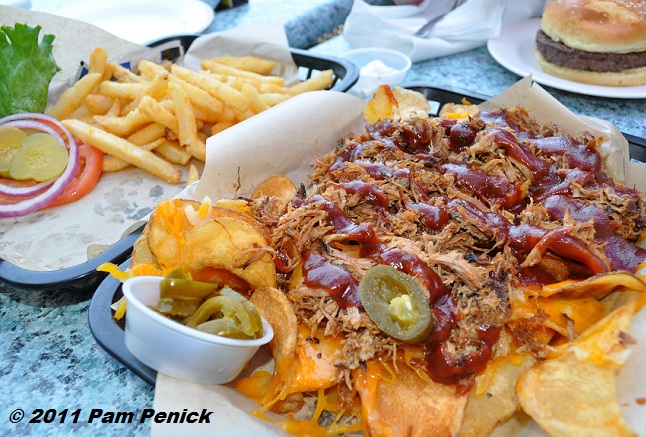 On my dad's recommendation, we ordered their pulled pork nachos: "A pile of fresh potato chips topped with slow roasted pulled pork, cheddar cheese, red onion and jalapenos." Yum! We ate every bite.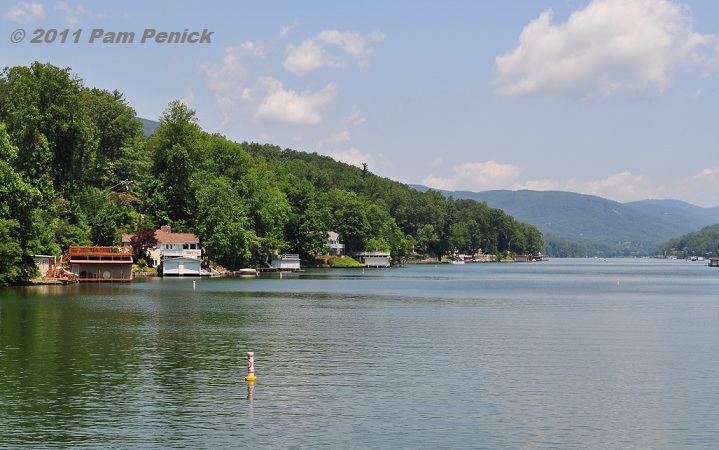 We had a lovely time at Lake Lure and on the rest of our Blue Ridge trip. It's so nice to escape the heat of an Austin summer for a few days. Now I'm dreaming of cool Seattle, and the 4th annual Garden Bloggers Fling next month.
All material © 2006-2011 by Pam Penick for Digging. Unauthorized reproduction prohibited.