June 27th, 2011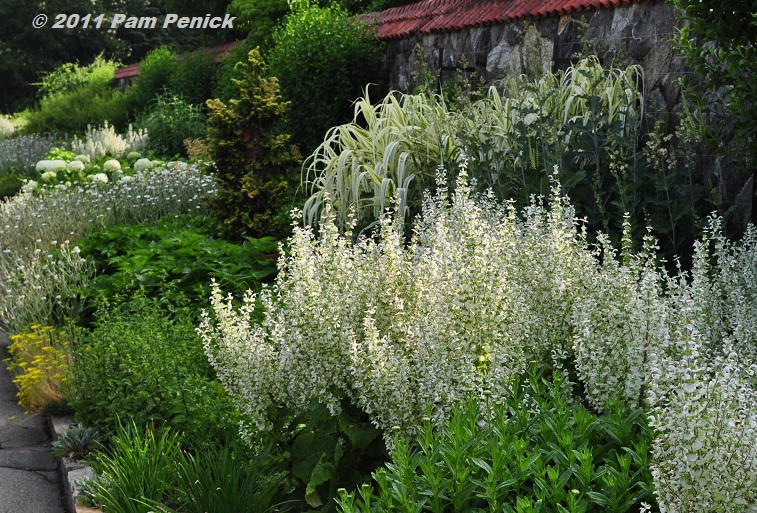 In Breakfast at Tiffany's Holly Golightly cautions, "There are certain shades of limelight that can wreck a girl's complexion." Maybe so, but not a garden's complexion. For proof, I give you these images of a limelight-colored border from the Biltmore House gardens in Asheville, North Carolina, which I recently visited. Using varying shades of just one color—in this case, greenish white—can give you an easy yet incredible result for a garden border or even an entire garden.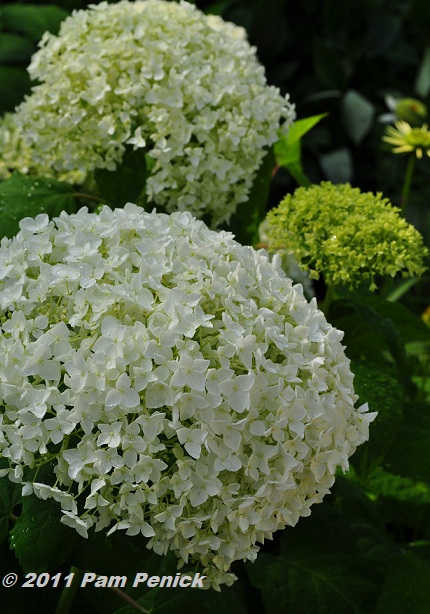 Vita Sackville-West popularized the concept of the one-color garden with her famous white garden at Sissinghurst. Moonlight gardens, designed for evening enjoyment, rely on the same strategy, using white or pale yellow plants that glow in the light of the moon. Darker-hued leaves and flowers seem to disappear at night, so these are left out of the design. (Choose scented, night-blooming plants like moonflower vine to add another dimension to the moonlight garden.)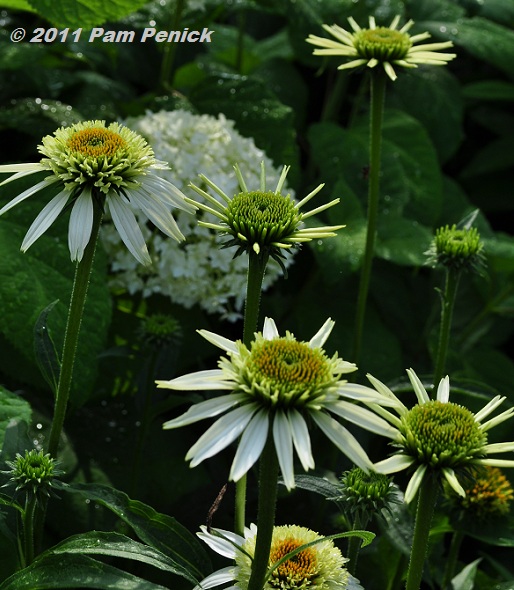 If you garden like me, you plant any color that appeals to you—blues mingle with reds, greens with yellows. You may make pairings of analagous or complementary colors, or you may just let 'er rip. Hey, whatever makes you happy. But if you have enough discipline, you might enjoy making a garden using multiple shades of just one color.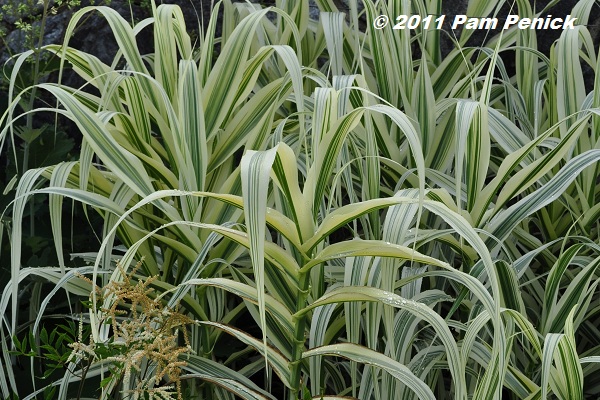 It's best not to rely only on flower color for this technique to work. It's equally important to incorporate foliage plants that fit your chosen color scheme. Foliage, after all, carries the garden through the quieter flowering periods and adds texture and season-long form.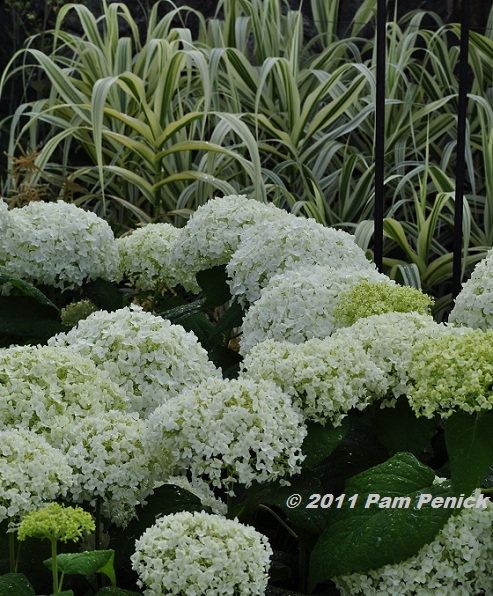 As with any garden, it's good design to use varying shapes. The Biltmore border contrasts the vertical, strappy leaves of variegated cane with the fluffy globes and broad leaves of hydrangea.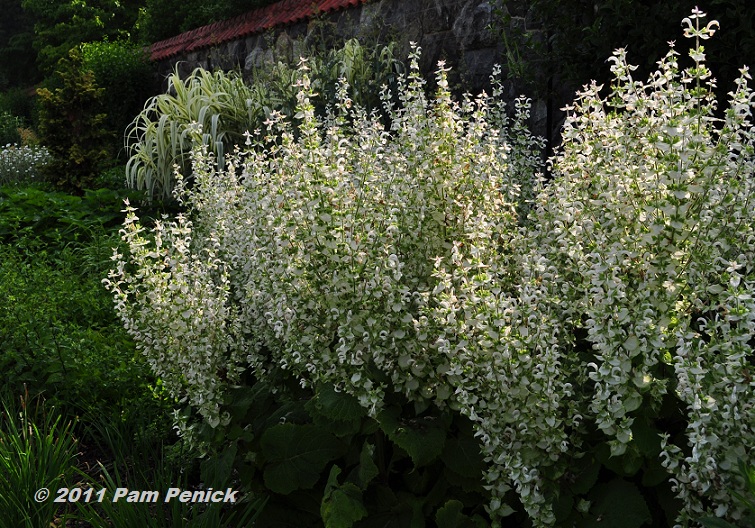 You might also consider whether any shades of your chosen color clash with each other. For example, among white flowers and variegated leaves you'll find creamy, warm whites; snowy, bright whites; cool, bluish whites; and greenish yellow whites. But I wouldn't overthink it. Paying more attention to form and texture will create a good result, and if two shades happen to clash you can always separate them next season.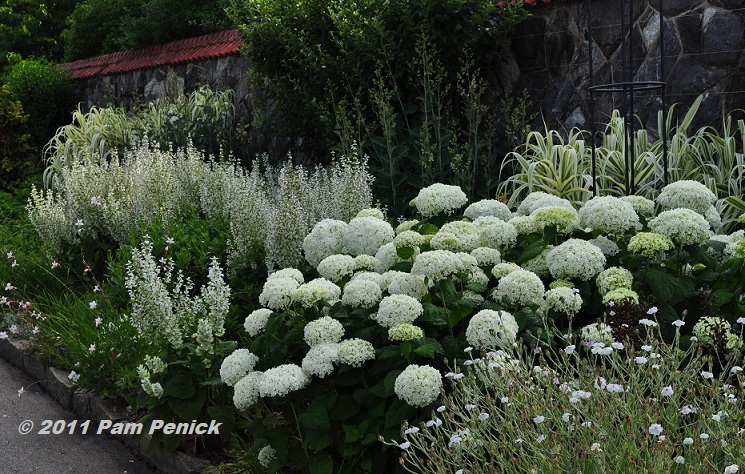 Since seeing the limelight Biltmore border, I want to try using a single color in my garden. I adore color too much and am too much of a plant collector to make my whole garden like this, but I love the idea of a monochromatic border or garden room, especially in such delicious shades of greenish white. Or maybe a silvery blue garden, like Lotusland's blue garden! Central Texas is hospitable to plenty of drought-tolerant, silvery blue plants—Yucca rostrata 'Sapphire Skies', 'Whale's Tongue' agave, 'Blue Ice' Arizona cypress, silver Mediterranean fan palm, gopher plant (Euphorbia rigida), 'Bath's Pink' dianthus, Wheeler's sotol, paleleaf yucca (Y. pallida), and bush germander, to name a few—so this would be an easy one-color garden to try in our region.
When you enter a garden built around various shades of one color, it makes a big impact. And choosing single-color plants will really open your eyes to the colors of foliage, which you may not have paid as much attention to before.
When you have time, please check out the posts of my fellow Roundtablers and our special guest, Margaret Roach, to see how they've interpreted the topic of Shade. Links can be found at Garden Designers Roundtable and below:
Margaret Roach : A Way To Garden : Hudson Valley, NY
Andrew Keys : Garden Smackdown : Boston, MA
Christina Salwitz : Personal Garden Coach : Renton, WA
Debbie Roberts : A Garden of Possibilities : Stamford, CT
Douglas Owens-Pike : Energyscapes : Minneapolis, MN
Genevieve Schmidt : North Coast Gardening : Arcata, CA
Lesley Hegarty & Robert Webber : Hegarty Webber Partnership : Bristol, UK
Susan Cohan : Miss Rumphius' Rules : Chatham, NJ
All material © 2006-2011 by Pam Penick for Digging. Unauthorized reproduction prohibited.