October 13th, 2008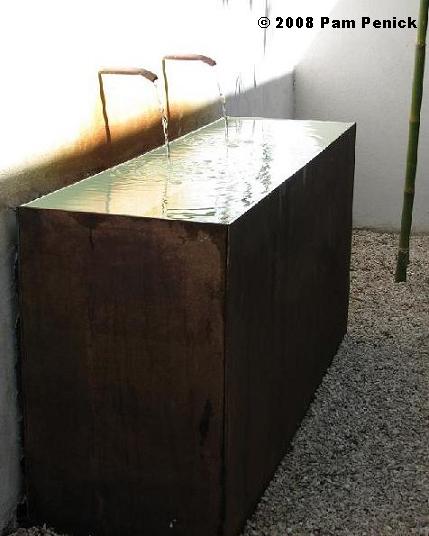 When Annie and I visited the gardens on the Open Days Austin tour two weekends ago, I was bowled over by Stone Palms and Fatal Flower, where the hand of the owners was plainly visible in the creativity of design and plant choices. Two more gardens on the tour didn't allow photographs, which I don't get. I'm not going to talk about them because it's just not the same without photos. So next up was the Modern: Inside & Out garden, a minimalist, serene construction in west Austin's Tarrytown neighborhood. The fountain pictured above anchors a courtyard visible on three sides from inside the home, with only a stand of bamboo to green things up.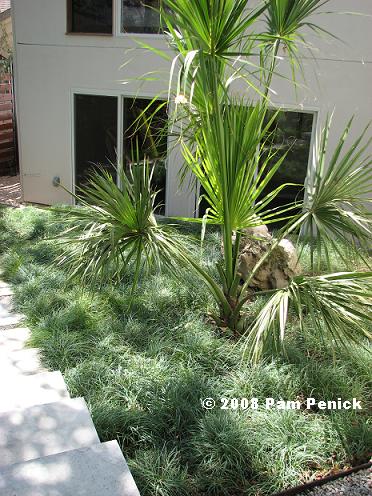 With a limited plant palette, the garden did not appeal to the gardener in me. But I can see how it fit the clean-lined house and would be a snap to maintain.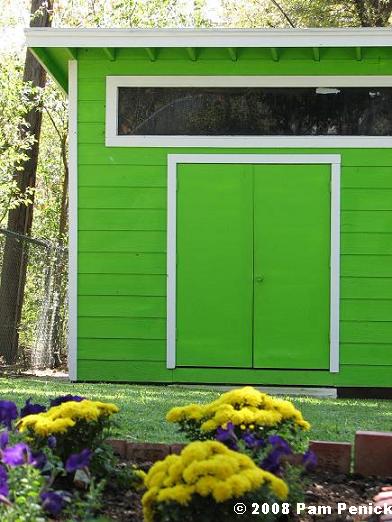 So it was all the more surprising to see this screaming green shed in the back yard, opposite the potager and an open-air pavilion housing a ping-pong table. They like to cut loose too, don't they?
Annie and I were delighted to run into fellow blogger Vertie manning the ticket table in this garden, and we also chatted with Linda Lehmusvirta, blogger and producer of "Central Texas Gardener" on PBS.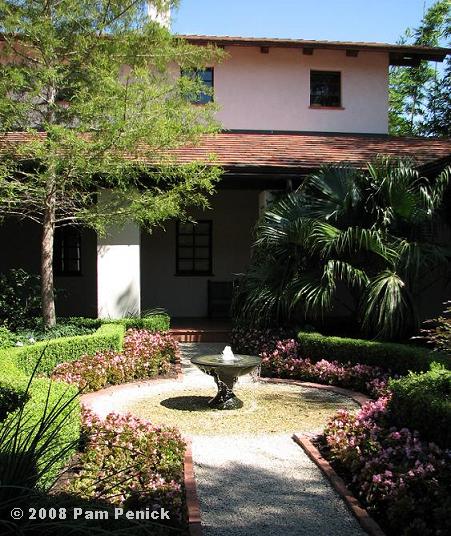 Next we drove to the Granger garden, also in the Tarrytown neighborhood. The grand house overlooks Lake Austin and has pleasant, well-groomed courtyard gardens.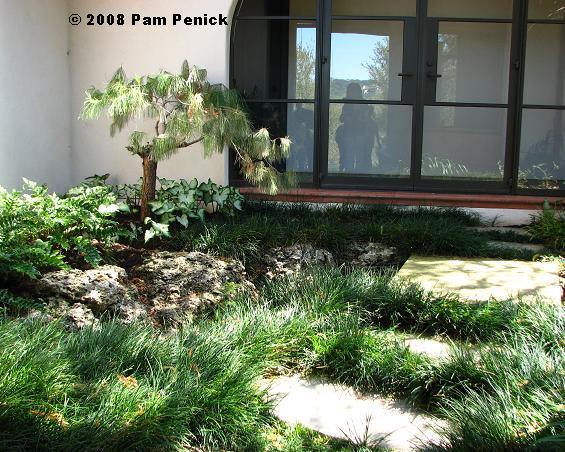 But mostly I saw lawn, seemingly an acre of it, and the courtyard gardens didn't express the owner's personality. This property would surely be a wonderful choice for a home tour, but for a garden tour it simply didn't offer enough interest.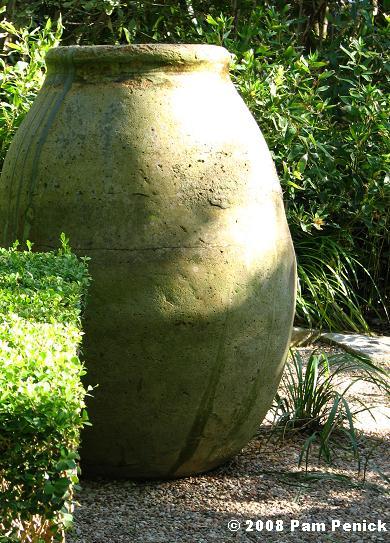 We saved the David-Peese garden for last, partly because we'd both already seen it a couple of times and partly because we knew it would be a wonderful way to end the day.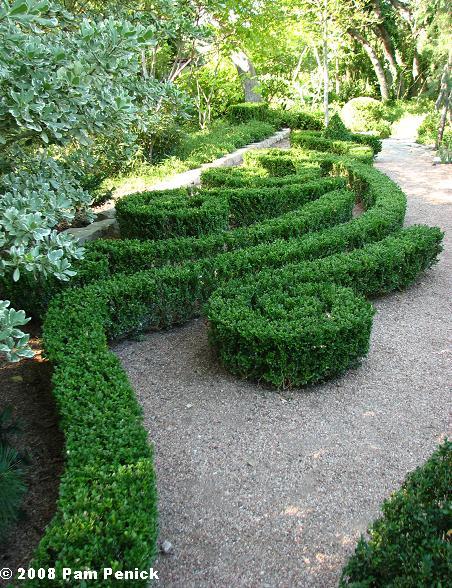 The first time I saw this garden, on the Open Days 2006 tour, I visited first thing in the morning and took a lot more photos.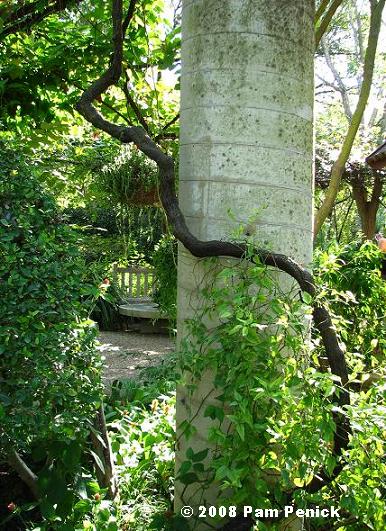 This time, after a long day, I was tired and mainly strolled and admired and commented with Annie about the new features and old favorites.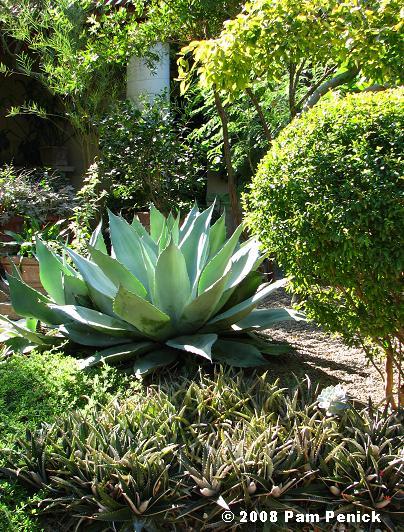 One change that really jumped out at me was the new openness of the entry garden. We had the pleasure of speaking with owners Gary Peese and James David here, and they told us how they'd pared back this part of the garden. As a big, beautiful agave always will, this 'Whale's Tongue' stole the show, planted high on a gravelly berm and accompanied by aloes and a topiary pomegranate.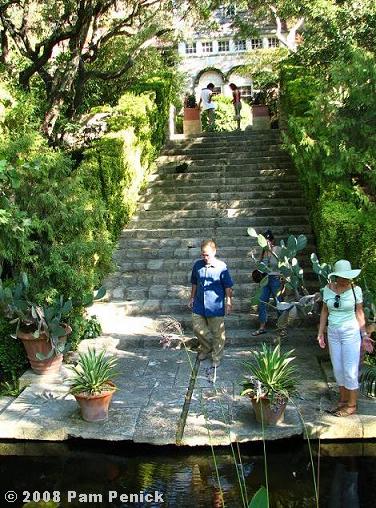 The centerpiece of the garden—a descending stone stair divided by a rill—is as memorable as ever.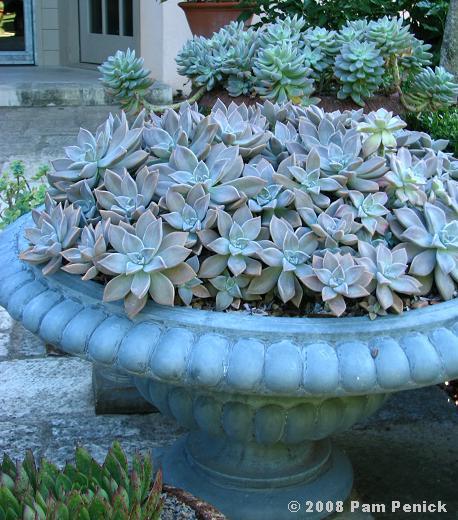 And the potted succulents still thrill me.
As we headed for the exit, Annie and I ran into Roxane Smith, director of Open Days Austin, and her husband. It was a treat to meet her in person, and I thank her for putting together this fabulous tour.
It was the perfect way to end a wonderful day.
All material © 2006-2008 by Pam Penick for Digging. Unauthorized reproduction prohibited.