June 23rd, 2011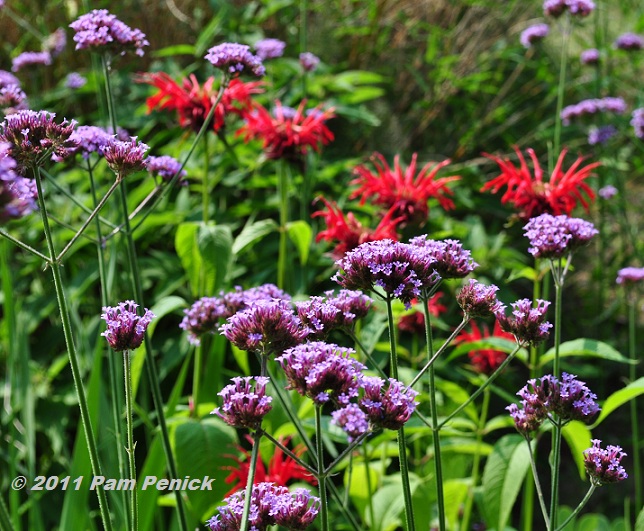 During my recent vacation in North Carolina, my dad and I had the pleasure of visiting the garden of Freda Cameron and her husband in Chapel Hill. I've long been a reader of Freda's blog, Defining Your Home, Garden and Travel, which is a great source of information about gardening with (or rather gardening to thwart) deer and rabbits. Pictured above, from her gorgeous cottage garden, are Verbena bonariensis and beebalm (Monarda) in full bloom.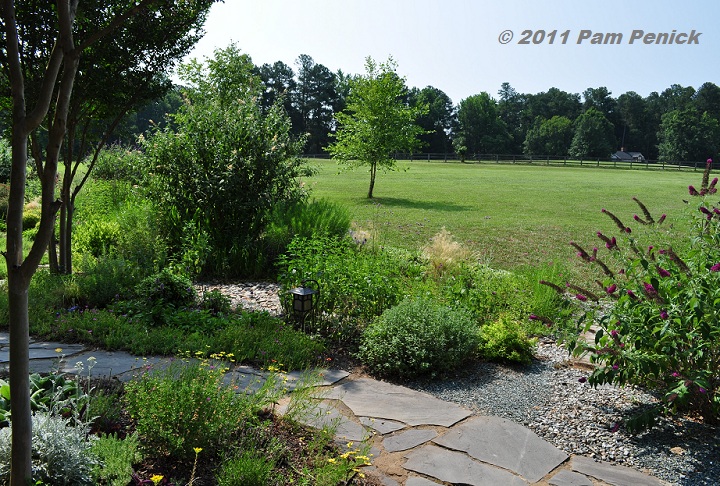 Freda's home is on a large country lot that gives her garden a bucolic backdrop.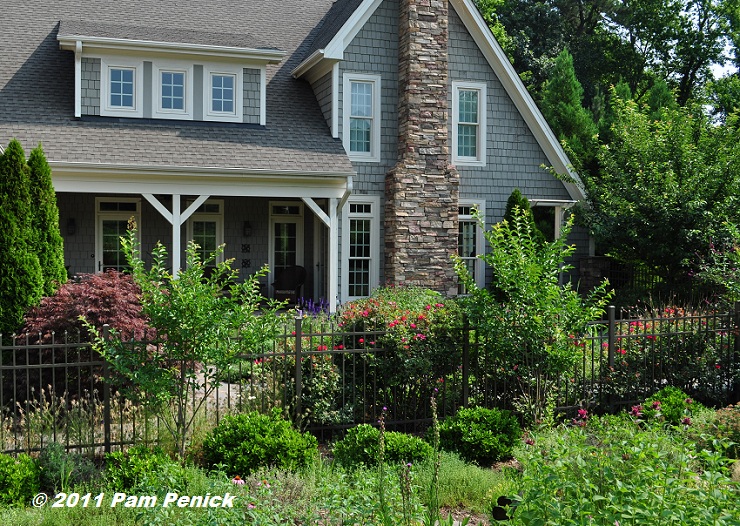 The welcome to her charming home begins before you reach the front porch. A generous entry garden is enclosed by a wrought-iron fence, keeping out the numerous deer. The garden flows through the fence and extends outward, giving Freda more room to garden, albeit with deer-resistant plants.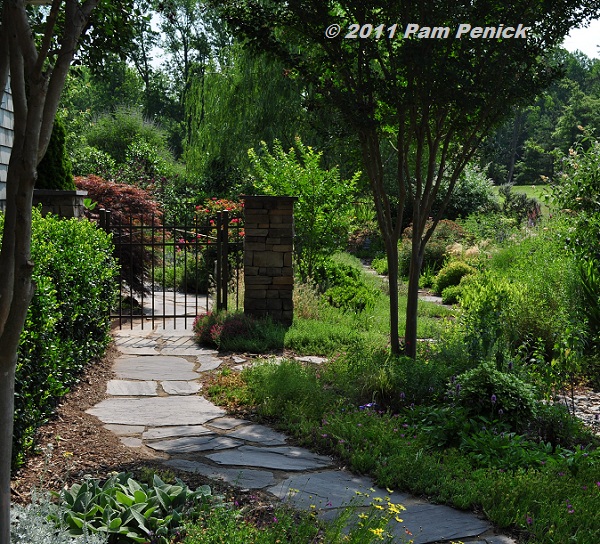 Here's the main approach to the garden, a curving flagstone path. A stepping-stone path diverges to the right, leading through the portion of the garden outside the fence.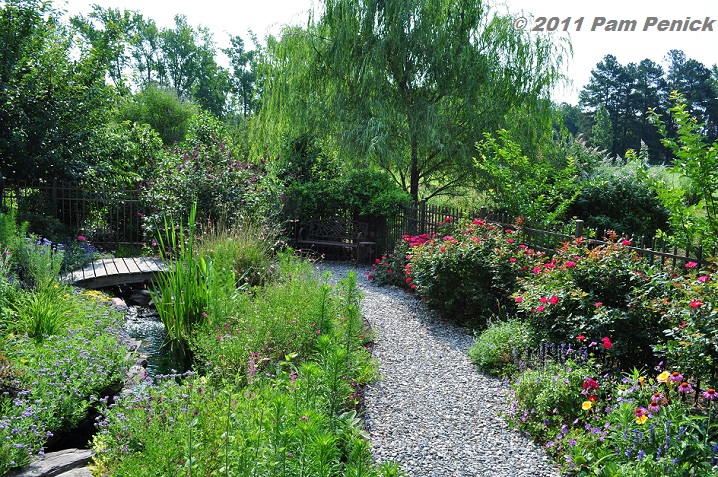 Inside the fence, the sunny garden is bisected by a stream crossed by an arching wooden bridge. A gravel path leads past Knock Out roses to a bench tucked under a willow.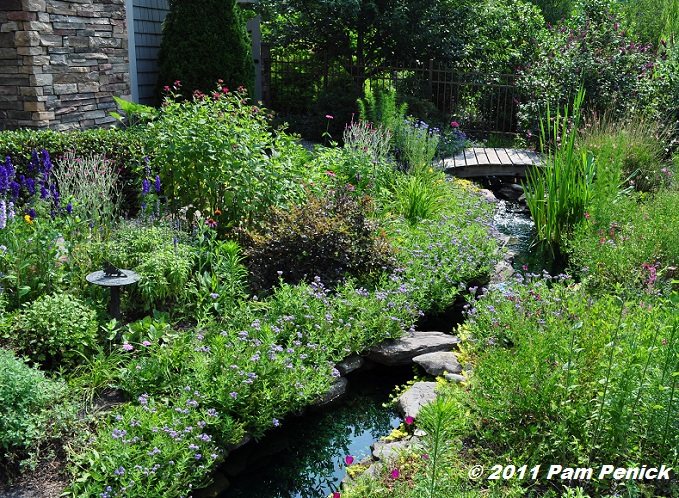 It's a charming space—to my mind, a sister garden to Jenny Stocker's garden (Rock Rose) here in Austin.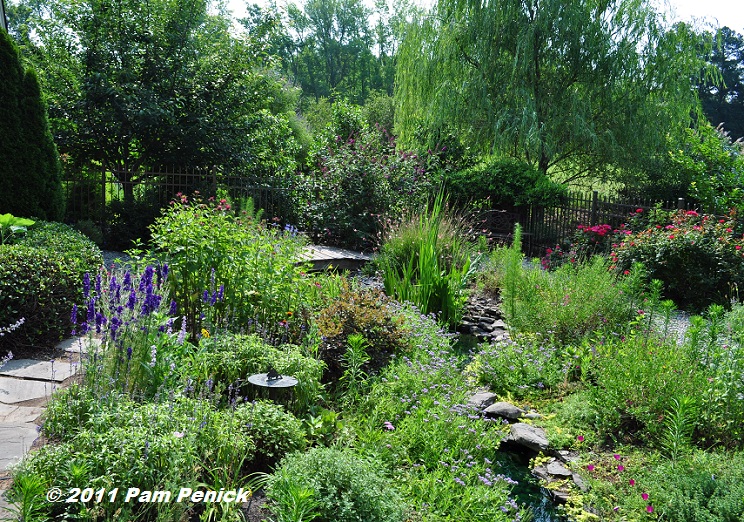 Freda (pronounced Fred-uh) commented that her garden is between spring and summer bloom cycles now, but there was still much in flower.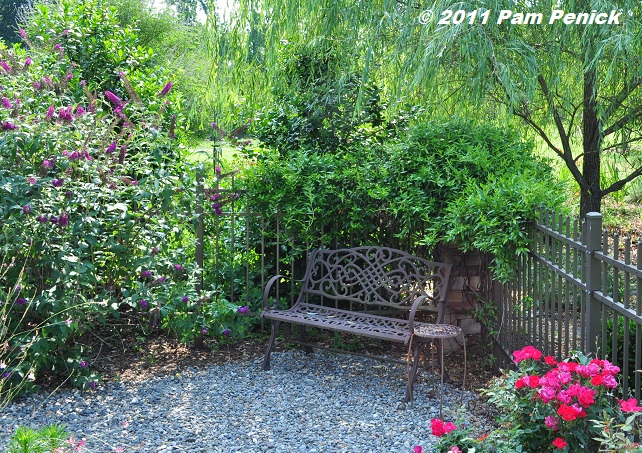 Freda and her husband, who helps out with the heavy lifting, recently changed out their "Chapel Hill grit" paths (similar to Austin's decomposed granite) for river rock to cut down on weeding chores. Her before-and-after images and explanation of how they accomplished the work are a great resource for anyone considering a similar change.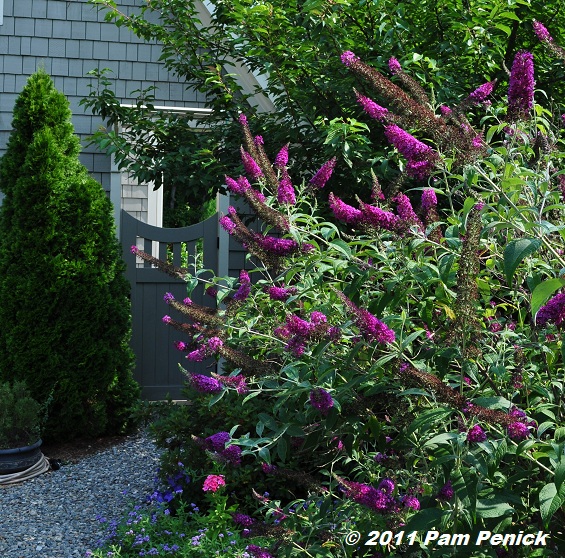 The gravel path curves past the bench, crosses the wooden bridge, and leads to an enticing, gray-green gate set in an extended wall of their house. A butterfly bush in full flower will stop you in your tracks.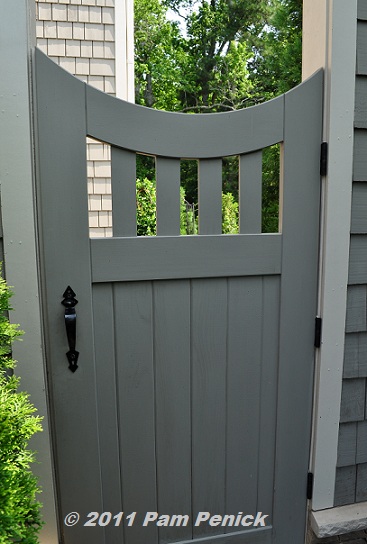 I love Freda's gate. Notice the "peekaboo" slats that give you a glimpse of what's to come.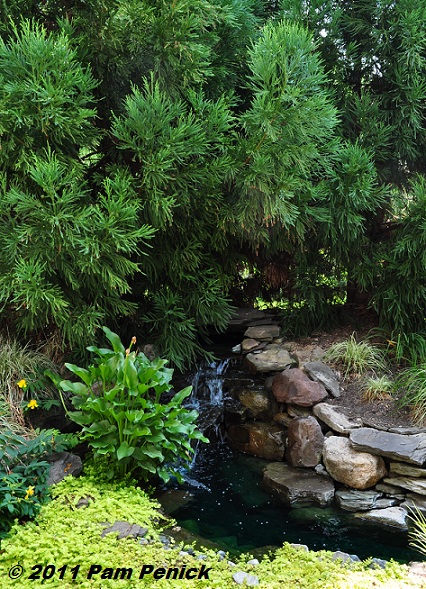 On the other side of the gate is a side garden with a dining patio and an intimately scaled waterfall, which feeds the stream that flows under the fence into the entry garden.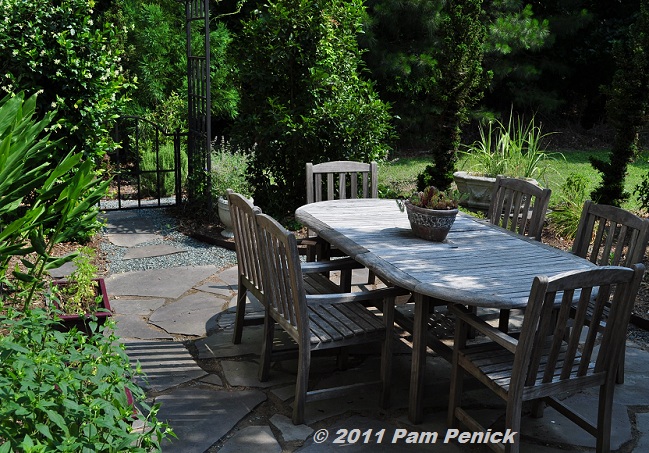 The dining patio. Outside of the fence, this part of the garden is open to deer, and Freda said they'll come right up on the patio to drink from the waterfall and stream.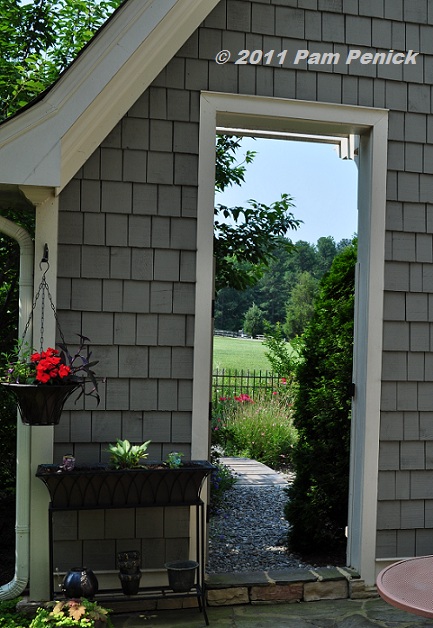 Turning back to the gate, this beautiful framed view presents itself.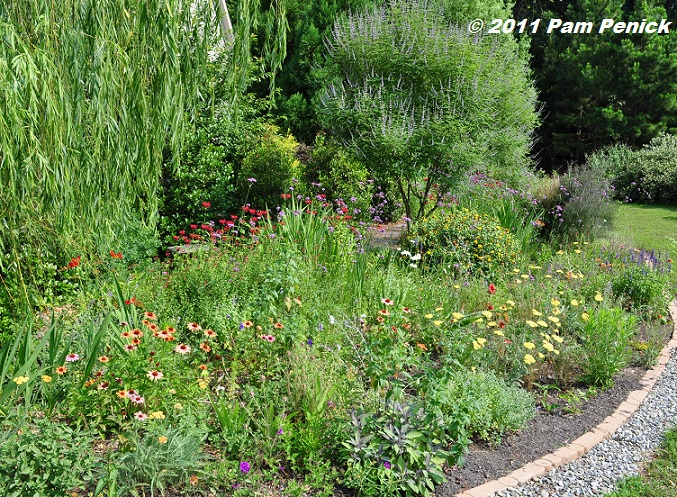 The rest of the garden, released from the confines of the fence, pools outward in a broad semi-circle, offering up cottage-garden perennial color like coneflower, yarrow, beebalm, butterfly bush, salvia, and more. Ornamental trees add vertical interest, like the purple-flowering vitex.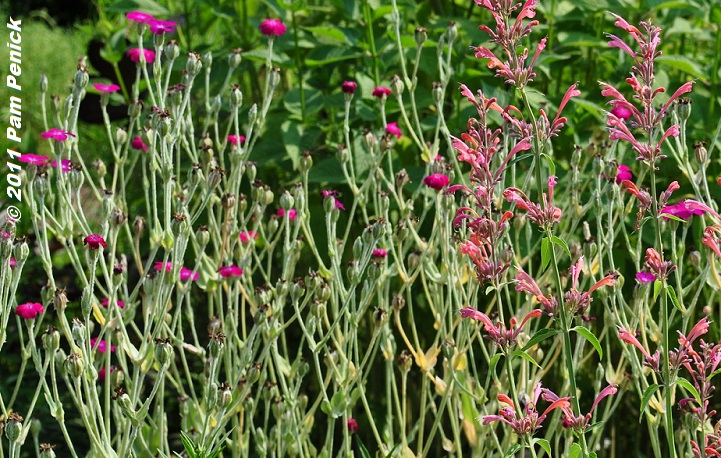 Rose campion and agastache make a delightfully rosy combo.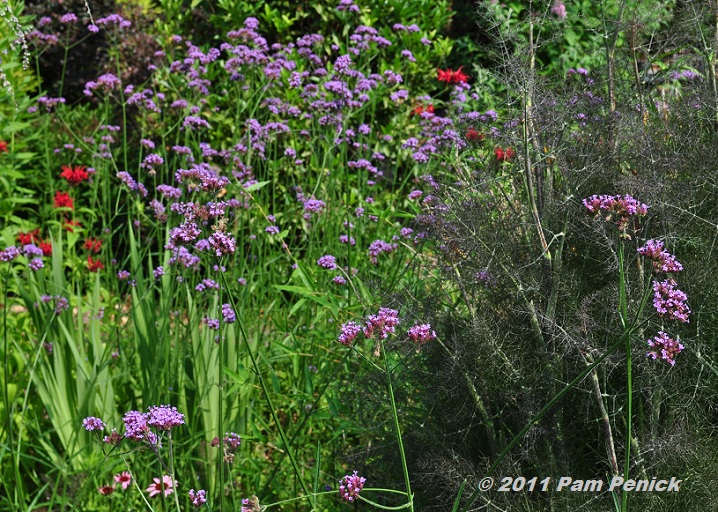 I love a stand of Verbena bonariensis in a garden, and Freda's captivated me for a long photo op. Here it mixes with bronze fennel, a combination I would love to replicate in my own garden. (Am I the only person who can't seem to grow this verbena from seed? I've tried several times, with no success, so I'm planning to set out pots of it this fall.)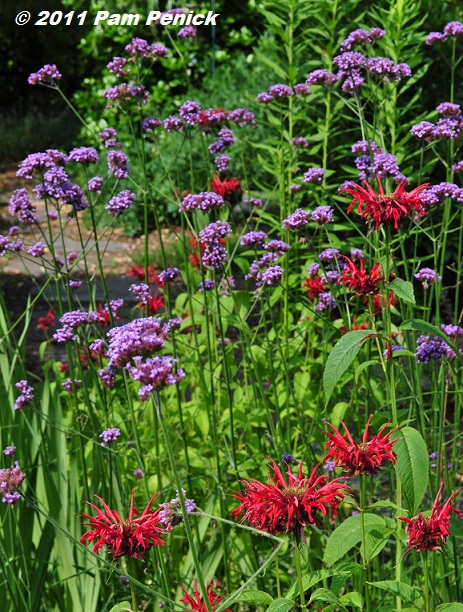 Here it is with beebalm (Monarda), an enchanting pairing.

Who can resist this airy summer bloomer? Not me.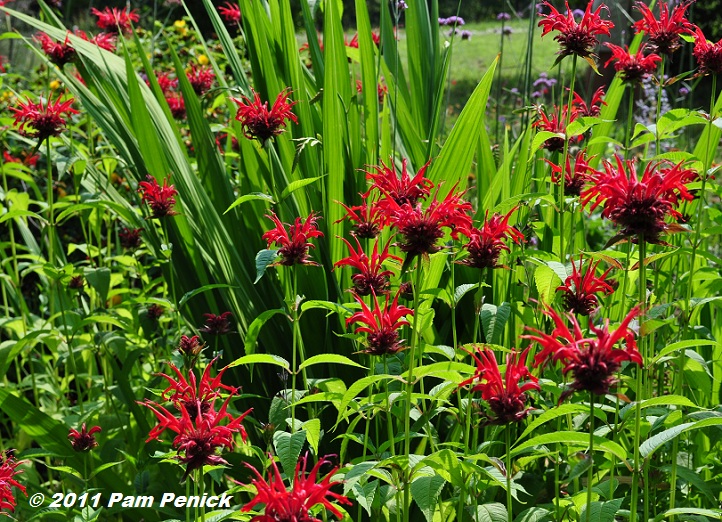 I also love her tomato-red beebalm, with its crazy mop-top hairdo.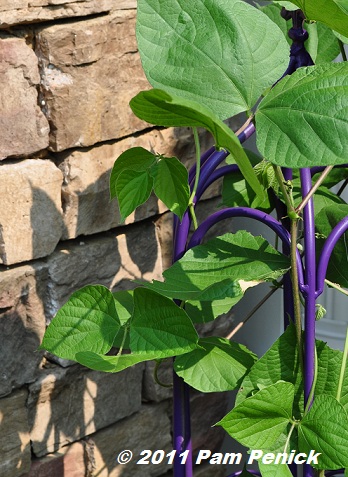 Freda doesn't go in for a lot of garden art, but she added a bit of color to this metal tuteur by painting it purple. A hyacinth bean vine will add its own purple when it starts to bloom.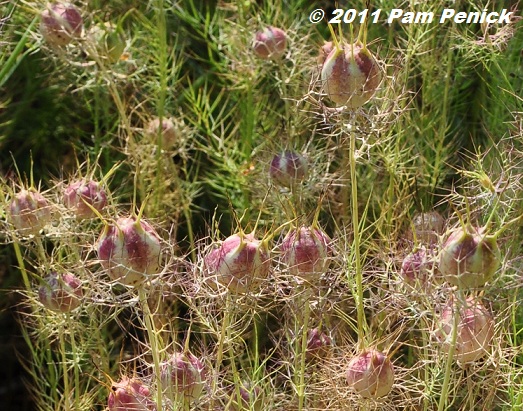 Love-in-a-mist had already finished blooming, but the seedheads are interesting.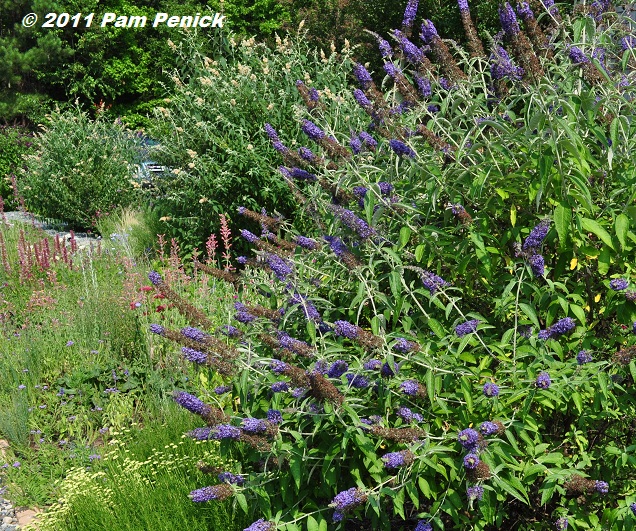 Enormous butterfly bushes (Buddleia) help screen the driveway and parking area.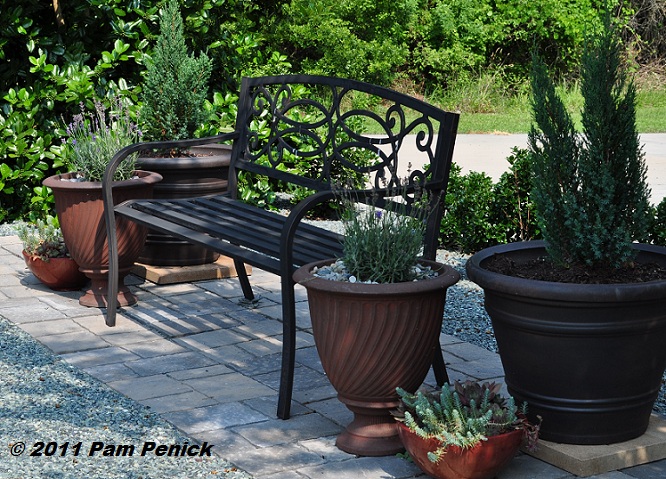 Freda and her husband recently redesigned the guest parking area and dressed it up with this welcoming bench and potted plants. Her challenges: baking sun in summer, wet soil in winter, and washed-out gravel, not to mention the difficulty of creating welcoming, human-scaled garden spaces on a huge, open lot. It's another of her blog's wonderful before-and-after posts; check it out.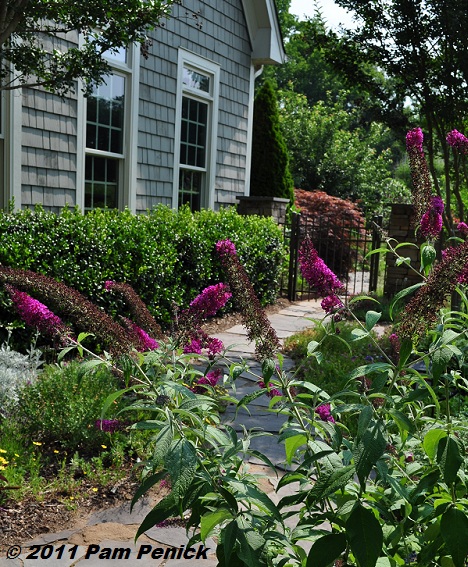 Many thanks for the delightful visit, Freda and the Musician (her husband)! We enjoyed your hospitality and seeing your beautiful garden in person. For more about Freda's garden, check out her blog at Defining Your Home, Garden and Travel.
All material © 2006-2011 by Pam Penick for Digging. Unauthorized reproduction prohibited.
posted in
Bridges
,
Containers
,
Deer
,
Doors
,
Fences
,
Garden tours 2011
,
Gates
,
Paths
,
Roses
,
Seating
,
Travel
,
Trees
,
Vines
,
Walls
,
Water features
,
Xeric plants