June 16th, 2011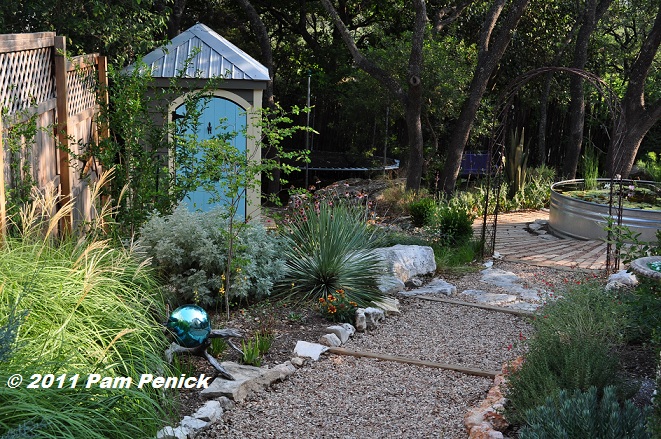 For Foliage Follow-Up today (always on the day after Bloom Day), I'm celebrating plants that don't require my standing over them with a hose. I have to admit, central Texas's extended drought is taking a toll even on my xeric garden. Coneflowers are drooping. Daylilies are shriveling. Even the agastache looks a bit peaked. But a number of plants shrug off drought and thrive under the blazing Death Star. What are these amazing plants?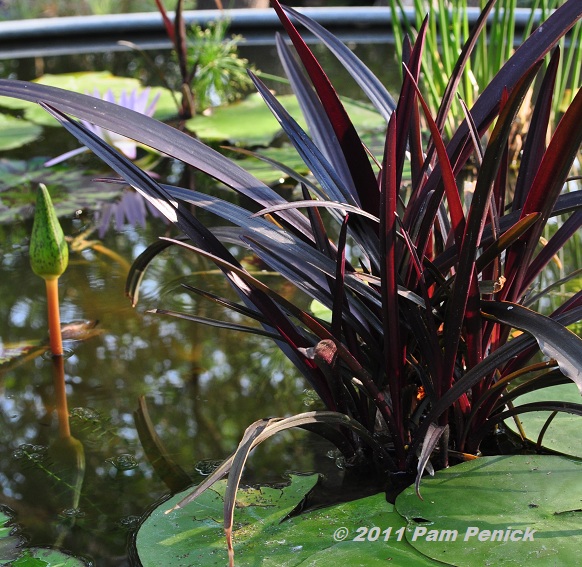 Well, I'm cheating a bit, aren't I? OK, so my pond plants aren't drought tolerant; in fact, it's the opposite. But since I only have to add water to my partly shady pond once a week to make up for evaporation, my pond plants seem pretty low-maintenance right now. These bathing beauties sit with their feet in the water and have no need of a daily drink from the hose or a hit from the sprinkler system. Plus the water is a cooling feature in the garden when things really heat up.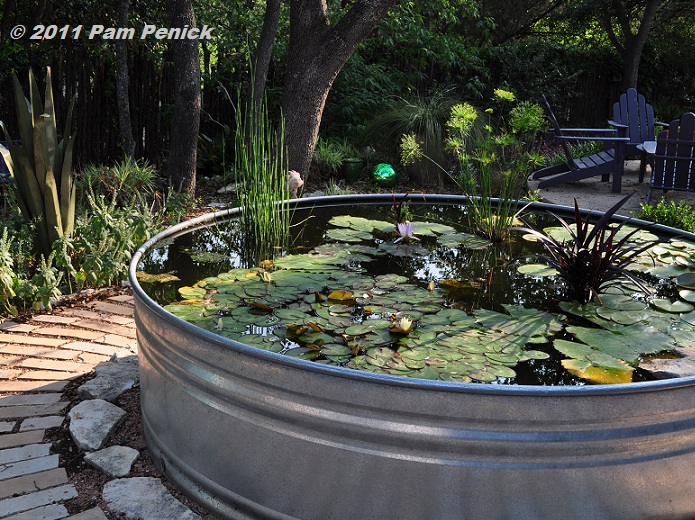 Water lilies steal the show during the sunniest part of the day, but at this time of year I'm in the garden mostly in the early morning or evening, when the lilies are shut tight. Luckily, pond gardening gives you a chance to grow lovely foliage plants, like the burgundy-leaf pond crinum in the photo above this one. The water lily leaves are also quite pretty, with burgundy speckles mottling the deep green, and with bright pink undersides if you lift them for a peek. I also grow a vertical stand of horsetail reed (on the left) and a fireworks explosion of dwarf papyrus (center-back).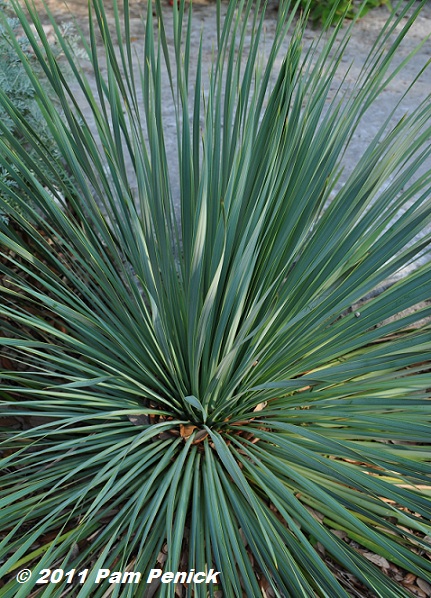 On the other end of the spectrum are the very drought-tolerant plants like Yucca rostrata 'Sapphire Skies,' a shimmering, blue-green orb, no matter how hot or dry it gets. If this summer is teaching me anything, it's that I need more desert plants.
So what foliage is inspiring you today? Join me in posting about your lovely leaves of June—it's called Foliage Follow-Up, and it's a way to remind ourselves of the importance of foliage in the garden. Just leave a comment on this post with a link to your foliage post so everyone can find you, and please link to me in your post. What's "leafing" you breathless this month?
All material © 2006-2011 by Pam Penick for Digging. Unauthorized reproduction prohibited.
posted in
2nd garden--2011
,
Arbors
,
Foliage Follow-Up
,
Grasses
,
Paths
,
Ponds
,
Sheds
,
Stock tanks
,
Water features
,
Water gardening
,
Xeric plants
,
Yuccas