May 11th, 2011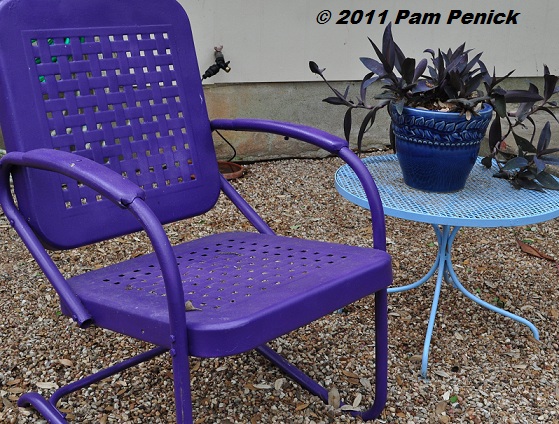 Whew, I just finished up a whirlwind of posting about last weekend's Gardens on Tour 2011, and now I'm giving you a sneak peek into this Saturday's Inside Austin Gardens Tour 2011, sponsored by the Travis County Master Gardeners Association. Hang onto your hats, and let's go!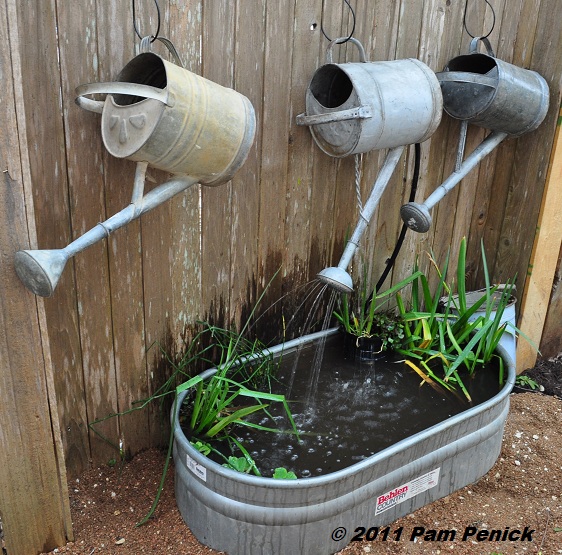 On Tuesday TCMG gave the Austin garden blogging community a special preview visit to four of the gardens. You can visit them on Saturday, May 14, from 9 am to 4 pm. The theme of this year's tour is "Water-Wise Gardening," and the common denominator of the gardens is minimal or no lawn grass and plentiful rainwater collection systems. Fun water features like the one above add the beauty and the welcome sound of water to xeric (water-conserving) gardens.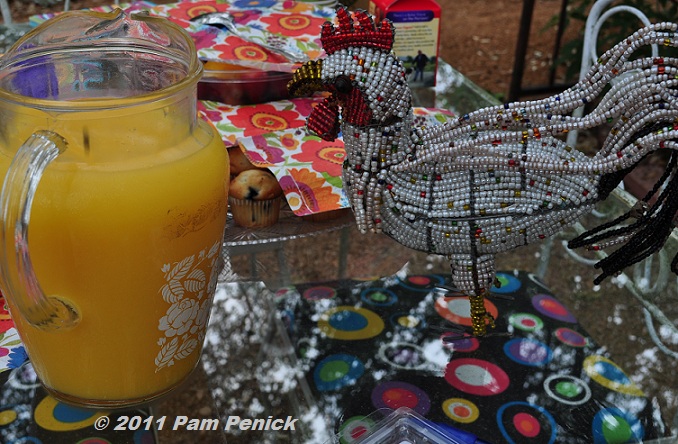 We started our tour in the colorful, shabby-chic garden of Rebecca Matthews in south Austin, where she and TCMG generously provided us with a delicious al fresco breakfast.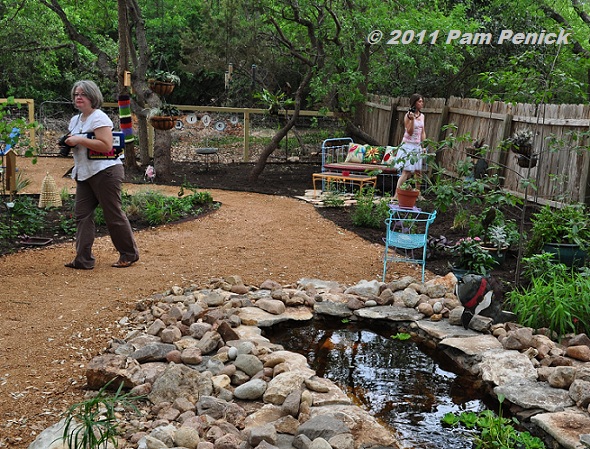 Rebecca inherited a large traditional lawn when she moved in back in 1999. Now all the grass in the back yard is gone, and only a little St. Augustine remains in front. The back yard is now a charming shade garden with broad, winding paths of decomposed granite leading from one cottage-style sitting area to another.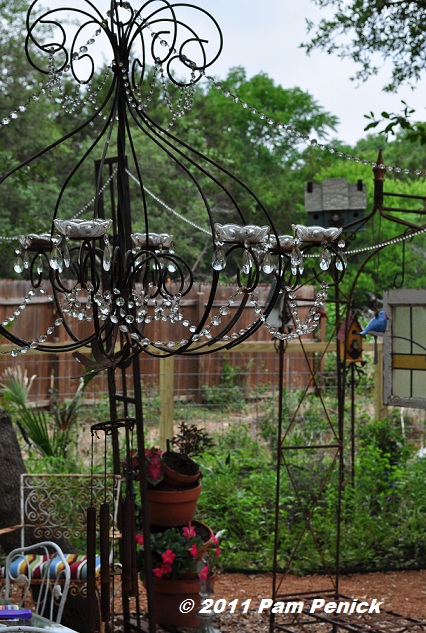 Rebecca has a talent for dressing each outdoor "room" with fun, feminine touches like this beaded chandelier…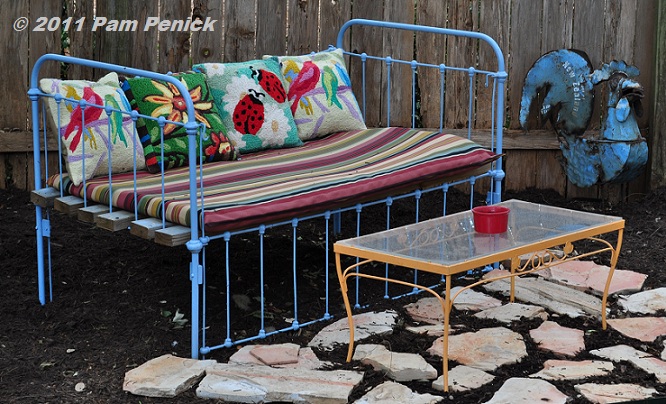 …and this blue daybed, complete with comfortable pillows.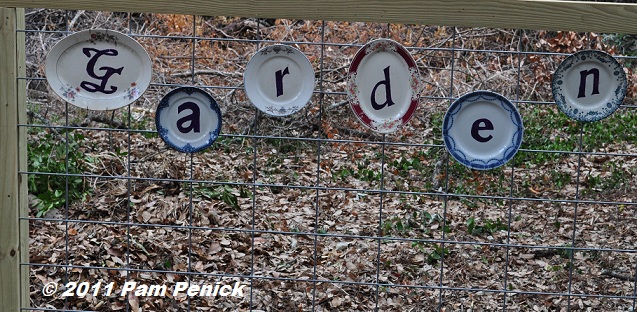 Stenciled plates hung on the fence playfully spell out "Garden."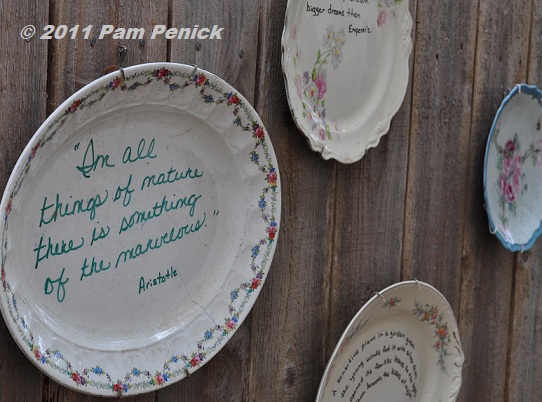 And check out this unique wall decor. Flea-market plates display inspirational garden quotes that Rebecca has inscribed on them.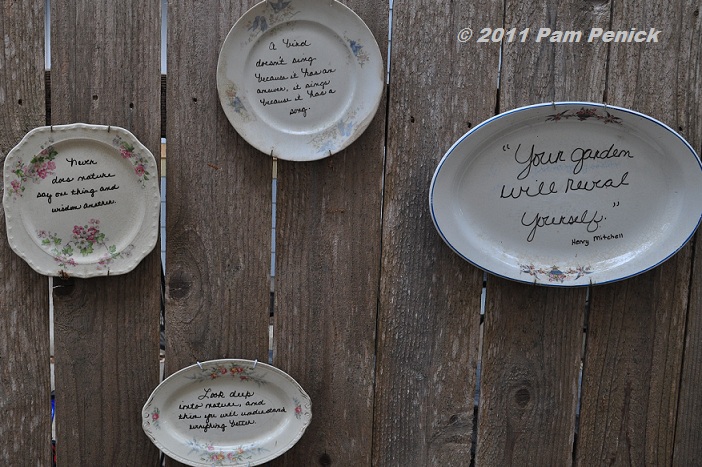 Isn't this fun?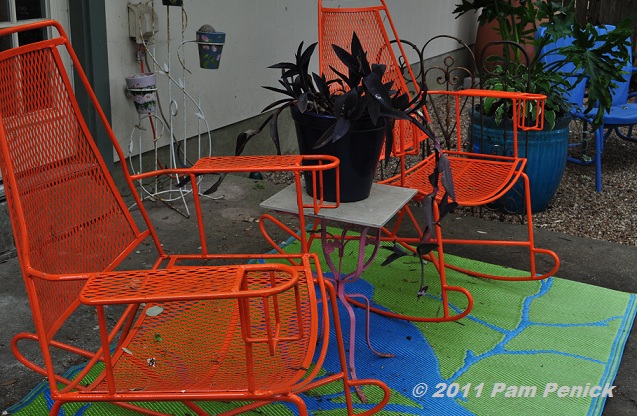 Rebecca's not afraid of color. At all. Her garden seating runs from the blue daybed to the purple chair in the top picture to these orange rockers.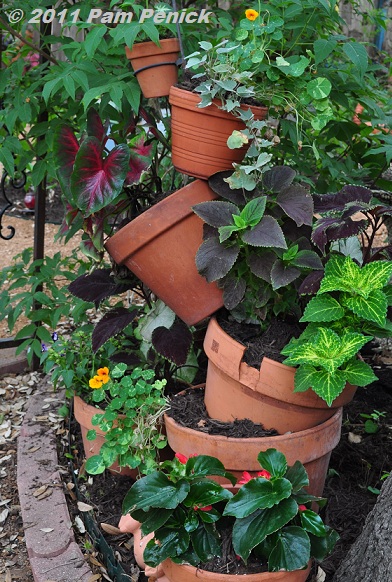 Colorful annuals and ivy tumble from a jaunty pot tower.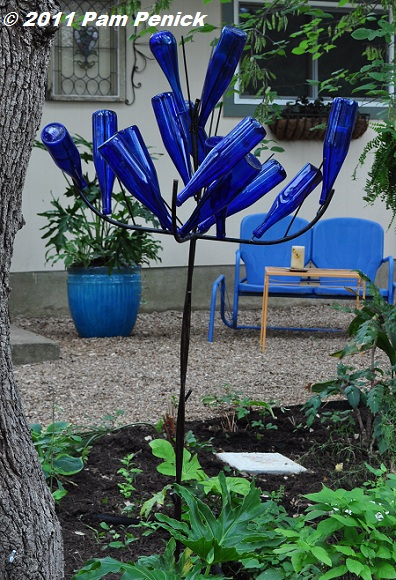 A bottle tree adds a cobalt accent.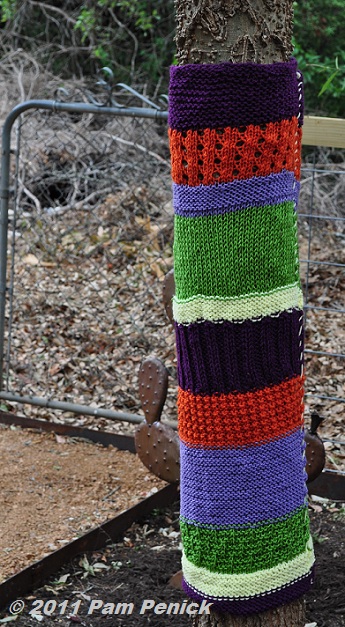 And one tree trunk even sports a hand-knit sweater! Knitted art may be new to some of you, but it's popping up with regularity in Austin and other places. (Check out this Austin site devoted to knit graffiti, including a fully covered Mini Cooper!)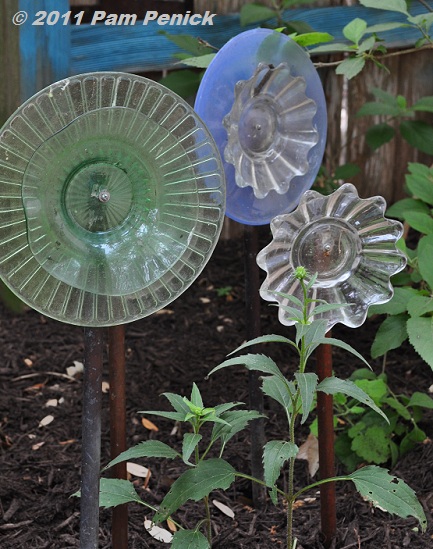 Glass plate flowers add sparkle to the shade garden.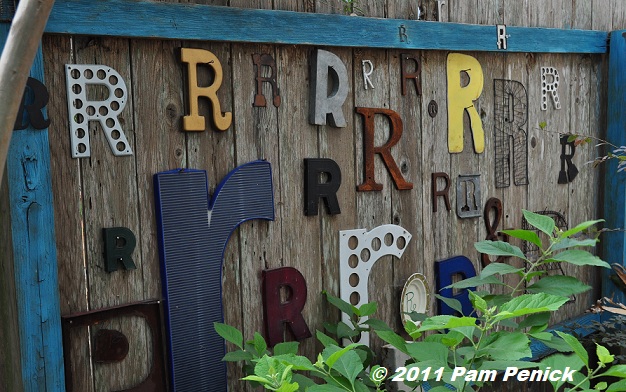 A collection of "R"s decorates a fence.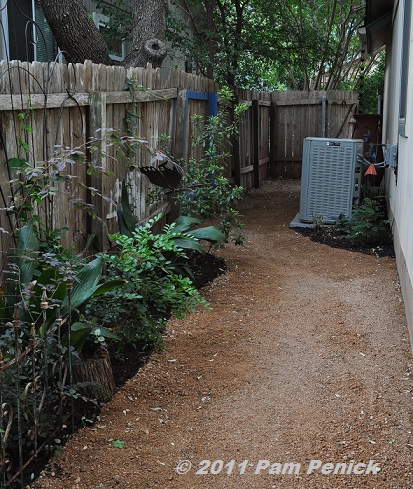 Rebecca's side yards have been graveled over to give easy access to the front garden, and now this difficult space needs little supplemental water.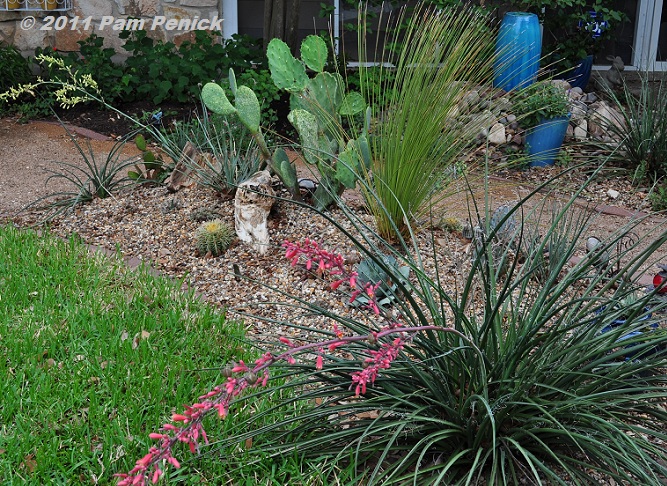 Bermed gravel beds in the sunny front garden give Rebecca a place to grow succulents and cacti.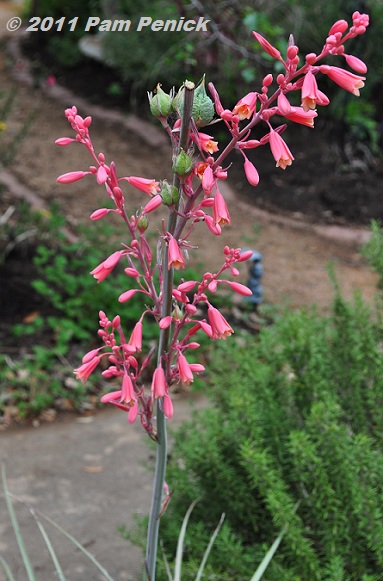 Red yuccas (Hesperaloe parviflora) in bloom add long wands of coral-pink color to the scene.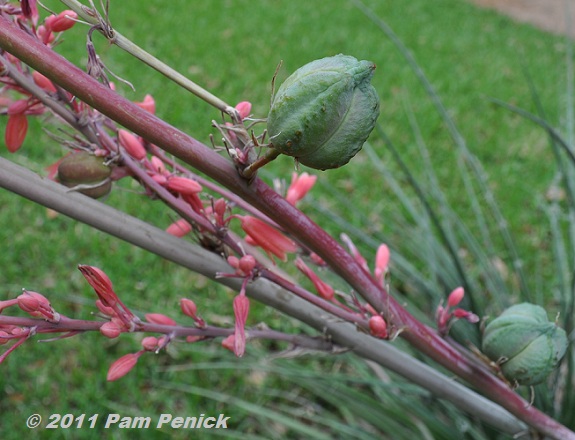 Stay tuned for a preview of Wendy Brennan's Zen garden—soon!
Inside Austin Gardens Tour
"Water-Wise Gardening"
Saturday, May 14, 9am–4pm
Tickets available at each garden on the day of the tour; a single-garden entry costs $5, or pay $10 to see all 7 tour sites.
Gardening Demonstrations / Education Sessions in Rebecca Matthews's garden:
11:00 Betty Dunn – Shady Ladies
2:00 Anne Van Nest – Drought-tolerant Plants for Austin
All material © 2006-2011 by Pam Penick for Digging. Unauthorized reproduction prohibited.
posted in
Bottle tree
,
Cactus
,
Chickens
,
Containers
,
Decor
,
Fences
,
Garden art
,
Garden tours 2011
,
Ponds
,
Seating
,
Succulents
,
Sustainable Gardening
,
Trees
,
Water conservation
,
Water features
,
Yuccas