May 8th, 2011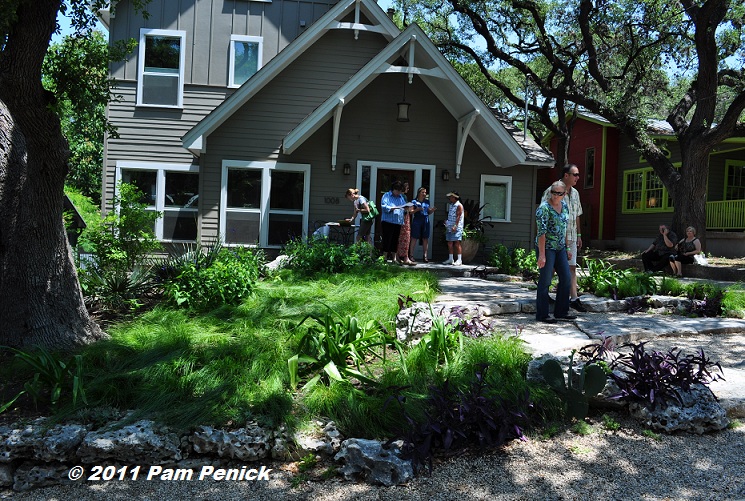 The distinguishing feature of West Monroe Street's front garden, which I toured Saturday on the Wildflower Center-sponsored Gardens on Tour, is a no-mow Berkeley sedge lawn in place of the standard St. Augustine. Alternatives to the traditional lawn were definitely a theme on this year's tour.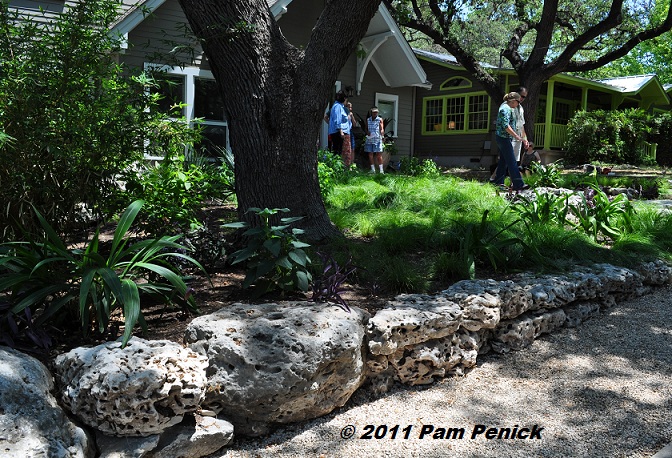 Designed by Rain Lily Design, karst stone retaining walls hold back the plantings from a gravel sidewalk running along the curb. It's a thoughtful and welcoming gesture to provide firm footing and room for people to get in and out of cars parked on the street, and it saves your plants from being trampled as well.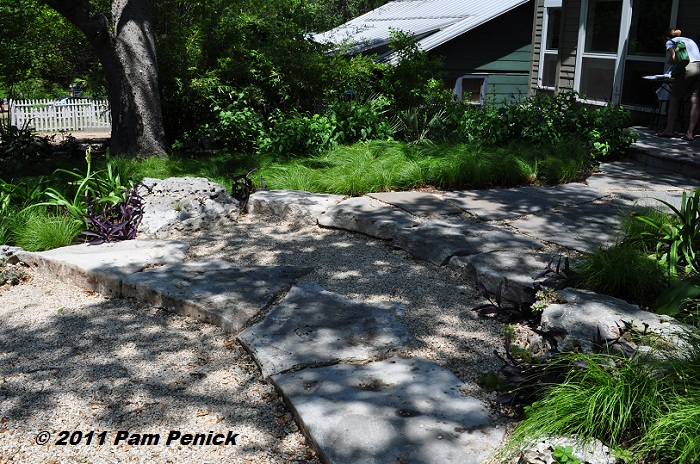 The gravel laps up to a generously sized front walk. Here's another good design lesson: make your main paths wider than you think they need to be. Such paths announce the entrance, say welcome, and are scaled in proportion with the house. A bonus is that a path is one less area you have to mow or water.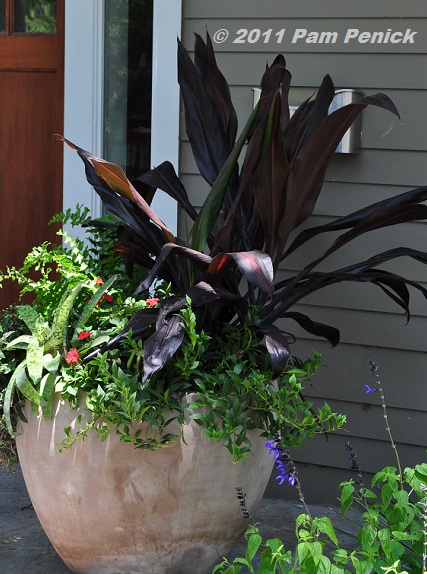 A lovely, overscaled pot on the front stoop provides room for a focal-point combination of tropical annuals.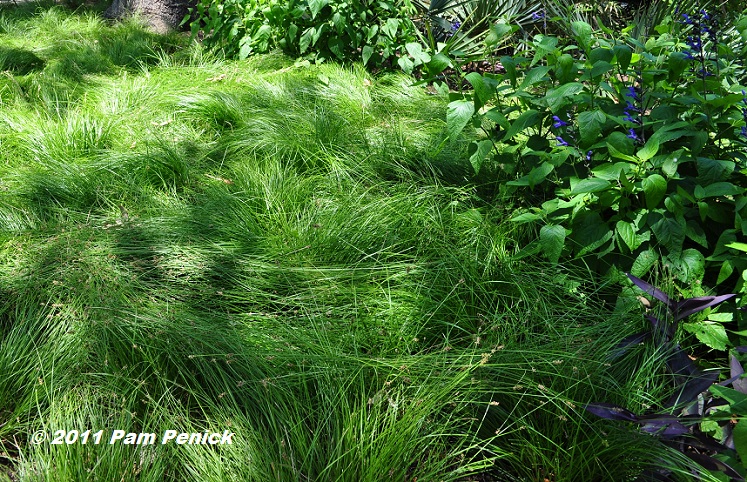 The Berkeley sedge lawn offers fantastic texture, and its shiny foliage seems to gleam in the shady garden.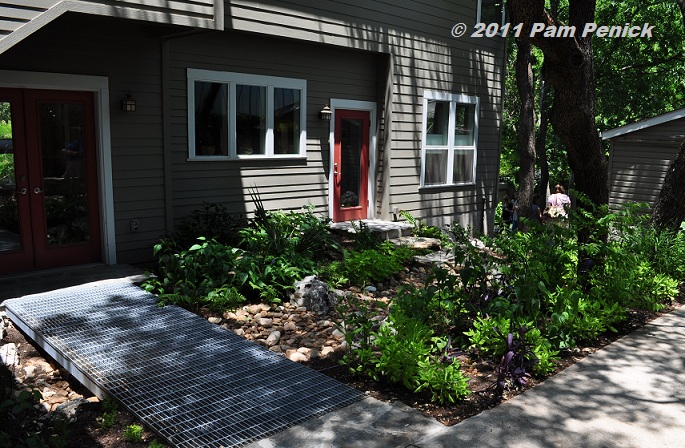 On the side of the house, along the driveway, a drainage problem was solved with a dry streambed of Texas river rock, with a custom steel bridge crossing over to the door.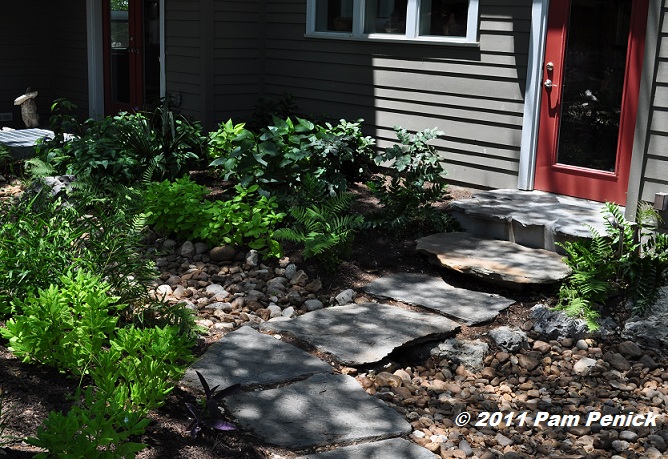 A second door is accessed via a stair of wide stepping stones leading through the dry streambed.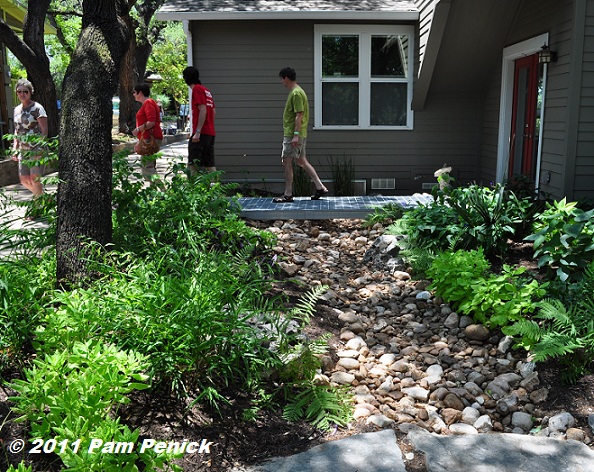 The owners told us they overheard a couple of visitors on the tour complaining about the lack of flowers. Hello! This is a shade garden that relies on varying shades of green and plant texture. Flowers are a bonus, and we did see some Salvia guaranitica in bloom. The owners are not leaning on thirsty sweeps of impatiens or other overused annuals to "jazz up" their shade garden. This is a low-maintenance landscape, one that many non-gardeners (if they go on garden tours) would love to emulate.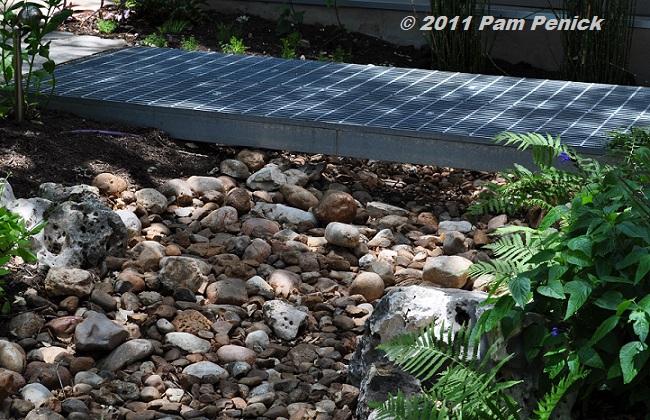 OK, enough of the soapbox. Here's a closer look at the steel-grate bridge over the dry stream.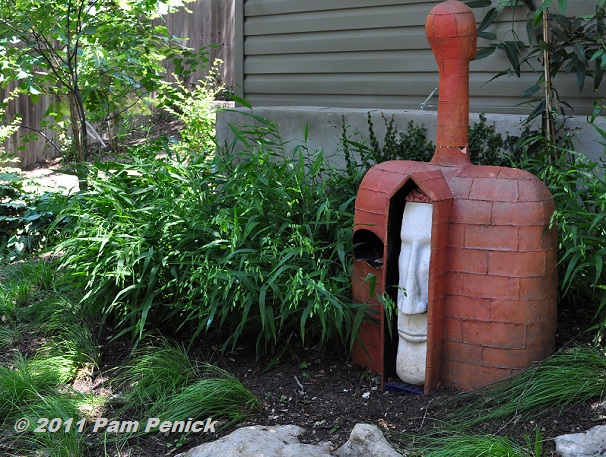 The back garden shows its youth—it's only a year old—more than the front; plantings are sparser. But intriguing garden art adds interest while plants fill in.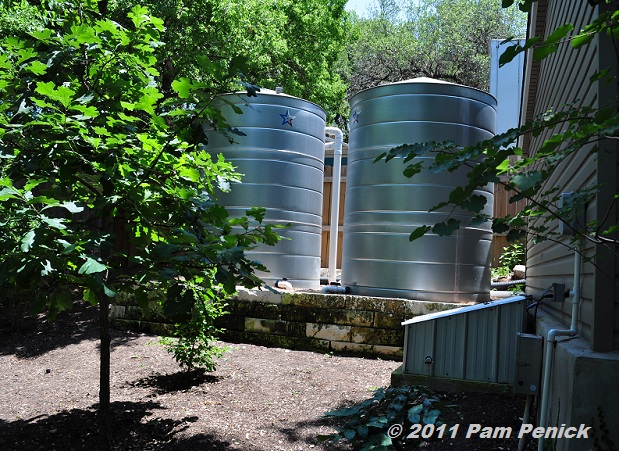 Behind the garage two enormous cisterns stand ready to cache rainfall—if we ever get any again (much of Texas is once again in a severe drought).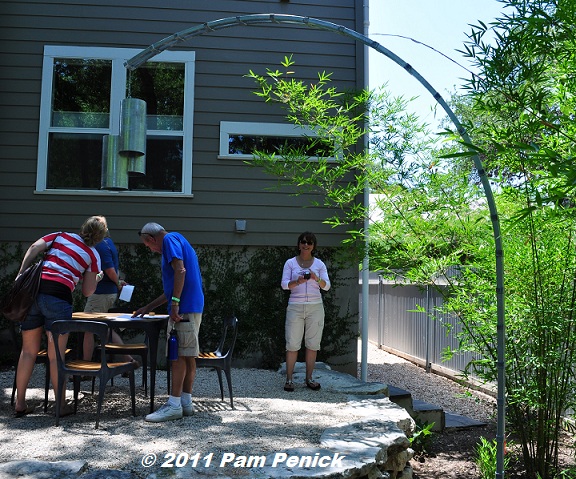 A custom steel light fixture arches over the back patio. That's Diana of Sharing Nature's Garden smiling at me. She and Robin of Getting Grounded were my touring companions for the third year in a row.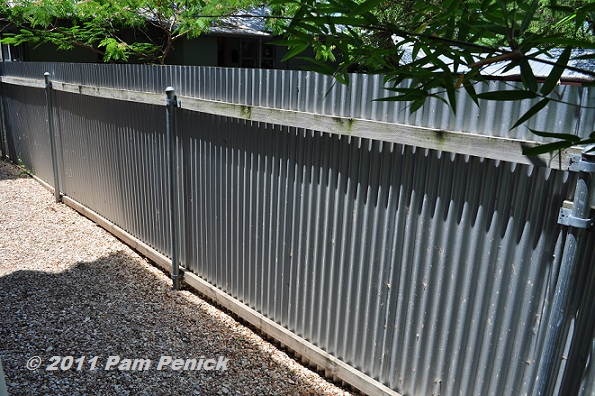 One final image, and I don't know if it belongs to this garden or the neighbors': a corrugated metal fence along the side yard. It's that industrial Texas look that's become so popular in certain neighborhoods around town.
For a look back at the Bee Cave Road garden click here. Tune in tomorrow for a tour of the Stratford Drive garden.
All material © 2006-2011 by Pam Penick for Digging. Unauthorized reproduction prohibited.