May 8th, 2011

Yesterday I toured the five private gardens on Austin's Wildflower Center-sponsored Gardens on Tour 2011. The annual tour is designed to showcase gardens planted predominantly with native plants. My favorite garden this year? Landscape architect, plantsman, and rock hound Tait Moring's personal garden on Bee Cave Road.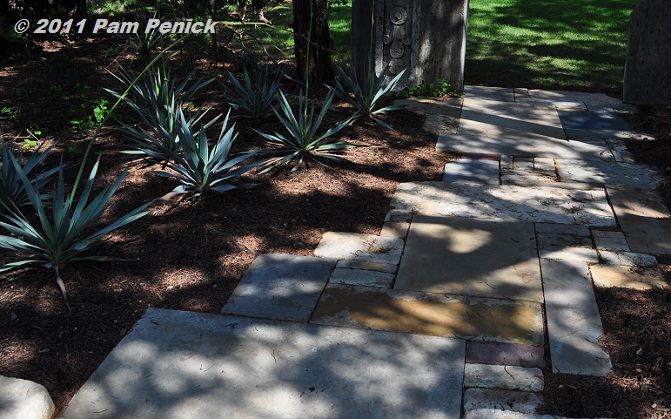 Like any gardener's garden, Tait's is packed with interesting plants, adorned with his collections, and imbued with personality. But what really makes this garden sing is beautiful—and often whimsical—stonework. Take this path, for example. I love that it's made up of different types of cut stone, as well as a few old bricks and pavers of different sizes. Marching along its zig-zag edge is a double-line of shade-tolerant paleleaf yuccas (Y. pallida), glowing silvery blue in the shadows.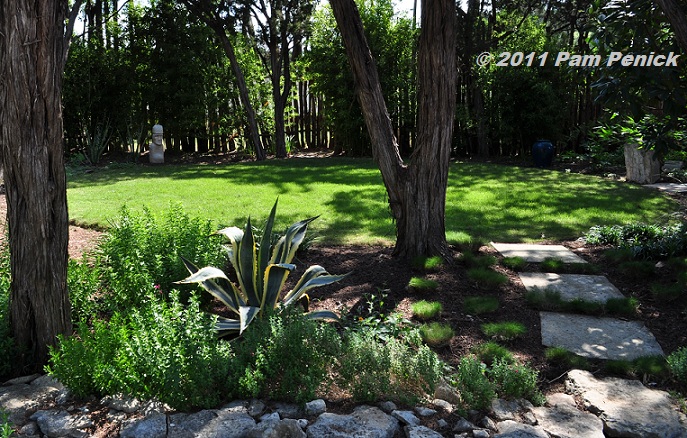 Another feature that sets Tait's garden apart from many others on the tour is his lawn. He has chosen to keep a swath of lawn in his back garden as well as this oval lawnette in a cedar glade alongside his driveway. The formal framing of the grass sets it off beautifully and makes it a garden feature in its own right.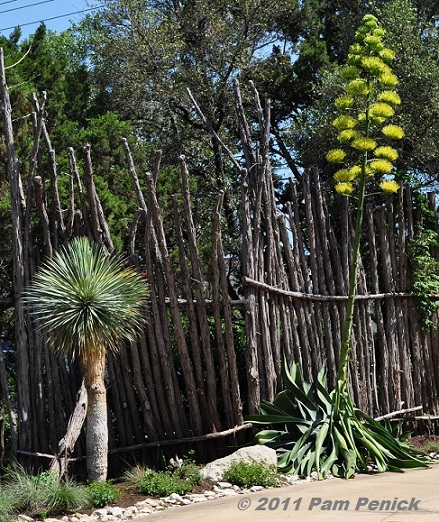 Cedar poles are used liberally throughout the garden. Here long, shaggy poles of varying heights create a screen to shield the garden from busy Bee Cave Rd. Against its backdrop an Agave salmiana (I think) sends up a towering bloom stalk as it gasps its last breath, and a shimmering Yucca rostrata stands guard nearby.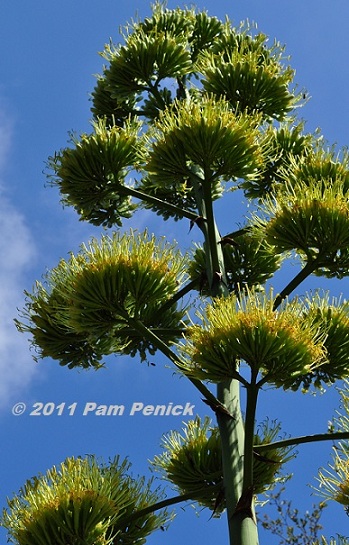 Bees were swarming the agave flowers.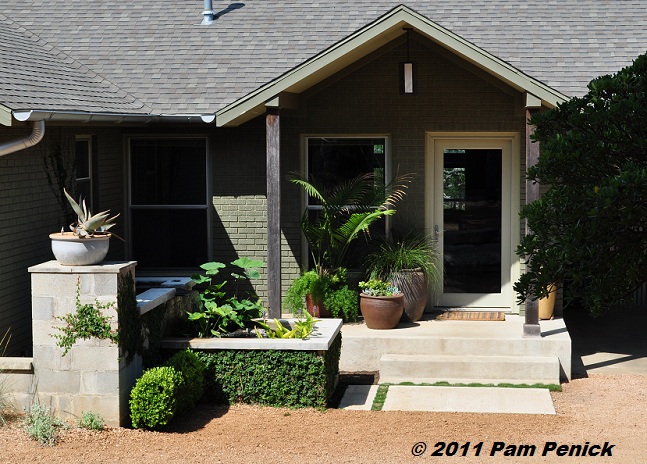 I love the house for its unpretentious scale and design—a clean-lined, contemporary updating of a simple ranch.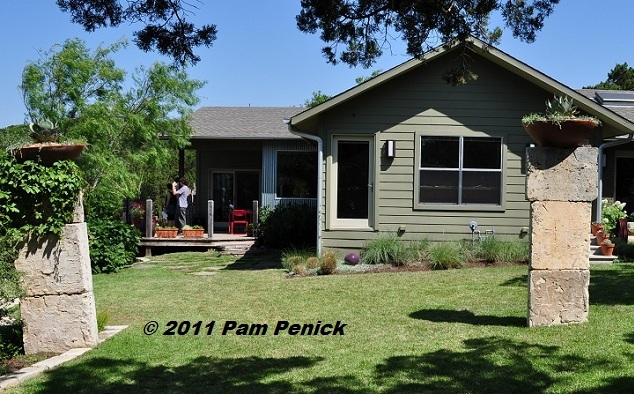 In the back yard, a generously sized lawn sweeps unapologetically from the wooden deck, past a pair of massive stone pillars, to a ramada at the back. This is a space for entertaining, Tait told us, and he likes lawn for that. Installed properly, he added, it doesn't have to be high-maintenance. His grass looked to be a drought-tolerant Zoysia variety.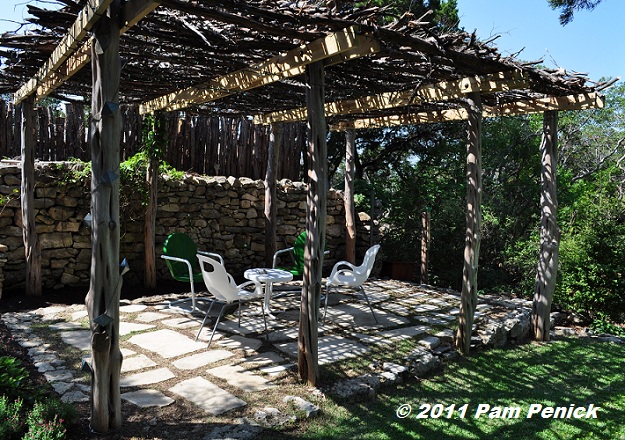 A cedar ramada shades a small patio at the opposite end of the lawn.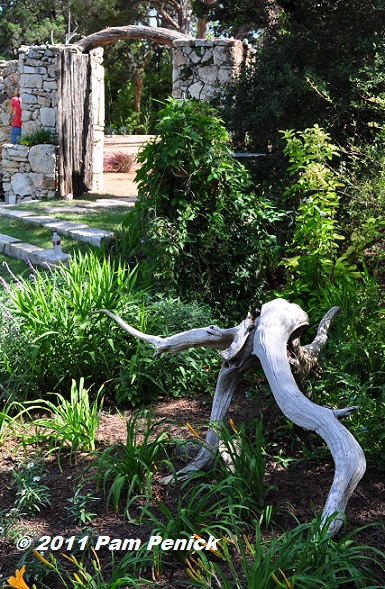 A writhing cedar branch seems to stalk through a border.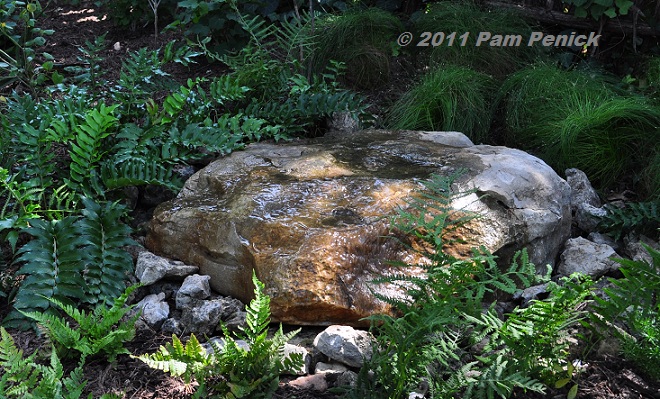 Near the ramada, a drilled-stone fountain burbles gently amid shade plants like Berkeley sedge (Carex divulsa), Japanese holly fern (Cyrtomium falcatum), and river fern (Thelypteris kunthii).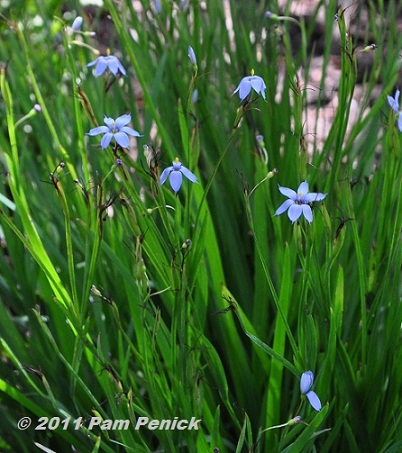 Blue-eyed grass (Sisyrinchium angustifolium)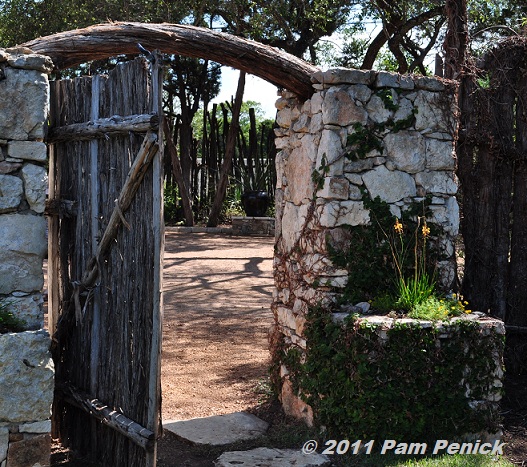 Leading to the decomposed-granite drive, a large, arching cedar pole spans stone pillars, part of a uniquely decorated stone wall.

This fanciful wall contains fossils, glass, a miniature altar, and stones collected by Tait over the years, reminding me of Jill Nokes's garden wall and gate.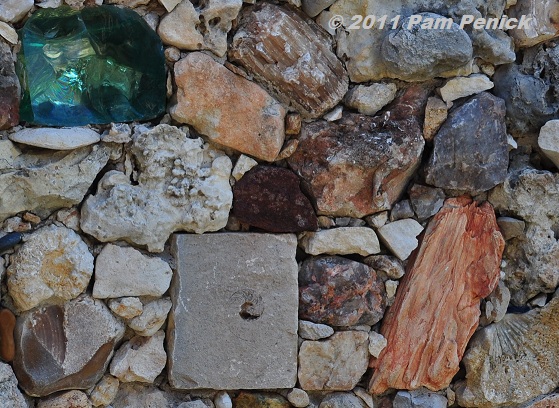 Detail of the wall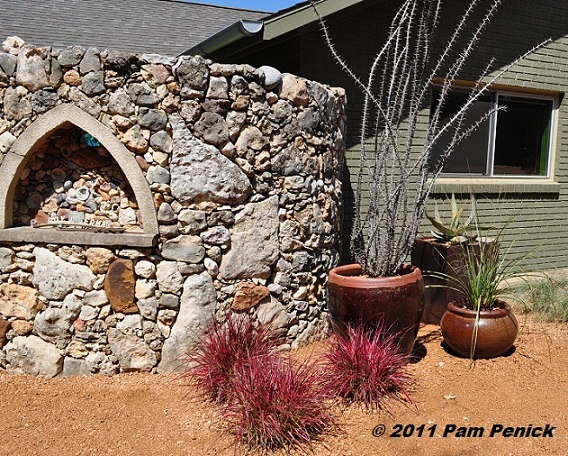 Here's what it looks like from the driveway side.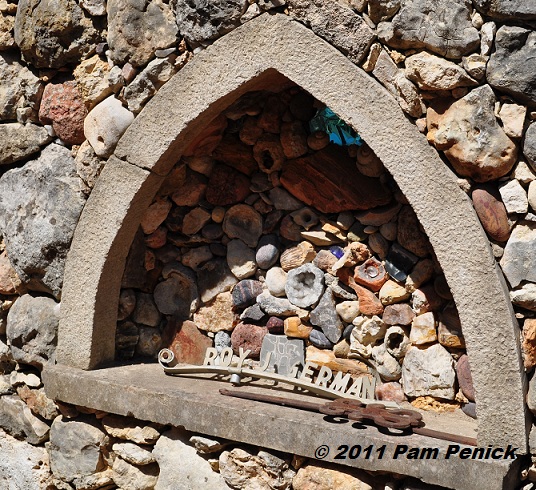 A triangular "window"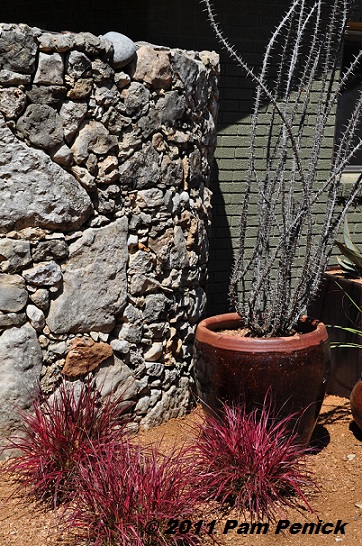 A trio of 'Fireworks' purple fountain grass (Pennisetum setaceum) flame brightly next to an architectural potted ocotillo (Fouquieria splendens).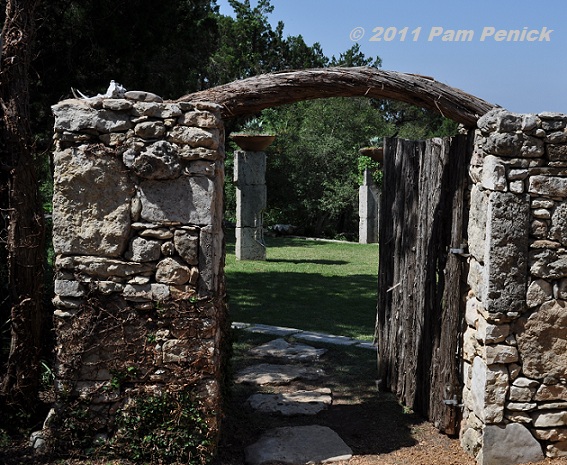 Going back through the gate…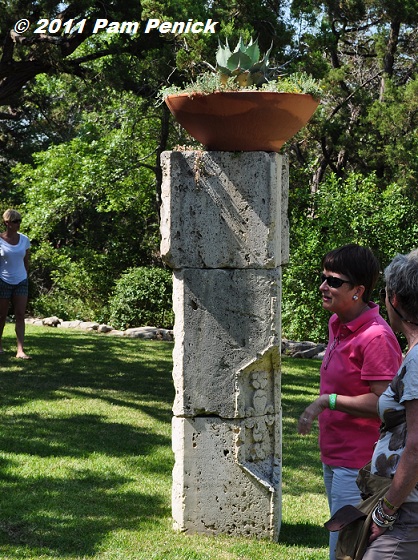 …you see what a focal point the stone-relic pedestals are. Massive terracotta saucers planted with succulents balance on top.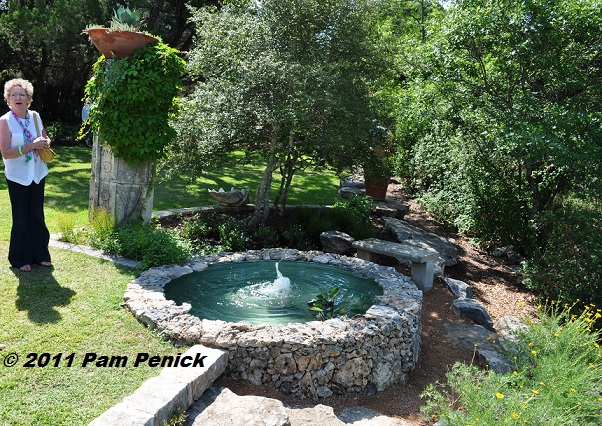 The flat lawn area gives way to a steeply sloping ravine behind the house. At the transition between tame garden and wilder hillside, a small circular pool hugs the slope, its raised stone edge emphasizing the change in elevation.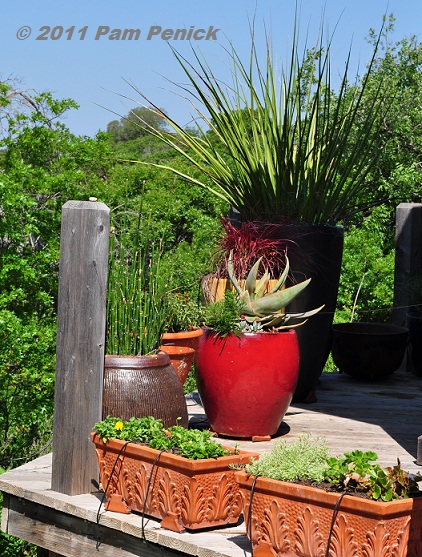 Overlooking the hillside, a modestly sized deck extends the home's living space. An eye-catching, colorful display of potted plants guards the open edge.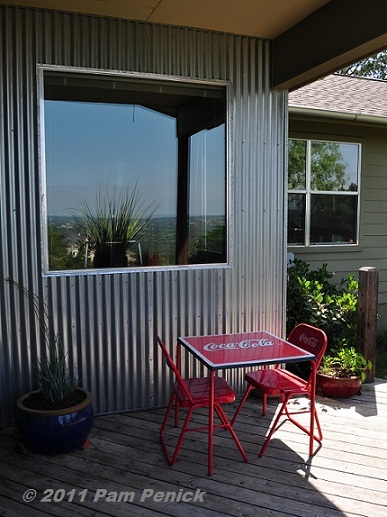 A simple table for two offers a spot for morning coffee. A section of corrugated steel siding adds a contemporary accent.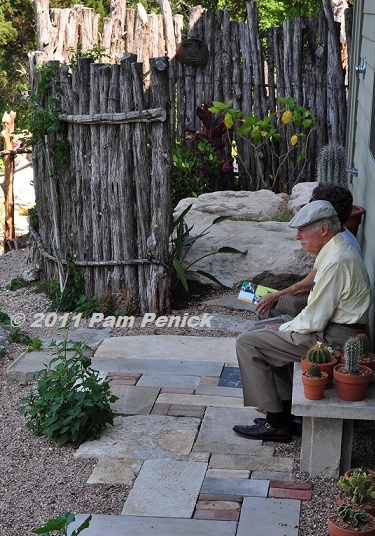 Stone steps drop down to another stone-and-brick path behind the house, which leads to an outdoor shower shielded by a curving cedar-post screen.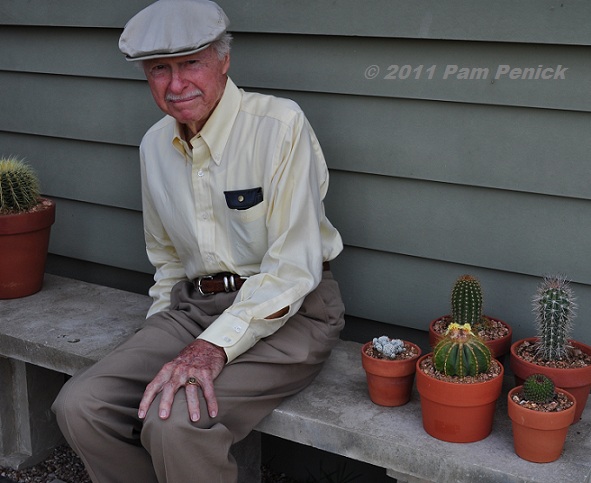 I asked the dapper gentleman sitting on the bench if I might take his picture. His body language says he isn't too sure about me.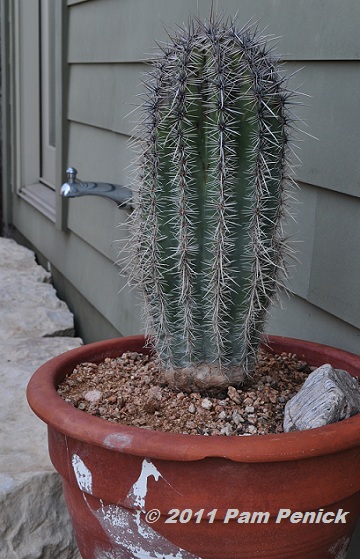 Single-specimen potted cacti decorate the bench.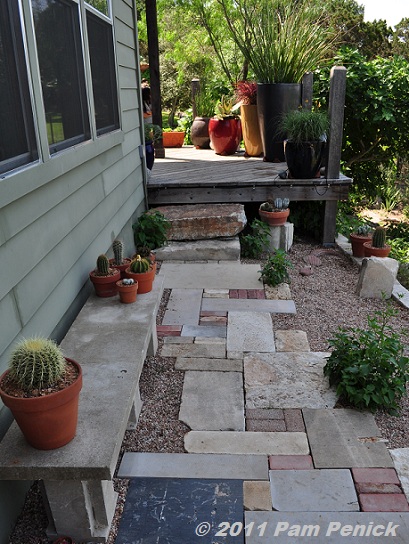 Looking back. I'm crazy for this path.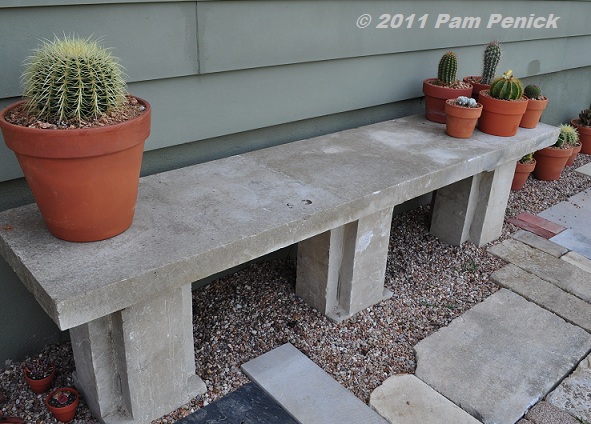 The bench is wonderful too.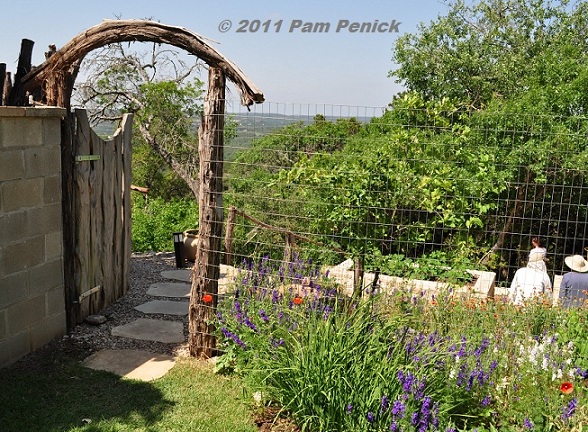 On the other end of the house, another arched-cedar gate leads to a…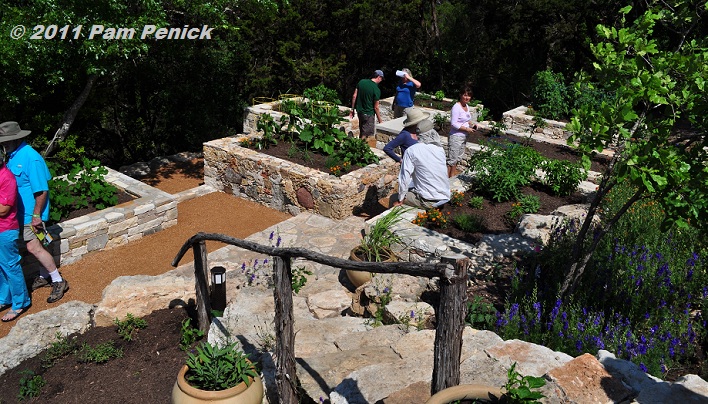 …fenced vegetable garden built on the hillside.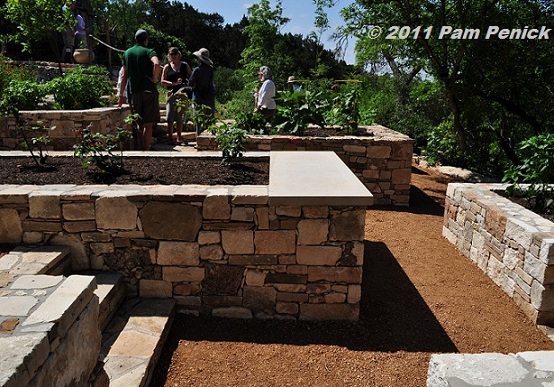 More beautiful stonework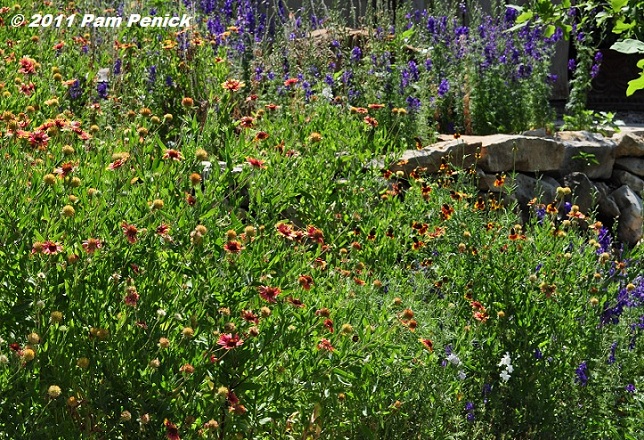 A patch of wildflowers adds late-spring color.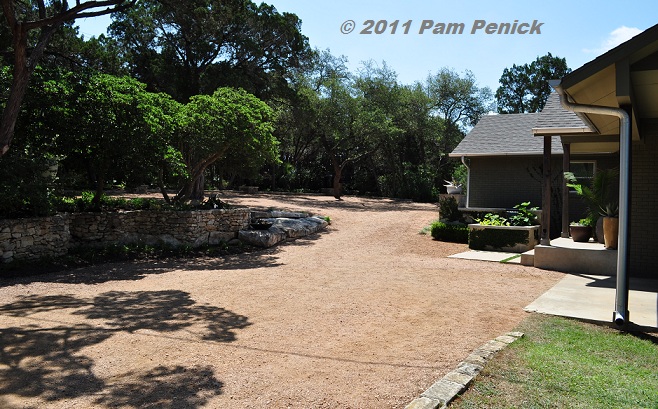 Out front, the driveway and generous parking area (Tait operates his business from his home) are paved with water-permeable decomposed granite.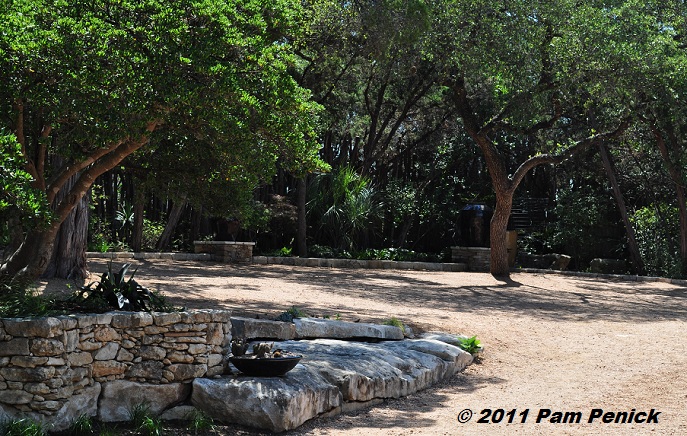 A crisp, low wall outlines the parking area, lending structure and definition to the informal gravel surface.

Goldfish add color and movement to a raised, square pond by the front door—just one of many creative, beautifully designed features in this garden.
Stay tuned for a tour of the West Monroe Street garden. And happy Mother's Day to all the moms reading this, including my own!
All material © 2006-2011 by Pam Penick for Digging. Unauthorized reproduction prohibited.
posted in
Agaves
,
Arbors
,
Bees
,
Cactus
,
Containers
,
Decor
,
Edibles
,
Fountains
,
Garden structures
,
Garden tours 2011
,
Gates
,
Grasses
,
Lawns
,
Paths
,
Ponds
,
Seating
,
Texas natives
,
Walls
,
Water features
,
Wildflowers
,
Xeric plants
,
Yuccas