April 2nd, 2011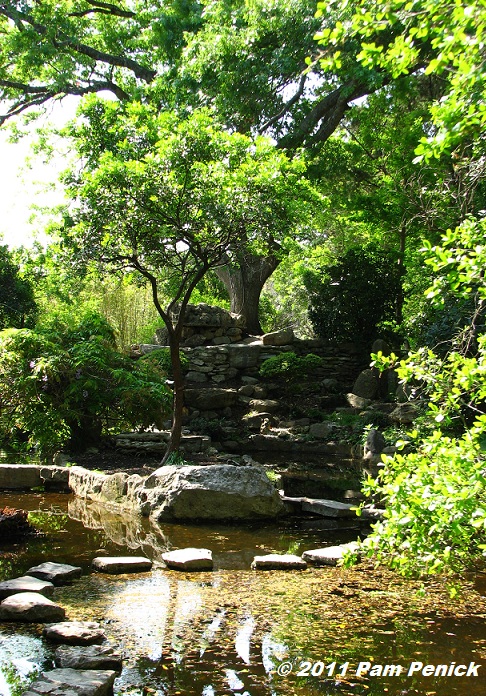 I recently posted about the prehistoric garden at Zilker, but an older and equally beautiful part of the botanical garden is the Taniguchi Japanese Garden. It's an intimate, contemplative, green place overlooking downtown Austin.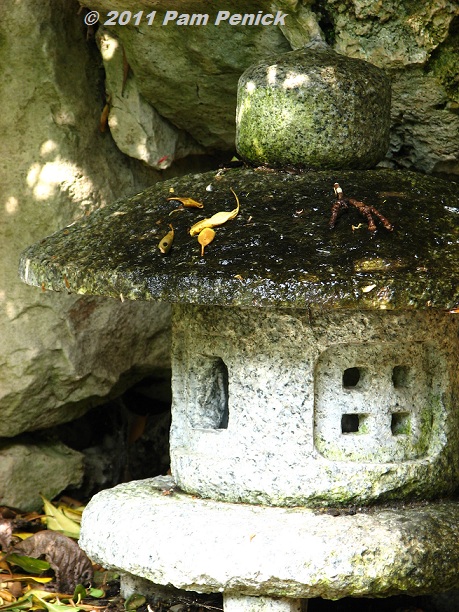 The garden was a gift to the city by 70-year-old Isamu Taniguchi in 1969. As Zilker Garden's website explains, Mr. Taniguchi created the garden "without a salary or a contract…[He] spent 18 months transforming 3 acres of rugged caliche hillside into a peaceful garden."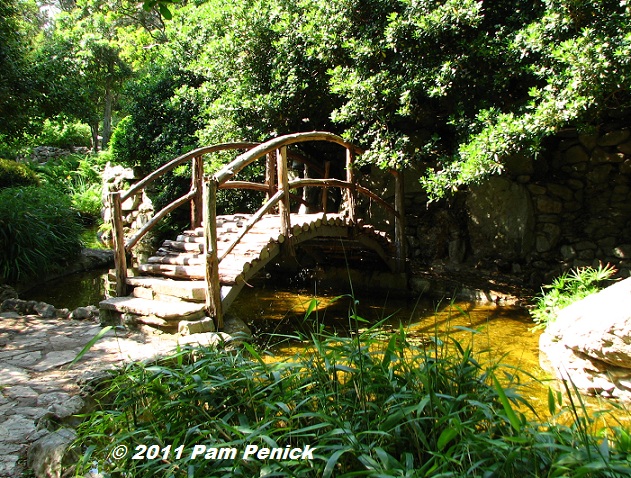 Traditional elements like this moon bridge are given a Texas twist: rustic cedar poles make up the bridge planking and rails.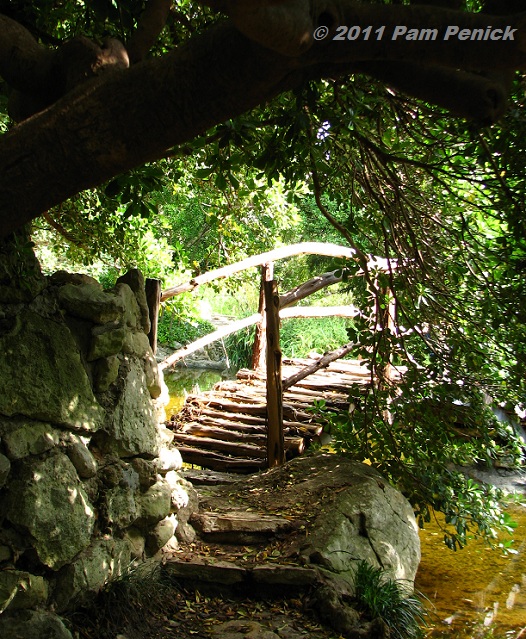 Crossing over the stream you must duck under the boughs of an old pittosporum, which creates a cool, dark tunnel of leaves.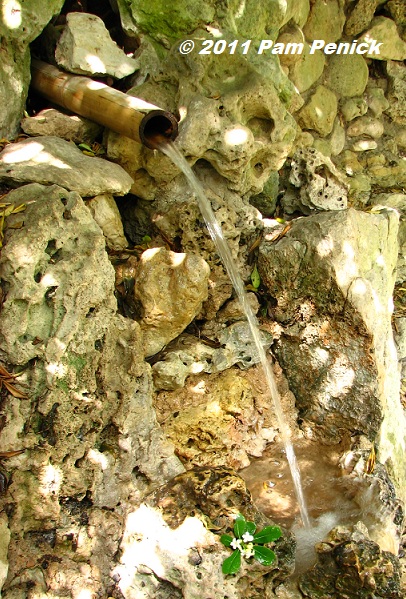 Water spills out of a bamboo spout into a limestone basin before joining the flowing stream.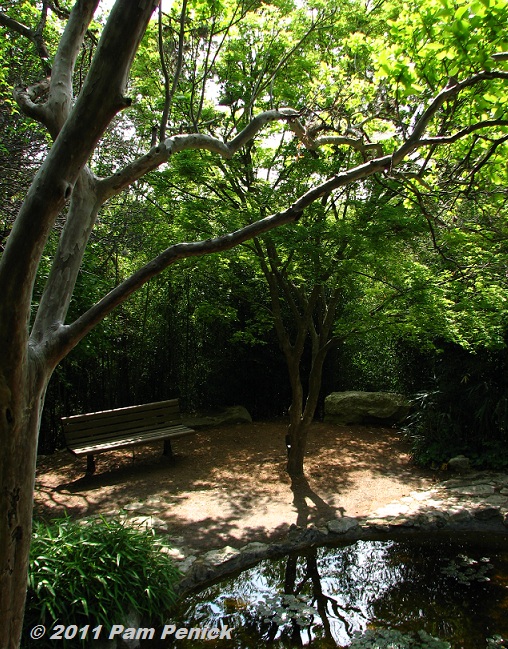 Climbing up a rugged, twisting stair, you gain an overlook of one of the ponds…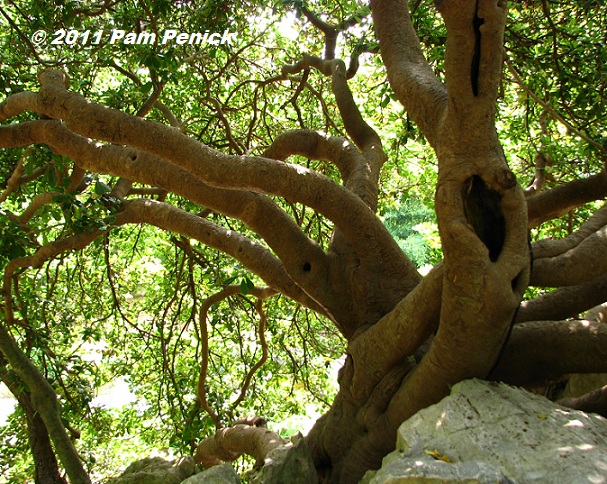 …before passing under an ancient, writhing pittosporum perched at the edge of the hillside. The stream rushes under its branches and drops over a waterfall into the pool below. It's a magical spot, sheltered, alive with the chatter of water…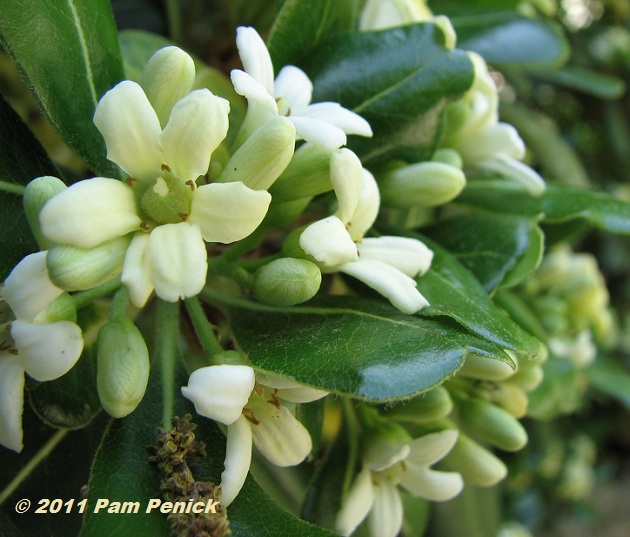 …and fragrant during this visit with creamy, bee-attracting blossoms.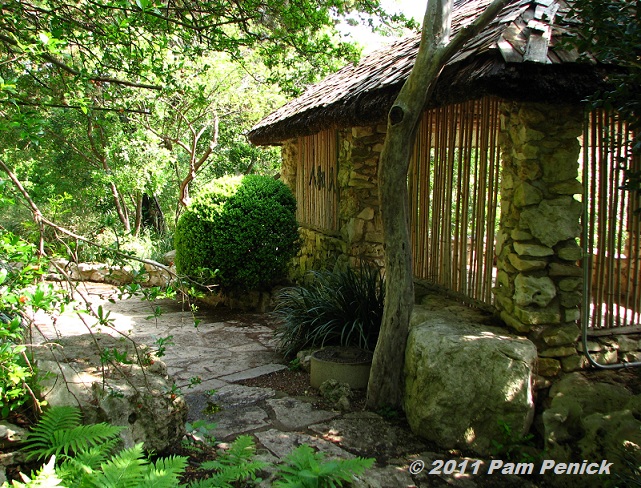 Meandering down the limestone path one comes to a teahouse with a view of downtown.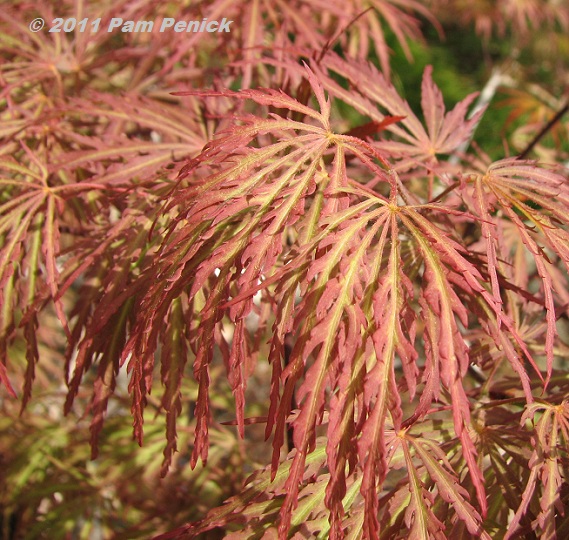 This Japanese maple blushes with striking color even in spring.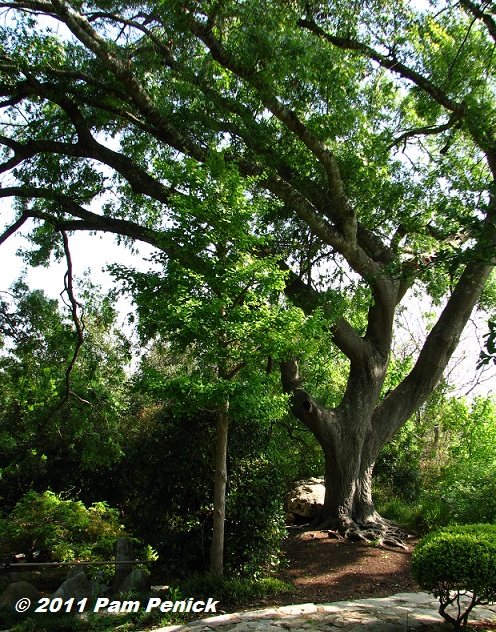 Farther along this beautiful oak stands on a knoll that overlooks a koi pond just beyond. I see that a new, straight-trunked tree stands nearby, ready to replace the old tree when it goes? I hope it won't be soon. I love that old tree.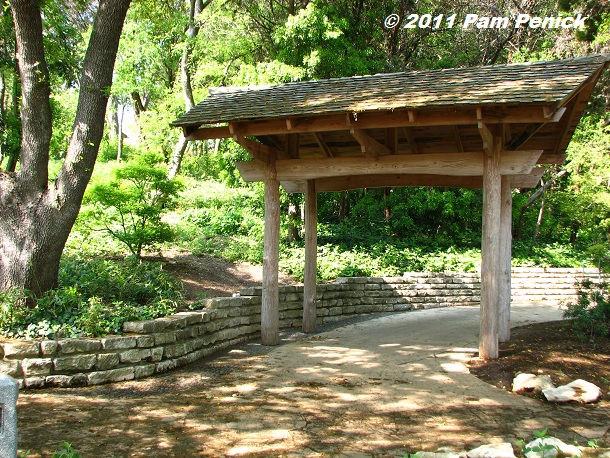 At the end of the Japanese garden, as you head to the rose garden, a new Japanese gate has been built—very nice.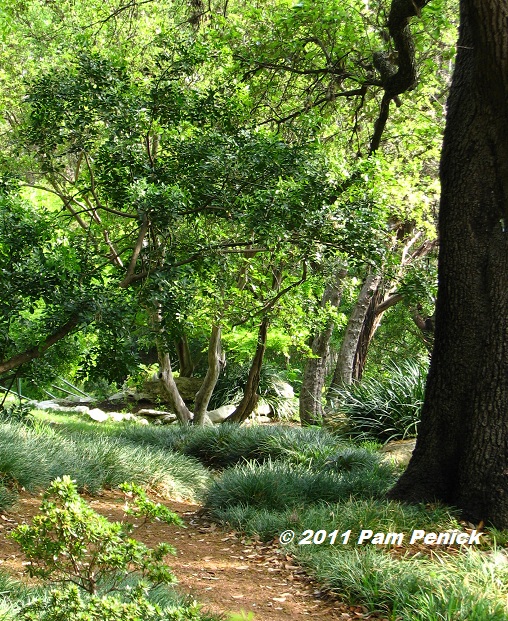 The garden's shady, green paths are soothing and peaceful at any time of year. If you have children, they'll love exploring the twisting paths, moon bridge, and stepping stones across the pond. It's a delightful garden to visit at any age.
For a previous visit and more about Austin's sister city in Japan, check out my earlier post about the Japanese Garden.
All material © 2006-2011 by Pam Penick for Digging. Unauthorized reproduction prohibited.
posted in
Arbors
,
Bamboo
,
Botanic/Public Gardens
,
Bridges
,
Decor
,
Fountains
,
Garden art
,
Garden structures
,
Gates
,
Japanese garden
,
Paths
,
Ponds
,
Trees
,
Water features