March 31st, 2011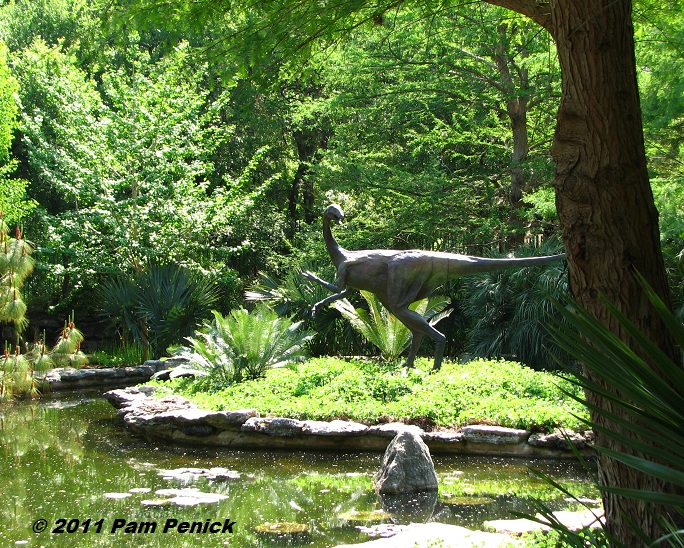 One hundred million years ago, Austin looked a lot different. A shallow sea lapped across central Texas, and later, as the sea retreated, cycads, magnolias, ferns, reeds and other ancient plants colonized the humid marshes. A dinosaur like this one walked here, leaving behind footprints that fossilized and lay hidden in limestone until their discovery in a quarry in 1992.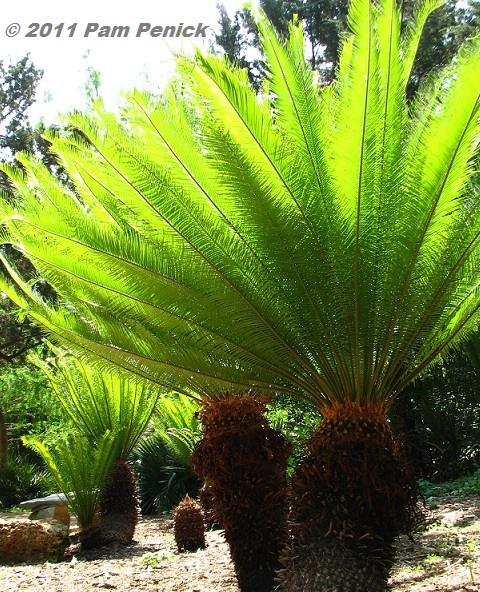 Does your mind, like mine, reel at the vastness of the idea of millions of years, and the realization that landforms which seem so permanent to us are in fact quite changeable? What's a thousand years to the earth? A mere blink of an eye.

Musing on these and other cycad-delic thoughts (sorry, couldn't resist), I visited Austin's unique Hartman Prehistoric Garden yesterday, located in Zilker Botanical Garden. Entering the garden is like stepping back in time. Hartman's plants represent those that existed in the Cretaceous period during the time of the dinosaurs: "spore producing plants (ferns, horsetails and liverworts), the gymnosperms (cycads, conifers and ginkgos) and the first angiosperms (magnolias and palms)."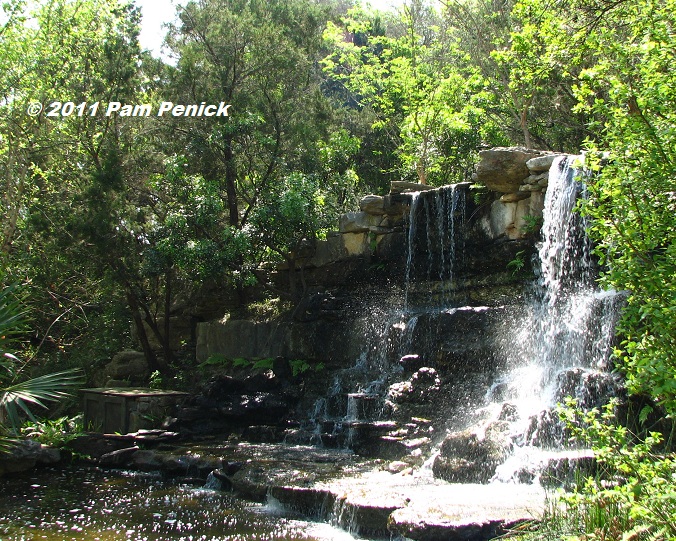 Water runs through the garden in canal-like streams and pools in ponds. A large waterfall cascades over the edge of a limestone outcropping.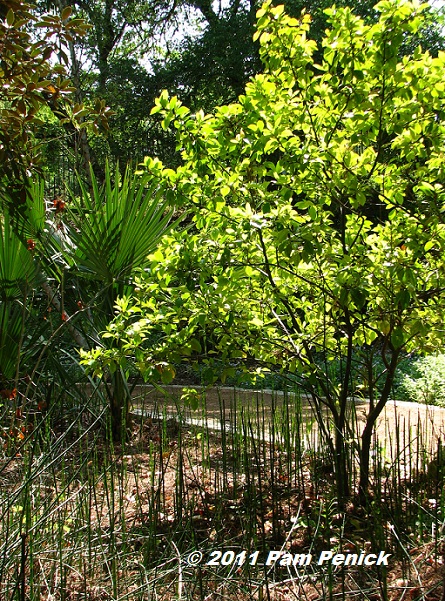 Many varieties of magnolia are planted here, including this lovely banana magnolia (Michelia fuscata).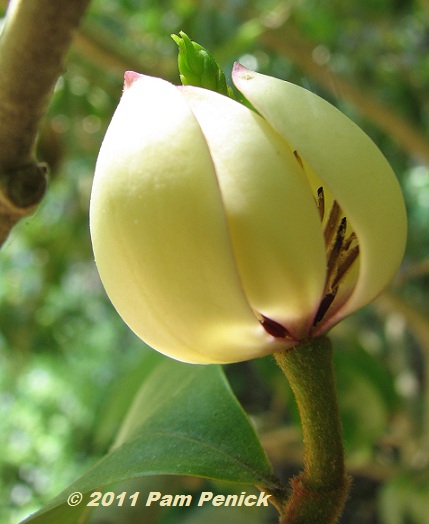 The flowers are much smaller than those of the massive Southern magnolia so often planted in Austin (even though we're west of its native range, and it gets dry and chlorotic here).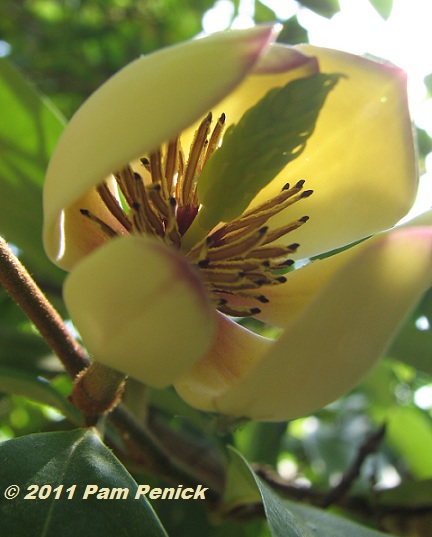 I didn't notice a banana fragrance, though online sources say it has one.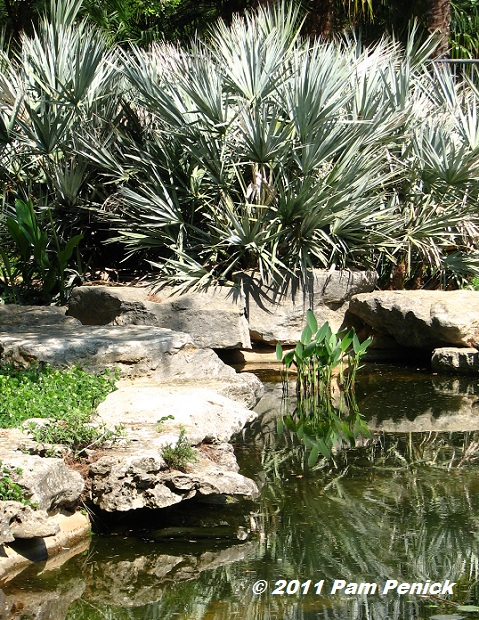 Thickets of palms and palmettos give the garden a tropical look, although everything is hardy to our zone 8b.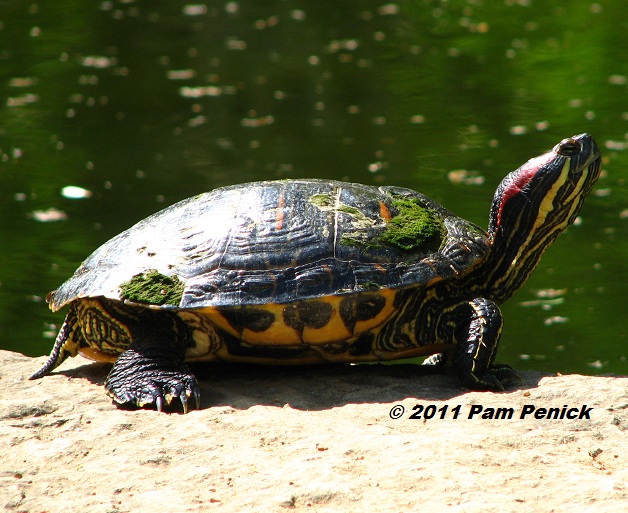 What's this? A prehistoric reptile? No, just a red-eared slider basking at the edge of the pond.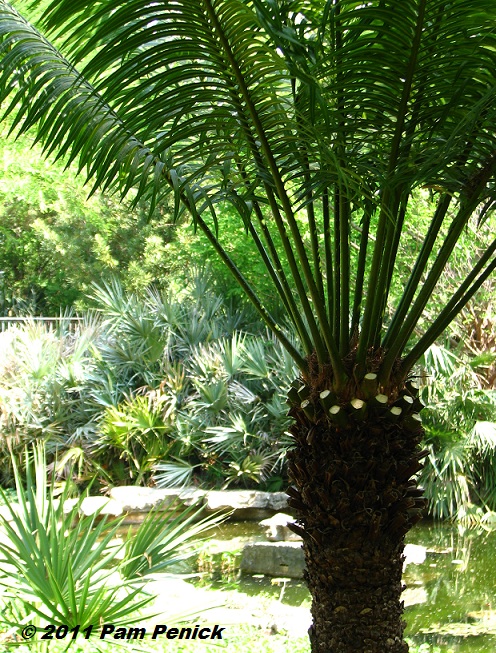 The numerous cycads are recovering from last winter's severe freeze, with fresh, green fronds emerging from the tops of the pruned-back trunks…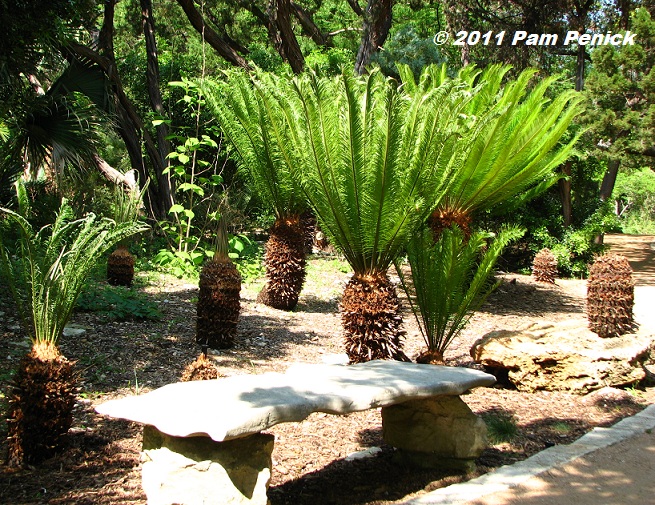 …as you can see here.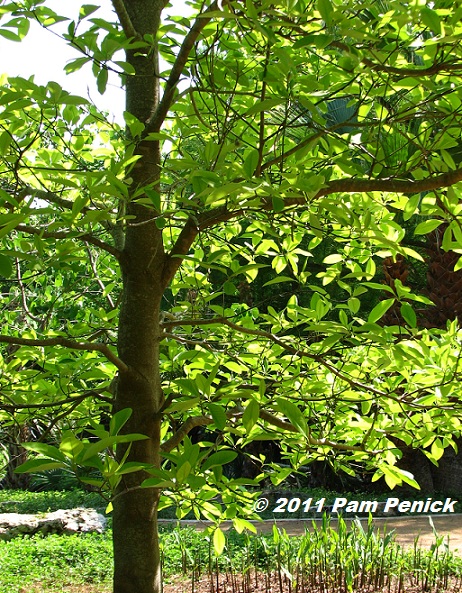 This pretty sweetbay magnolia (Magnolia virginiana) stood clothed in new spring leaves. Perhaps this semi-evergreen lost its leaves during the cold spell? At any rate, a sweet fragrance wafted from a few flowers held high on upper branches.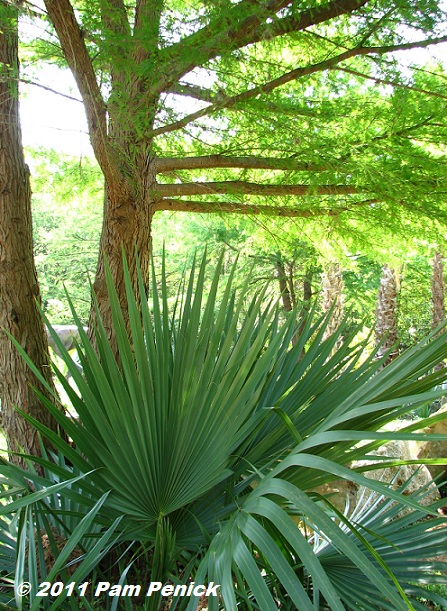 Texas dwarf palmetto (Sabal minor) (I think) makes a striking understory plant for bald cypress (Taxodium distichum).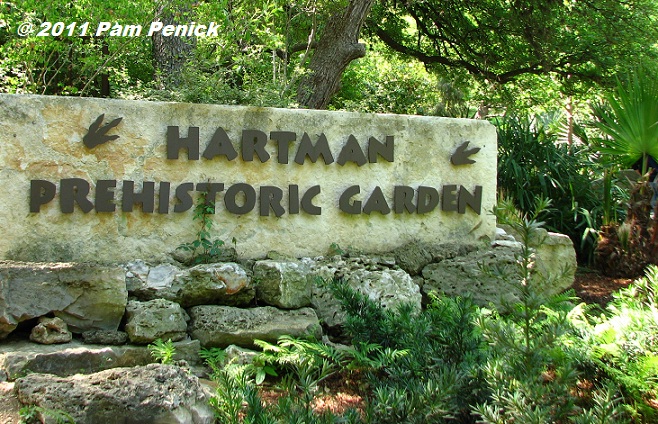 If you haven't yet visited the Hartman garden, now is a great time, before the heat and humidity of summer return and make you feel you really have stepped back in time into a prehistoric swamp.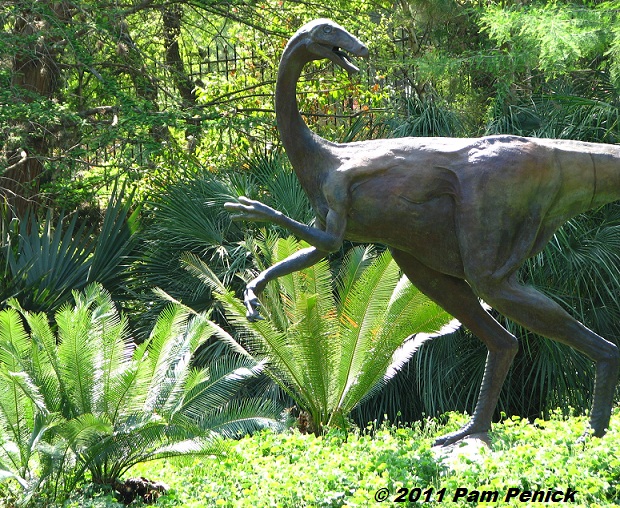 To read about my fall 2007 visit to Hartman Prehistoric Garden, click here.
All material © 2006-2011 by Pam Penick for Digging. Unauthorized reproduction prohibited.
posted in
Botanic/Public Gardens
,
Garden tours 2011
,
Lizards
,
Palms/Cycads
,
Ponds
,
Rock
,
Sculpture
,
Trees
,
Water features
,
Waterfalls
,
Wildlife