March 14th, 2011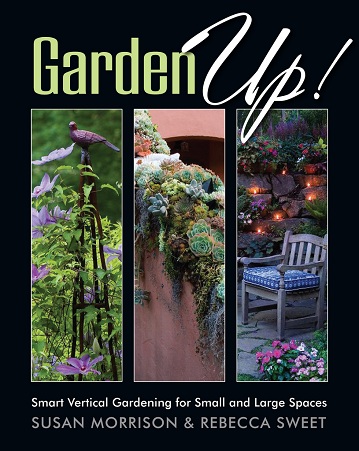 Today is the official launch of Garden Up! Smart Vertical Gardening for Small and Large Spaces, a new book by Susan Morrison and Rebecca Sweet, my friends and colleagues at Garden Designers Roundtable. To celebrate, Rebecca and Susan are hosting a cyber book party with 7 great giveaways, and I'm participating. Welcome to the party!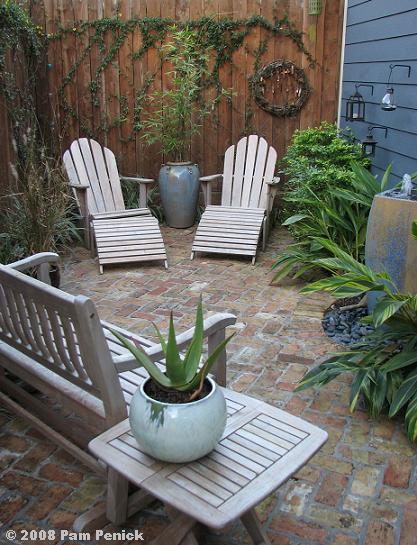 I can't offer an unbiased review of Garden Up! because I'm so excited for Rebecca and Susan's accomplishment. Plus I'm delighted to have contributed four of my photographs to the book, including this one of my sister's courtyard garden in Houston. So of course I hope the book does well.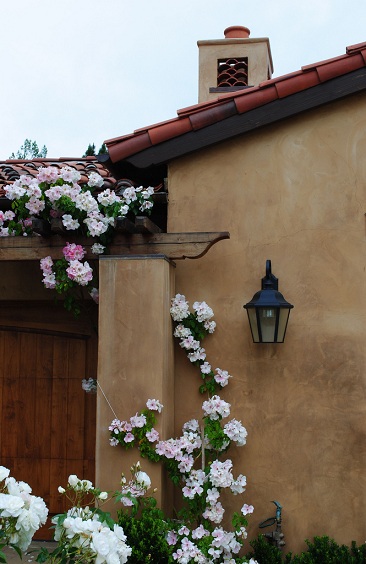 Photo by Rebecca Sweet
Having already read it, I can tell you that it offers great ideas for adding vertical dimension to your garden, whether you garden on a spacious rural or suburban lot or are making the most of a tiny, narrow side yard. For instance, suburban gardeners often start with a blank slate, a flat plane of grass with maybe a shade tree or two, and it can be daunting to figure out how to make an inviting garden space out of it. Susan and Rebecca share their experience as garden designers to illustrate how vertical hardscaping (arbors, trellises, fencing, walls, and the like) and layering plants to bridge the mid-level between grass and trees can define human-scaled garden spaces.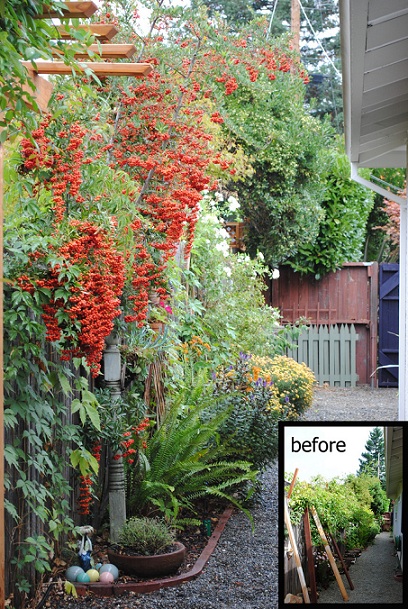 Photo by Rebecca Sweet
Likewise, the city gardener on a tight urban lot needs to capitalize on every inch of space, and gardening vertically is the key. Susan and Rebecca suggest using containers of different heights to create a layered effect in narrow spaces like balconies and around the edges of courtyards. Gardening up on the walls is also a great technique, whether with traditional trellises or contemporary succulent "pictures."
I also like how Rebecca and Susan juxtapose before-and-after shots (as above) to illustrate how to garden up. Throughout the book they take a garden shot and break out the elements, with separate pictures and text, to show what makes the garden work. It's a very illustrative method of explaining the essence of good vertical design.
Prizes!
But now it's time to move on to the giveaways! There are some great prizes at this cyber book party. Seven bloggers, all of whom contributed to Susan and Rebecca's book, are co-hosting, and each is offering a unique door prize. All you have to do for a chance to win is leave a comment. Winners will be chosen randomly. The contest runs for a week, so check back on March 21 to see if you're one of the lucky ones. The more blogs you visit and comment on, the more chances you have to win. Update: Prizes can only be shipped within the continental U.S.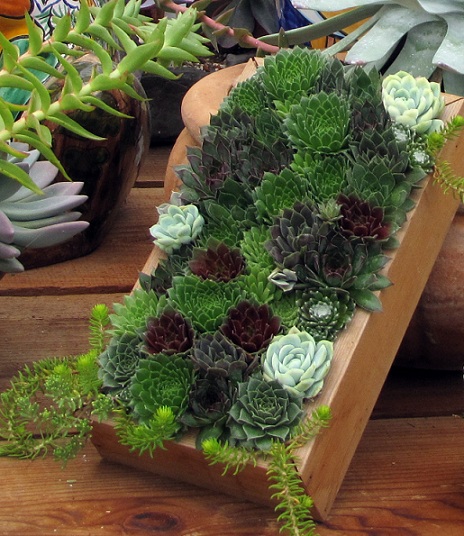 Here's what I'm giving away: a fabulous Succulent Living Picture Kit (valued at $70) from Succulent Gardens. I would love to have this for myself, but no! I am a good hostess and must not keep the good stuff to myself. The kit will be shipped to the winner to be assembled at home: a redwood frame topped with a wire grid, soil, and succulent cuttings. After you plant the succulents and give them time to root, you can hang your living picture on a wall and enjoy it all summer. (It will need to be brought indoors for the winter if it freezes in your region.)
My six co-hosts are also offering great prizes, so drop by their blogs and leave a comment to put yourself in the running:
Susan Morrison — Blue Planet Garden Blog
Prize: Nouveau Leaf Wrought Iron Trellis from H. Potter
Rebecca Sweet — Gossip in the Garden
Prize: Fiskars tool basket from Fiskars
Angela Davis — My Rubber Boots
Prize: $25 gift certificate from Peaceful Valley Farm and Garden Supply
Jim Martin — Compost in My Shoe
Prize: $50 gift certificate from Annie's Annuals
Jenny Peterson — J Peterson Garden Design
Prize: $75 gift certificate from High Country Gardens
Laura Schaub — Interleafings
Prize: Wally One from Woolly Pockets
Party Favors!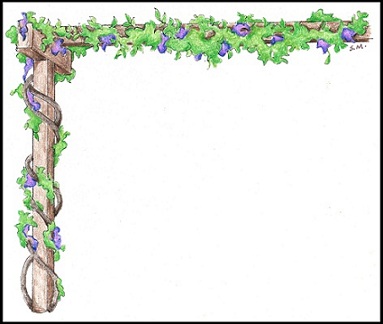 Would you like to have an autographed copy of Garden Up!? Rebecca and Susan are offering a pretty, signed bookplate (hand illustrated by Susan) to the first 100 people who purchase the book online. They're working on the honor system, so there's no need to prove you made a purchase. Just send an email with a mailing address and the name of the book's recipient to: susan@morrison-sweet.com.
Thanks for coming to the party! Good luck in the giveaways, and if Garden Up! appeals to you enough to buy a copy, thanks for supporting my friends' first book.
All material © 2006-2011 by Pam Penick for Digging. Unauthorized reproduction prohibited.