March 7th, 2011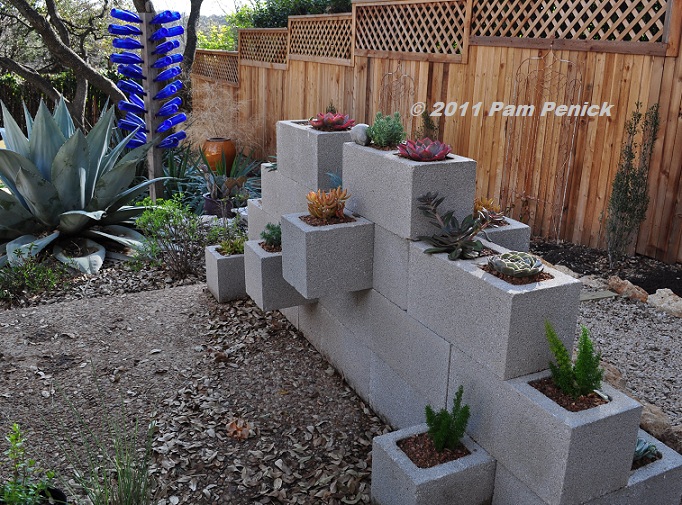 A two-week frenzy of outdoor projects has accompanied the first stirrings of spring here in Austin. This weekend I completed a project I began in January: a succulent wall planter made of cinderblocks, inspired by a photo I saw at Apartment Therapy of a project created by Annette Gutierrez of Potted.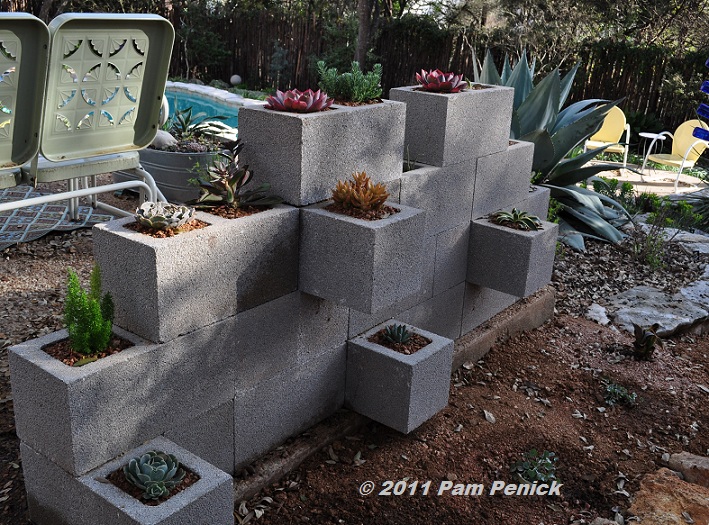 I am over the moon about this clever planter idea, in which the humble cinderblock is turned into a modern statement piece in the garden. I wish it were my brainchild, but I'm happy to copy great ideas when I spot them. For my own interpretation, I made it a two-sided wall, with planting pockets poking out on both sides.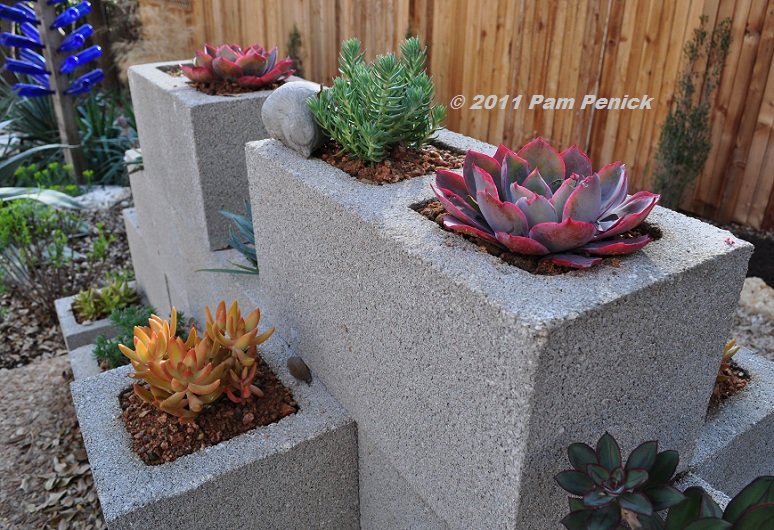 The wall anchors one edge of our upper patio. I'd fantasized for a while about giving the open patio a feeling of enclosure with a pergola. But a beautiful live oak hangs over the patio, creating a "ceiling," and I found that the cinderblock wall and potted plants create a cozy feeling of enclosure, eliminating the need for an expensive pergola. String lights overhead also add ambiance and more "ceiling." But I digress.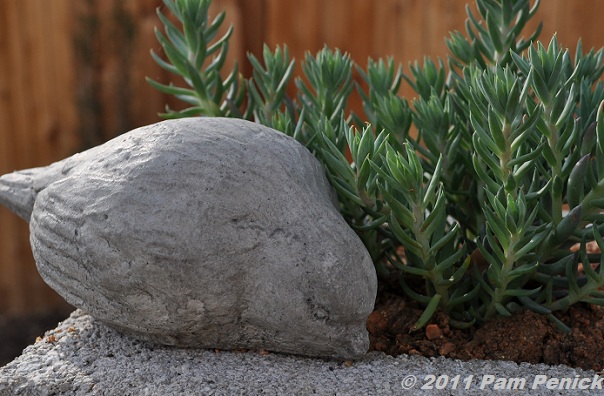 The wall could be planted with any type of small plant, but succulents are a natural fit since they love good drainage, have low water needs, and don't mind growing in tight places. But let's be real. If you grow succulents in central Texas you know they need protection from the sun in summer, and you accept that you're going to lose some of them in winter freezes unless you bring them indoors. I'm treating most of the plants in my wall as annuals; if any survive the winter, it'll be a welcome surprise. I'll get at least 8, maybe even 10, months out of them before then.

Do you want the nitty-gritty? First you decide on your layout. I experimented with various arrangements of the cinderblocks before settling on the current design. Be sure to stagger the blocks for added stability. My wall is fairly low, so I didn't feel the need to use rebar or other reinforcing material, but I did use Liquid Nails to glue the blocks together. The weight of the top blocks keeps the cantilevered ones in place.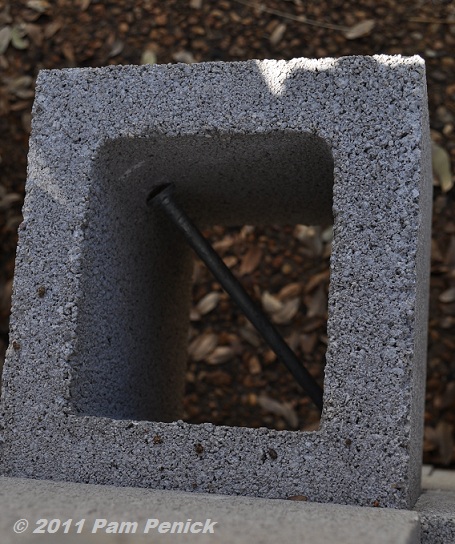 The tricky part is, of course, figuring out how to plant the open-bottomed, cantilevered blocks. Having read about Jenny Peterson's solution of chicken wire and landscape fabric, I gave that a try. But my chicken-wire basket would not stay put, for some reason. So I bought 8-inch galvanized nails and jammed them into the open pockets, tapping them into place with the butt end of a hammer. Now I had something to rest my planting basket on.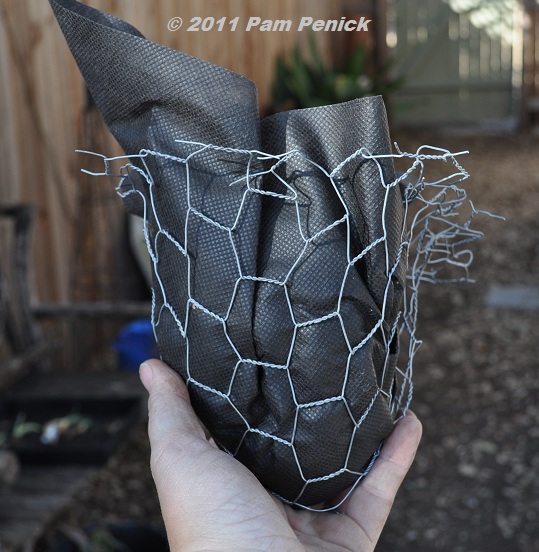 As Jenny suggested, I made planting baskets out of chicken wire lined with landscape fabric to hold the soil. Update: Use a tighter wire mesh, instead of chicken wire, for a better grip inside the cinderblock holes.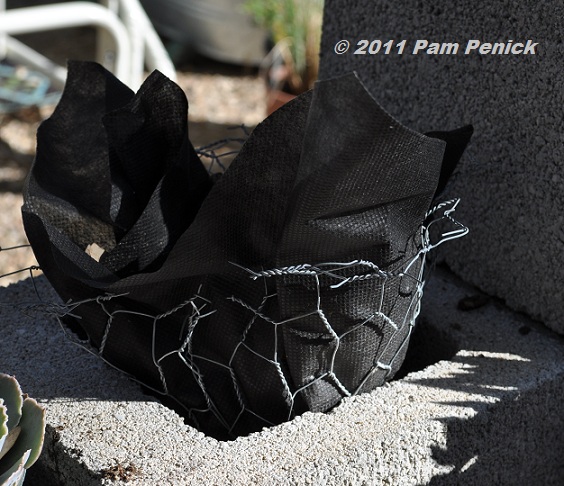 The baskets are then stuffed into the cinderblock holes. I folded and tucked the ends of the chicken wire and landscape fabric so that they wouldn't show. Then I filled them with a fast-draining soil mix for succulents.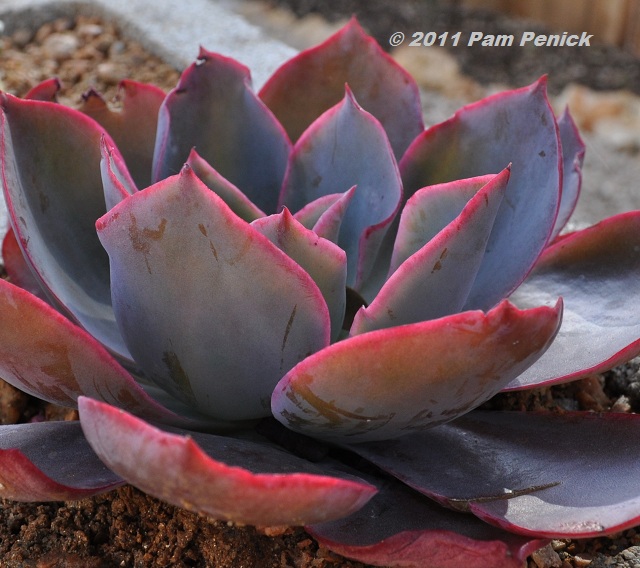 Planting time!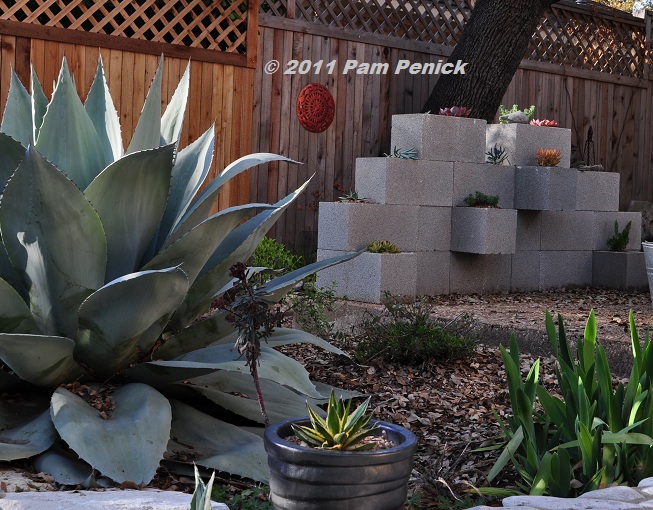 I love my new cinderblock wall planter and am enjoying it from many angles.
Disclaimer: Safety is your responsibility. When constructing a planter wall like this, especially if you plan to add height, be sure to follow standard wall-building practices: a solid footing, rebar supports, and mortar for walls of a certain height.
All material © 2006-2011 by Pam Penick for Digging. Unauthorized reproduction prohibited.