January 16th, 2011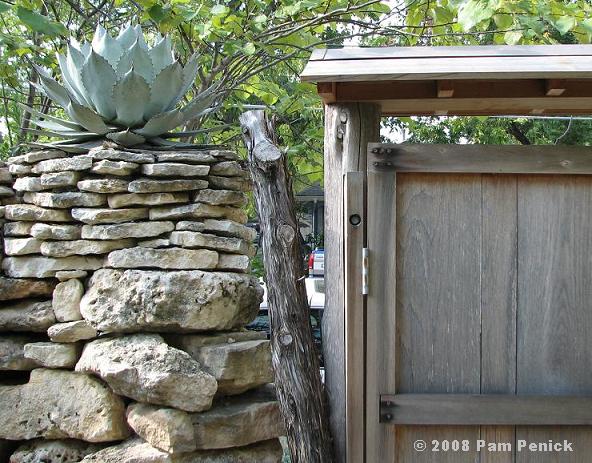 On this chilly, wet Foliage Follow-Up, let's revisit the fabulous Tex-Asian garden in east Austin designed and built by Grace Riggan and Joshua Bowles. Its intriguing name? Fatal Flower Garden. Aren't you just dying to see what's behind the wall? Me too. Just don't look for a lot of flowers. This is a dramatic foliage garden for sun and shade.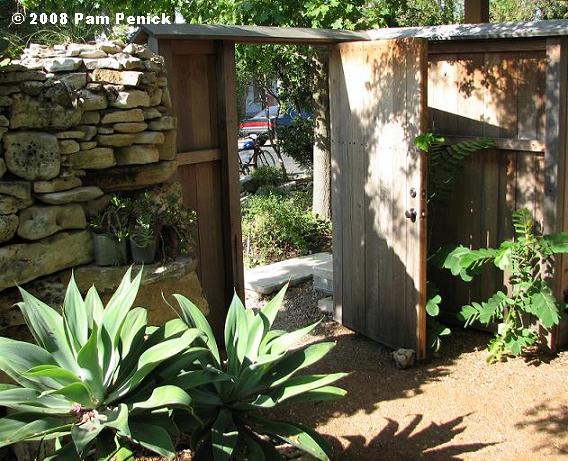 An Asian mood is established with roofed, wooden gates. The owners built the dry-stacked stone wall themselves, with rock hauled home from building sites. (They are the architect-build team behind Homeplace Architecture & Carpentry and have since relocated to Hawaii. Who owns Fatal Flower today, I wonder?)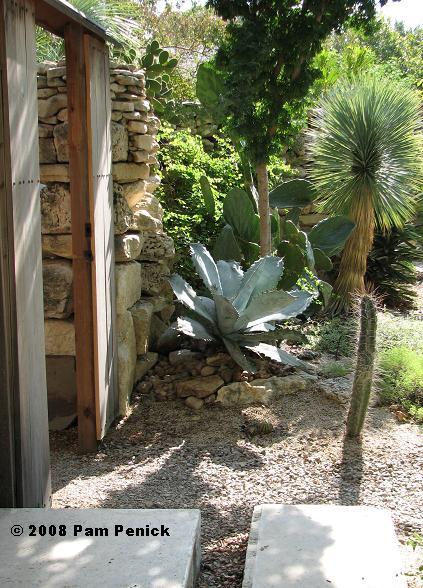 But the plants are pure southwest in style—at least those in the sunny parts of the garden. Here, outside the Asian gate, East meets West, and the result is delightful.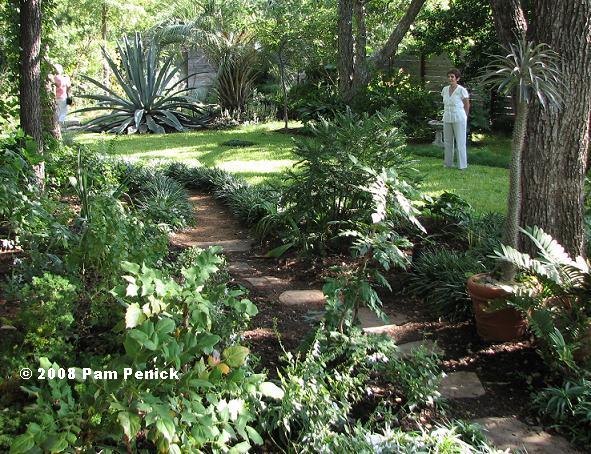 On my October 2008 visit, during the Garden Conservancy's Open Days tour, I was wowed by this predominantly evergreen and ever-silver garden. Agaves dominated the design. This monstrous American agave stood in armored, silver glory several feet above my head, and I'm tall. In the foreground, a shady path meandered under mature pecan trees through plantings of mahonia, native palmetto, and liriope.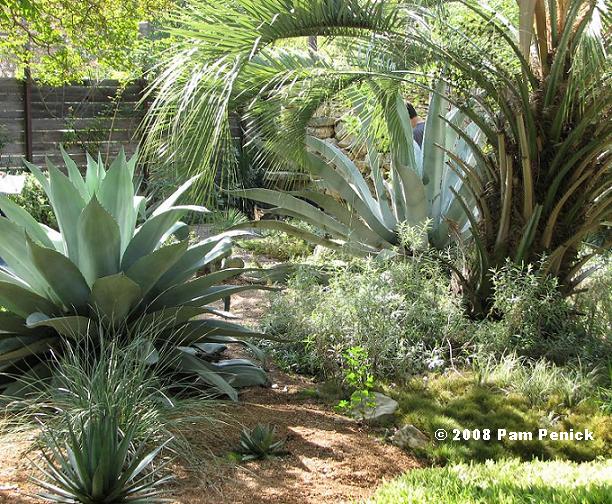 More drama unfolded on a sunny, gravelly berm near the front gate. A silver bed dominated by a large 'Whale's Tongue' agave (on the left), American agave, and palm was visually cooling but not calming. There's a lot of excitement in sharp leaves and architectural shapes.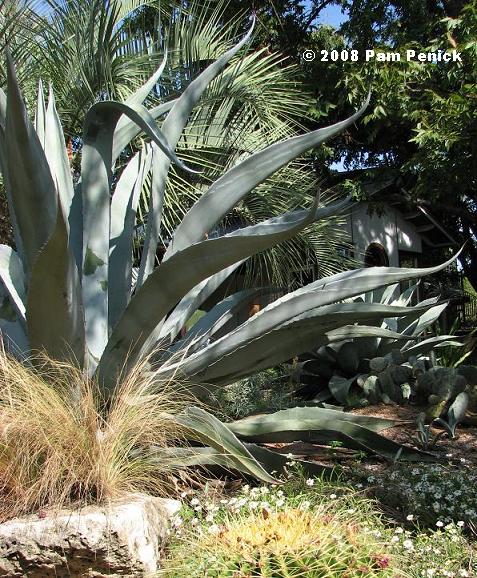 Gold contrasted with silver on the other side, thanks to golden barrel cactus and Mexican feathergrass.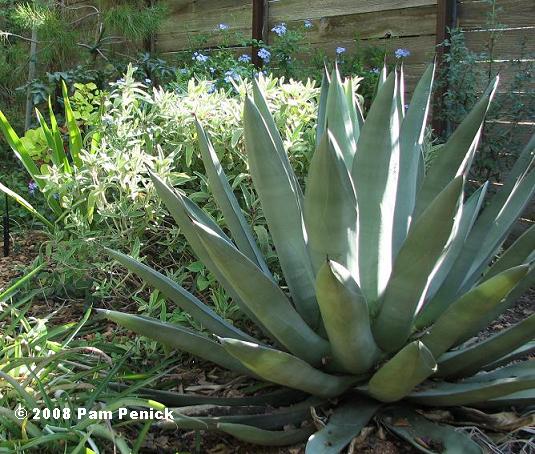 A stiff-armed, spine-tipped sharkskin agave contrasted with the softer textures of Jerusalem sage and plumbago.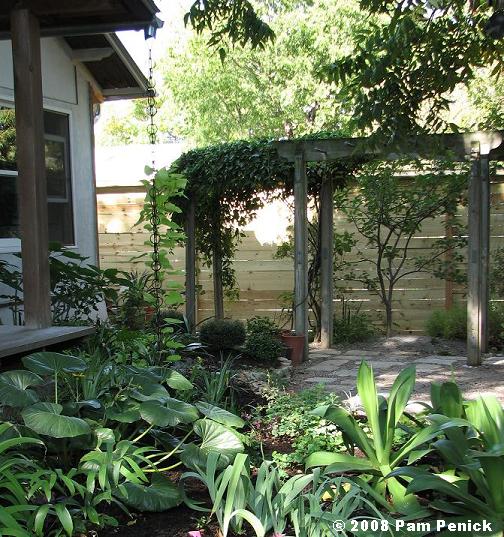 The plant combinations in this garden were interesting and often playful, offering ideas for striking combinations in both sun and shade. But as with all wonderful gardens, hardscaping was key, creating a beautiful frame for the owners' plant artistry. Well-thought-out fencing, paths, and sitting areas defined the garden spaces, set a mood, and were as important as the plants. In so many fine gardens, this is manifested in stone hardscaping, masonry walls, and earth-sculpting that obviously cost a fortune. That's wonderful if you have the means. However, at Fatal Flower, the hardscaping seemed more attainable—even do-it-yourselfable—and was just as beautiful and effective.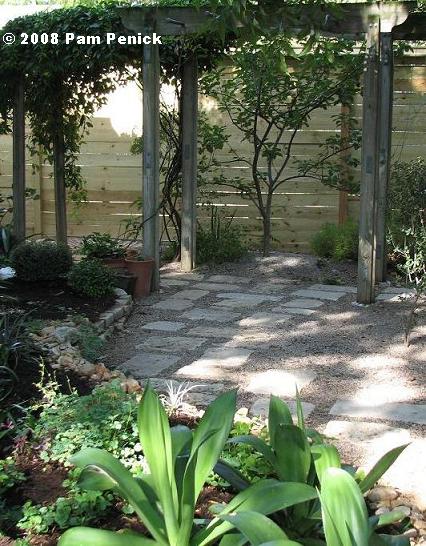 This vine-draped arbor lead from the house to a two-story work studio. The path from the garden curved gently on the way to the arbor, which framed a small tree.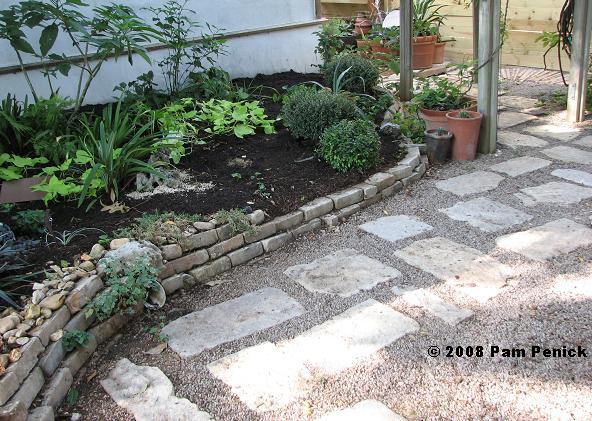 The path itself was simple and lovely: rectangular and square limestone flags set in pea gravel. The raised bed alongside it was edged with regularly-shaped limestone pieces.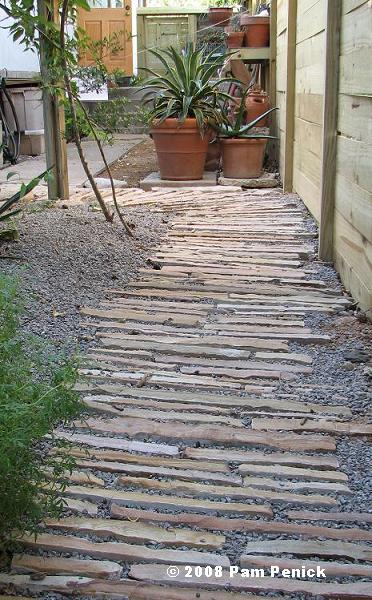 Another path branched off from the arbor, leading to a secluded potting area behind the house. I've admired similar paths at Chanticleer Garden.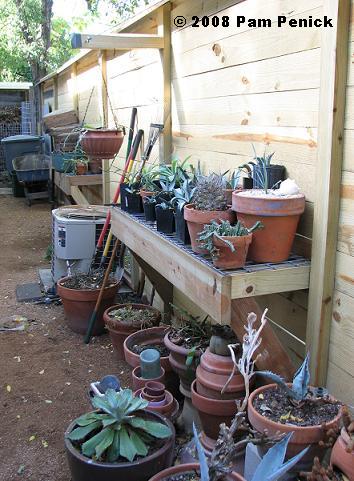 Clean and simple. A potting bench built onto the privacy fence maximized space in a narrow side yard.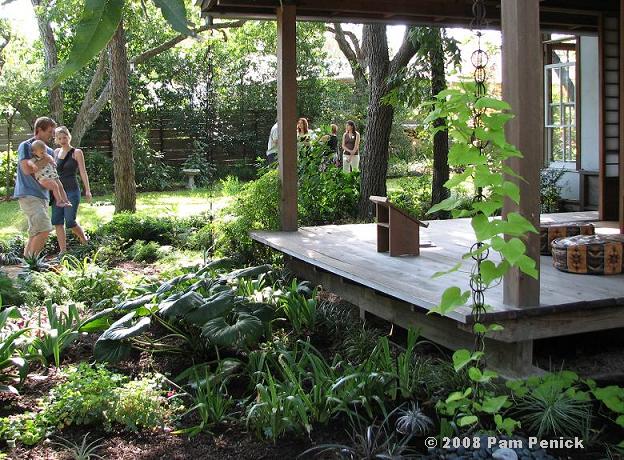 A meditation deck, decorated and furnished with restraint, overlooked the shade garden.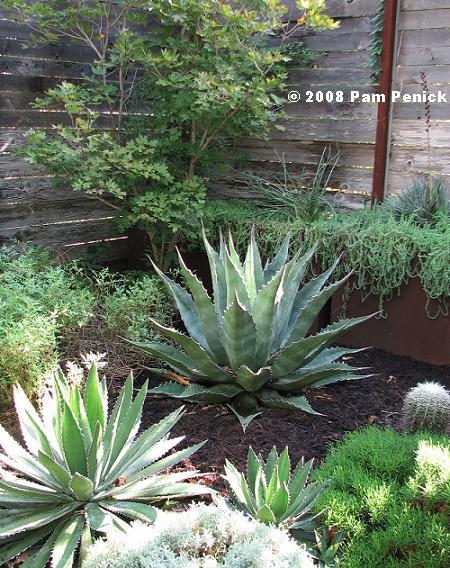 The shady center of the garden near the deck gave way on each end to sunnier, agave-studded spaces. Tucked into the back corner, this agave and xeric-plant grouping surprised me with the addition of a thirstier Japanese maple.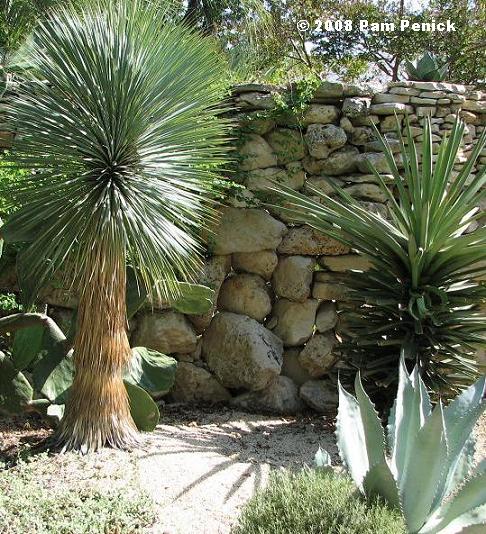 Outside the gates, between the wall and the sidewalk, more agaves and yuccas flourished, soaking up reflected light and heat from the stone wall, gravel mulch, and concrete sidewalk.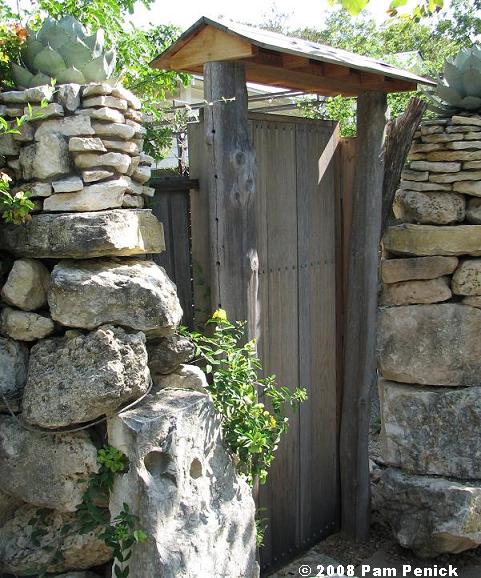 For an excellent video about this garden, its owners, and how they built their stacked-stone wall, watch the "Central Texas Gardener" episode about Fatal Flower Garden.
Update 1/17/11: I contacted Grace Riggan to ask about Fatal Flower Garden's name, and whether it was related to the old folk song by the same name. She wrote, "Yes, the name is from the folk song. The seduction of the garden…."
I hope you'll participate in Foliage Follow-Up (always the day after Bloom Day) by showing off your favorite foliage this month in a post of your own, and leave your link in a comment here so we can find it. Please remember to link to this post as well.
All material © 2006-2011 by Pam Penick for Digging. Unauthorized reproduction prohibited.