December 5th, 2010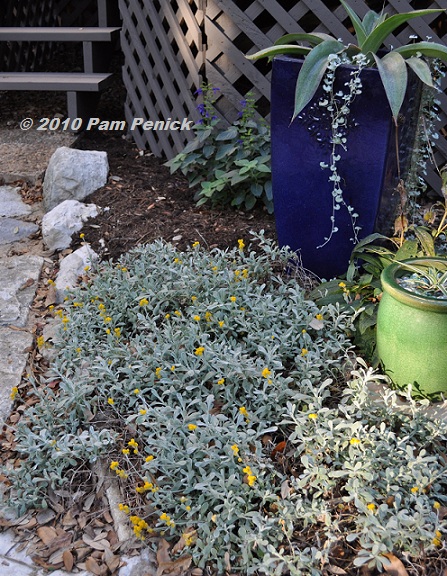 For those of you in warm climates like Austin, here's a great little ground cover with everlasting, silvery green leaves and nearly nonstop yellow flowers. Australian native Chrysocephalum apiculatum 'Flambe Yellow' was sent to me for trial by Proven Winners in the spring of 2009, and it's been going strong ever since, surviving not just the extreme drought of that summer but the extreme freeze of last winter. It did suffer some die-back during our coldest stretch (17 to 20 F at the lowest), but it bounced back readily this summer.
Commonly known as strawflower or yellow buttons, in its natural habitat it grows on the edge of woodlands throughout Australia. In my garden it thrives in well-drained soil, with part sun in the morning and dappled sun in the afternoon. It's said to grow well in rock gardens, and it would make a pretty spiller in a container planting or along the edge of a wall. If you're in zones 8b-10b you can grow it as a long-lived perennial; farther north it'll be an annual.
For local gardeners: Because Austin is on the northern edge of Chrysocephalum apiculatum's frost tolerance, I would wait to plant it until spring. You probably wouldn't find it in nurseries right now anyway. But I did see it for sale at the box stores, in the Proven Winners section, last spring, and I seem to remember that the Great Outdoors carried it also.
Note: My Plant This posts are written primarily for gardeners in central Texas. The plants I recommend are ones I've grown myself and have direct experience with. I wish I could provide more information about how these plants might perform in other parts of the country, but gardening knowledge is local. Consider checking your local online gardening forums to see if a particular plant might work in your region.
All material © 2006-2011 by Pam Penick for Digging. Unauthorized reproduction prohibited.