August 30th, 2017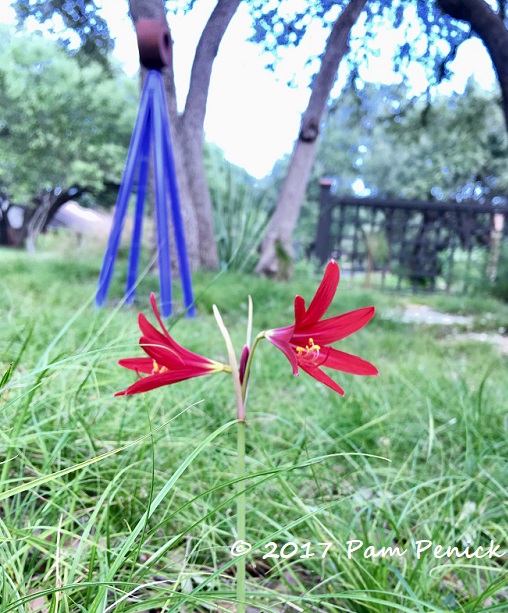 Hurricane Harvey dumped nearly 10 inches of rain on my garden between last Friday and Sunday, and high winds littered the ground with leaves, twigs, and ball moss. A Texas mountain laurel fell over in the sodden soil, and we lost power for 6 hours. A weather event, but nothing compared to the walloping that Houston, our neighbor to the southeast, is still enduring. My thoughts have been with friends and family there, some of whom narrowly escaped having floodwater in their homes.
The first fall rains usually come in September and coax oxblood lilies and hurricane lilies out of the ground, to bloom in a sudden dash of red. Although the rains came early this year, sure enough the first oxblood lily opened yesterday, springing out of the sedge lawn just 24 hours after the rain stopped.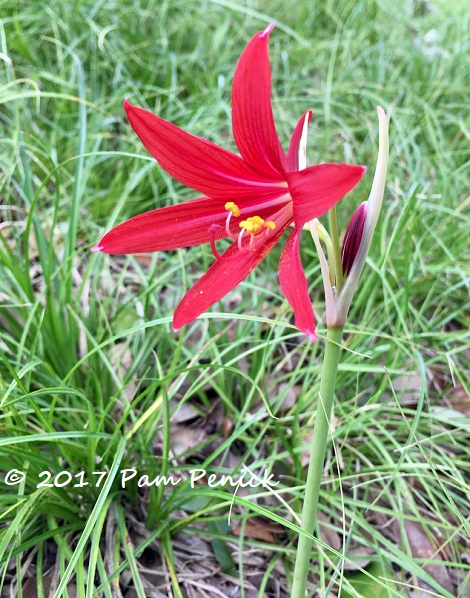 This is a stray that remained in the front garden after I dug the rest out and moved them to the back. Deer enjoyed snacking on them, you see. This one will probably be a munched stem the next time I look.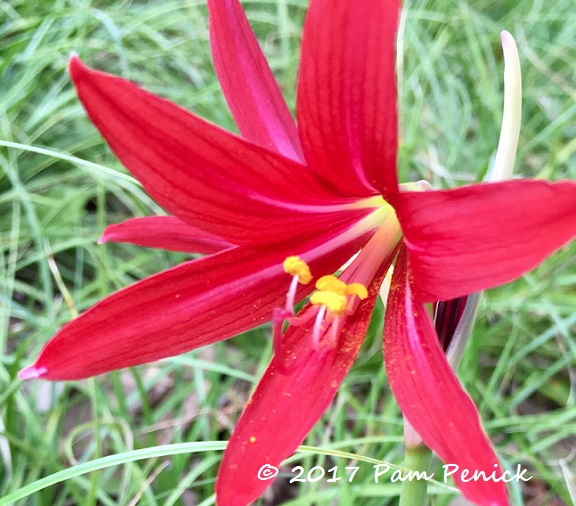 But others are popping up in the back garden, and I look forward to the big show.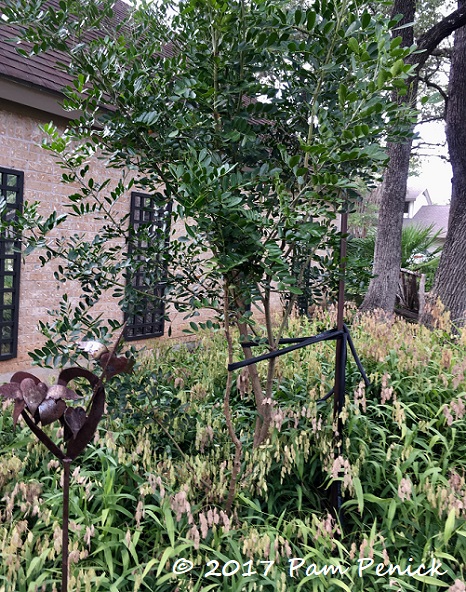 Here's the Texas mountain laurel that toppled over after the storm, one of several fallen mountain laurels I saw around town. The drought-tolerant, smaller trees like this one seem most dismayed by the heavy rains. My son helped me stake it yesterday, and I hope it'll recover its balance. The inland sea oats at its feet are dressed for fall, their tan oats dangling like fish on a line.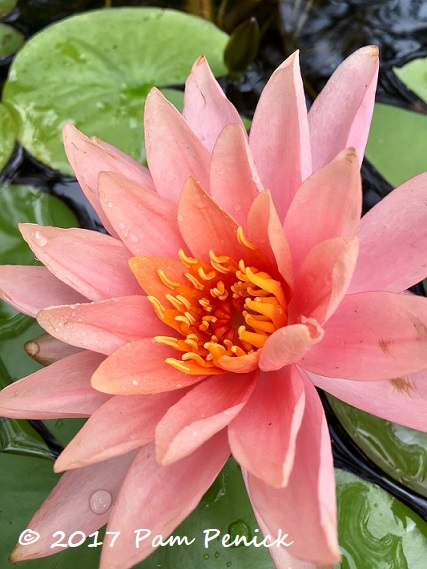 The waterlilies don't mind the rain, of course.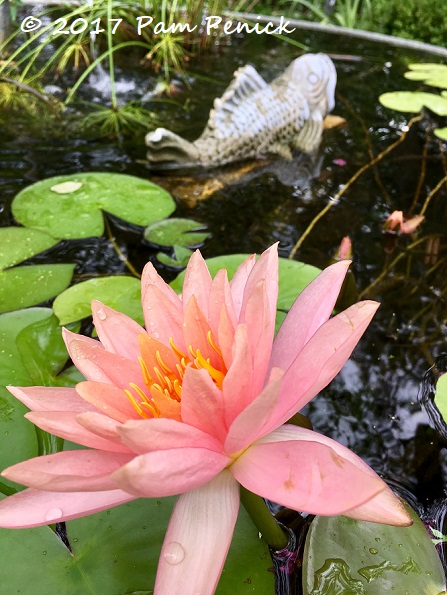 Peachy pink 'Colorado' is always blooming.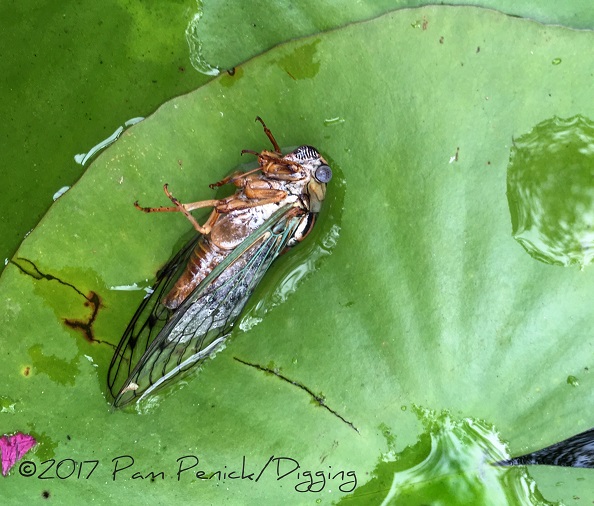 I found this dead cicada on a waterlily pad in the pond, perhaps a casualty of the storm. It's been a big year for cicadas in Austin.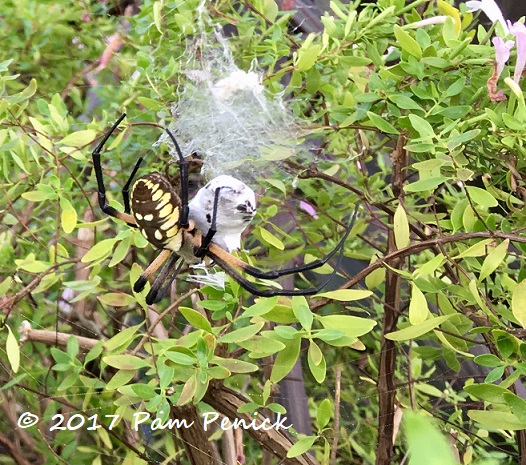 Very much alive and enjoying dinner was this argiope spider in the front garden. I've seen a number of these this summer, although some have disappeared, leaving behind torn webs — victims, perhaps, of bigger and hungrier creatures. Such is the circle of life.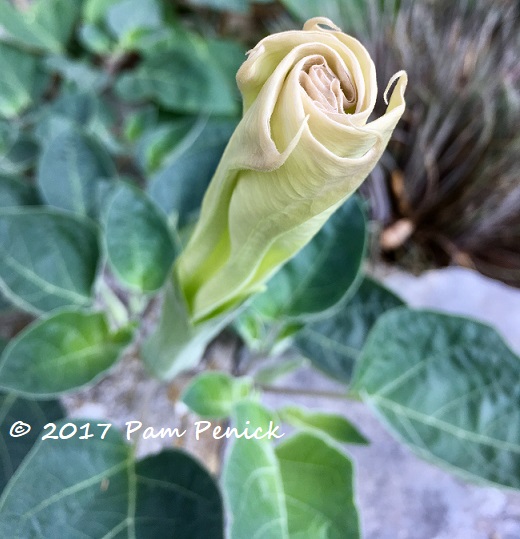 Before the rains, I was enjoying a nightly show of datura blossoms.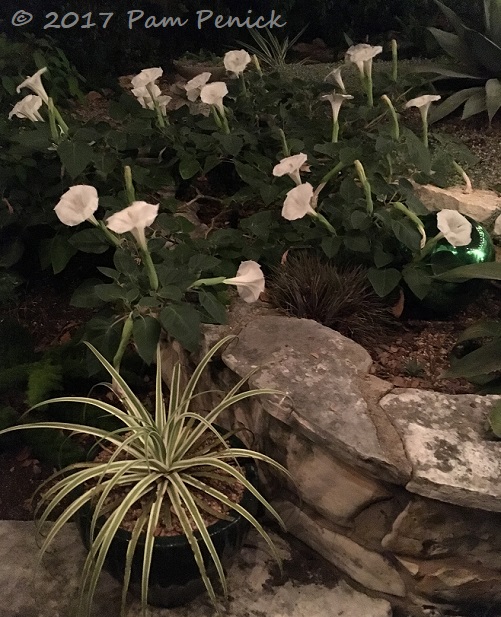 On a recent night there were at least 25 white trumpets glowing by moonlight.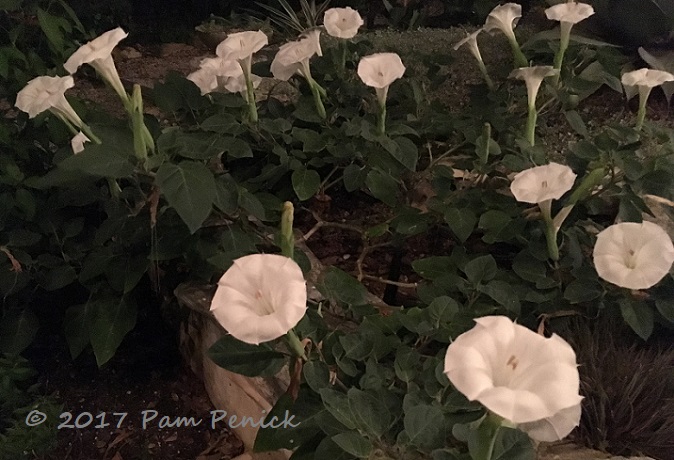 Beautiful and fragrant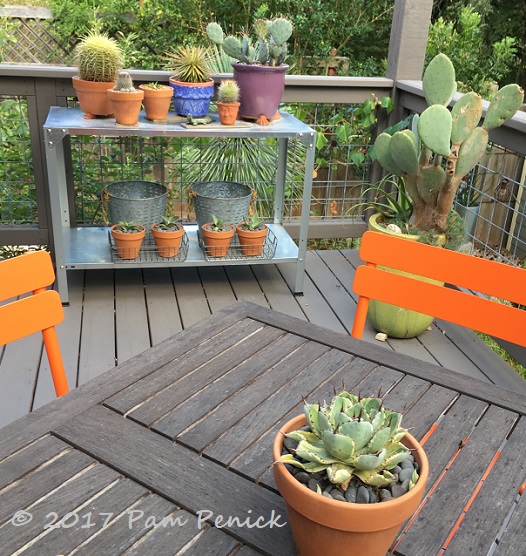 I was away on a road trip from early to mid-August. Right before I left I took a few photos that I didn't have time to post, so here they are, better late than never. This is a collection of sun-loving cacti and succulents on my deck. The galvanized potting table from Target goes well with the galvanized cattle panel railing on the new deck. On the bottom shelf, shaded somewhat from the Death Star's high-beam, are my Moby spawn, aka pups from my dearly departed whale's tongue agave. They've grown quite a bit this summer.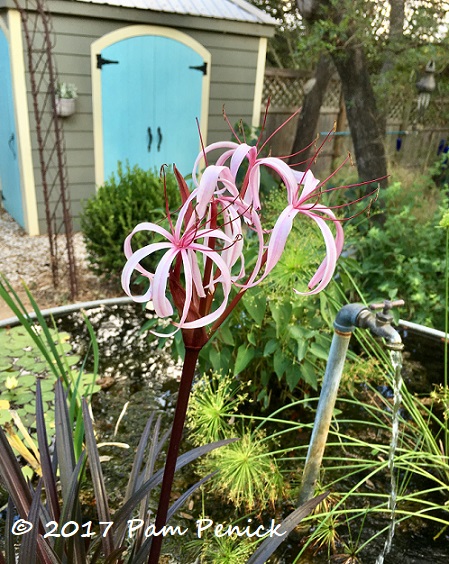 I wait all summer to see my pond crinum bloom, and I nearly missed it — but not quite! It started blooming the day before we left, and I enjoyed it for 24 hours and then came home to a wilted flower stalk lying in the water.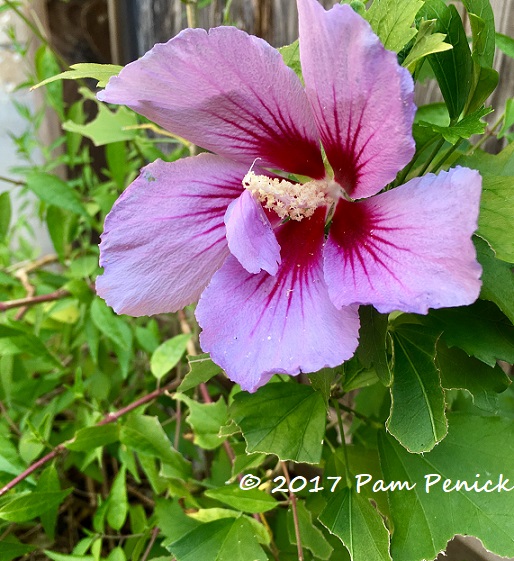 And in the side garden that I don't visit every day, a 'Purple Pillar' rose of Sharon, a trial plant from Proven Winners, was putting on a good show too. Maybe the Harvey rains will encourage a rebloom.
I welcome your comments; please scroll to the end of this post to leave one. If you're reading this in a subscription email, click here to visit Digging and find the comment box at the end of each post.
_______________________
Digging Deeper: News and Upcoming Events
The Austin Cactus & Succulent Society hosts its Fall Show and Sale on September 2 & 3, from 10:00 am to 5:00 pm, at Zilker Botanical Garden (2220 Barton Springs Road). Come see rare and beautiful cacti and succulents and shop for plants and handcrafted pottery. Admission is free with paid entry to Zilker Botanical Garden ($2 adults, $1 children and seniors).
Get on the mailing list for Garden Spark Talks. Inspired by the idea of house concerts, I'm hosting a series of garden talks by talented designers and authors out of my home. Talks are limited-attendance events and generally sell out within just a few days, so join the Garden Spark email list for early notifications. Simply click this link and ask to be added.
All material © 2006-2017 by Pam Penick for Digging. Unauthorized reproduction prohibited.
posted in
2nd garden--2017
,
Agaves
,
Bugs
,
Bulbs/Rhizomes
,
Cactus
,
Containers
,
Fish
,
Flowers
,
Garden art
,
Grasses
,
Groundcovers
,
Patios & decks
,
Plant trial
,
Ponds
,
Seating
,
Sheds
,
Succulents
,
Summer color
,
Water features
,
Water gardening
,
Weather
,
Xeric plants