February 6th, 2018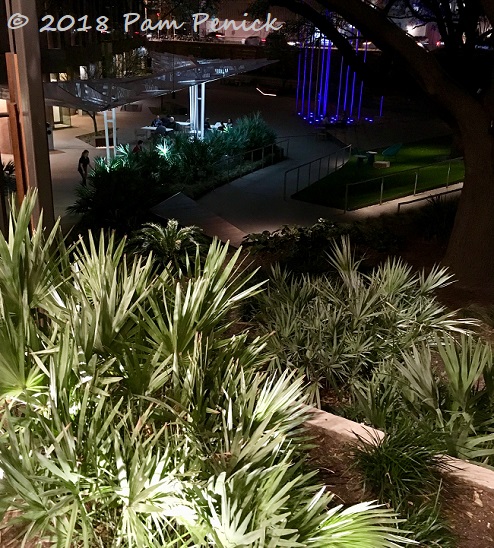 Twice last week I visited buzzed-about Fareground food hall on Congress Avenue in downtown Austin, killing time before shows at the Paramount Theater. I've yet to see Fareground in the daytime, but at night the softly lit landscaping and plaza sure are enticing. (The stairs and outer plaza seating could actually use a little more light, for safety and usability.)
Looking down into the sunken plaza from street level, you view a hillside planted with Texas dwarf palmetto, sedge, and other low-maintenance, shade-tolerant natives. Stairs and a zigzagging ramp lead you toward a perforated white arbor sheltering a few dining tables.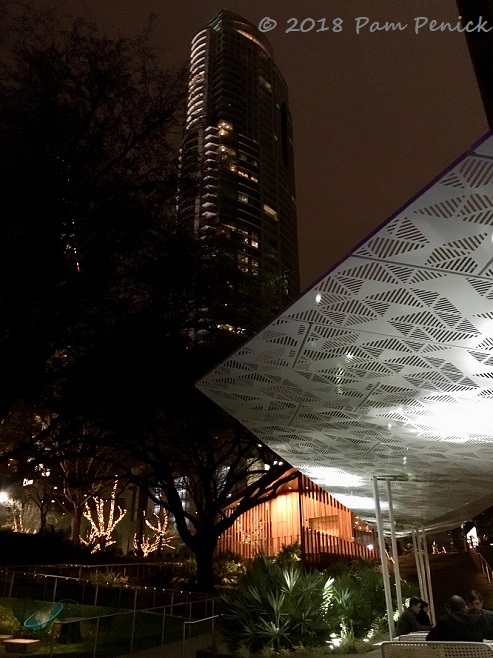 The shade arbor floats over the outdoor dining area like a paper airplane wing. Daniel Woodroffe of Studio DWG, the landscape architect for the project, commented on one of my Instagram pics that the shade structure is called Nimbus.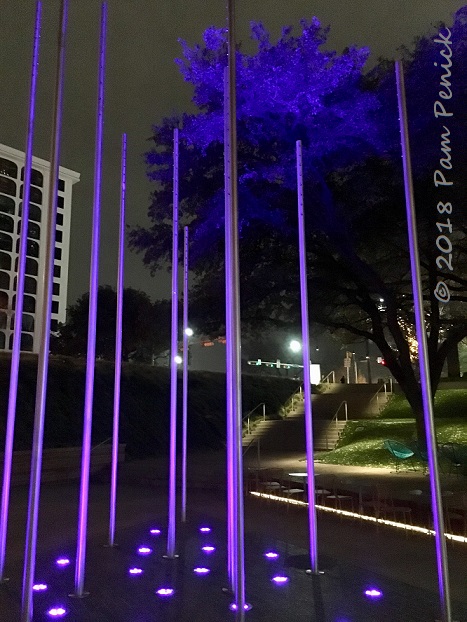 Nearby, in the center of the plaza, stands a light sculpture consisting of 12 tall rods, which Daniel called Cloudscape. He said it "atomizes water into actual clouds that are choreographed into a show with light." According to Studio DWG's website, "Cloudscape, the iconic water feature at the center of the project, is powered by AC-condensation harvested from the tower." Both times I visited, Cloudscape only shifted color slightly, from violet to purple, with no cloud-like formations that I could detect. Does it happen at certain times, I wonder? I'd like to see it.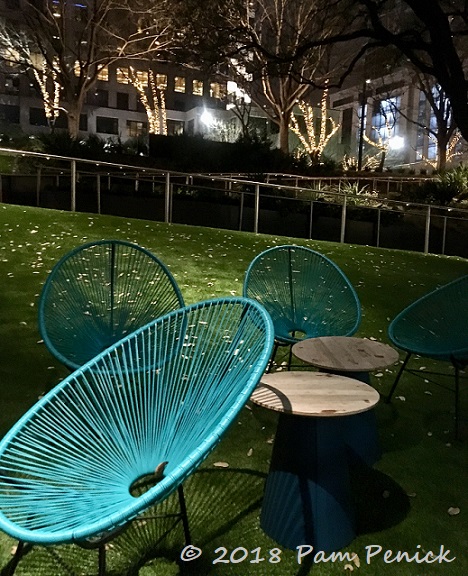 Being a garden geek, I didn't take a single picture inside the beautiful food hall itself. But I admired the contemporary seating options in the plaza and on the hillside, where turquoise Acapulco wire chairs are gathered around portable round-top tables. The lawn is faux, which is a smart choice for this dry-shade hillside that will see tons of foot traffic and butt lounging.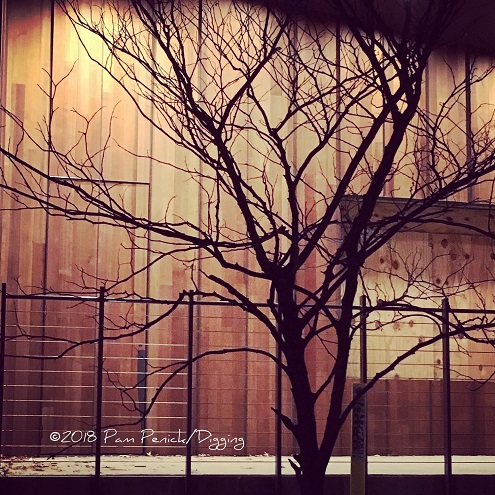 A wintry tree — a redbud, by the looks of it — awaits spring's greening touch.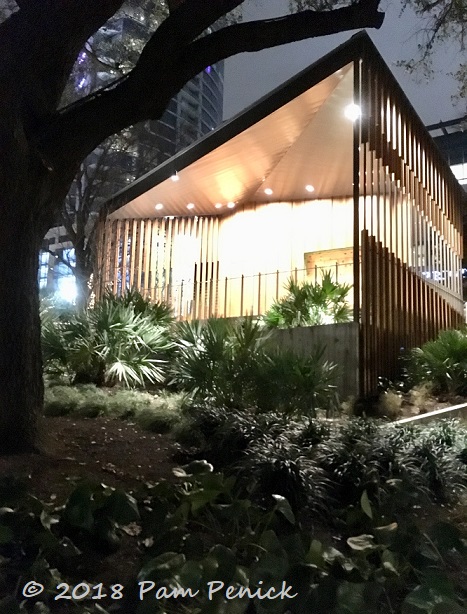 But overall the grounds look green and lush, in spite of our unusually cold winter. On the chilly nights when I visited, only a few hardy diners were sitting on the patio. Everyone else was packed into the indoor seating. But soon enough Fareground's plaza and hillside lawn will be filled with happily noshing Austinites and visitors.
I welcome your comments; please scroll to the end of this post to leave one. If you're reading this in a subscription email, click here to visit Digging and find the comment box at the end of each post.
_______________________
Digging Deeper: News and Upcoming Events
Calling all garden bloggers! You're invited to register for the annual Garden Bloggers Fling tour and meetup, which will be held in Austin this May 3rd-6th! Click this link for information about registering, and you can see our itinerary here. Space is limited, so don't delay. The 2018 Fling will be the event's 10th anniversary, which started in Austin in 2008.
Join the mailing list for Garden Spark Talks! Inspired by the idea of house concerts, I'm hosting a series of garden talks by inspiring designers and authors out of my home. Talks are limited-attendance events and generally sell out within just a few days, so join the Garden Spark email list for early notifications. Simply click this link and ask to be added.
All material © 2006-2018 by Pam Penick for Digging. Unauthorized reproduction prohibited.