November 15th, 2017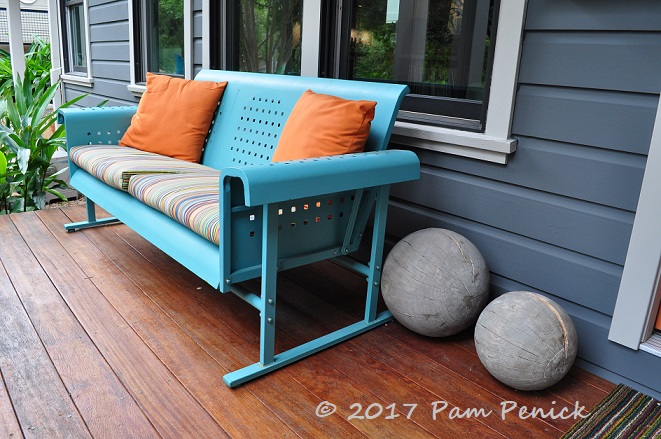 For a refreshing contemporary design with fun colors and a restrained palette of tough-as-nails native plants, designer B. Jane's garden is the place to hang out. Her personal garden in Austin's Brentwood neighborhood was featured on the Garden Conservancy-sponsored Open Days tour a couple of weeks ago. Turquoise, orange, and gray set the color scheme for her garden decor on the front porch.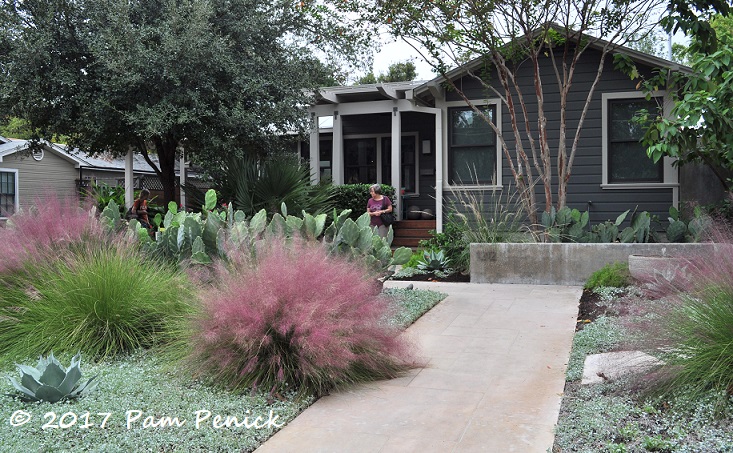 But before we head to her back-yard getaway, let's explore the no-lawn front garden, where linear masses of agave, Gulf muhly grass, and prickly pear grow, with silver ponyfoot filling in all around. A low concrete wall at the L-turn in the Lueders limestone front walk displays the house number.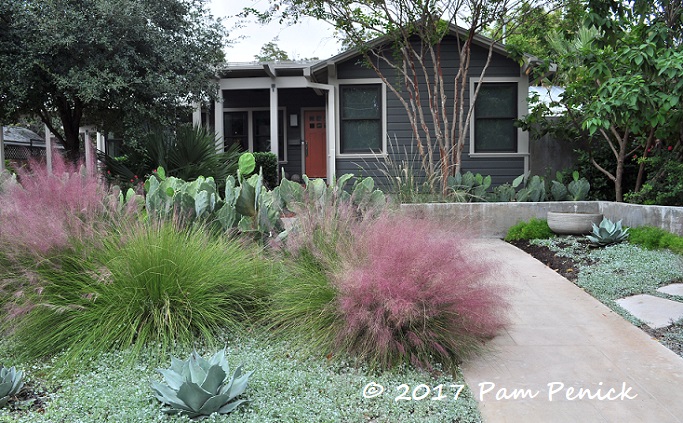 It abuts a curved wall at right, creating a nook for a recirculating water feature.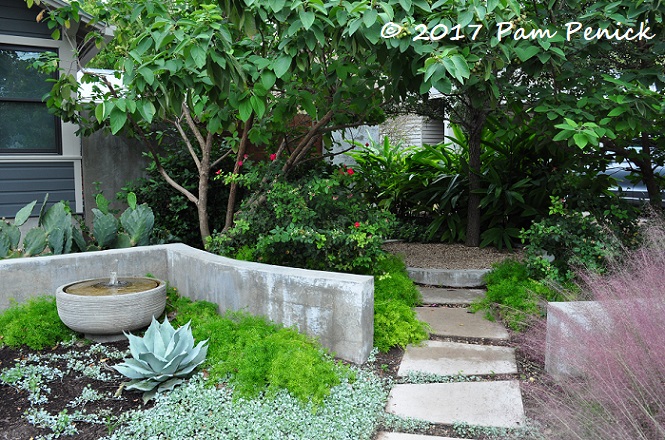 An angular, stepping-stone path path leads through a gap in the curved wall to a circular secret-garden space, where lush foliage helps screen the neighbor's driveway and garbage cans from view.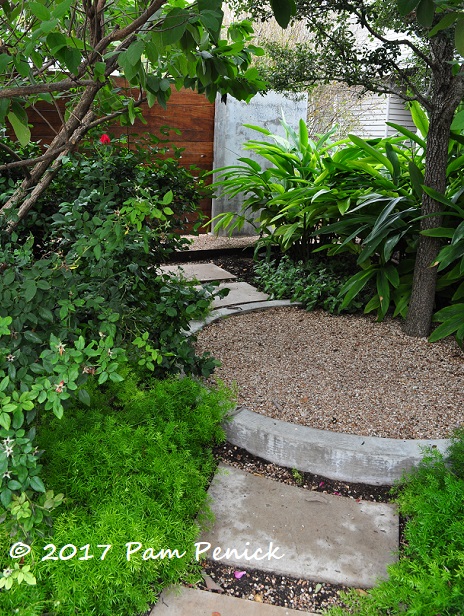 B. makes circles around her trees with pea gravel and generously spaced edging — here a concrete ring. I like the way it sets off the tree trunks and creates a little tree patio. Asparagus fern and ginger add subtropical lushness.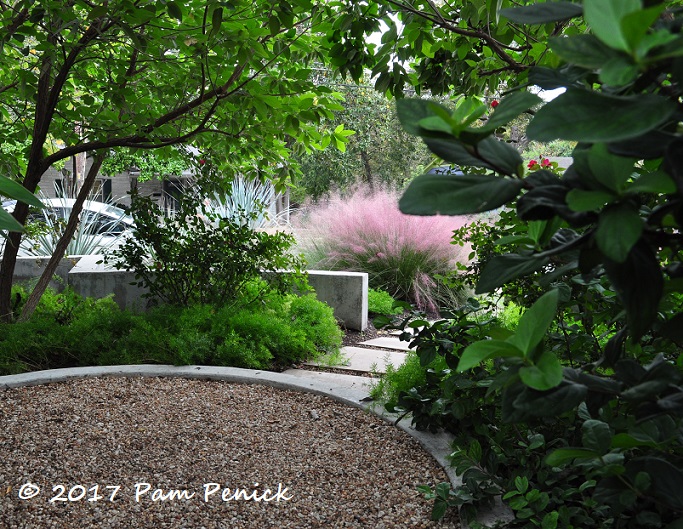 Here's the view back toward the street. Wouldn't this make a fun hideaway play space for kids?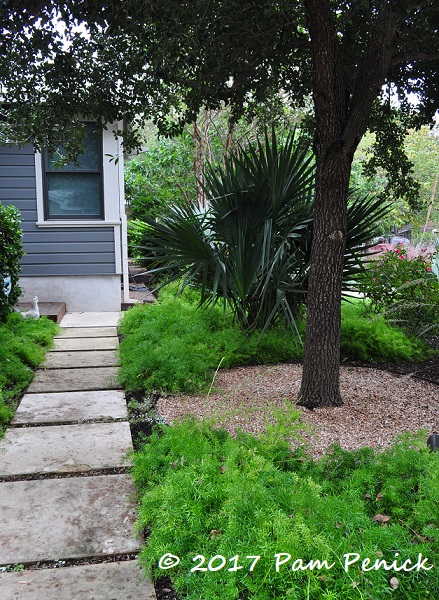 Another tree circle as seen from the driveway, with fan-like palmetto and fluffy asparagus fern.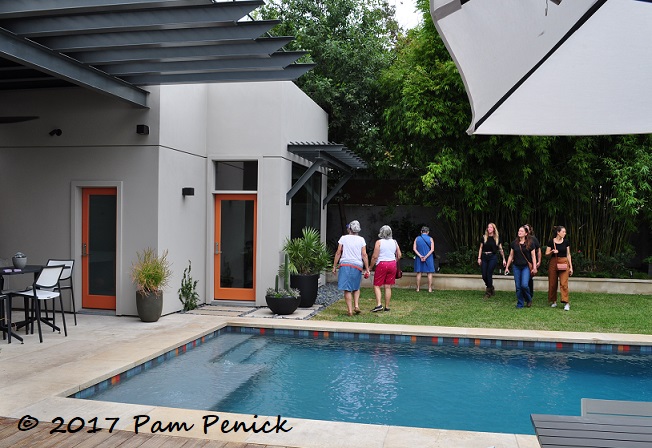 As you enter the back garden, the first thing you see is a rectangular swimming pool with colorful tiles — in shades of turquoise, orange, and gray — at the water line. B.'s husband offices in the orange-doored room with a cool steel awning.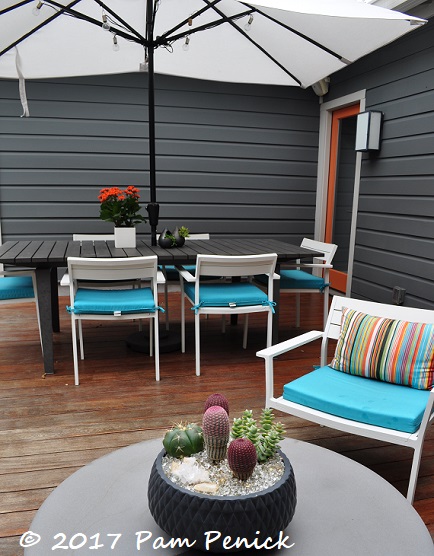 A dining patio and sitting area connect the home's kitchen with…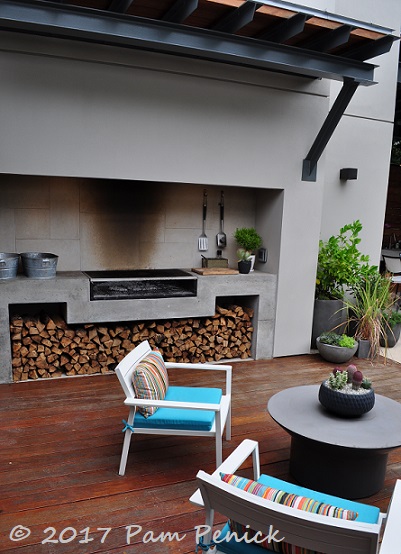 …a wood-burning grill and outdoor kitchen. This place is made for entertaining and relaxing.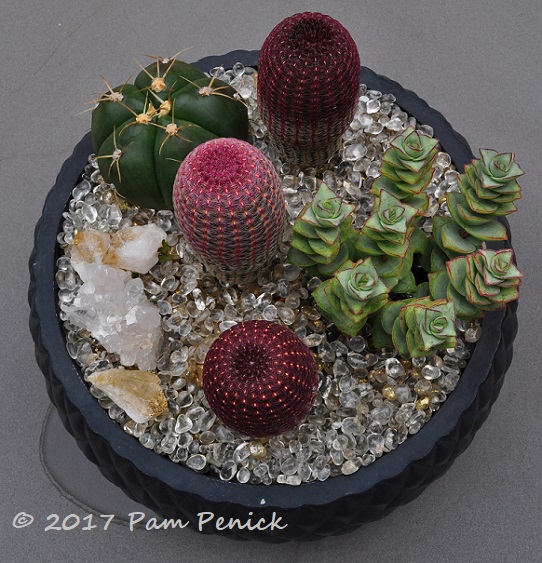 Cactus bowl with glass mulch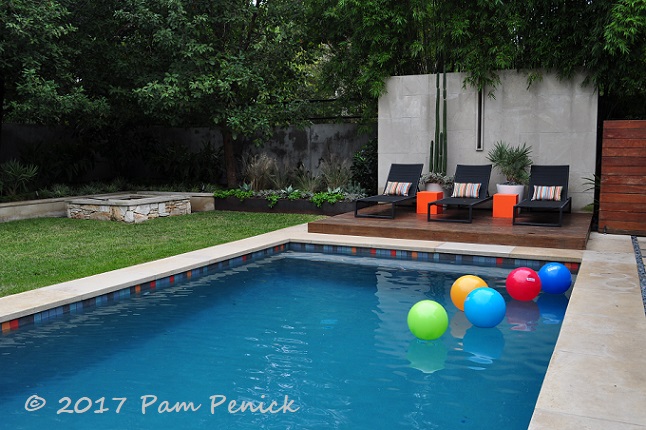 B. tossed in a bunch of colorful beach balls to echo the tile colors and add a fun vibe. A chaise lounge deck at the other end of the pool has a punch of color too, with orange cube tables and striped pillows. A notched concrete wall backs the chairs and creates privacy.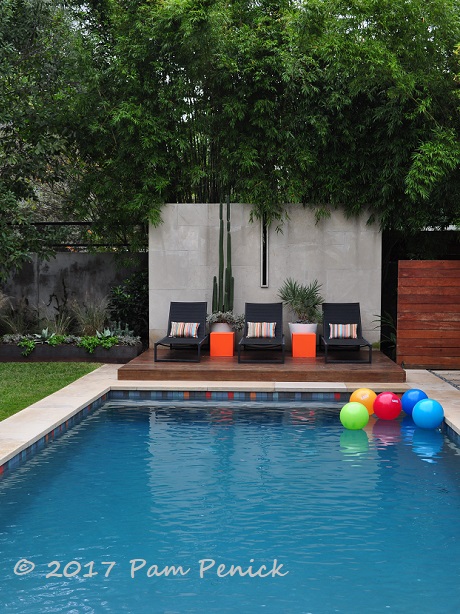 Beautifully furnished and Instagram ready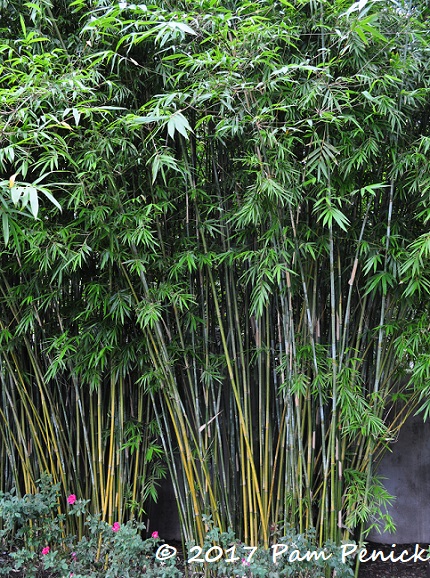 'Gracilis' bamboo lines much of the garden's perimeter for additional privacy. Bamboo needs to be pruned up regularly (like, really regularly) to keep it looking its best, and B.'s is nicely pruned to show off the yellow and blue-green culms.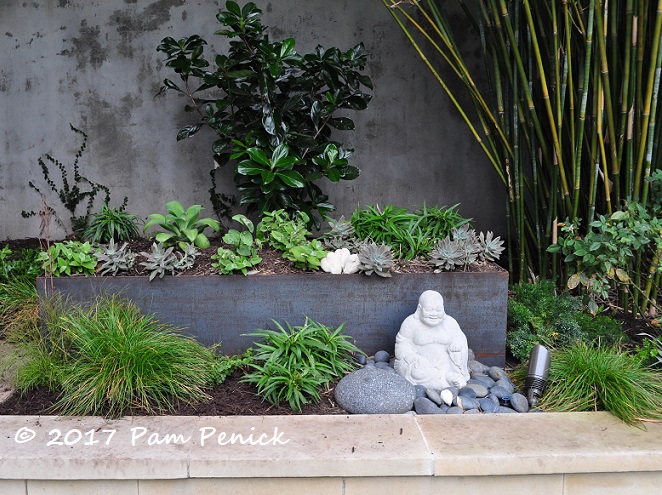 A steel planter box with succulents, a small Buddha, and gray river stones make a Zen-like vignette amid the bamboo.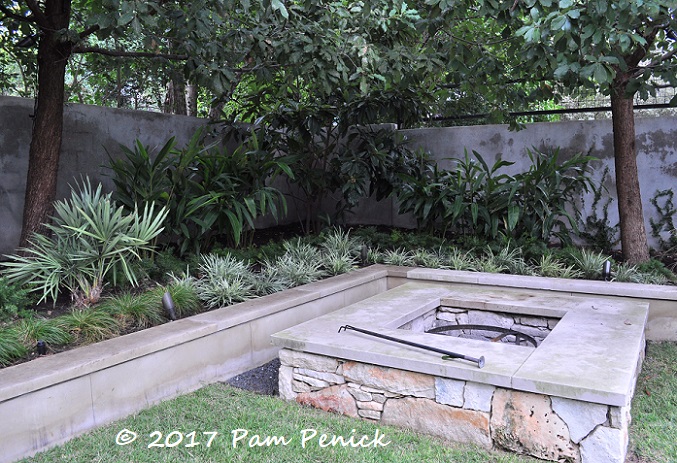 A stone fire pit and surrounding seat wall occupies the far corner of the garden. Aztec grass brightens up the shady corner. Notice the modern concrete wall topped with a steel trellis — a clean-lined backdrop for the garden.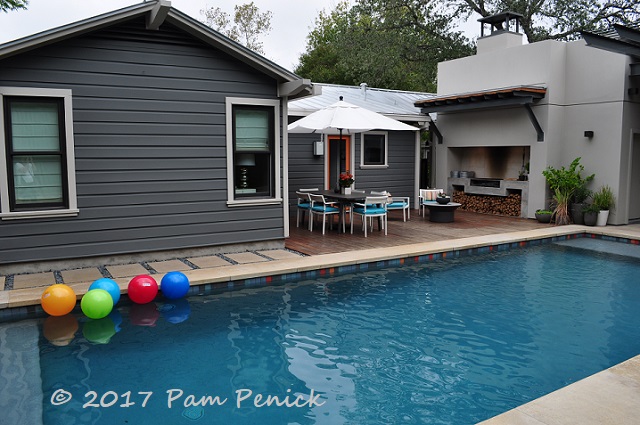 The diagonal view back toward the house and dining patio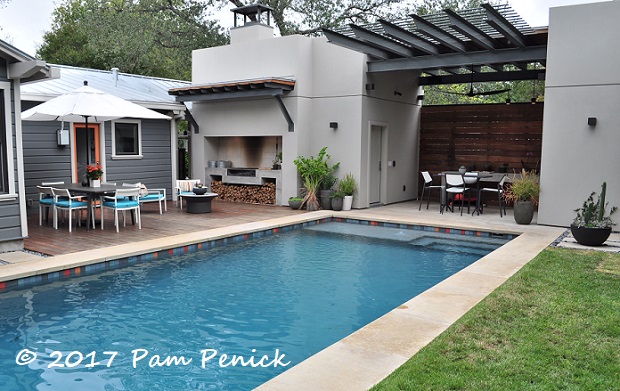 Another patio is tucked in the arbor-shaded niche between the outdoor kitchen and her husband's office. A narrow storage space is hidden behind the patio's wooden screen.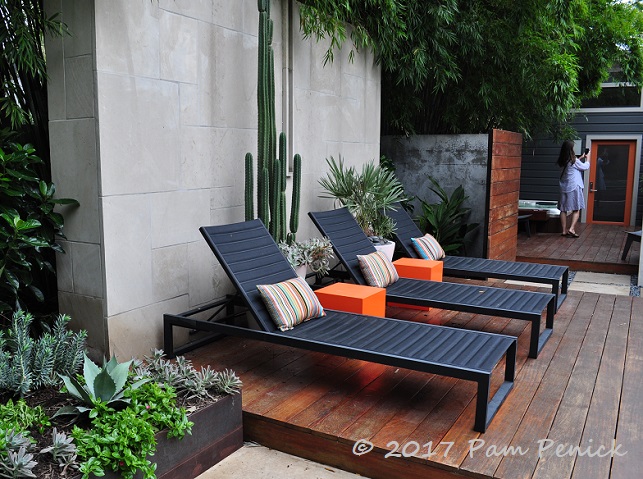 Beyond the chaise lounge deck is a semi-private patio with a hot tub. An ipe gate in a concrete wall can be closed for complete privacy from the main garden.

Entry detail, with fig ivy winding its way up the concrete wall.

The hot tub deck is inviting with a Zen-like seating area and an outdoor shower. B. offices in the orange-doored room at the end of the deck.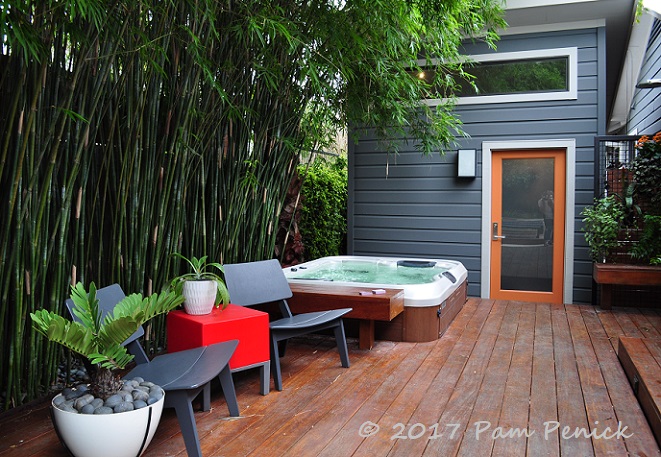 Bamboo creates a narrow wall of greenery, and a cardboard palm mulched with round river rock grows in the white bullet planter.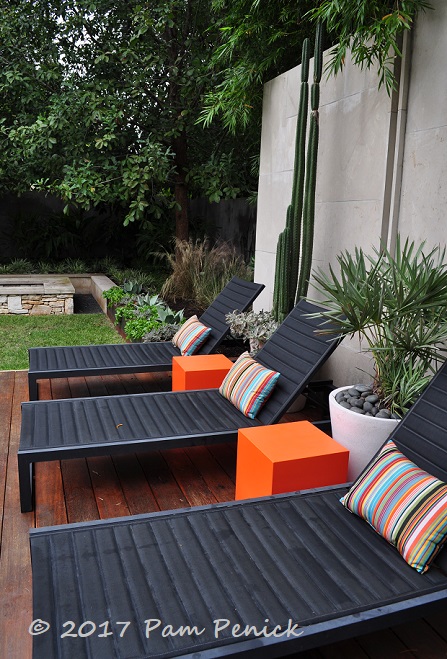 From the hot tub deck, you look out on the lounge deck. What a place to relax or play, eh?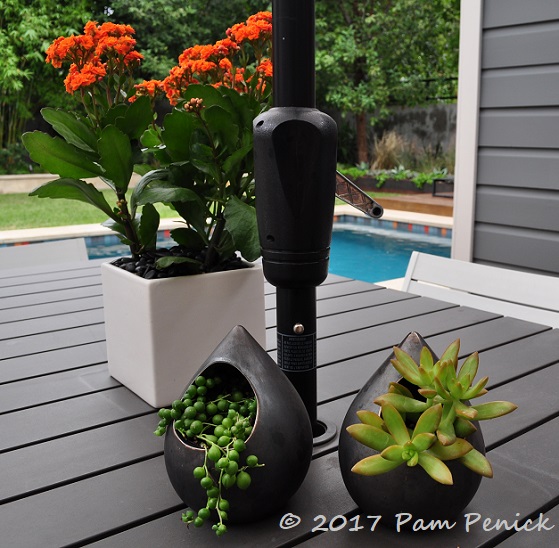 Thanks for sharing your garden on tour, B.! If you'd like another tour around B.'s garden from last spring, click here.
Up next: The Lakemoore Drive garden designed by Curt Arnette. For a look back at the lovely Casey Boyter-designed garden at Cloverleaf Drive, click here.
I welcome your comments; please scroll to the end of this post to leave one. If you're reading this in a subscription email, click here to visit Digging and find the comment box at the end of each post.
_______________________
Digging Deeper: News and Upcoming Events
Calling all garden bloggers! You're invited to register for the annual Garden Bloggers Fling tour and meetup, which will be held in Austin next May 3-6, 2018! Click this link for information about registering, and you can see our itinerary here. Space is limited, so don't delay. The 2018 Fling will be the event's 10th anniversary, which started in Austin in 2008.
Join the mailing list for Garden Spark Talks! Inspired by the idea of house concerts, I'm hosting a series of garden talks by inspiring designers and authors out of my home. Talks are limited-attendance events and generally sell out within just a few days, so join the Garden Spark email list for early notifications. Simply click this link and ask to be added.
All material © 2006-2017 by Pam Penick for Digging. Unauthorized reproduction prohibited.
posted in
Agaves
,
Bamboo
,
Cactus
,
Containers
,
Decor
,
Design
,
Fences
,
Firepits
,
Fountains
,
Garden art
,
Garden structures
,
Garden tours 2017
,
Grasses
,
Groundcovers
,
Lawns
,
Outdoor showers
,
Paths
,
Patios & decks
,
Seating
,
Succulents
,
Swimming pools
,
Trees
,
Walls
,
Water features