October 24th, 2013

Look low, not up in the trees, for vibrant autumn color in an Austin garden. Our trees tend not to turn until early December. But fall-flowering perennials provide plenty of pizzazz until then. Right now in my garden I'm enjoying golden thryallis (Galphimia gracilis), which blooms all summer but turns it up a notch with fall's cooler temperatures.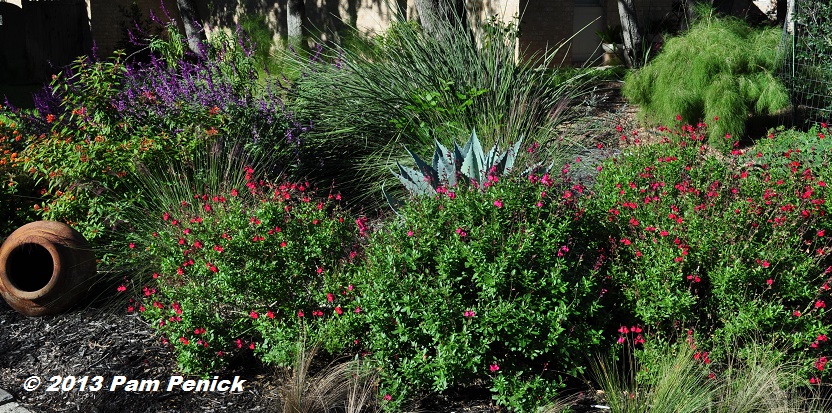 Out front at curbside, my neighbor's garden is a festive explosion of autumn sage (Salvia greggii), dwarf Mexican firebush (Hamelia patens 'Compacta'), orange lantana, and Mexican bush sage (Salvia leucantha), all surrounding a young but fast-growing 'Whale's Tongue' agave (A. ovatifolia).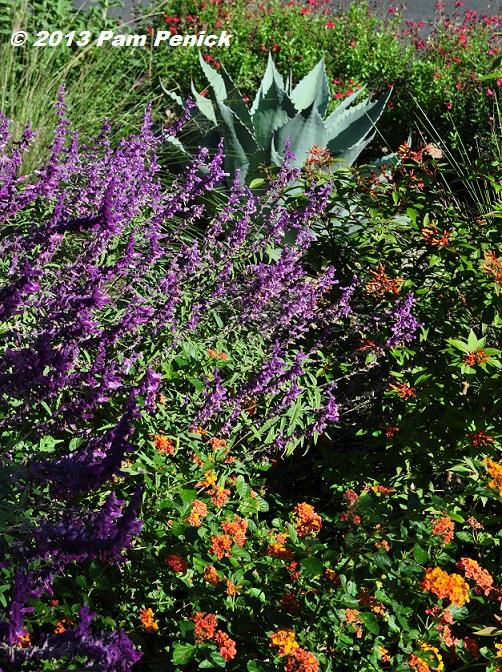 Purple-flowering Salvia leucantha and orange lantana make a classic fall combo in Austin.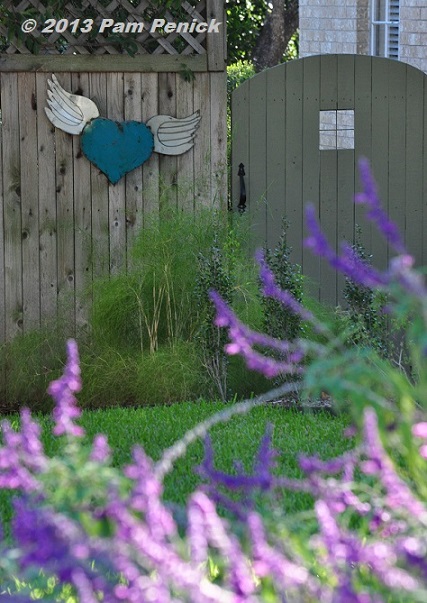 Color can come from garden art too!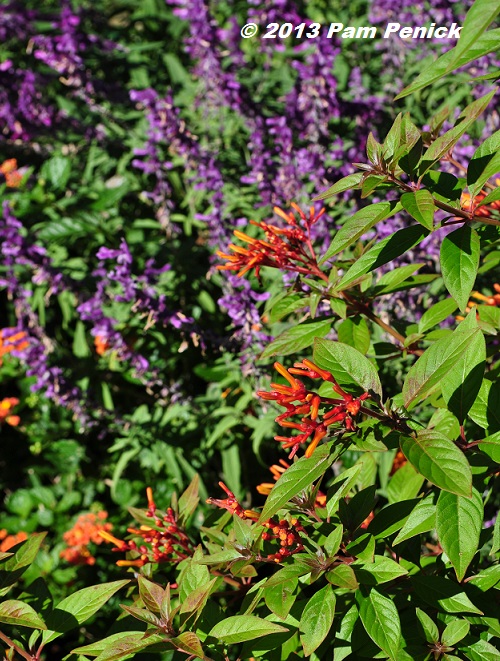 Mexican firebush (Hamelia patens) adds more orange blooms, along with handsome, orange-tinged leaves.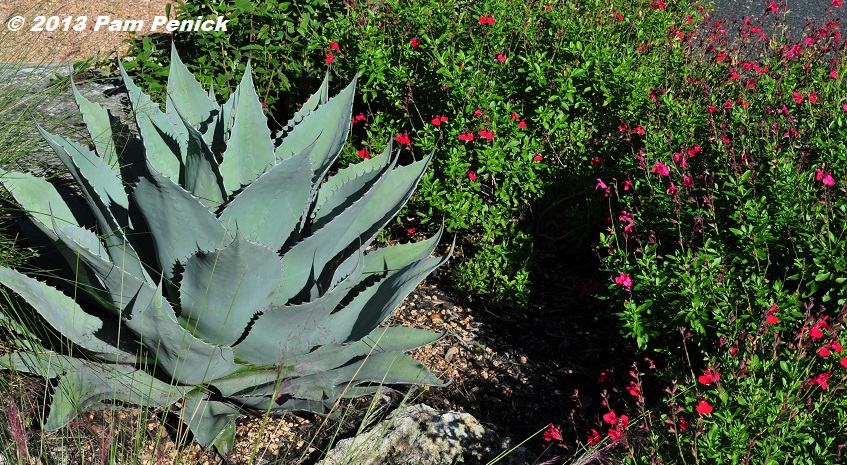 'Whale's Tongue' agave (A. ovatifolia) and autumn sage (Salvia greggii)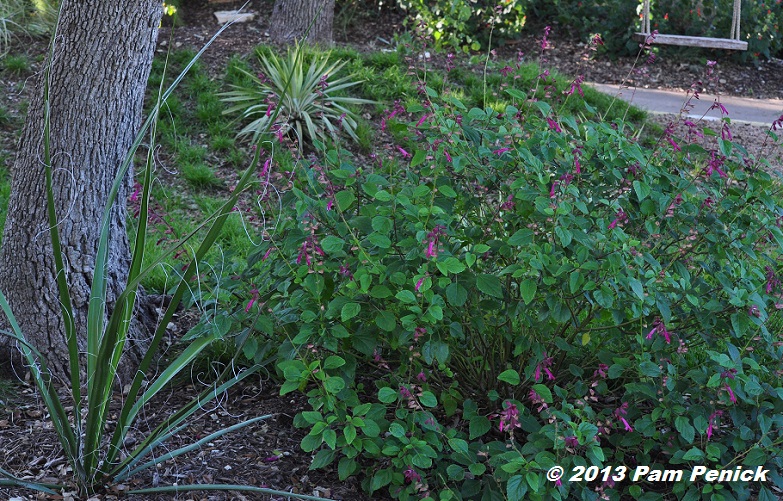 'Wendy's Wish' salvia is new to my garden this year. It bloomed beautifully all summer in dappled shade and proved completely deer resistant. It's considered a tender perennial in Austin. Fingers crossed that it returns next spring.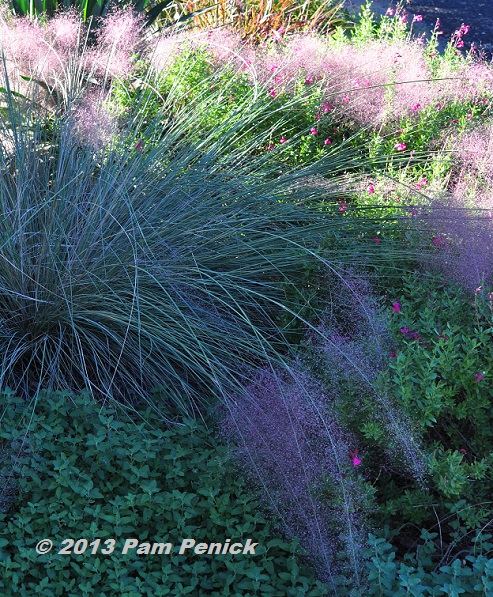 All summer I anticipate the fall flowering of my 'Pink Flamingos' muhly, a cross between our native Gulf muhly and Lindheimer muhly grasses. Early this month the sparkling pink inflorescences appeared — and then they flopped in the heavy rains…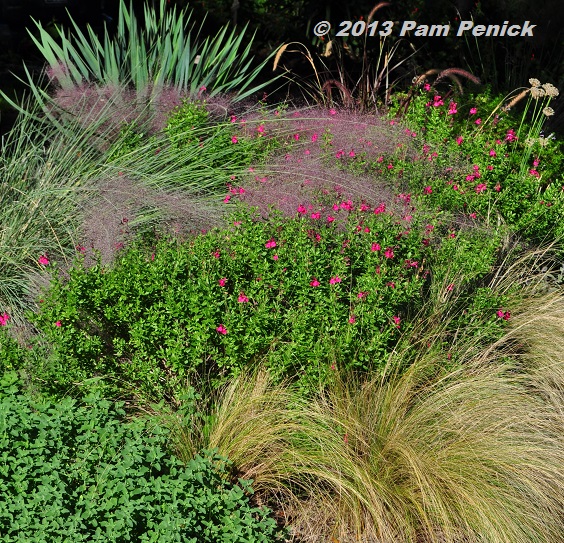 … and they've draped lazily across the hot-pink Salvia greggii ever since.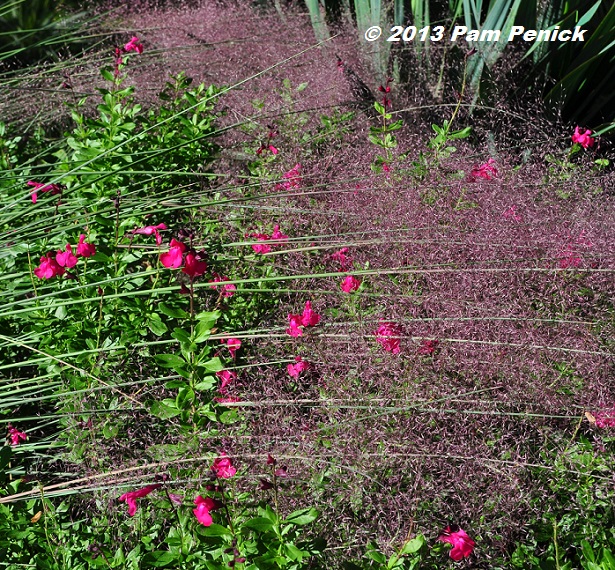 Still quite pretty, although not quite the effect I was going for.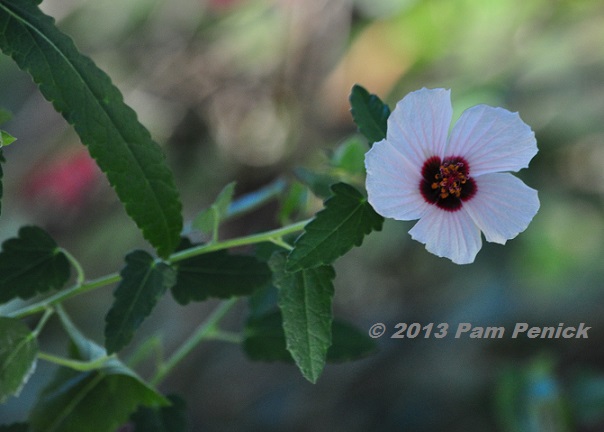 Pale pavonia (Pavonia hastata), another tender perennial, would look pretty with the pinks of the muhly and salvia, but it's growing in the island bed in the driveway, where it seeded itself from a mother plant long gone.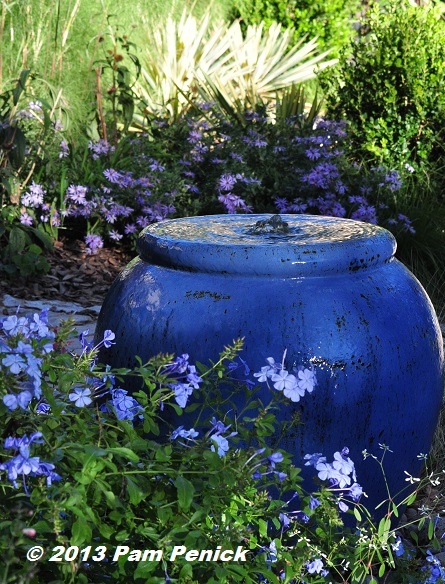 In the back garden, our native fall aster (A. oblongifolius) is in full bloom, along with summer-blooming plumbago (P. auriculata) that still has legs. A blue disappearing fountain adds permanent color to the scene.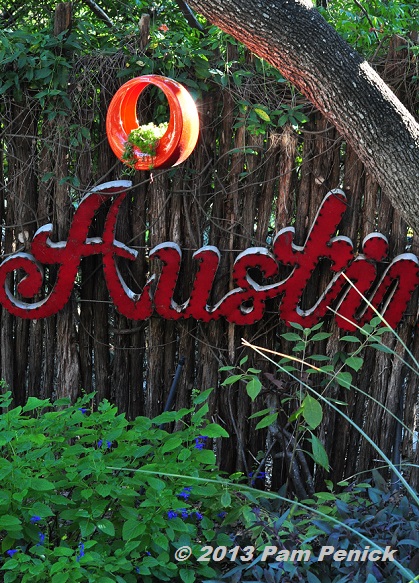 Hmm, I sense a theme — vivid color — in my garden decor. Under the red-orange circle planter from Potted and a red Austin sign, the cobalt blooms of black-and-blue sage (Salvia guaranitica) feed migrating hummingbirds.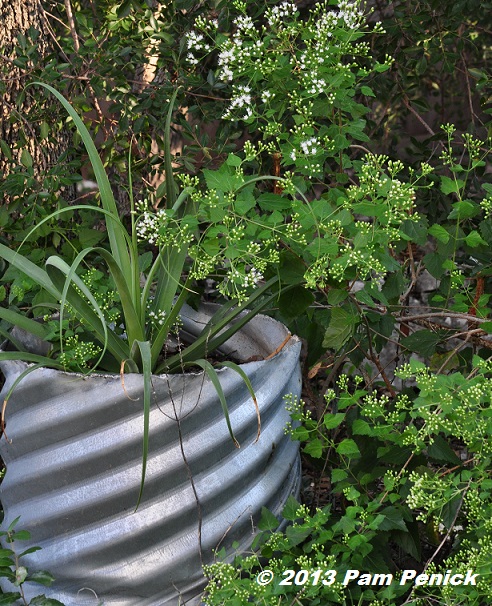 But it's almost Halloween, and a little ghostly white is not unwelcome in the fall-flowering garden. One of the latest bloomers in my garden is shrubby white boneset, aka white mistflower (Ageratina havanensis), which is just opening its spicy-scented sprays. I like the way the white flowers look with the silver gleam of the culvert-pipe planters. Soon bees and butterflies will be drawn to the lure of the mistflower.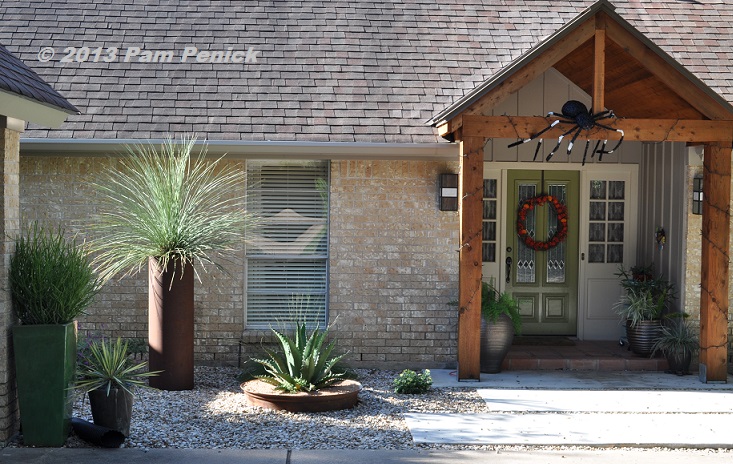 The garden is also quite spider friendly, and we have a big one on the front porch. Visitors, beware!
All material © 2006-2013 by Pam Penick for Digging. Unauthorized reproduction prohibited.
posted in
2nd garden--2013
,
Agaves
,
Containers
,
Decor
,
Fall color
,
Fountains
,
Garden art
,
Grasses
,
Patios & decks
,
Seating
,
Texas natives
,
Water features
,
Xeric plants
,
Yuccas