October 31st, 2015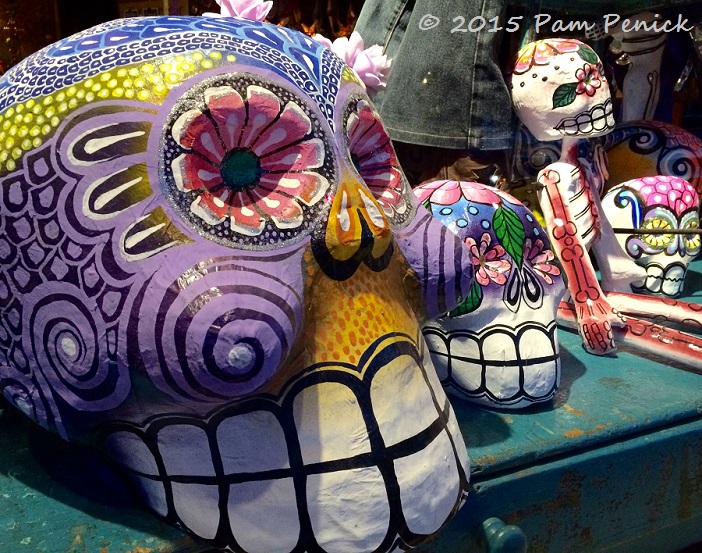 I had dinner on Austin's iconic South Congress Avenue on Wednesday evening and afterward took a leisurely stroll to people-watch and window-shop. Honky-tonk music from Guero's Oak Garden filled the cool evening air, people were smiling, and the street had a festive yet laid-back vibe that made me fall in love with Austin all over again.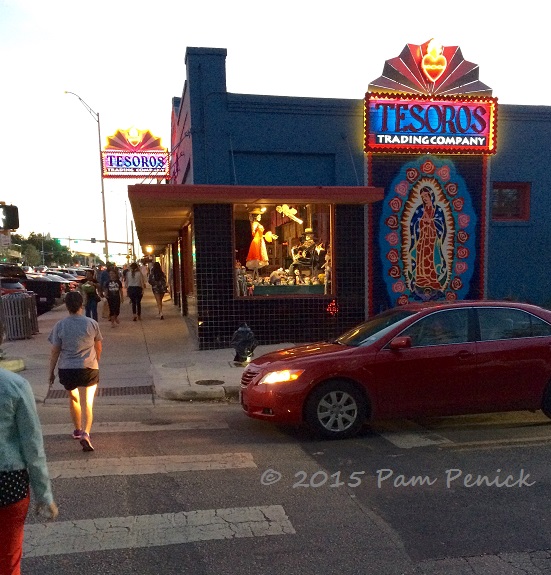 Tesoros had closed for the day…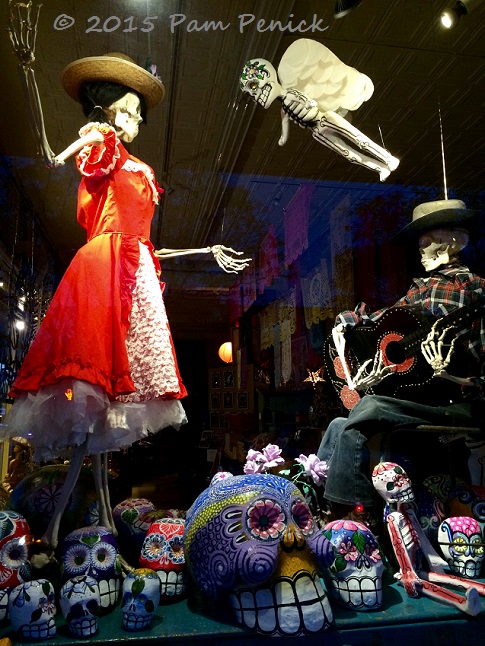 …but Dia de los Muertos skeletons were having a party in the shop window. A bony fellow played the guitar while a skinny gal in a red dress danced and a skeleton cherub hovered overhead.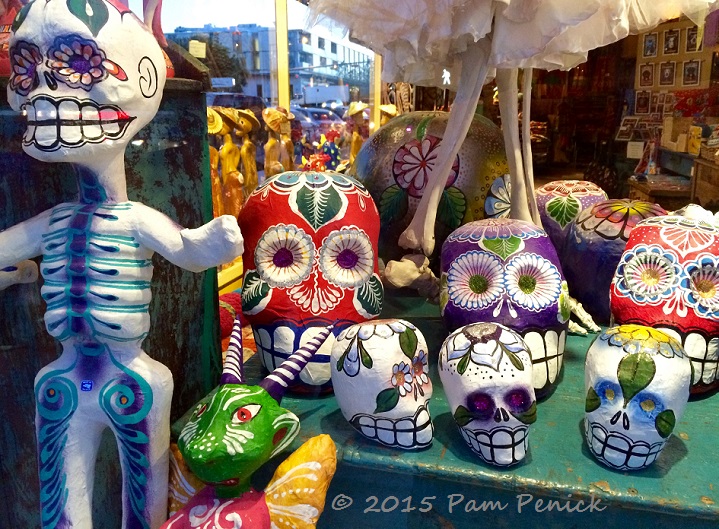 Colorfully painted skulls with flower eyes and leafy adornment illustrate the celebratory nature of Dia de los Muertos, so unlike Halloween's horror of death.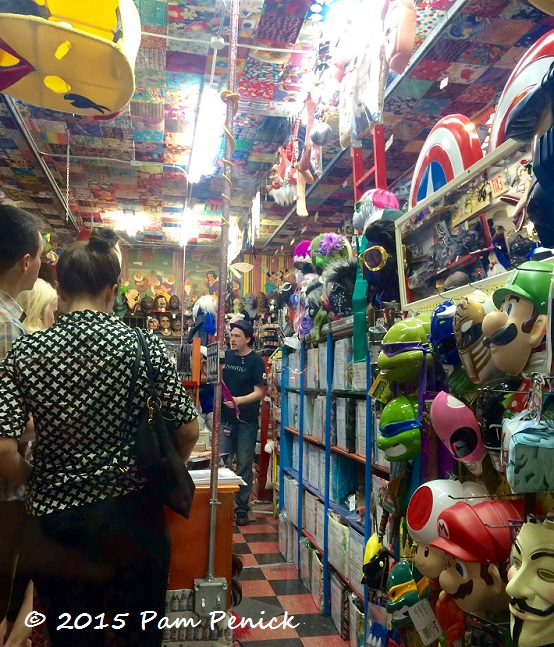 Speaking of Halloween, costume shop Lucy in Disguise with Diamonds was doing a brisk business.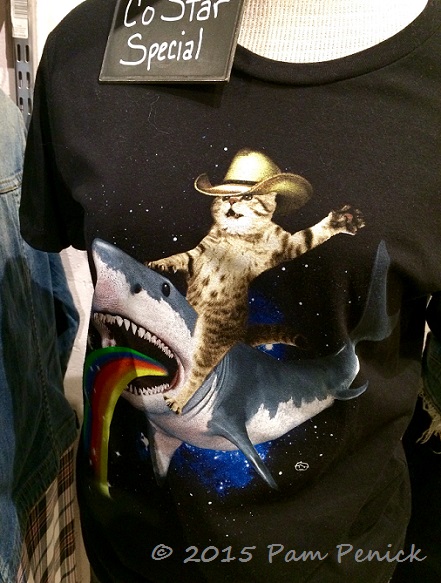 In a nearby clothing shop, I spotted this hilarious t-shirt…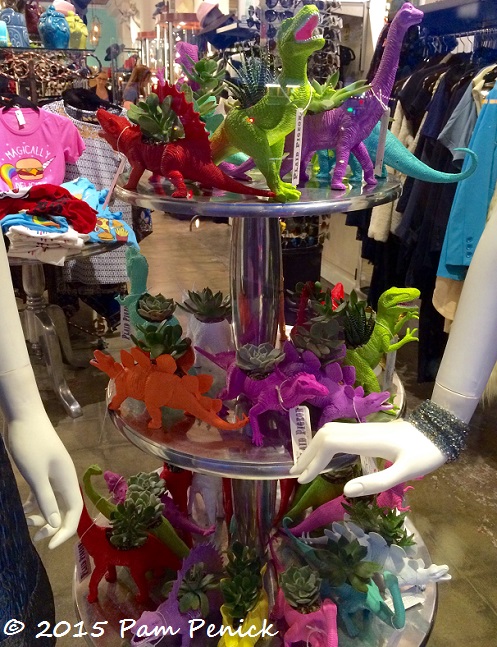 …and crayon-bright dino planters filled with succulents — fun!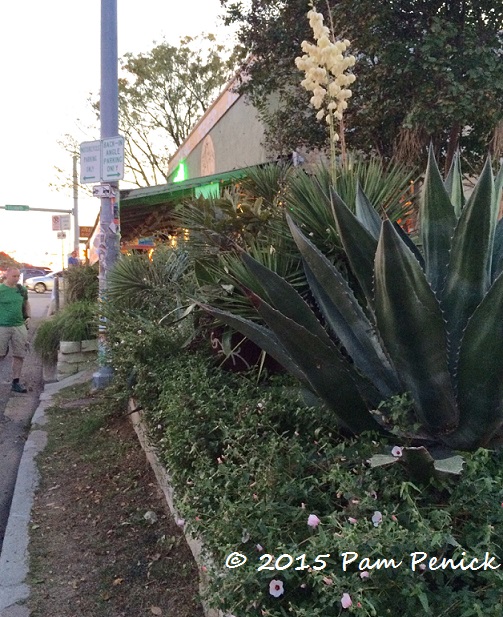 Outside, super-sized succulents — agaves and yuccas — grow in street planters.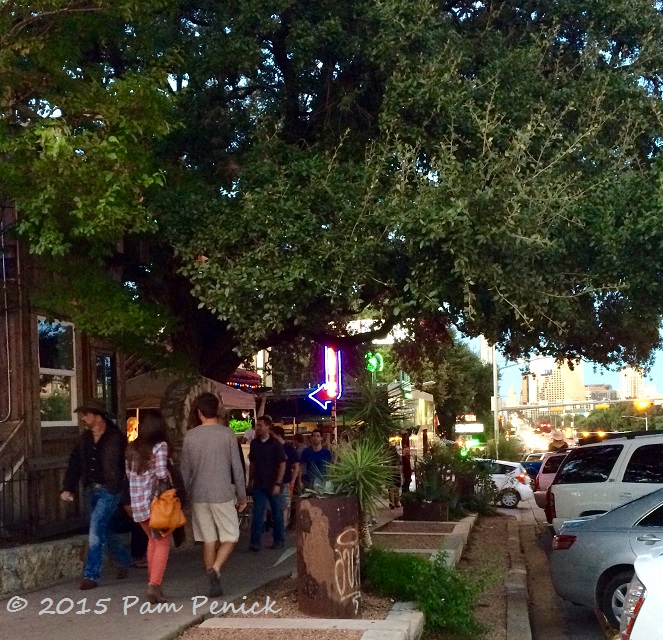 Live oaks offer shade to strolling tourists and locals, as always a mix of hipsters, cowboys, students, hippies, and techies. Look all the way down the street and squint, and you'll see the buildings of downtown and the Texas Capitol building.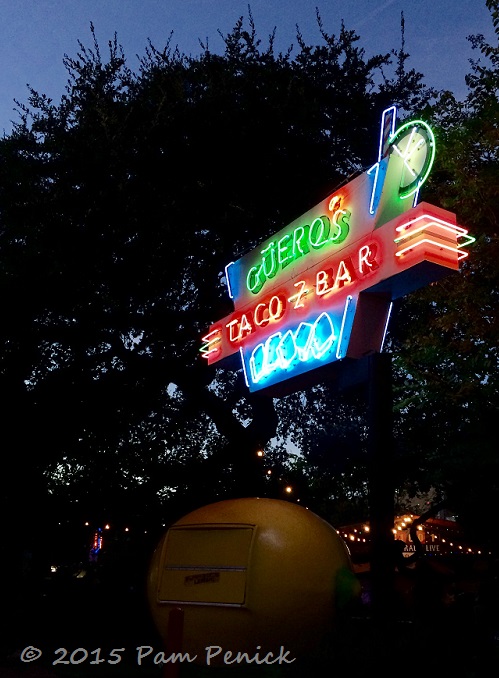 Guero's Oak Garden was pulling people in with cold beer, tacos, and live music by Ted Roddy.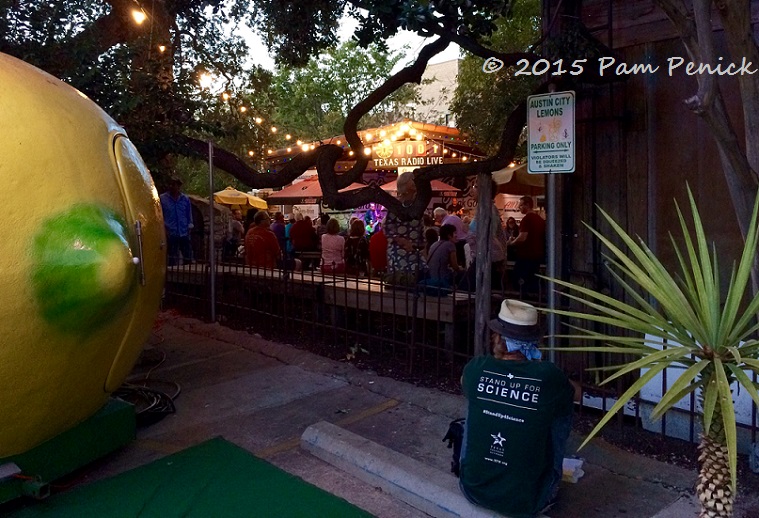 Listeners sit on wooden benches beneath live oaks, with string lights glowing overhead. Notice the Austin City Lemons parking sign. Yes, that is a lemon-shaped food truck at the left.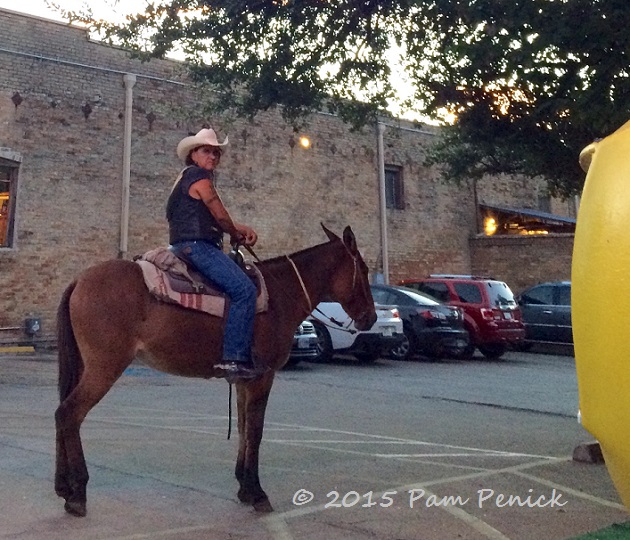 This guy on a horse — a regular on South Congress — was parked nearby, checking it all out.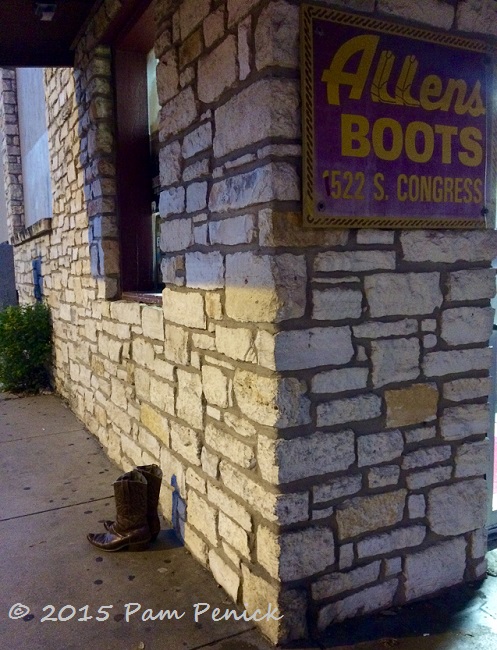 Speaking of cowboys, Allens Boots is the place to get your boots. As I walked by the closed-up shop, I wondered about the pair of boots sitting out on the sidewalk.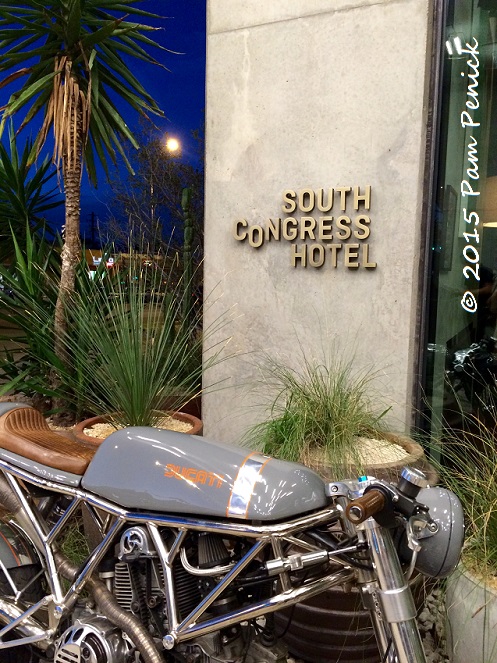 From old Austin to new Austin — the South Congress Hotel, a hip new boutique hotel, is open for business where the food-trailer park used to be.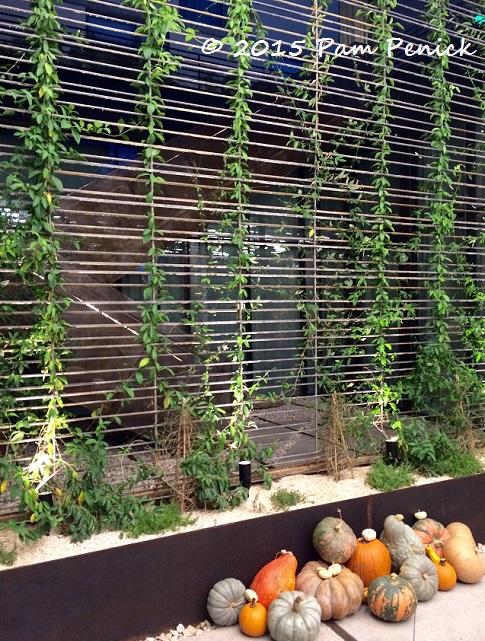 Its landscaping caught my eye, like this horizontal rebar trellis and Corten planter at the entrance. The friendly valets invited me to have a look at the hotel lobby and bar, which I did. It was the definition of Austin cool, and I plan to go back and get pictures of its courtyard garden sometime.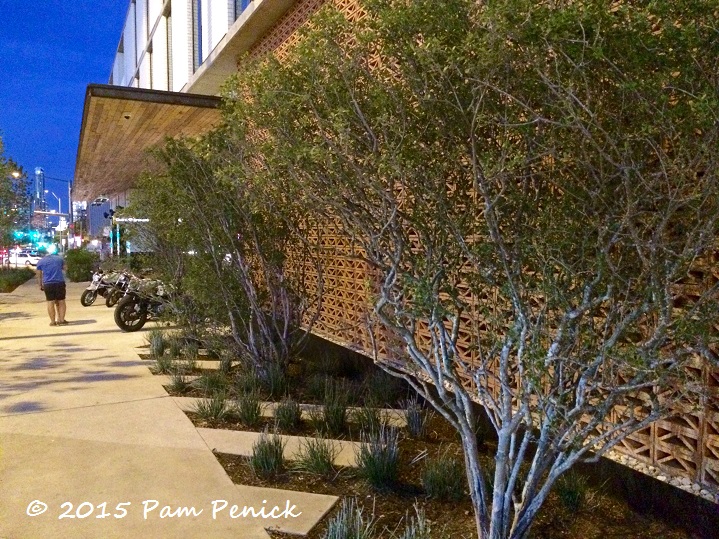 Along the street frontage, white-trunked Texas persimmons grow amid concrete strips, which remind me somewhat of a High Line detail. Christine Ten Eyck, Austin's premiere landscape architect of sustainable gardens, did the design.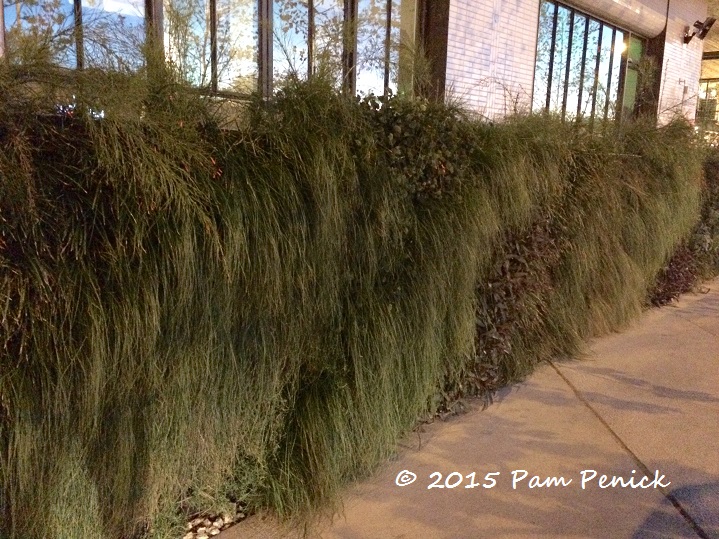 And check out this shaggy vertical planting of Texas-tough groundcovers like Mexican feathergrass, firecracker fern, and purple heart! Sorry for the poor quality of the photo; I only had my cell phone, and it was dark.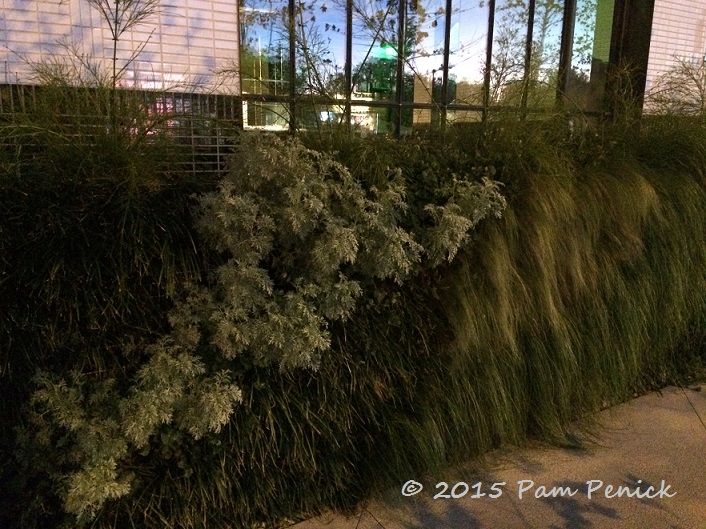 I'll have to go back and see this in the daytime. I'm also curious to see how it holds up long-term, especially during the summer.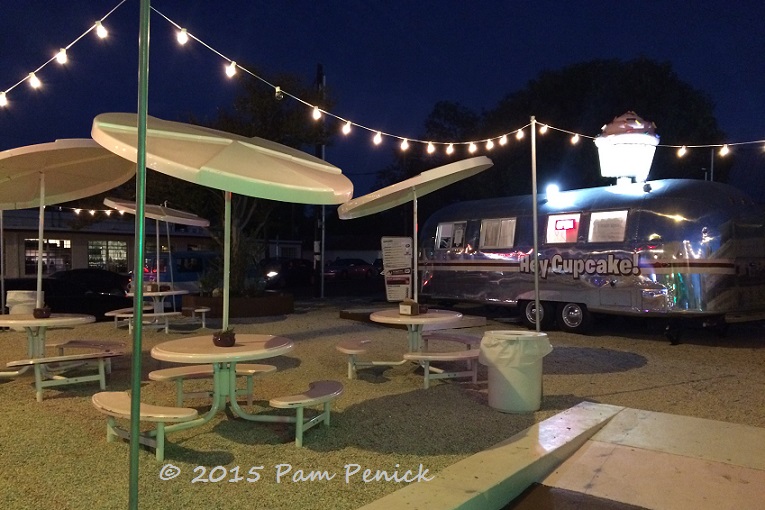 Although displaced by South Congress Hotel's construction, Hey Cupcake! has set up a sweet little trailer park of its own just down the street.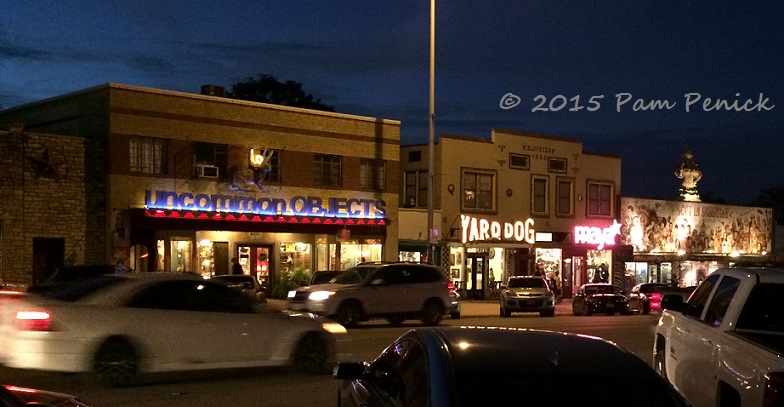 And that's my snapshot of SoCo, on the eve of Halloween 2015. Old and new, it still has plenty of charm. Oh, and if you haven't seen the 6-minute documentary about neon sign artist Evan Voyles, who makes all these iconic signs, you'll enjoy this little slice of Austin charm.
All material © 2006-2015 by Pam Penick for Digging. Unauthorized reproduction prohibited.
posted in
Agaves
,
Containers
,
Decor
,
Grasses
,
Holidays
,
Keep Austin Weird
,
Lighting
,
Seating
,
Signs
,
Succulents
,
Texas natives
,
Trees
,
Trellis
,
Vines
,
Walls
,
Windows
,
Xeric plants
,
Yuccas