April 16th, 2015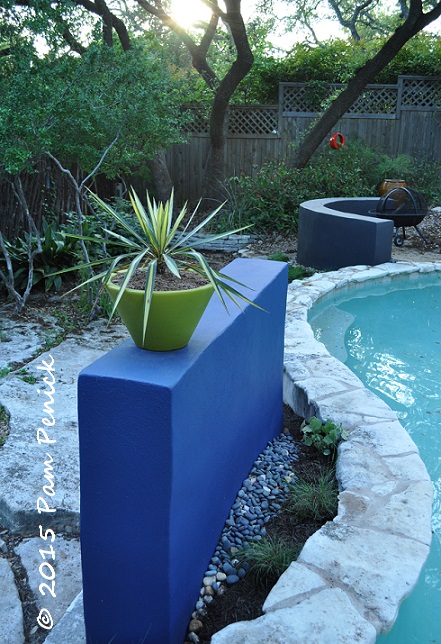 Last evening the garden was bathed in the soft glow of a spring twilight. After a day of planting, mulching, and general tidying, I was glad for a quiet moment to just stop and enjoy the garden. The new "monolith" wall has made a handy spot to display a 'Color Guard' yucca, I've found. I love those stripey, sunshine-yellow leaves.
In front of the wall, and behind the others, I've planted 'Blonde Ambition' grama grass in sun and Texas sedge in shade, accented with a couple of Indian mallows (Abutilon palmeri) that are tiny right now but will, I hope, put on a great summer show.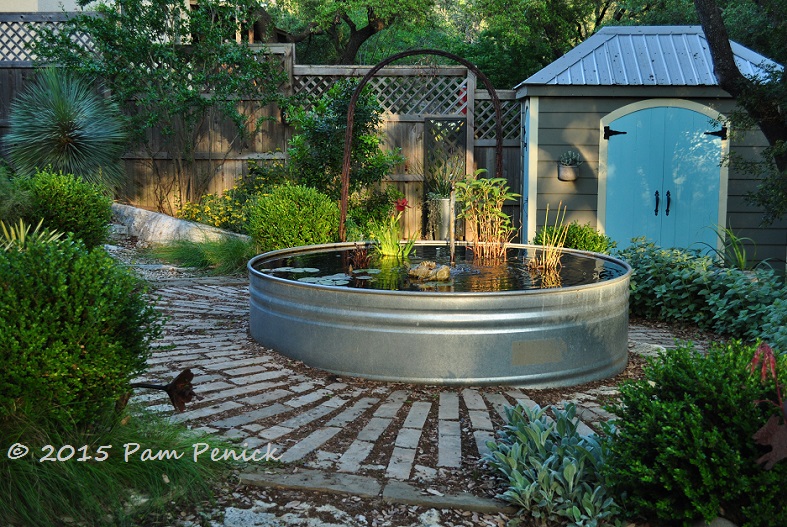 Looking the other way it was On Golden Pond, thanks to the low light. 'Winter Gem' boxwoods pair off at the path thresholds around the pond, with Texas sedge and lamb's ear filling in beneath.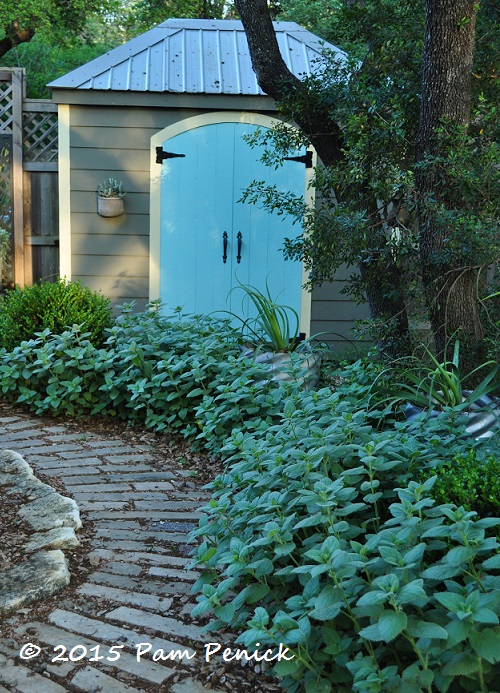 On the right, the blue-green leaves of heartleaf skullcap (Scutellaria ovata) crowd the path. Soon lavender bloom spikes will appear. Behind the skullcap, a trio of squid agaves in culvert-pipe planters arc around the curve.
For new readers, the shed is really a disguise for the pool pump. Those turquoise double doors? Faux. The real door is on the side. My husband built this beautiful structure to my design and did a terrific job.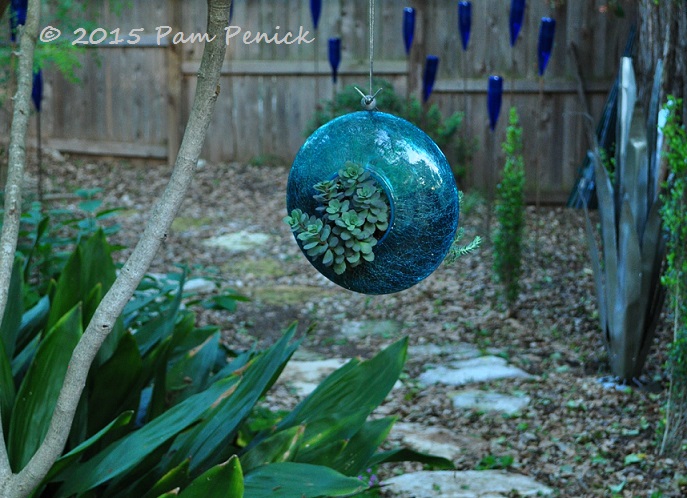 I finally planted up this pretty, blue-glass hanging planter, a birthday gift from my friend Diana of Sharing Nature's Garden. What did I choose? Blue-leaved succulents, of course. You might also notice a bunch of blue bottles in the background. I've been livening up the shady, dim lower garden with a liberal sprinkling of shiny, light-catching garden art. That's a double row of bottles on rebar stakes — an honor guard for the stepping-stone path that runs between them.
Why? Because it's fun.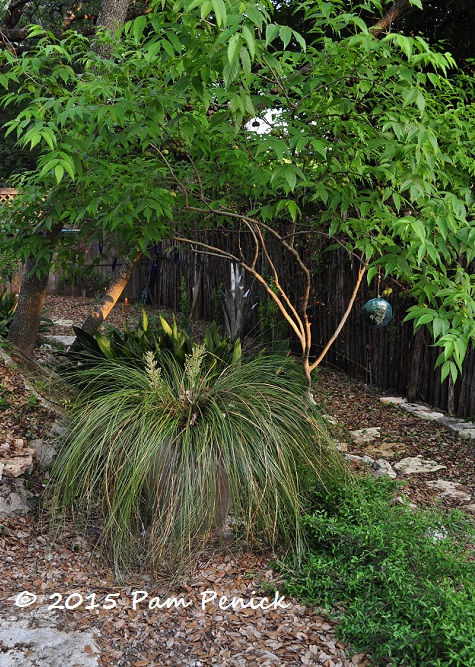 Stepping back, here's a wider view of the Mexican buckeye that the planter hangs from. I've had that enormous potted Texas nolina for years and brought it with me from my former garden, but now it's in a new spot, on a ledge of rock between the pool patio and the lower garden. I moved it when I had an outdoor fan post installed by the patio, and now I wonder why I never thought to move it here earlier. I love it in this spot! It has room to spread out its weeping leaves and makes a lovely focal point for the lower garden. To its right is a row of dwarf Barbados cherries.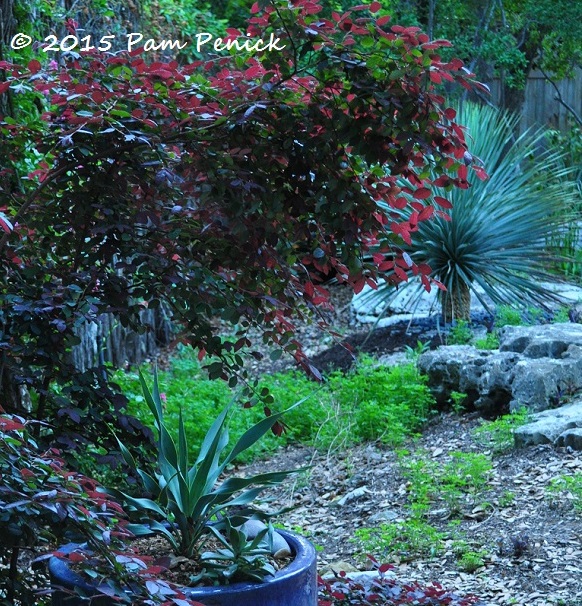 Now we're in the lower garden, looking toward the new Yucca rostrata, framed by the wine-colored leaves of 'Sizzling Pink' loropetalum. One of these days I will get the weeds under control back here.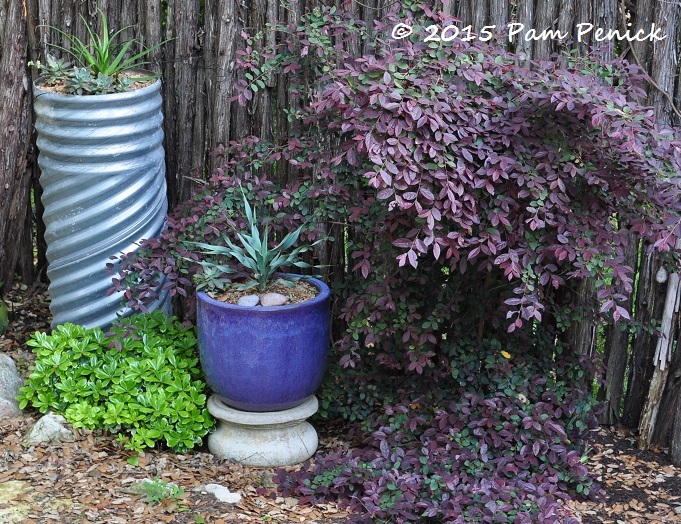 A front view, without the backlighting, but I'm still loving the rich coloring. In the purple pot are paleleaf yucca and ghost plant, and in the culvert pipe are squid agave and more ghost plant. The small green shrub with cream variegation is 'Cream de Mint' pittosporum, which stays tidy and small.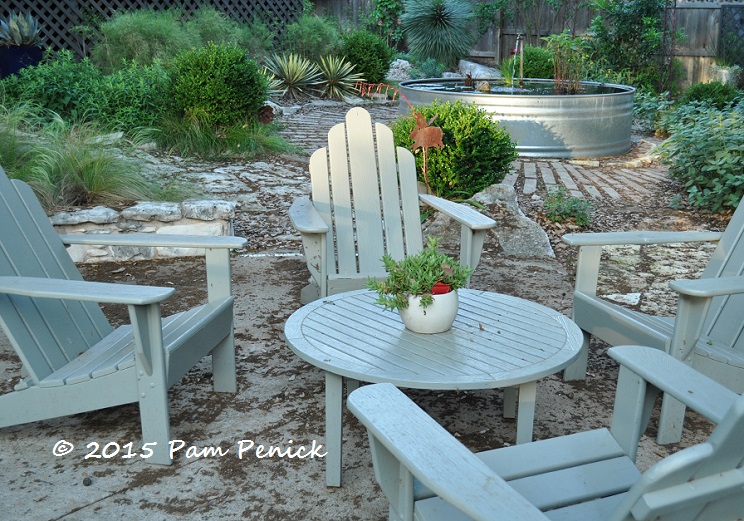 Another angle on the pond garden, with mass plantings of 'Color Guard' yucca, bamboo muhly, fall aster, and more — a tapestry of greens.
So what leafy love is going on in your April garden? Please join me for Foliage Follow-Up, giving foliage its due on the day after Bloom Day. Leave a link to your post in a comment below. I really appreciate it if you'll also link to my post in your own — sharing link love! If you can't post so soon after Bloom Day, no worries. Just leave your link when you get to it. I look forward to seeing your foliage faves.
All material © 2006-2015 by Pam Penick for Digging. Unauthorized reproduction prohibited.
posted in
2nd garden--2015
,
Agaves
,
Arbors
,
Containers
,
Decor
,
Fences
,
Foliage Follow-Up
,
Garden art
,
Grasses
,
Patios & decks
,
Ponds
,
Roses
,
Seating
,
Sheds
,
Shrubs
,
Signs
,
Stock tanks
,
Succulents
,
Trees
,
Walls
,
Xeric plants
,
Yuccas