December 7th, 2014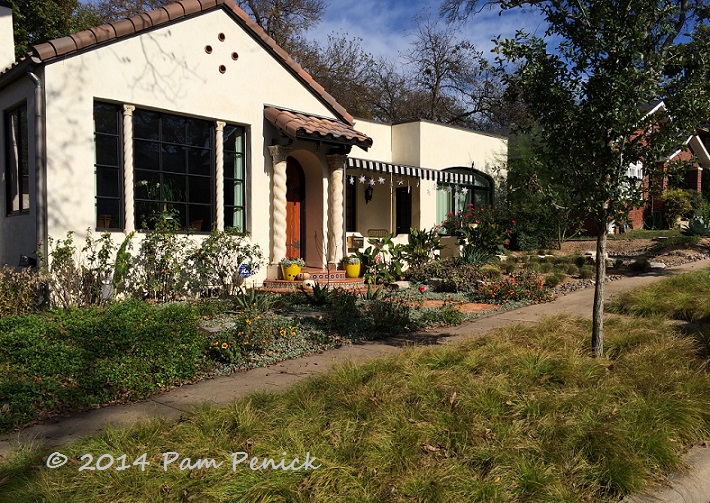 Driving through Austin's North University neighborhood yesterday I spotted this charming Spanish-style bungalow. Instead of lawn, its postage stamp-sized front garden is filled with drought-tolerant ornamental grasses, golden barrel cactus, silver ponyfoot, and agave. A few red roses add pops of vivid color. Most eye-catching of all, the wide hell strip (portion of yard between sidewalk and street) is entirely swathed in sedge, probably Berkeley (Carex divulsa) or Texas sedge (C. texensis).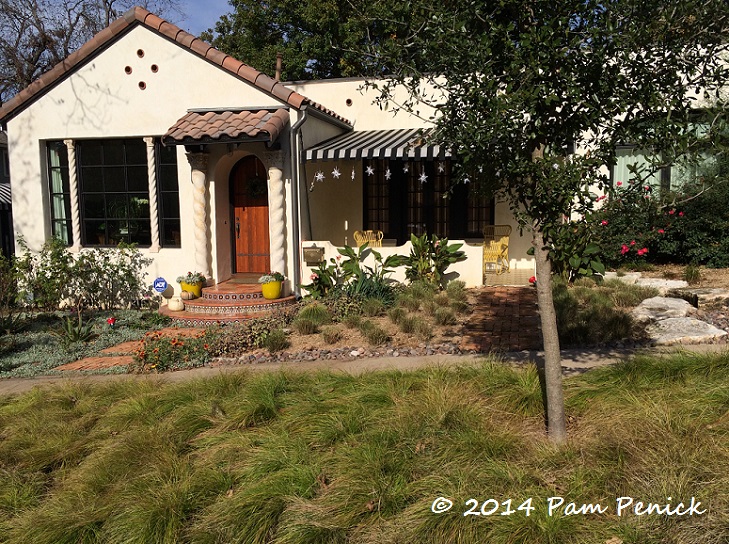 With three live oaks planted amid the sedge, this south-facing garden will be in shade in 5-10 years. The sedge won't mind. The sun-loving ornamental grasses and roses will need to be subbed out for shade-lovers. That's the nature of a garden, of course, and shade is highly desired during Austin's summers. Until then, the owners have a beautiful, sunny garden that won't demand much water.
My only quibble is that the ornamental grasses in front of the porch have been cut to the ground prematurely. Most grasses are fall-blooming and come into their glory late in the year; they should be left standing until February and then cut to the ground in preparation for spring growth. Update: The lovely owners, Kevin Pruitt and Eileen Gill, left a comment (#12, below) to explain that the grasses grew large and became a tripping hazard for guests, so they cut them back early for safety reasons. It sounds like they may remove a few grasses to keep the walkway clear in the future. Also, they kindly shared the name of the designer, John Davis.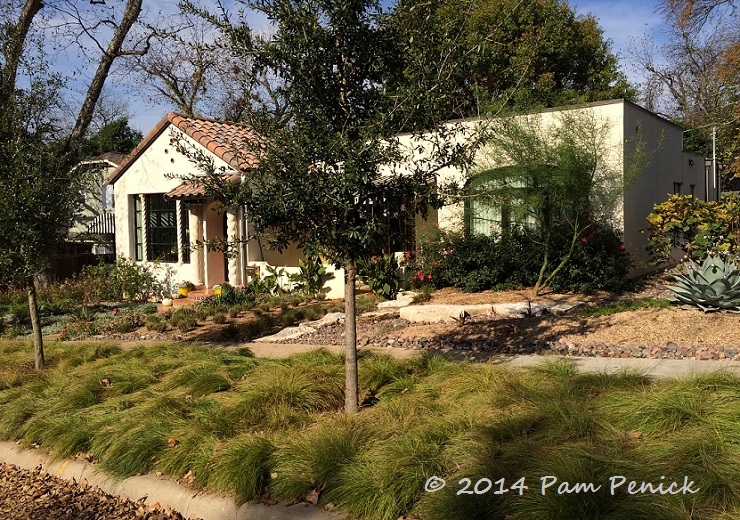 The right side of the garden has been given a more open treatment, with a beautiful 'Whale's Tongue' agave (A. ovatifolia) holding court amid river rock and decomposed granite. A dry stream, not visible in these pictures, keeps runoff from trenching through the gravel during heavy rains.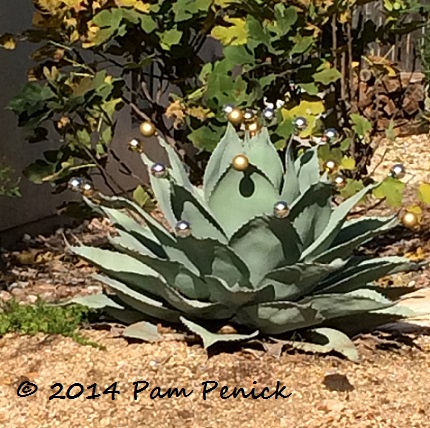 Gold and silver Christmas balls adorn the agave's spines in honor of the season. Behind it, a fig is turning golden. Austin's late autumn color always runs into Christmas decor in this way. Happy holidays, y'all!
All material © 2006-2014 by Pam Penick for Digging. Unauthorized reproduction prohibited.