June 1st, 2015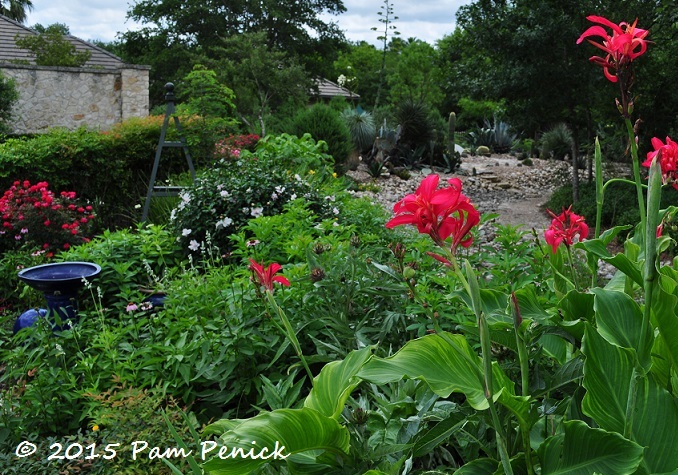 Once a month the Austin garden bloggers gather at one of our gardens to socialize, talk plants and design, and do a plant swap. Last Saturday we met up in Rock Rose/Jenny Stocker's garden, which despite a recent hailstorm and torrential rains was absolutely beautiful. But we were treated to a two-for-one this time because Jenny had arranged for us to visit her neighbor Syd Teague's inspiring garden.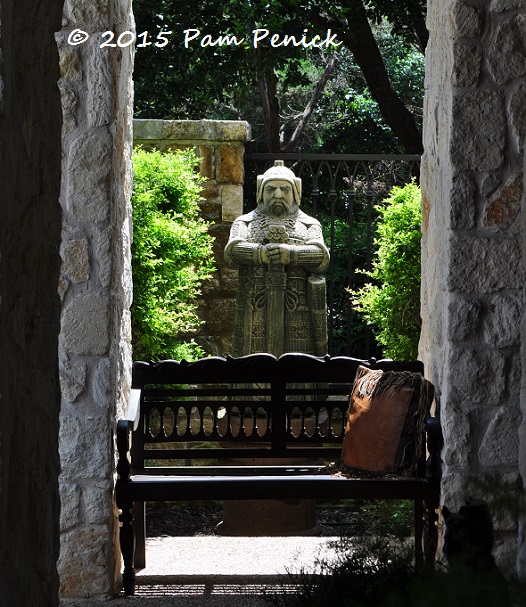 Located in the Barton Creek neighborhood just southwest of downtown, Syd's garden stands out with eclectic, art-filled personality, a diverse plant palette, and a gardener's garden vibe — the best kind of garden to explore. Syd is well traveled, and her art and decor reflect the places she's been. Starting at the front porch, a fierce, you-shall-not-pass samurai sculpture guards an Indonesian-style bench with a Western-style leather pillow. No matchy-matchy decor here. It's delightfully eclectic.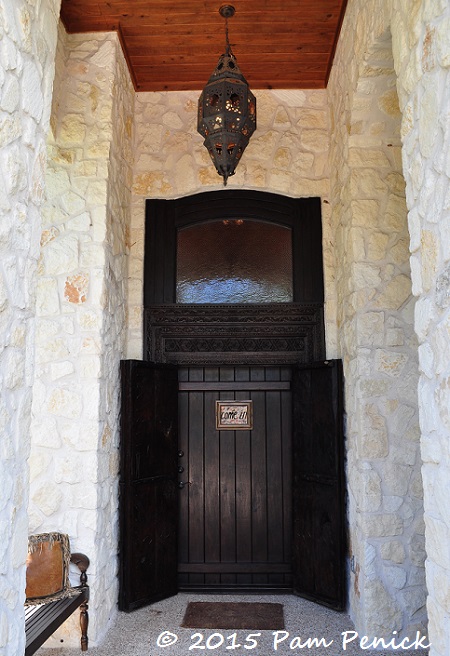 The front door gives you a taste of Morocco, with a filigree hanging lantern and a carved door surround with shutter-like outer doors. The sign on the door says Come In.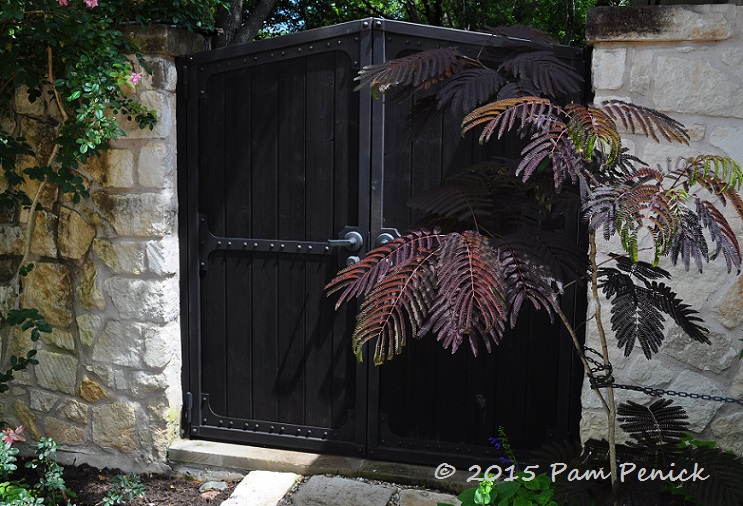 Walking around the side of the house, I stopped to admire an imposing, dark-stained gate and color-matched chocolate mimosa (Albizia julibrissin). I had no idea this would grow here.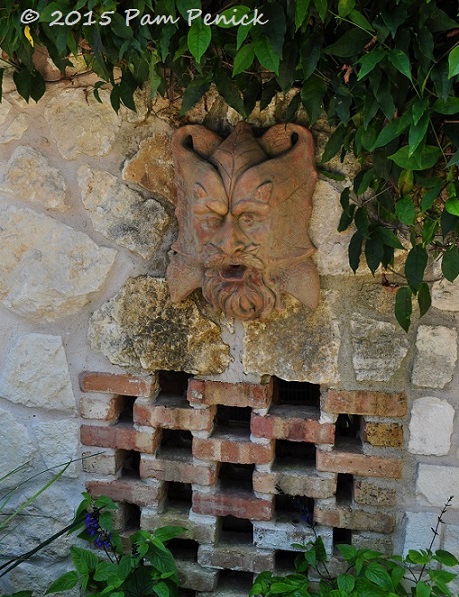 Stone walls display art of all kinds, like this terracotta face…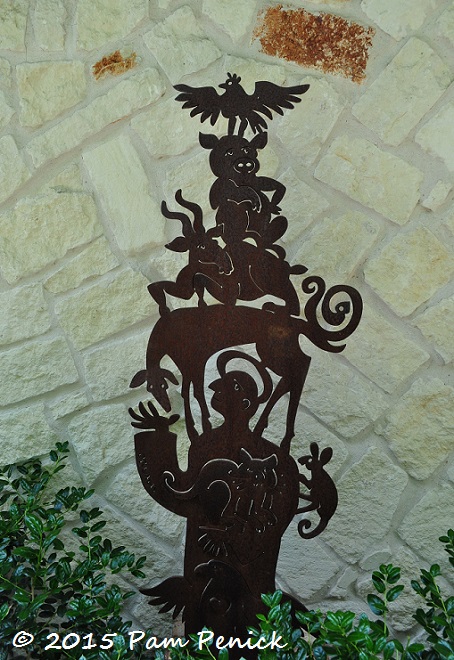 …and this laser-cut metal sculpture. And check out the lively pattern of stone blocks in the wall.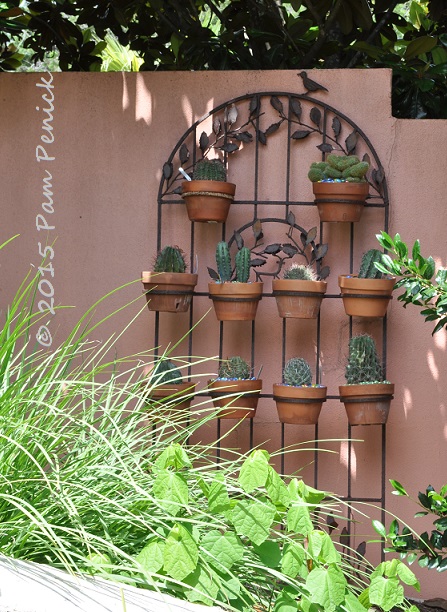 Along a soft-terracotta wall, a metal trellis holds potted cacti in terracotta pots.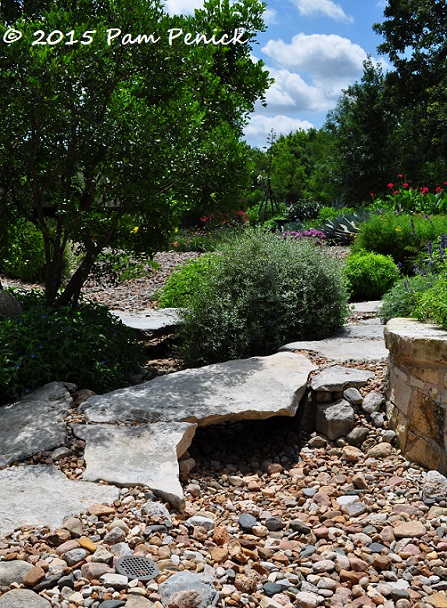 Like many of us living in Flash Flood Alley (central Texas's nickname), Syd has had her share of runoff and drainage problems. To handle heavy downpours and water flowing in from uphill neighbors, a generously proportioned dry stream leads around the side of the house and into the back garden.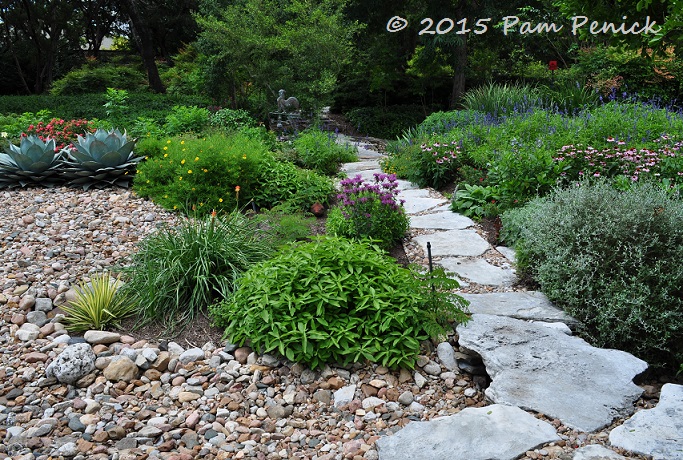 Stone bridges cross the rocky streambed at various points, and pathways venture into a sunny garden of flowering perennials, roses, canna, native daisies, and more, with agaves and yuccas adding spiky, architecture.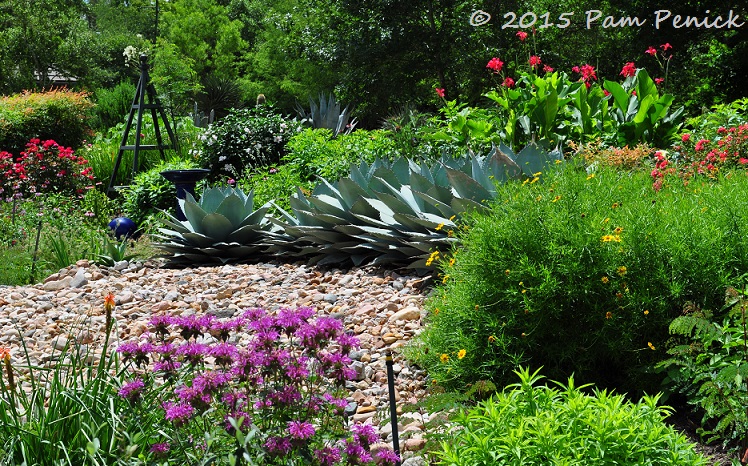 A curving row of 'Whale's Tongue' agave (A. ovatifolia) catches your eye at the edge of an extended gravel wash along the dry stream. Roses and canna add stoplight-red color at left and right, with 'Peter's Purple' bee balm (Monarda fistulosa) in the foreground.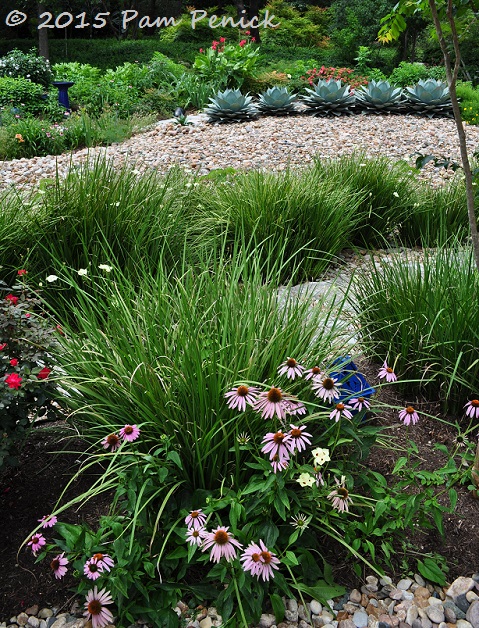 Another view from the back terrace shows how the agaves act as a focal point. Purple coneflower (Echinacea purpurea) blooms in the foreground amid grassy bicolor iris (Dietes bicolor).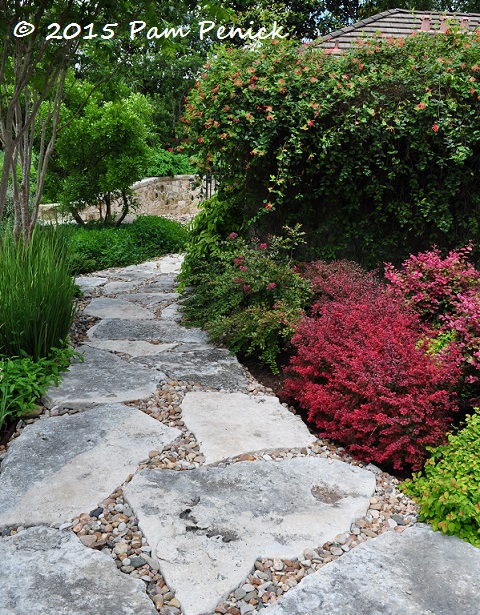 Looking back along the path, I see that Syd likes red as much as I do. A hot combo of coral honeysuckle (Lonicera sempervirens), dwarf crepe myrtle, and barberry catches your eye on the right.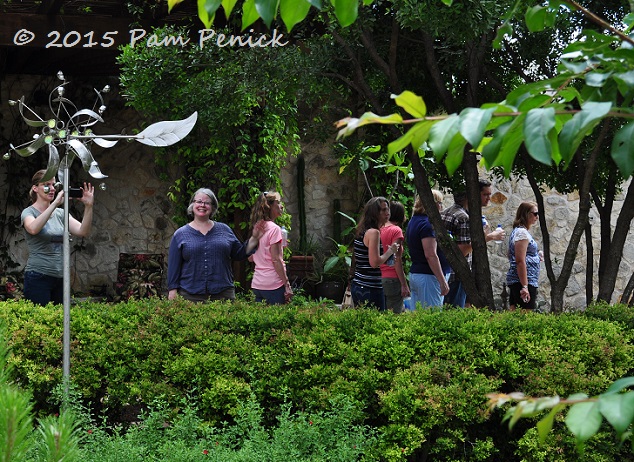 Here's our group a little ahead of me, with Caroline of The Shovel-Ready Garden giving me a big smile.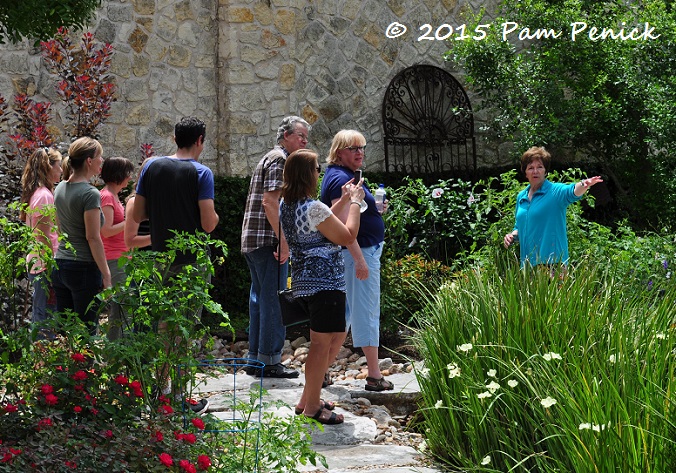 Syd, in the turquoise shirt, was clearly leading a great tour that was capturing everyone's attention. I wish I could have heard everything she was saying, but I was exploring at a snail's pace. A delighted snail.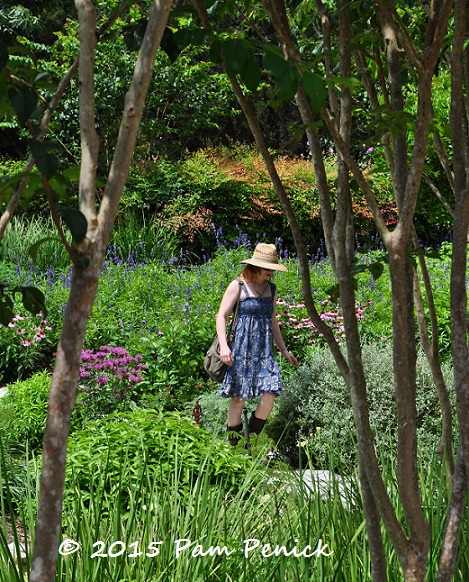 Aha — another blogger off on her own, Lori of The Gardener of Good and Evil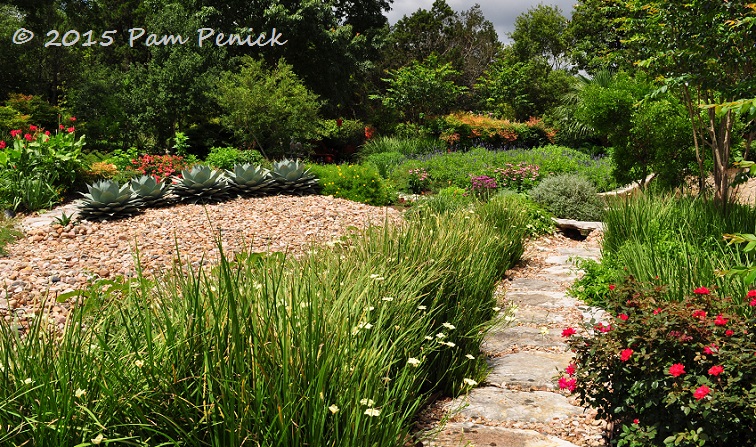 Another view of the bicolor iris and agaves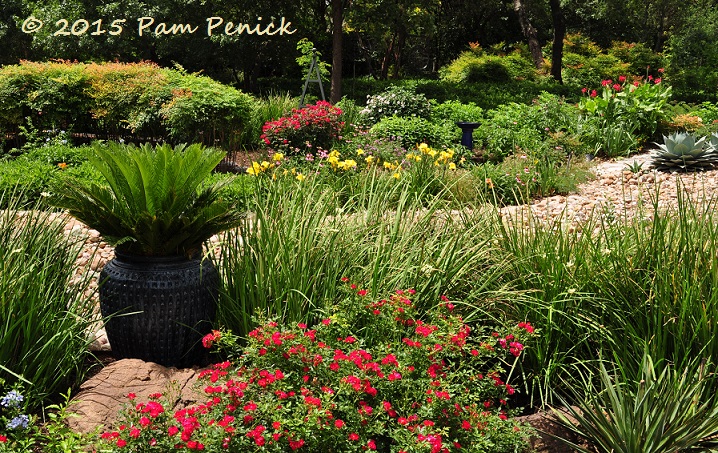 A sago palm in a dark pot makes a focal point…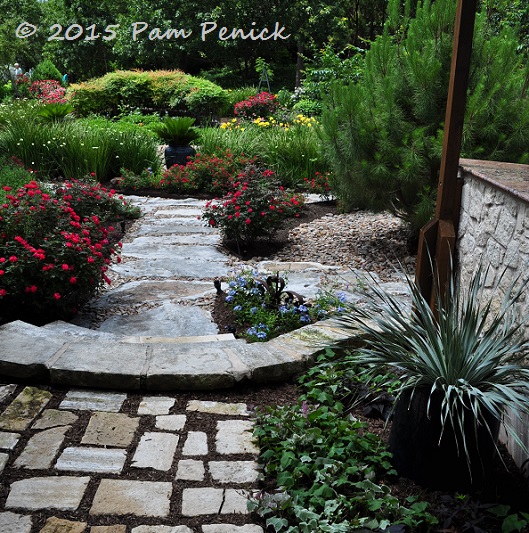 …that draws you along a path from the back terrace into the garden.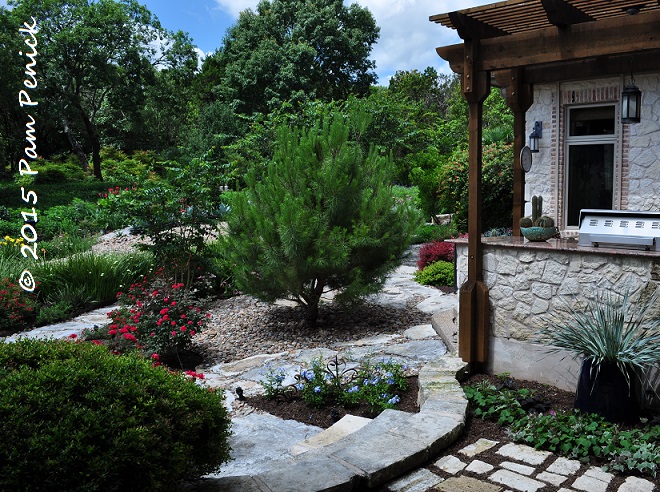 A grilling station shaded by an arbor is on the right. Pines are uncommon in Austin because of our alkaline soil, but this Italian stone pine (Pinus pine) looks happy.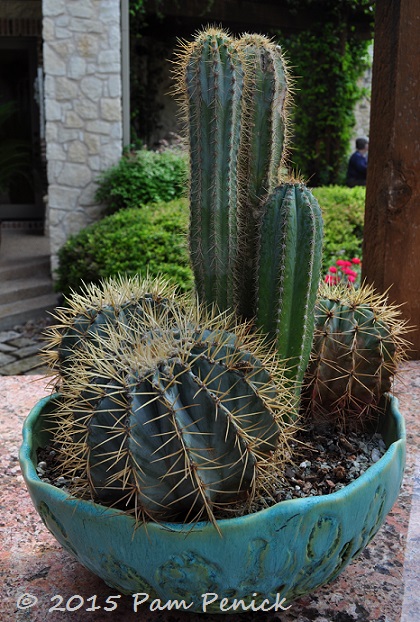 I love this blue-themed cactus planter. Beautiful arrangements like these are placed throughout the garden. This may be a Rick Van Dyke pot.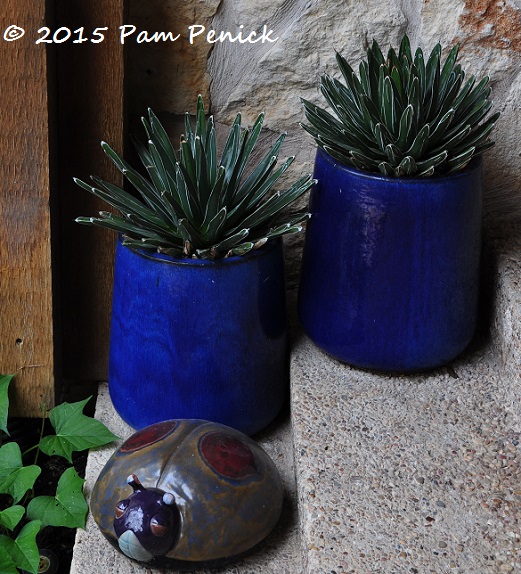 Syd uses multiples for greater effect, like these twin Queen Victoria agaves in cobalt pots…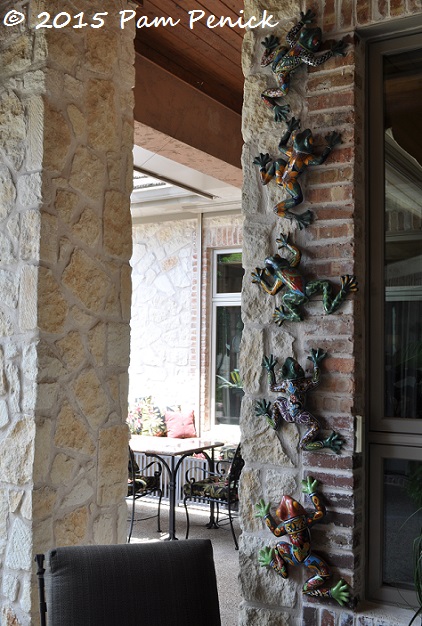 …five Talavera frogs climbing a wall…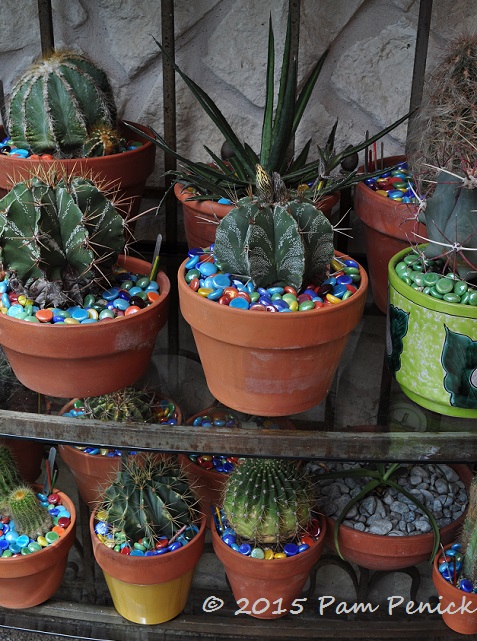 …and an impressive collection of cactus in terracotta pots topped with M&M-like colorful glass beads.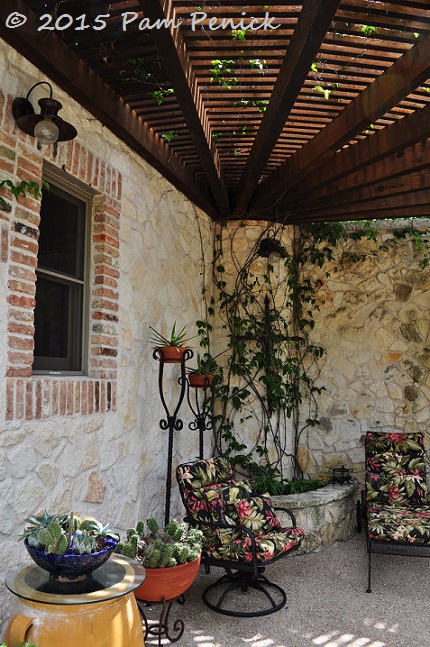 I like the shadow play of this fan-shaped arbor over a patio tucked between the rear of the house and a privacy-giving stone wall along the property line.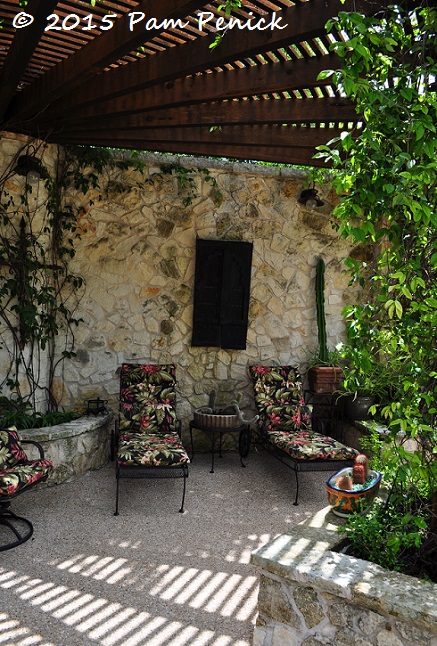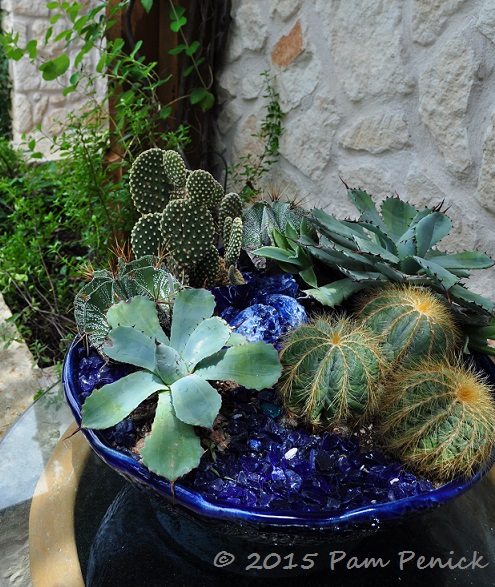 More pretty pots adorn the porch.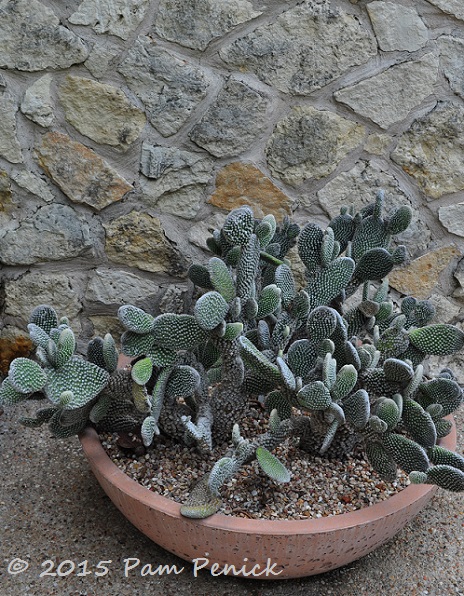 A big bunny ears cactus (Opuntia microdasys)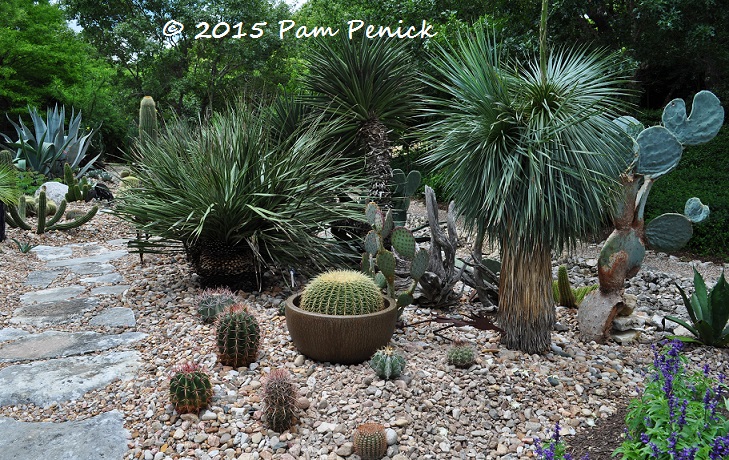 On the far side of the garden, lush perennials give way to a desert garden filled with a spiky assortment of agave, yucca, sotol, and barrel cactus. Jenny mentioned that Syd is from Arizona, and it looks like she's imported a little bit of Arizona to Austin.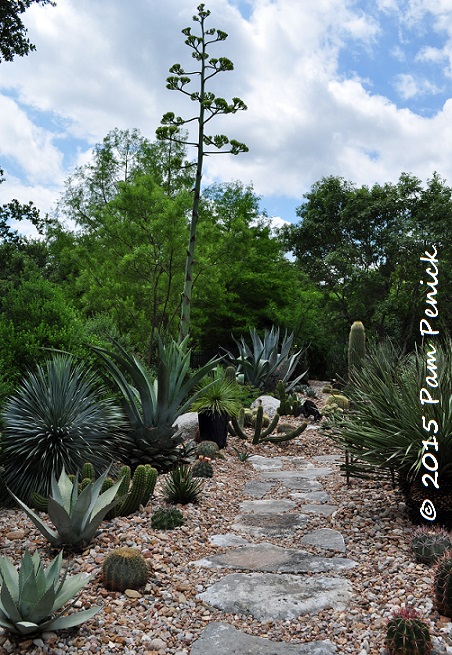 These dry-loving plants are planted on rocky berms for drainage. A wide flagstone path winds its way through the long, sunny garden toward the back of the lot. One of the agaves is flowering dramatically, with a bloom spike about 15 feet tall.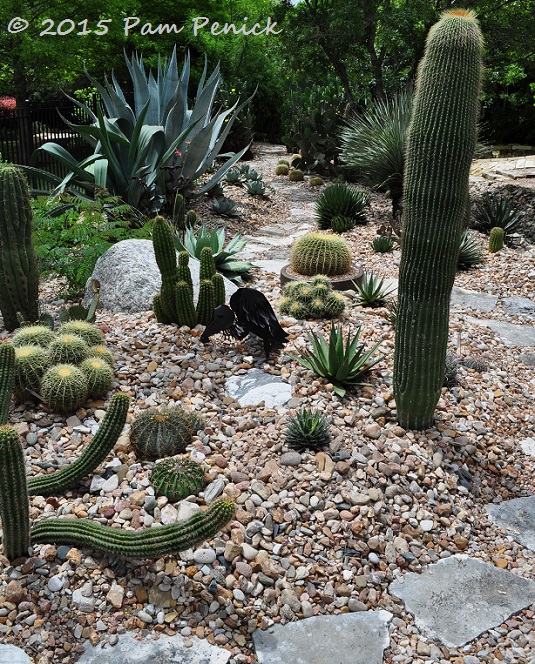 Columnar Argentine saguaro (Trichocereus terscheckii) is not common in Austin, but you see it from time to time. It's such a striking plant.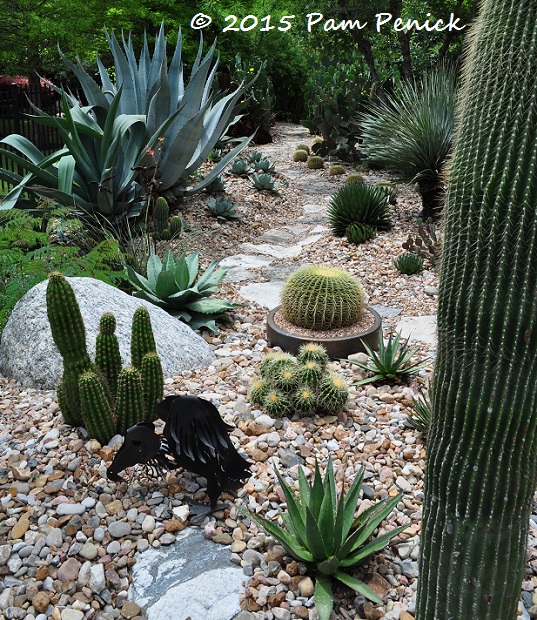 Syd knows how to create enticing views no matter what kind of plants she's growing.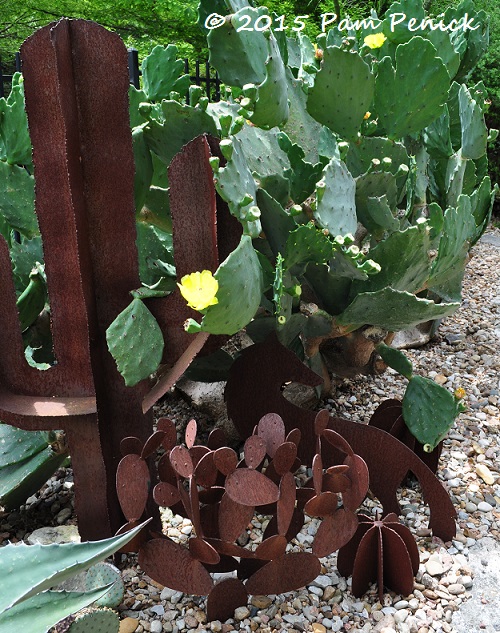 Metal cacti, coyotes, and other desert creatures appear throughout the dry garden. I like how this wavy-leaved prickly pear is leaning on the metal saguaro like an old friend.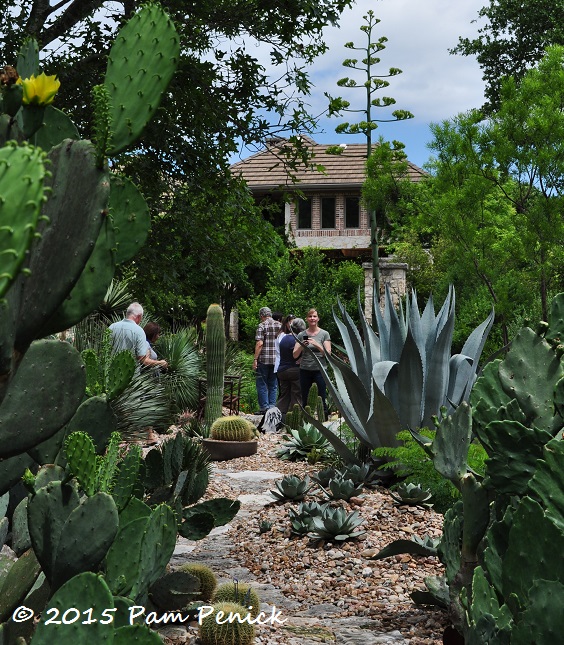 Looking back down the path toward the house, I spot Wendy of The Rabid Gardener, our group's newest member. It was so nice to meet her in person.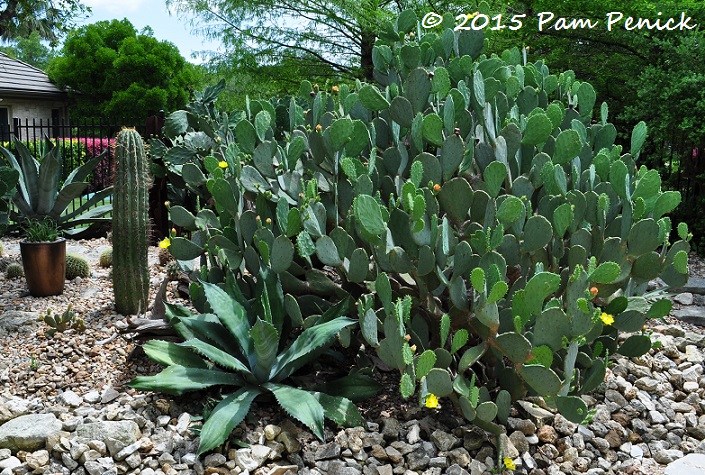 This prickly pear is more than 6 feet tall and about 8 feet wide — a big boy!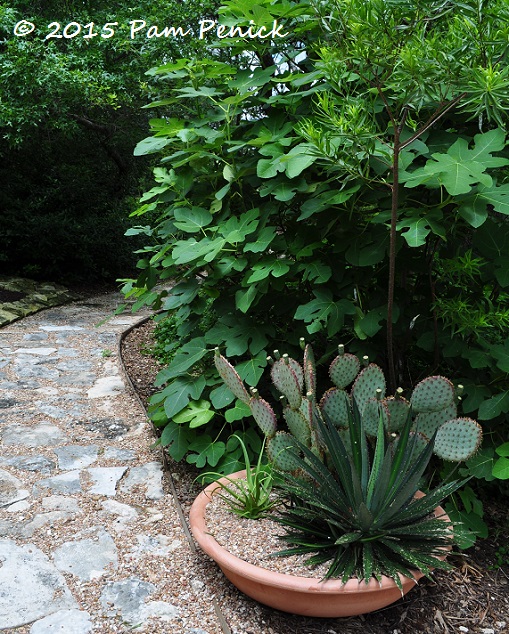 As you leave the dry garden, there's one last desert-style container to send you off.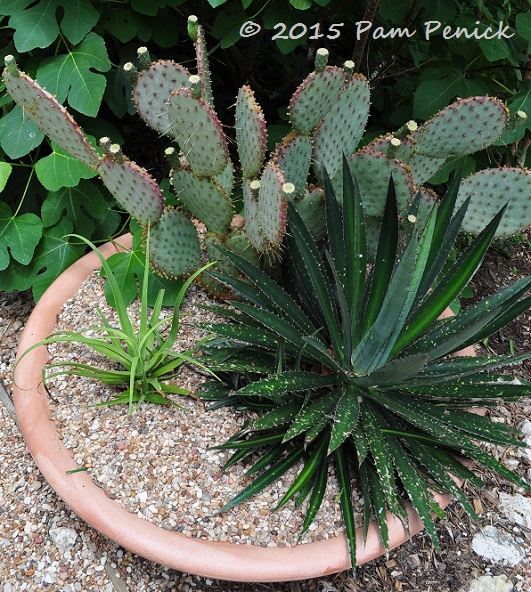 Squid agave, prickly pear, and Agave lophantha — very nice, even with a little speckling on the lophantha's leaves from the recent hailstorm.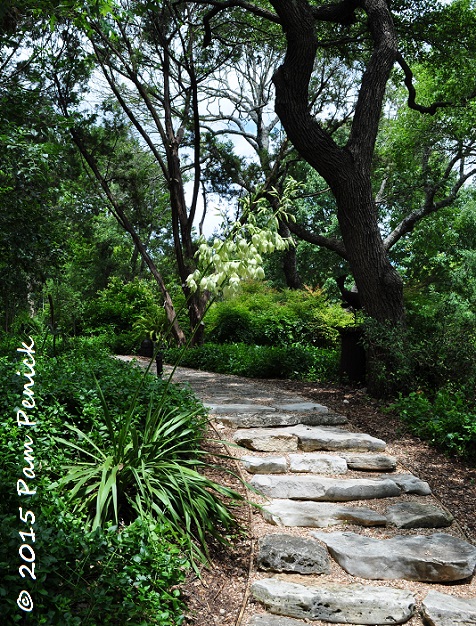 The path leads up into a woodsy shade garden that's green and serene with shrubs and groundcovers. A flowering yucca leans over the path.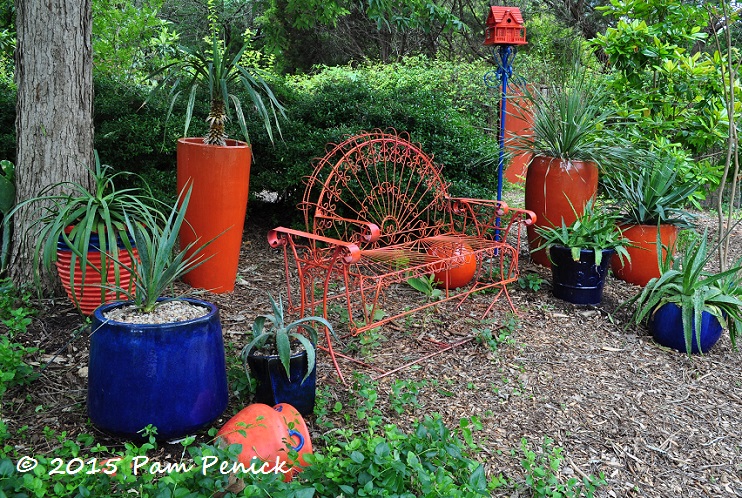 A colorful surprise awaits as you leave the shade garden: an orange and blue fiesta of pots, a frilly bench, and even a birdhouse.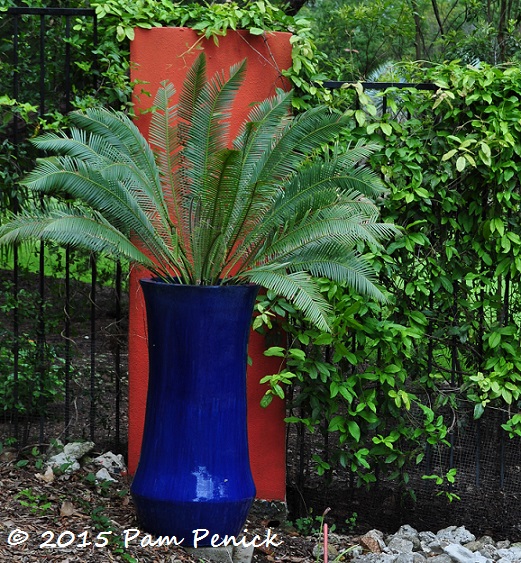 Here's a fun focal-point idea: a painted stucco-wall backdrop to a pot in a contrasting color. A sago palm or dioon makes an elegant effect in a vase-like cobalt pot, and it really pops against the freestanding orange wall.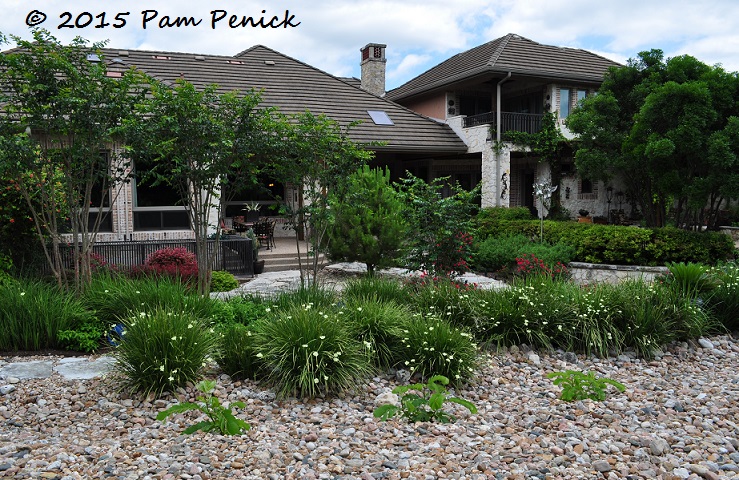 Now we're facing the back of the house, near where we entered the back garden. The dry stream, as you can see, gets very broad here. It must carry a lot of water. I bet it saw some action last week, during the Memorial Day flooding that hit Austin. Crepe myrtles and bicolor iris are planted in a conga line along the streambed.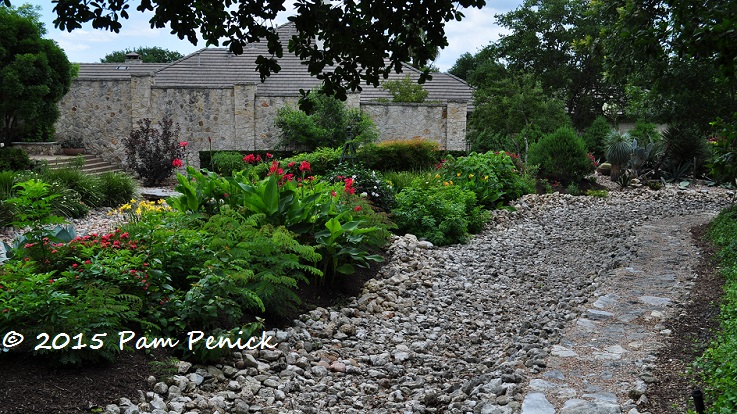 Another gravel wash sits just upslope from the dry stream. Perhaps it captures water flowing down the hill? Notice that this very large garden contains no lawn — at all. There's also no swimming pool or other water-intensive feature. Just a beautifully designed garden and smart drainage solutions.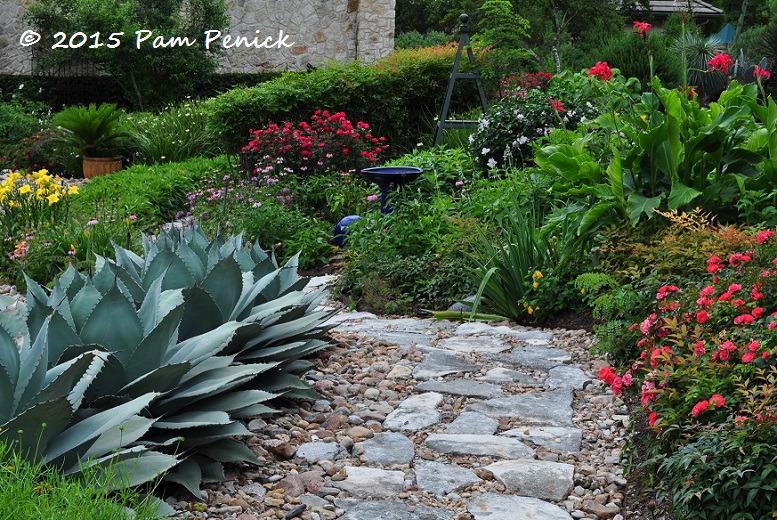 It was a treat to visit Syd's garden. My thanks to her for giving us a tour, and to Jenny for arranging the visit!
To see Jenny's post about Syd's garden last summer, click here.
All material © 2006-2015 by Pam Penick for Digging. Unauthorized reproduction prohibited.
posted in
Agaves
,
Arbors
,
Bridges
,
Cactus
,
Containers
,
Decor
,
Doors
,
Dry Streams
,
Garden art
,
Garden tours 2015
,
Gates
,
Lawn Gone!
,
Palms/Cycads
,
Paths
,
Patios & decks
,
Porch
,
Rock
,
Roses
,
Sculpture
,
Seating
,
Shrubs
,
Succulents
,
Trellis
,
Vines
,
Walls
,
Water-Saving Garden
,
Xeric plants
,
Yuccas