September 17th, 2014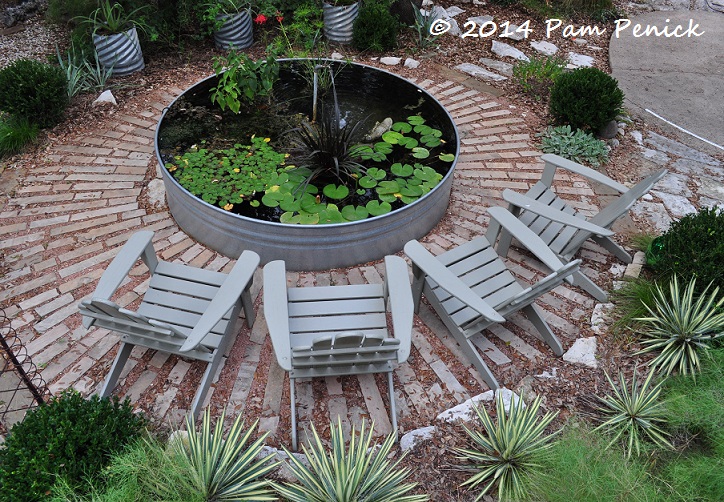 It was a one-two punch, seeing colorful stuccoed walls in Phoenix and Tucson in April and then in Portland in July. Unable to resist the siren song of structure, functionality, and color, I've hired a mason to build some walls in the back garden. Two days ago I moved the patio seating out of the way and am enjoying this temporary pond-viewing set-up.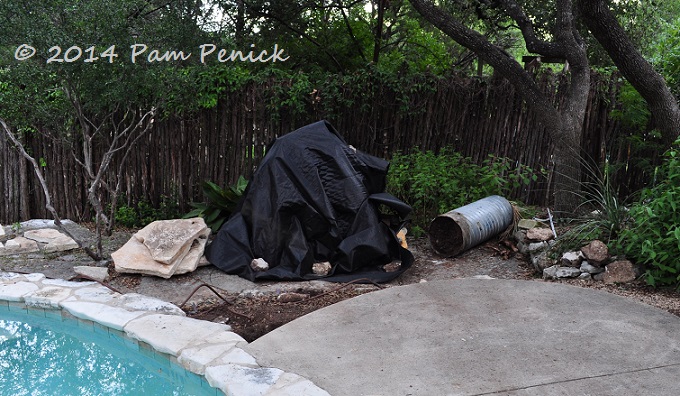 Yesterday digging began for footings, and materials were brought in.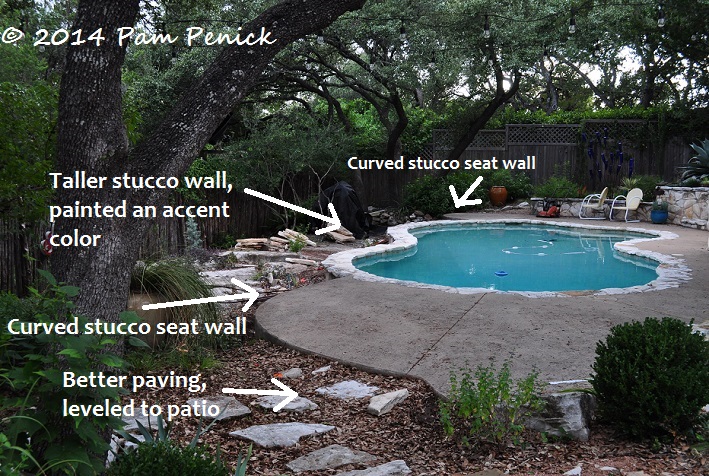 Here's the plan. Two semicircular seat walls will curve around the small concrete patios at each end of the pool, providing structure and a safety measure; a couple of times people have almost pushed their chairs backward off the elevated patios. The seat walls will give us more seating when entertaining, and they'll be an attractive backdrop in all seasons. I'm thinking of painting them an olive-khaki green. A 2-inch gap between the seat walls and the concrete patios will be filled with Mexican beach pebbles.
Along the back of the pool, where it curves inward, they'll build a taller, free-standing, straight-line stucco wall, which I'll paint a fun accent color (maybe rusty orange). I plan to plant grasses in front of it (maybe 'Blonde Ambition' grama) and will probably display an agave in a dish-planter atop it. It'll be a focal point for an area that's sorely in need of one.
Tighter flagstone paving will be laid in the foreground, eliminating a tripping hazard where different paving materials meet, and leading to steps into the lower garden.
I'm excited, nervous, and hopeful that it will turn out as I envision. Stay tuned for more, unless it ends up being a disaster, in which case I'll be too busy gnashing my teeth and wailing to post anything.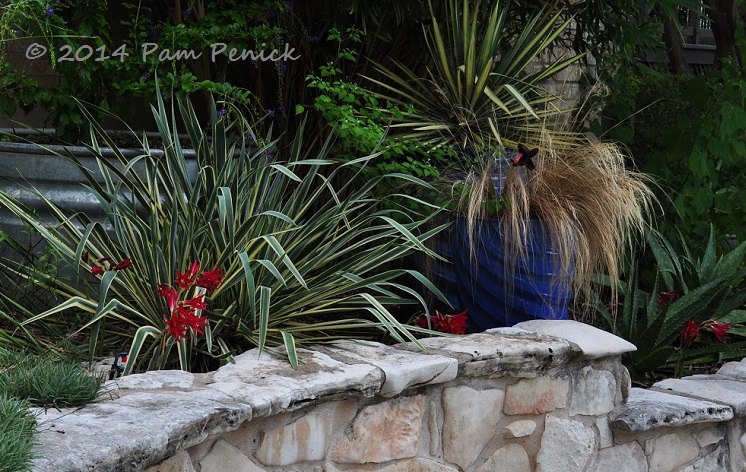 In other news, the oxblood lilies (Rhodophiala bifida) are up, as red-coated and jaunty as the pirouetting Buckingham Palace guard.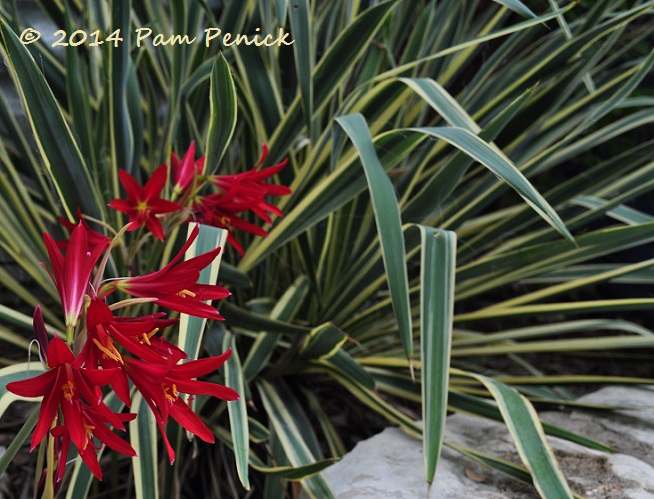 I love this patch in front of a 'Bright Edge' yucca, their yellow stamens echoing the yucca's stripes.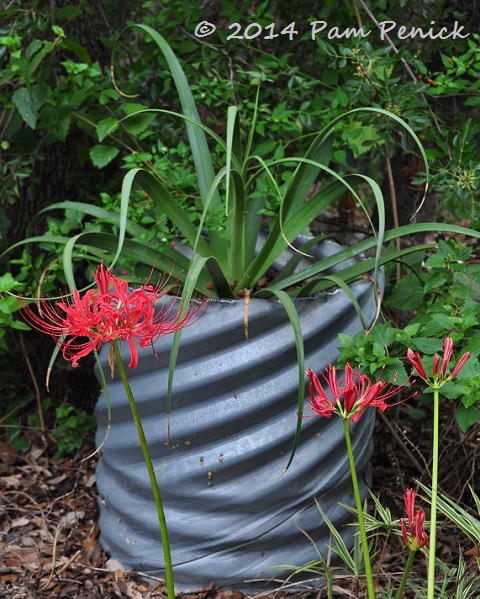 By the stock-tank pond, spider lilies (Lycoris radiata) are blooming at last. I planted these several years ago, and I think this is the first year they've bloomed. They can be slow to get going. I must remember never to disturb them.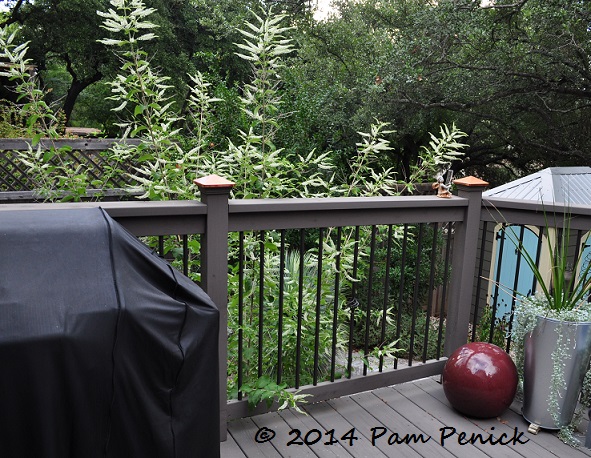 After the recent rain, the tired, curled-leaf sweet almond verbena (Aloysia virgata) got a second wind. Now when I step outside on the deck, the sweet fragrance stops me in my tracks, and I must walk over for a deeper sniff.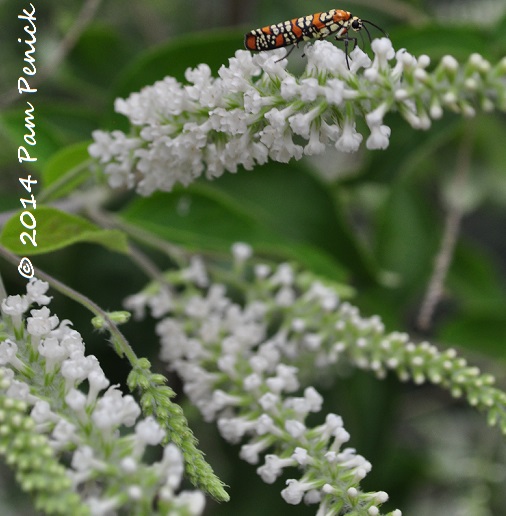 During my sniff last evening I noticed dozens of Ailanthus webworm moths, which resemble narrow, orange-and-white beetles, nectaring on the flowers.

Honeybees too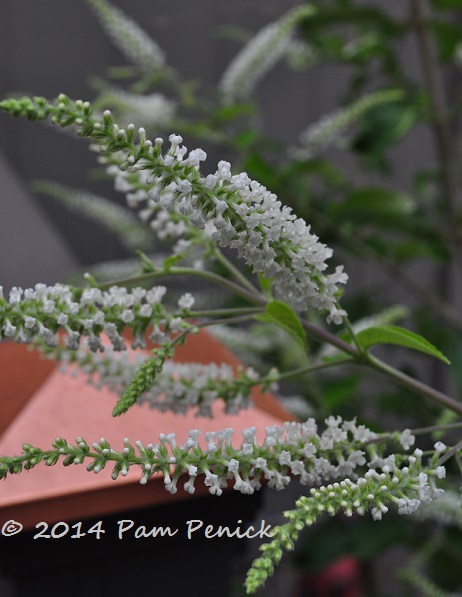 I wish I could offer smell-o-vision for you to enjoy the sweet almond scent.
All material © 2006-2014 by Pam Penick for Digging. Unauthorized reproduction prohibited.
posted in
2nd garden--2014
,
Agaves
,
Bees
,
Bulbs/Rhizomes
,
Butterflies/Moths
,
Containers
,
Patios & decks
,
Ponds
,
Seating
,
Stock tanks
,
Swimming pools
,
Walls
,
Water features
,
Yuccas