January 5th, 2015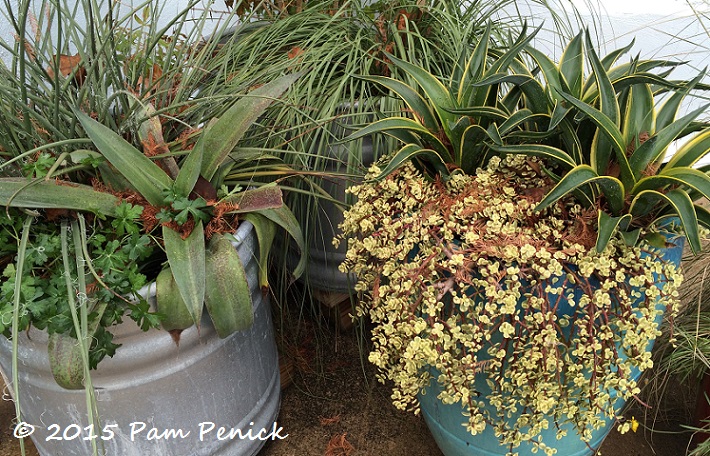 While dropping off our dog, Cosmo, for a much needed shave-and-a-haircut-two-bits at my beloved West End Grooming last week, I paused to admire their pretty container garden, which brightens up the parking area by the door. Even if the space weren't paved, raised containers would be a necessity for a place visited by so many dogs. A mix of tender and hardy succulents, woody lilies, and grasses is kept out of harm's way in a half-dozen colorful glazed pots and stock tanks. One of the tanks is raised on bricks to vary the heights of the containers.

Stripey Agave desmettiana 'Variegata' generally turns to mush during hard freezes of the sort we got last night. However, West End's location in warmer central Austin, surrounded by heat-absorbing concrete walls, may have saved this handsome trio — I hope! I don't know the name of the cascading succulent, but I like how its pale-yellow leaves echoes the stripes on the agaves. What looks like pine straw nestled in the foliage are the needles of a majestic bald cypress growing nearby.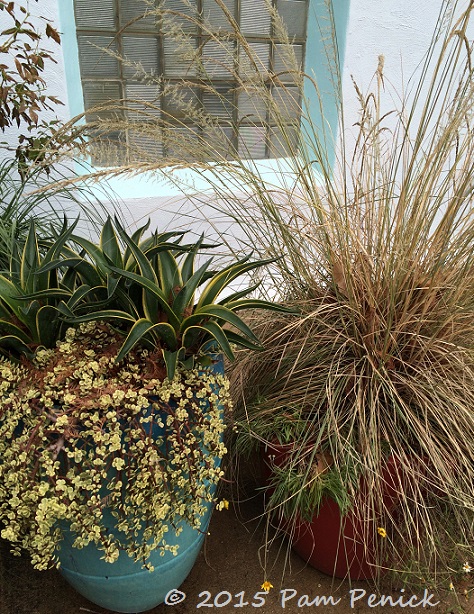 A blushing grass — maybe Lindheimer muhly (Muhlenbergia lindheimeri) — still stands in autumnal glory, while the tiny, yellow daisies of hymenoxys (Tetraneuris scaposa) spill out from under its skirts. Yay for not cutting grasses back prematurely! Thank you, West End, for the lovely garden gift you give your customers.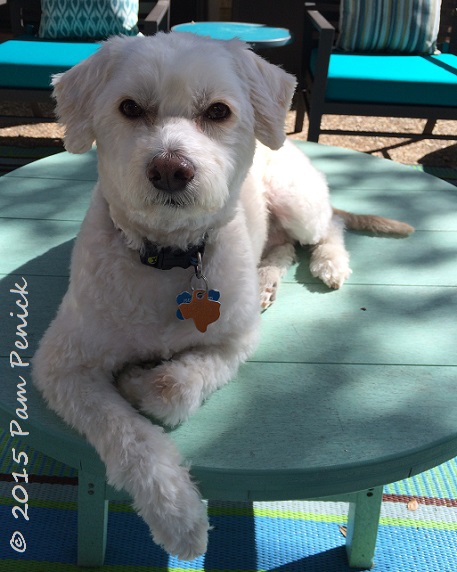 And for taking such good care of our pooch. Here's our handsome boy after getting spiffed up, lounging insouciantly on the patio table. A new year and an almost new dog!
All material © 2006-2015 by Pam Penick for Digging. Unauthorized reproduction prohibited.