April 2nd, 2013
Driving through near-downtown Bouldin neighborhood last weekend, I was struck by the number of lawnless front yards in one short stretch of W. Live Oak Street. Luckily I had my camera, so I decided a drive-by post was in order—but truth be told, I got out of the car and walked up and down a block of Live Oak to better view several of these gardens.
Traditional Bungalow with Gravel Garden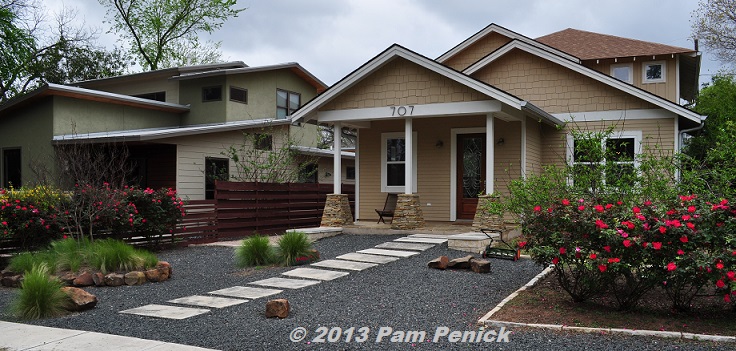 This traditional bungalow with a spare gravel garden in lieu of lawn is the first one that caught my eye. The Texas Black gravel is a hip choice for contemporary Austin gardens, as are the "floating" concrete pavers. It's all a little spare for my taste, but I appreciate the softening influence of the Mexican feathergrass on the left and the Knock Out roses on the right. I bet their water bill is low! Look carefully to the left of the roses and you'll see an old-fashioned reel mower—an ironic yard-art display?
Texas-Style Cottage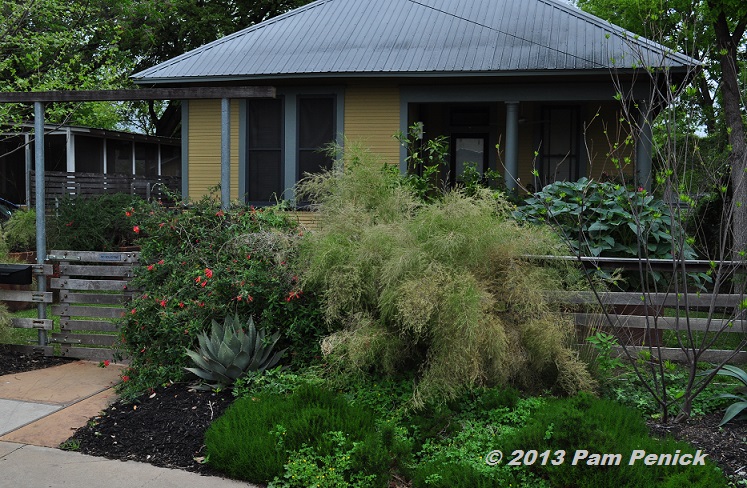 Across the street, this yellow cottage says howdy with a bermed, xeric garden outside a rustic plank fence. Agave, bamboo muhly, coral honeysuckle, and various groundcovers combine pleasantly, framed by a low, ranch-style wooden fence and simple, flat-top arbor. The bermed plants and fence provide a sense of privacy for a small lawn and the house.
Contemporary with Feathergrass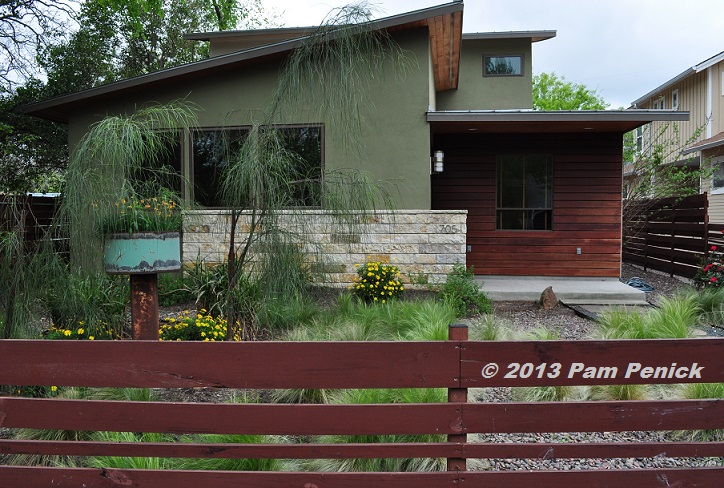 Back across the street, next door to the first house I showed you, is this contemporary home with a touseled garden of Mexican feathergrass, shrub daisies, and shoestring acacias. It's a little messy, definitely shaggy—and I quite like it. The aqua metal planters topped with yellow-flowering bulbine are a funky and fun touch. The one inside the fence is elevated on a chunky, rusty metal post.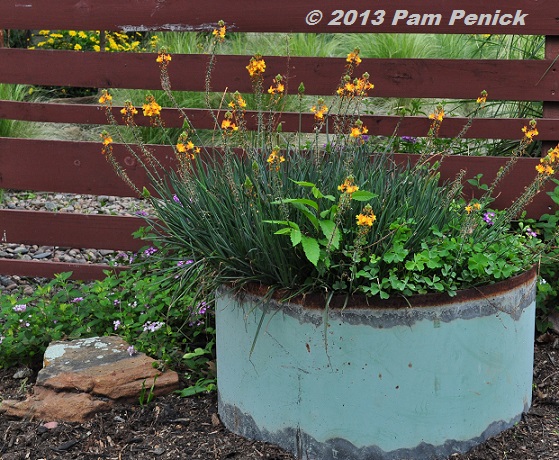 Outside the fence, a second planter sits on the ground.
Contemporary with Red Lines & Metal Fence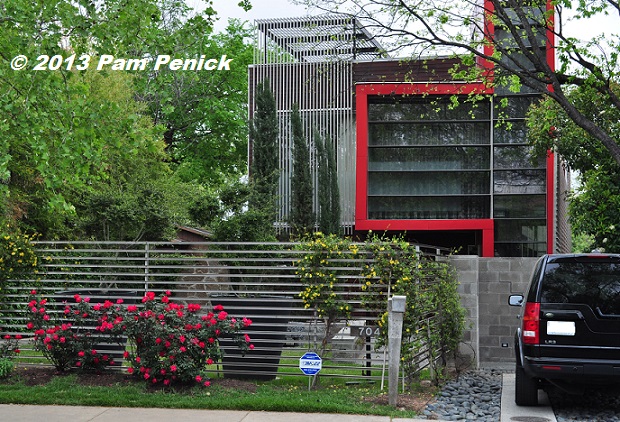 OK, this one still has a lot of lawn, but the house and fence caught my eye, as did the stoplight-red Knock Out roses. A lot more could be done with this one to complement the style of the house, don't you think?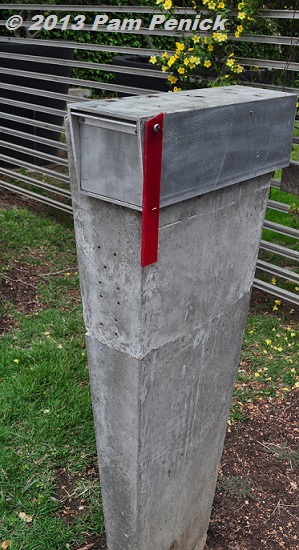 I do like their contemporary mailbox.
Contemporary with Desert Garden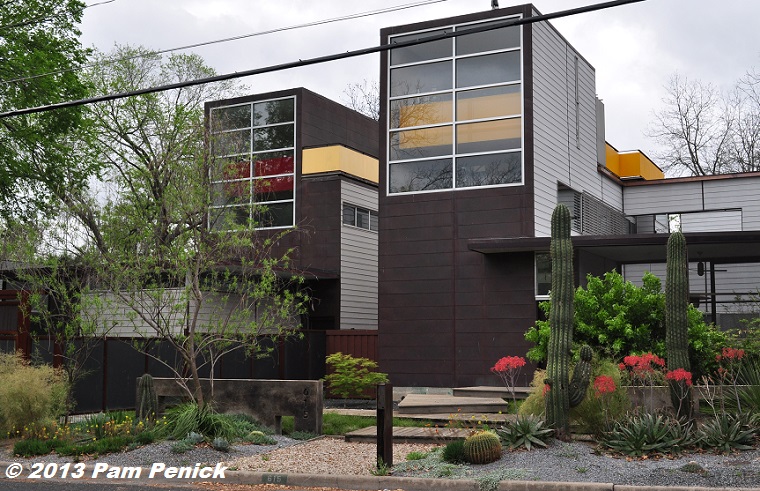 This one may be my favorite based on the garden alone. But wow, look at the house too—kind of like a Mondrian painting. I found a lot of info about this home online. Check out the tour of the interior and owner interview on Apartment Therapy. I also learned that Big Red Sun designed the landscaping.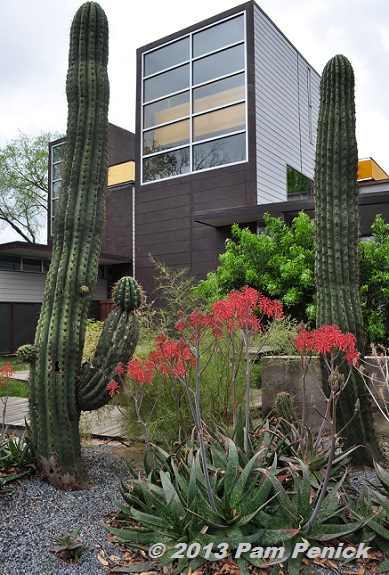 Are any desert gardeners (or Big Red Sun employees) reading this? What kind of cactus are the tall, columnar ones? I've never seen any that big growing in Austin. Update: Two readers have ID'd it as Argentine saguaro (Trichocereus terscheckii). The soap aloes were in full bloom already (my own are just starting to bloom) and eye-catching.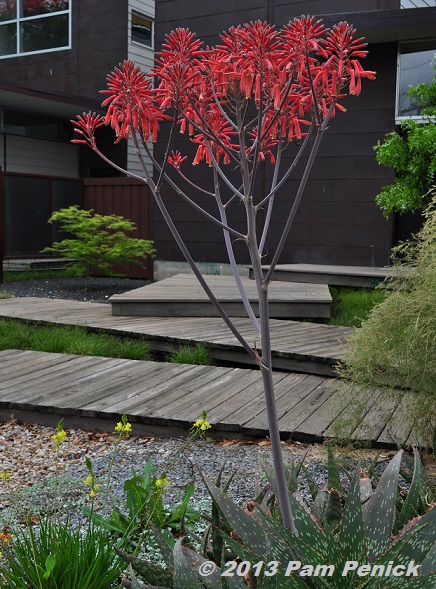 Their coral-red blossoms really stand out against the dark siding on the house.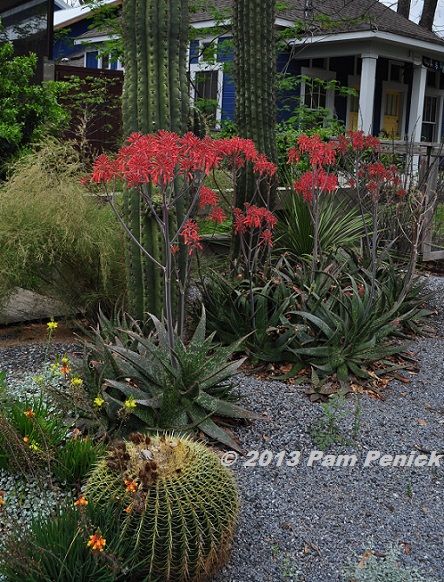 Another view, with golden barrel cactus in the foreground.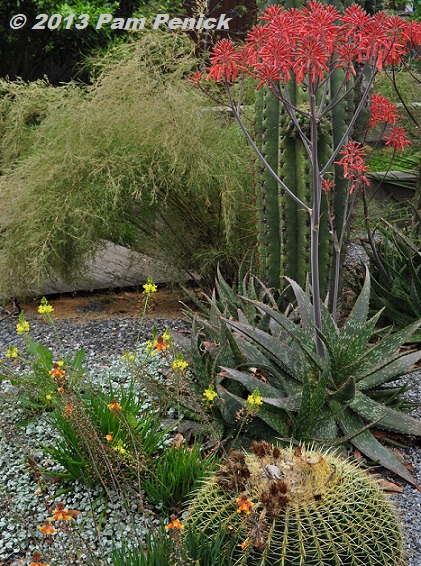 Another view shows drought-tolerant bulbine and bamboo muhly as well.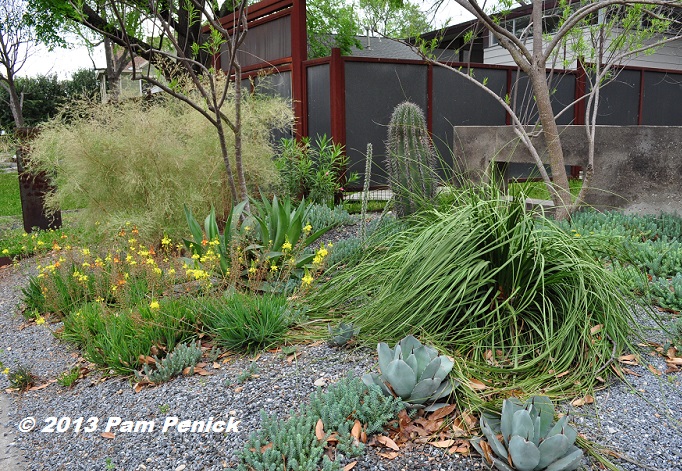 A few agaves, sedum, desert willows, and Lindheimer nolina round out the xeric scene.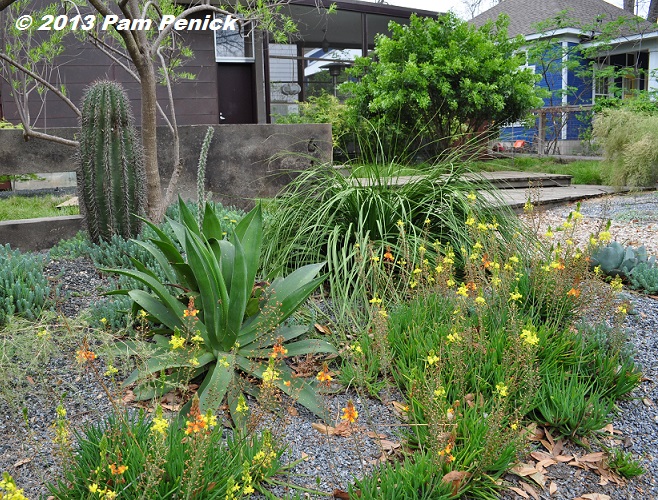 Notice how they slightly bermed this garden and mulched with gravel for sharp drainage. These plants will rot in soggy soil.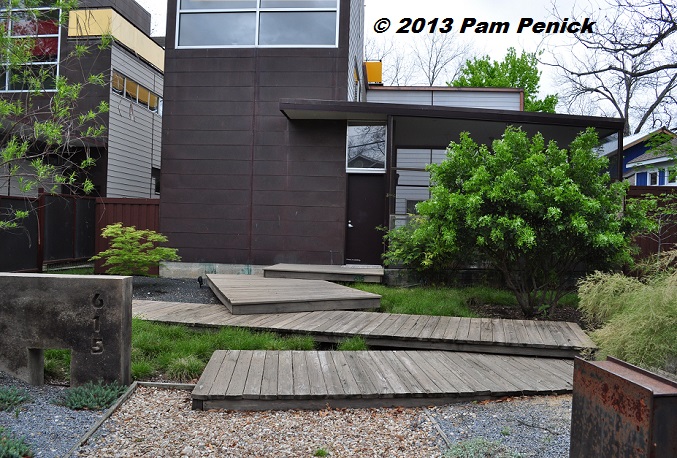 A lusher aesthetic takes hold behind a low wall with the house number carved into it (love!). A Texas mountain laurel on the right is underplanted with some type of sedge—maybe Texas sedge? The Japanese maple in gravel (at left) in our hot climate makes me cringe a little; they love cool, moist shade, after all. But I do like the sedge "lawn" that doesn't need mowing. I have reservations about the zig-zagging boardwalk front path. It feels a little too beachy and too haphazard for the clean lines of the house. Wouldn't a floating concrete-paver walk or Corten-edged path have been a better choice? Still, what an interesting low-water garden!
Contemporary with Bamboo Muhly Grass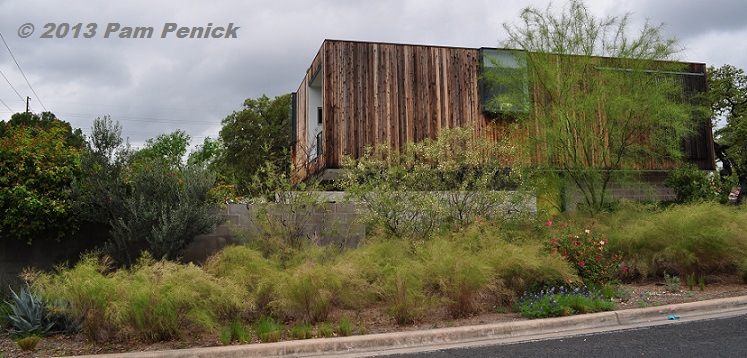 Just a few blocks away on West Mary Street, I slammed on the brakes when I spotted this contemporary home floating in a cloud of chartreuse bamboo muhly grass and airy, xeric trees. With a few clumps of Texas bluebonnets, roses, and steel-blue agaves to set it off, this mass planting is really effective.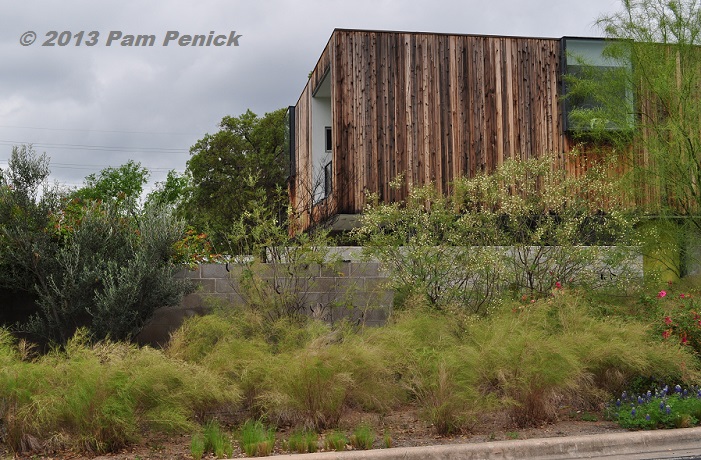 A closer look at this water-thrifty streetside planting.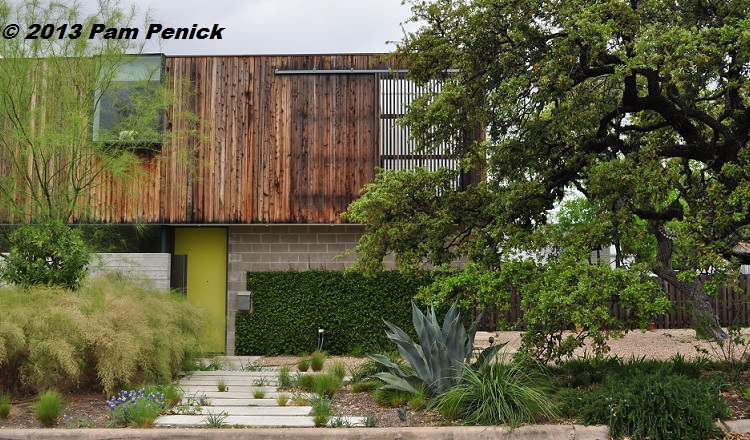 A side entrance reveals a citron-yellow door, playing off the chartreuse bamboo muhly, and an irregular, floating-concrete walk. Agave, nolina, and rosemary add evergreen foliage on the right, and huge oaks lean over a graveled court (for parking?).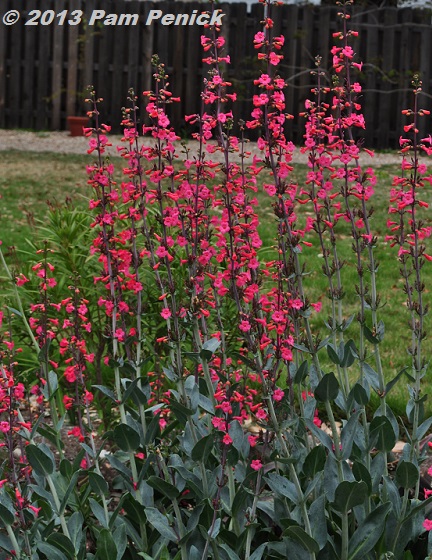 Some patchy lawn remains in back, but this fuchsia penstemon (I think) is what caught my eye. Cool garden!
Bouldin Castle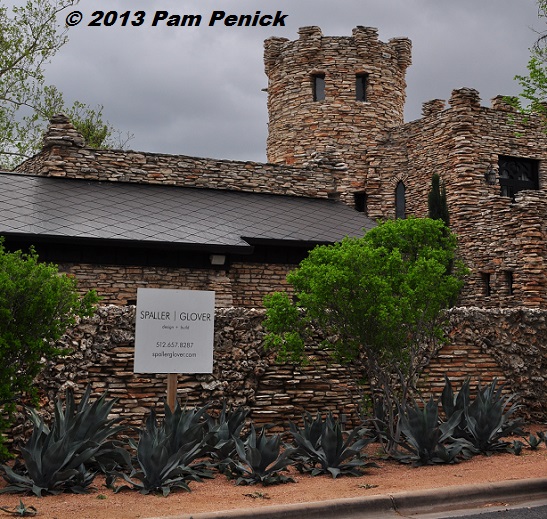 If you don't care for contemporary boxy houses and straight lines, maybe a rugged stone castle is more your style? I'd never come across Bouldin Castle before, located at 715 W. Mary St., but it's apparently quite well known, as I discovered when I looked it up online. Originally constructed in 1925 as a church, the "castle" has been preserved over the years, most recently as a rental vacation house.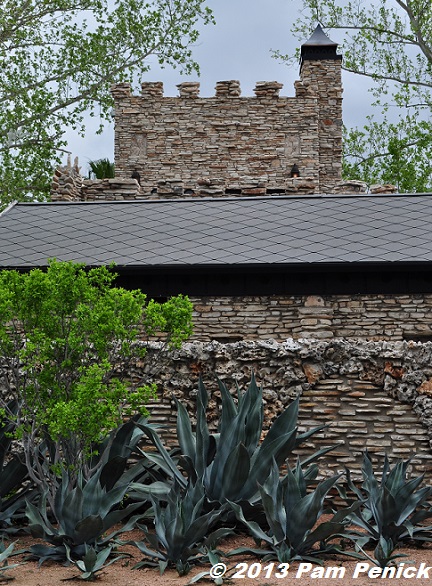 A fortress-like wall hides most of the garden from view. Outside the wall, a spiky "moat" of agaves mulched with decomposed granite, accented with a few xeric trees (Texas persimmon? Texas mountain laurel?), keeps things simple.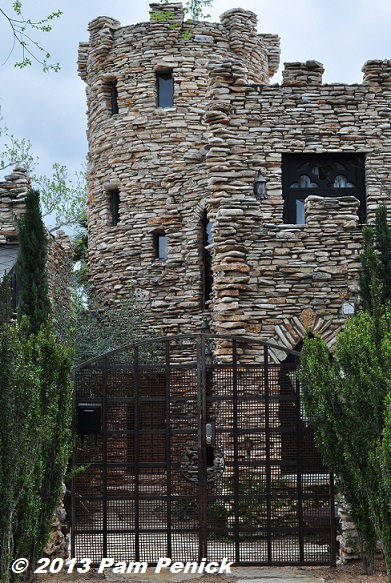 How I'd love to step through that gate and see the rest of the garden and inside the house. Luckily, photos of the fascinating interior and the courtyard garden and lap pool are available online.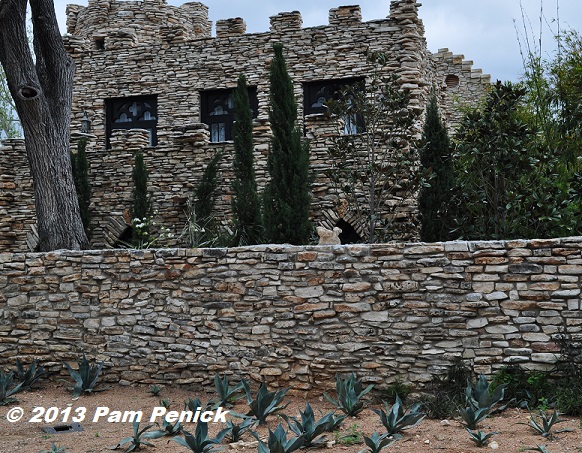 It looks like an eclectic mix behind that wall.
I hope you enjoyed this mini-tour of a few interesting streets in Bouldin neighborhood. All I could think, as I drove and walked around, was how cool it would be to live in such a diverse neighborhood, with so much to see every time you step out the door.
All material © 2006-2013 by Pam Penick for Digging. Unauthorized reproduction prohibited.
posted in
Agaves
,
Aloes
,
Arbors
,
Cactus
,
Containers
,
Design
,
Doors
,
Drive-by Gardens
,
Fences
,
Gates
,
Grasses
,
Lawn Gone!
,
Paths
,
Patios & decks
,
Roses
,
Succulents
,
Trees
,
Vines
,
Walls
,
Wildflowers
,
Xeric plants