December 5th, 2014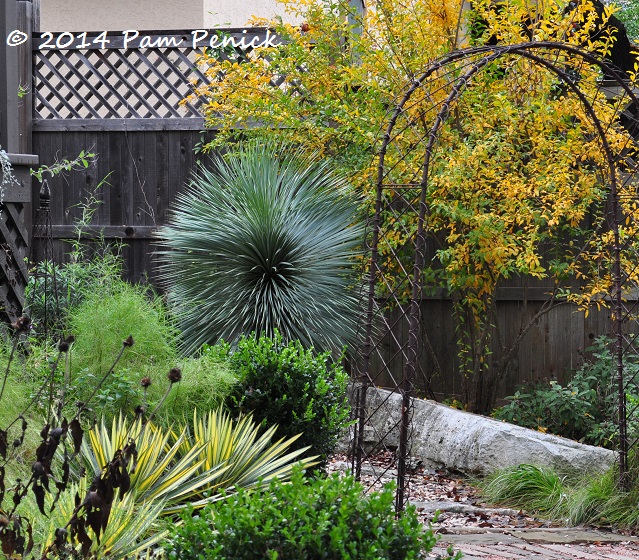 I know many of you have mentally moved on to Christmas. But Austin's fall color comes late, and the golden leaves of my 'Wonderful' pomegranate keep catching my eye through the window while I try to work. So naturally, instead of closing the blind so as to get work done, I got my camera and went outside for a photo op to share with you.

I am really loving the various greens and yellows in this view. The small, yellow-and-green yuccas at left are Yucca filamentosa 'Color Guard'. The tall, blue-green yucca beside the pomegranate is Yucca rostrata 'Sapphire Skies', one of my favorite plants. The dark-green shrub to the right of the pomegranate is a young Texas mountain laurel (Sophora secundiflora), and the clipped shrubs are 'Winter Gem' boxwoods.

Here's the same view from last June. The Yucca rostrata has grown a lot more than I realized this year! (Scroll up for comparison.) And as you can see, I let the purple coneflowers go to seed to feed the birds. They don't detract from the garden's beauty, instead adding their own melancholy tone to a fall scene.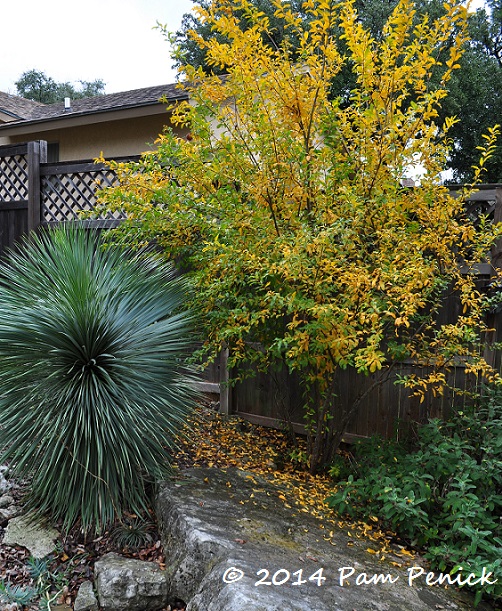 Like most Southern gardeners, I like having a lot of evergreen plants to keep the garden lively during the brief winter. But markers of seasonal change are just as essential, otherwise the garden may as well be a stage set. Don't you agree?
All material © 2006-2014 by Pam Penick for Digging. Unauthorized reproduction prohibited.
posted in
2nd garden--2014
,
Arbors
,
Dragonflies
,
Edibles
,
Fall color
,
Garden art
,
Garden philosophy
,
Paths
,
Ponds
,
Rock
,
Shrubs
,
Stock tanks
,
Trees
,
Water features
,
Xeric plants
,
Yuccas