September 8th, 2015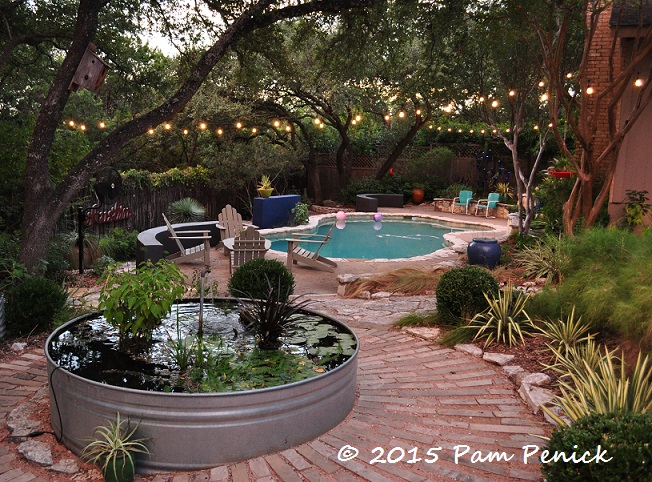 Dusk is falling more softly as summer wanes, and the lingering evening glow is inviting, even if Austin is still hot and dry. Here are a few random shots from a recent walk-around at dusk. (The rest are in my post about foliage gardening apologies.)
This view emphasizes the arcs and circles that dominate the back garden design. The curvy swimming pool and two small, circular patios at each end were installed by the previous owners. I've continued to build on those curves with the stock-tank pond, sunburst paving, and stucco walls. Even the round pot fountain and boxwood balls emphasize the circular theme.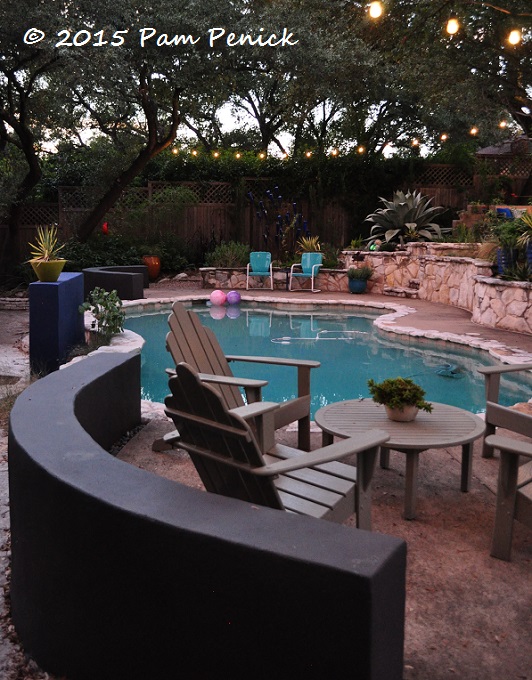 The limestone retaining walls along the back of the house (on the right) were also inherited from the previous owners, and they echo the curves of the pool. The new stucco walls repeat the curves, with modern flair, on the back side of the pool.
The commercial-grade string lights are from the Light Bulb Shop on Burnet Road. I love the soft glow they put out — perfect for parties! Hint: you can buy them online as well as in the store. We had ours wired into an outdoor light switch.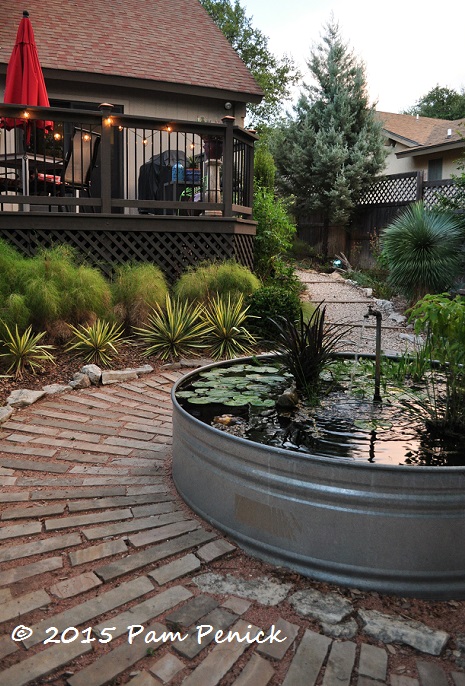 Looking in the other direction, toward the stock-tank pond and back deck. The gravel path leads uphill to the front garden.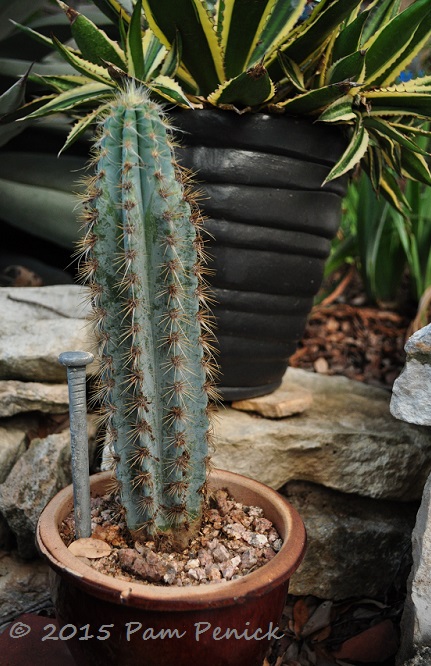 Let's check in on a passalong plant from Reuben Muñoz at Rancho Reubidoux while we're here. Pilo (Pilosocereus pachycladus; do I have another named plant?) survived the spring deluge and has put on an inch or two of growth. Looking good!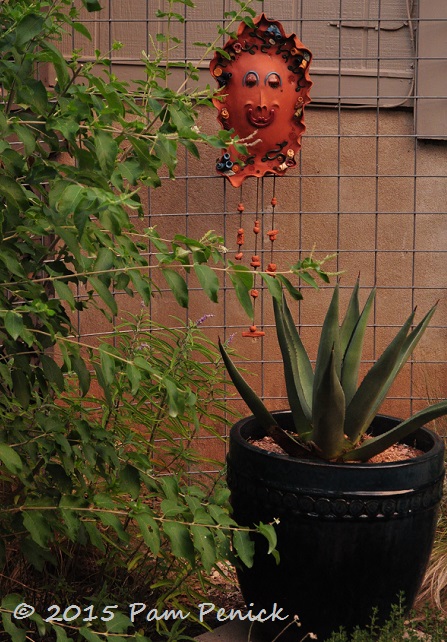 My agave with the deadliest bite, the 'Sharkskin', is growing well too. It doesn't mind heat or drought. I wish I felt the same way. But hey, it's September, and fall is coming.
Right?
All material © 2006-2015 by Pam Penick for Digging. Unauthorized reproduction prohibited.
posted in
2nd garden--2015
,
Agaves
,
Cactus
,
Containers
,
Design
,
Fountains
,
Garden art
,
Lawn Gone!
,
Lighting
,
Paths
,
Patios & decks
,
Ponds
,
Seating
,
Shrubs
,
Stock tanks
,
Swimming pools
,
Trees
,
Walls
,
Water features