July 12th, 2017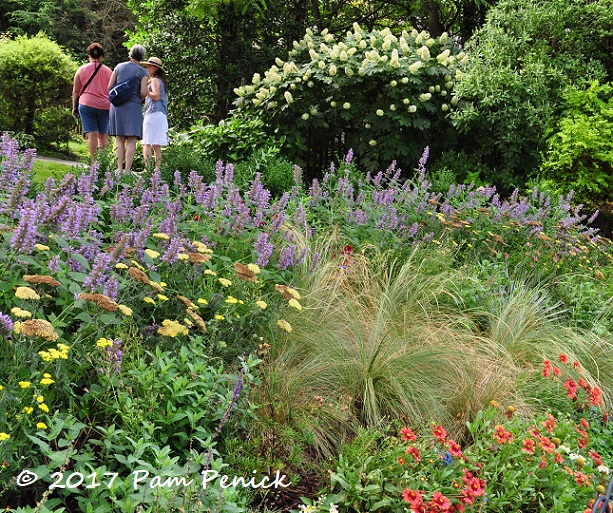 Opening the summer issue of Country Gardens magazine a few days ago, I felt an immediate jolt of recognition at seeing, on pages 10-13, one of the gardens we toured during last month's Capital Region Garden Bloggers Fling. It's the garden of Bethesda, Maryland, designer Barbara Katz, one of the first private gardens we toured and one of my favorites.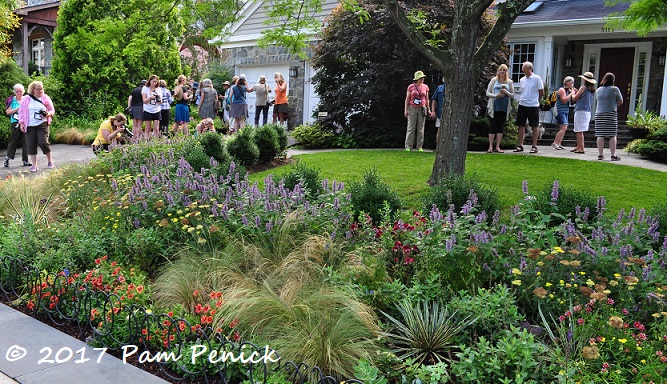 Barbara's front flower garden, a deep curving border around a small oval lawn, is a traffic-stopper — or at least a stopper of 50 eager garden bloggers. But just wait until you see the back garden!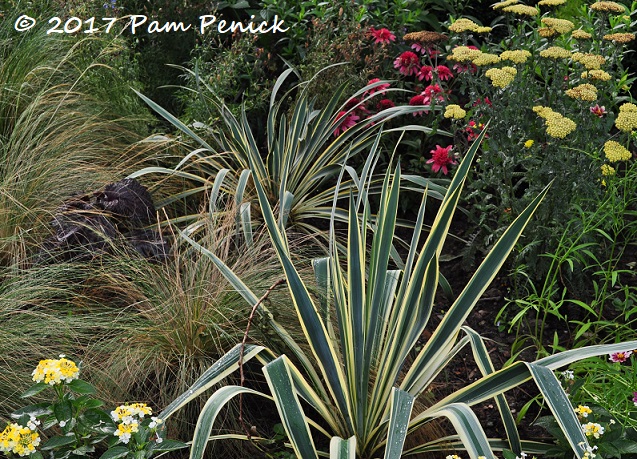 But before we head to the back, let's explore the front. My eye went straight to variegated yuccas ('Bright Edge'?), their lemon-yellow stripes echoed by yellow yarrow, yellow-and-white lantana, and tawny Mexican feathergrass (I think) — a combo that would be at home in Austin.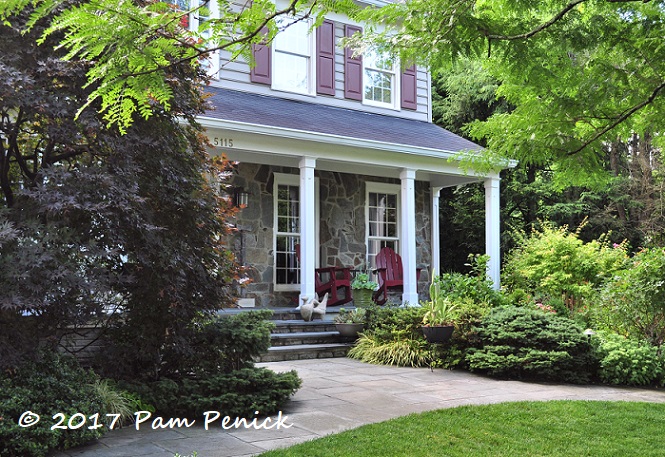 A curving stone walk leads past shrub plantings to a front porch with red Adirondack rockers…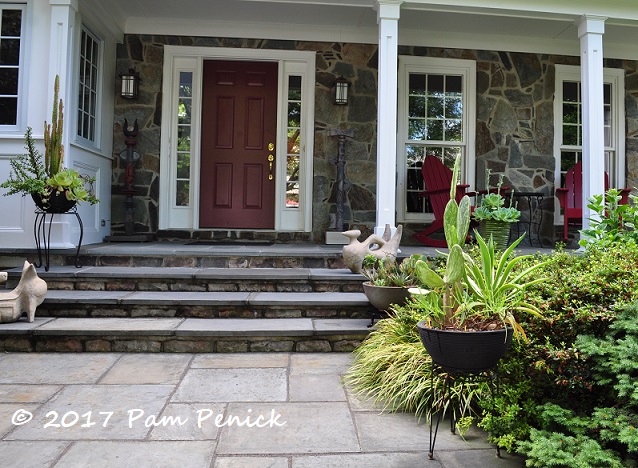 …and two plant stands with eye-catching succulent combos.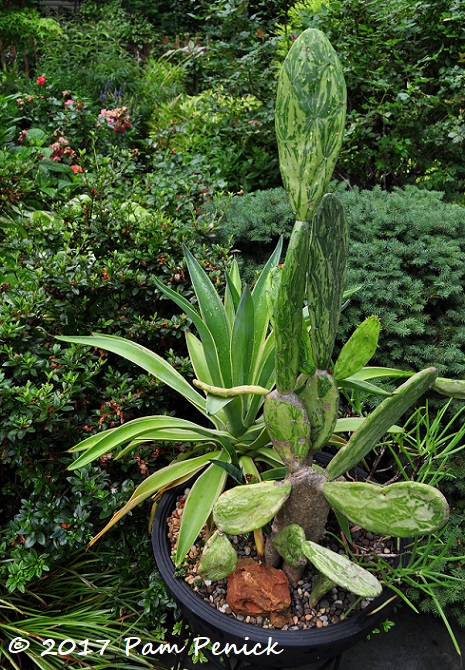 A variegated spineless prickly pear and Agave desmettiana fill one planter.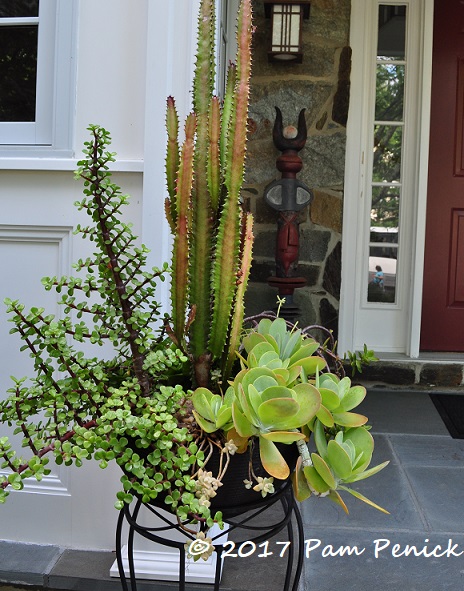 In the other, a spiny euphorbia stands tall with a paddle plant and Portulacaria afra (thanks for the ID, Diana!).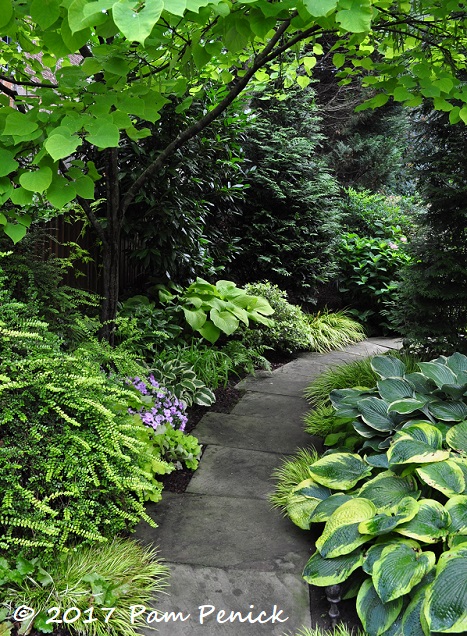 There was much to see out here, but I wanted to make sure I didn't miss out on the back garden, so I headed along the side-yard path. No throw-away space here but rather a golden shade garden with hostas, sedge, and a redbud tree (maybe 'Hearts of Gold'). Dark-green shrubs in the background make the golds pop.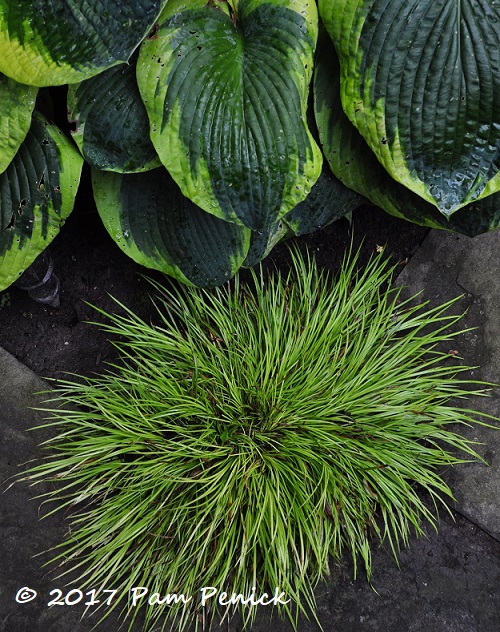 Foliage detail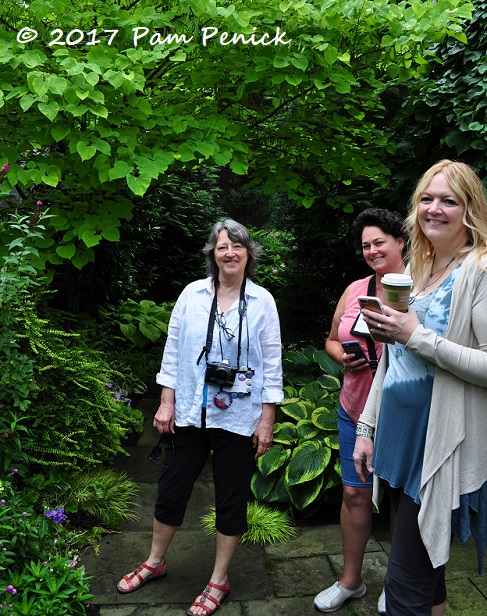 A few blogger friends stopped here to admire the plant combos too, including Gail, Tracy, and Jennifer.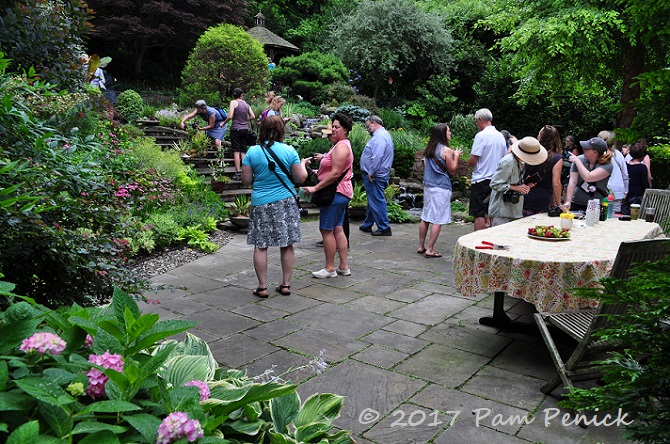 Entering the back garden, where a generous stone patio bridges house and garden…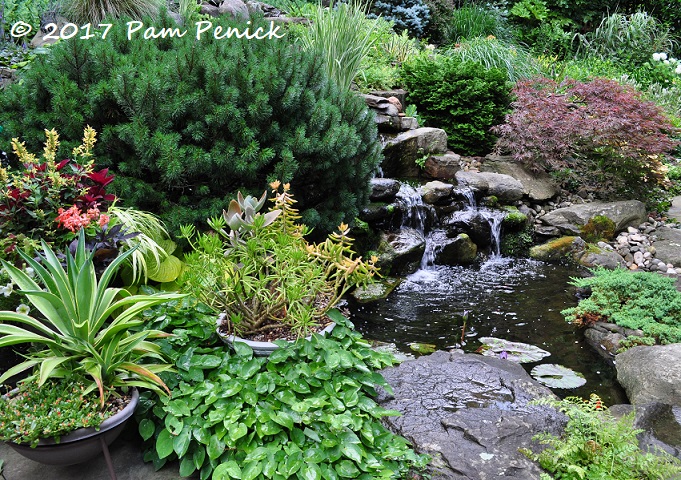 …you're led to a small pond and waterfall…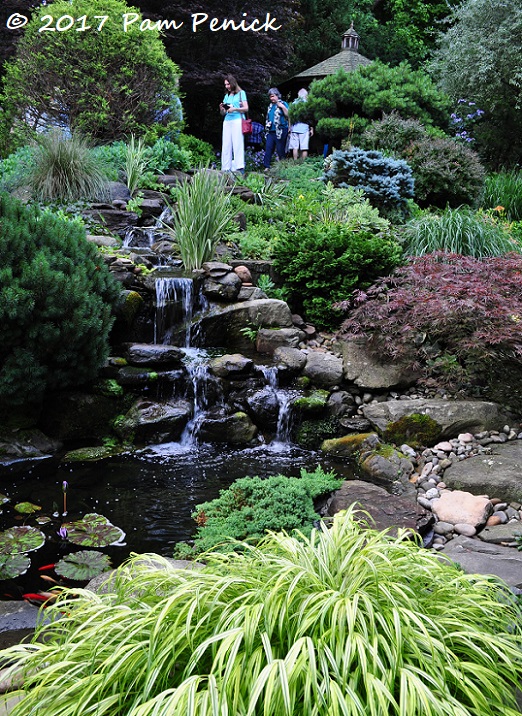 …that stair-steps down from the top of a 12-foot slope, where a gazebo roof entices you to climb up and explore.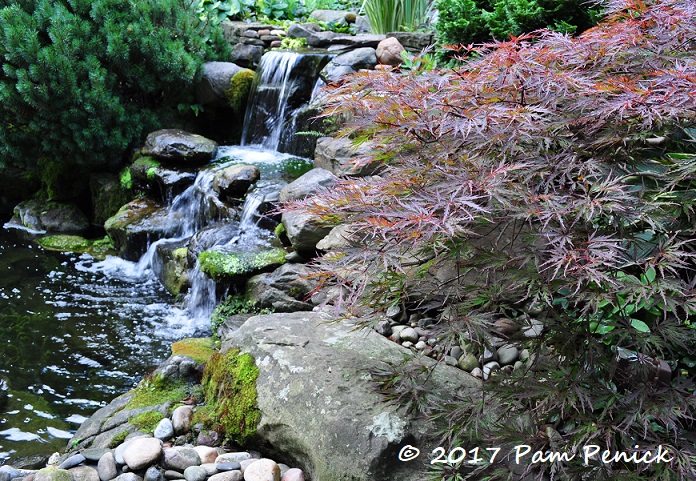 What an oasis…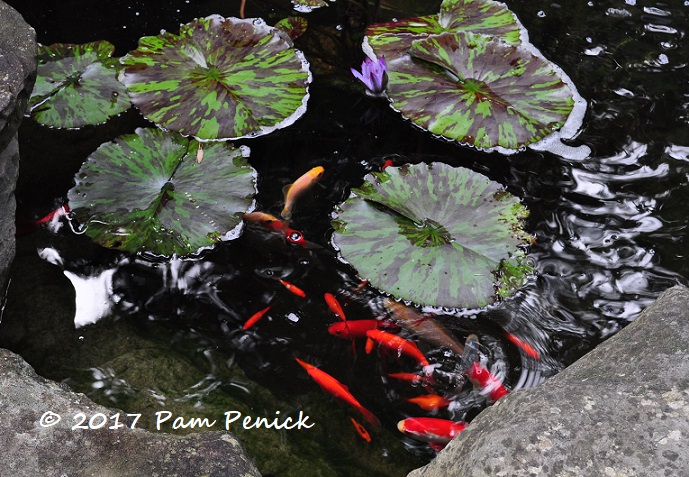 …and not just for goldfish.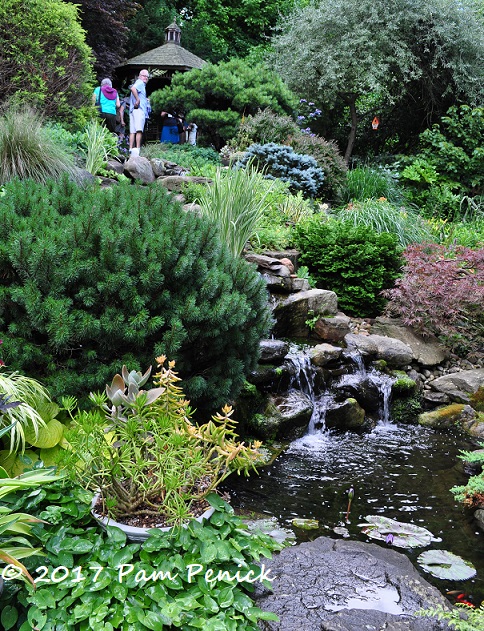 Barbara told us that she'd created this garden for clients who later decided to move. Spontaneously, she and her husband purchased the home in order to acquire the garden. She laughingly told us that in this way she was able to get a professionally designed garden — her own — without having to pay for it.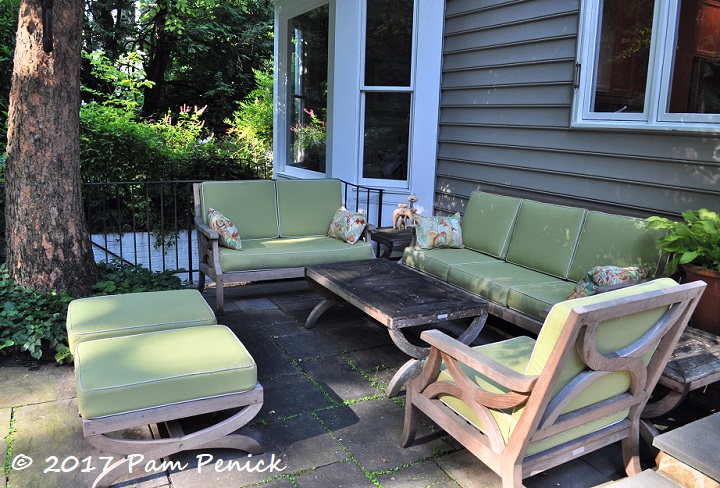 I doubt she ever sits down in her garden, but this comfortable seating area in the shade of a tall tree is inviting.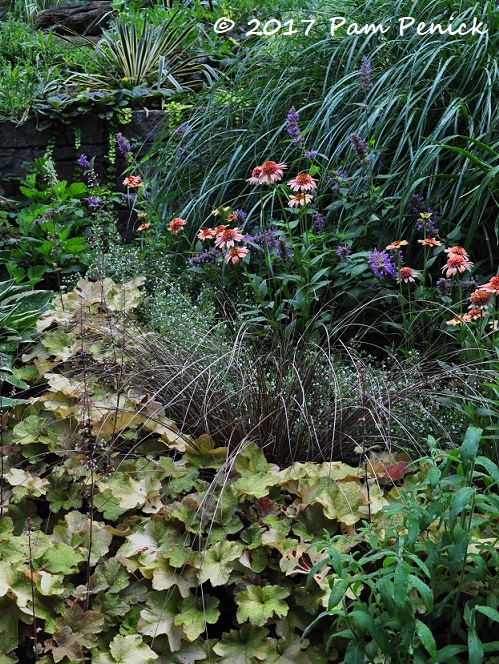 Barbara pays careful attention to color combinations, both flowers and foliage. One side of the back garden is planted with an orange, white, and purple color scheme.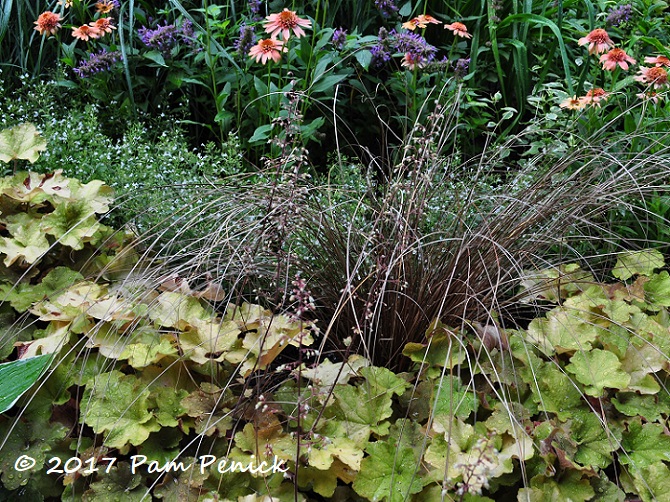 Caramel-tinged heuchera, New Zealand sedge, and an orangey peach echinacea. Update: Barbara kindly identified the sparkly white flower as a catmint (Calamintha 'White Cloud').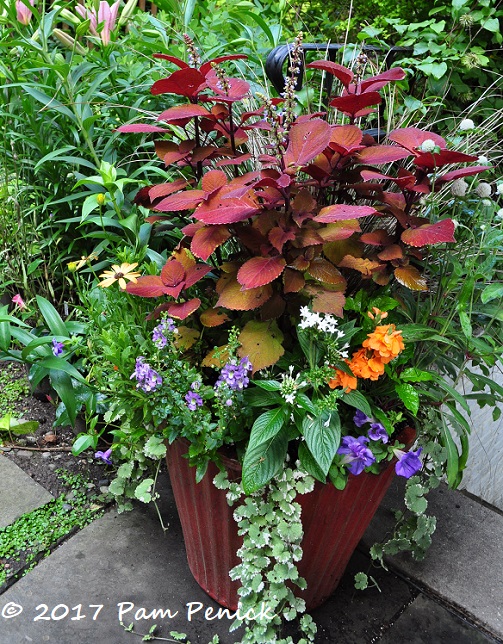 Rusty orange coleus matches a rusty orange planter.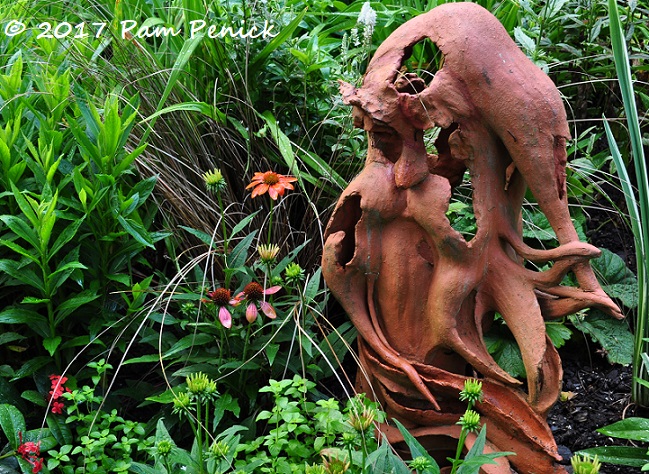 Even the garden art plays into the color scheme.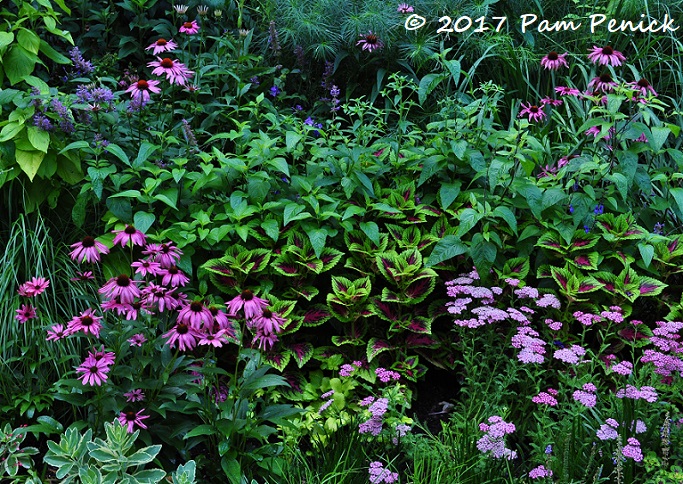 The other side of the garden features yellow, pink, blue, and maroon plants.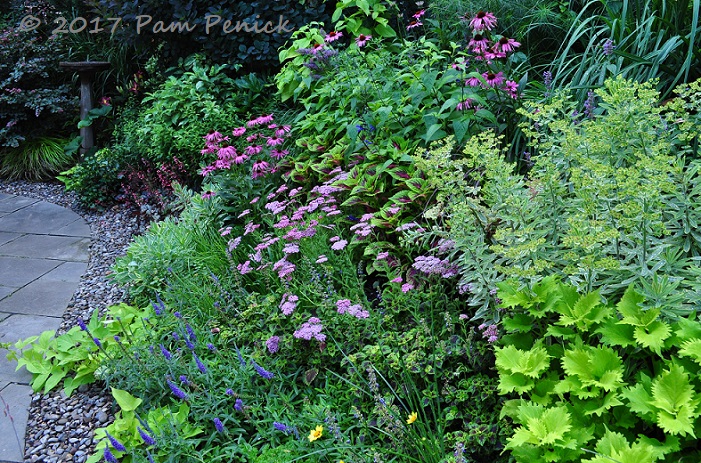 Which is your favorite?

Purple-leaved loropetalum and a purple-pink daylily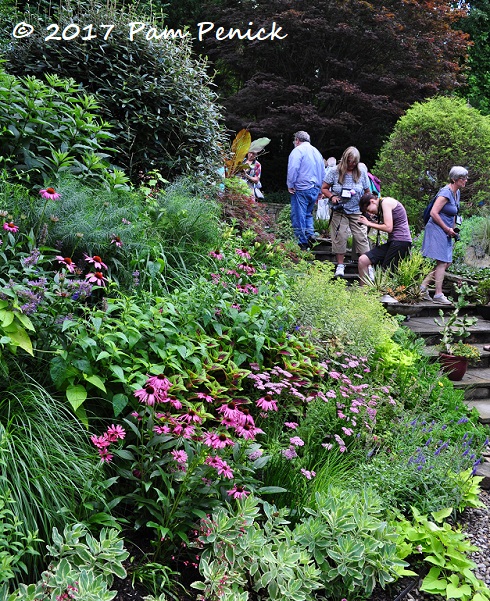 Now let's climb the steps up the slope…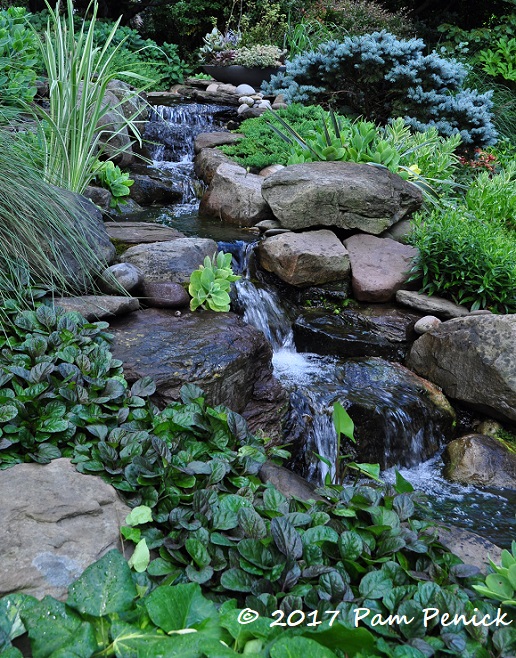 …stopping to admire the falling stream, which looks completely natural…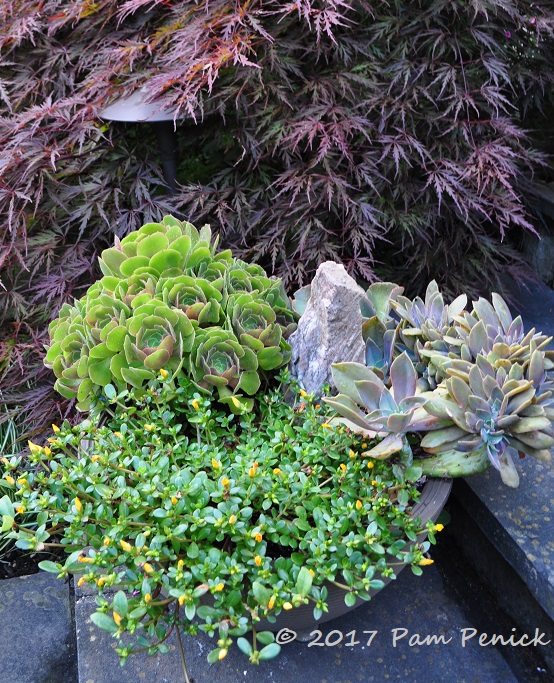 …and beautiful planters on the steps.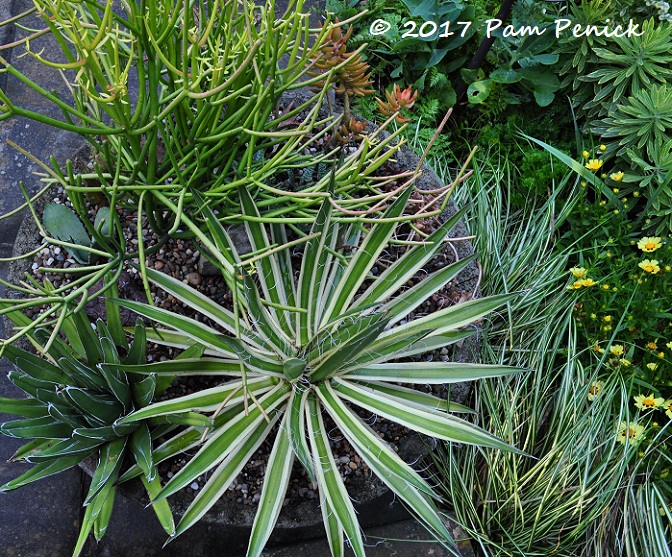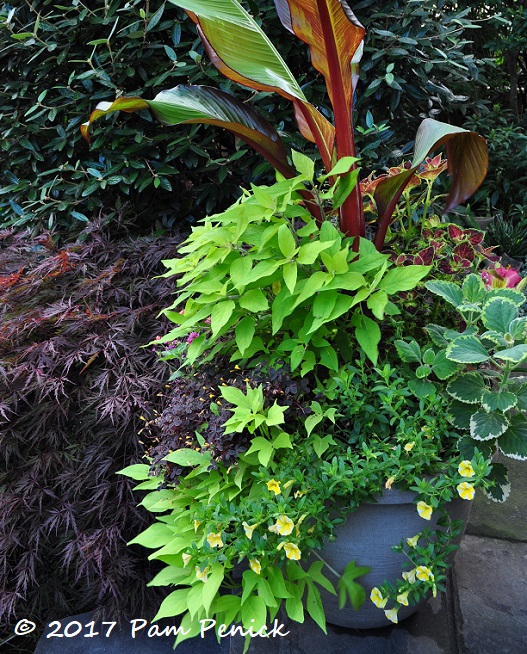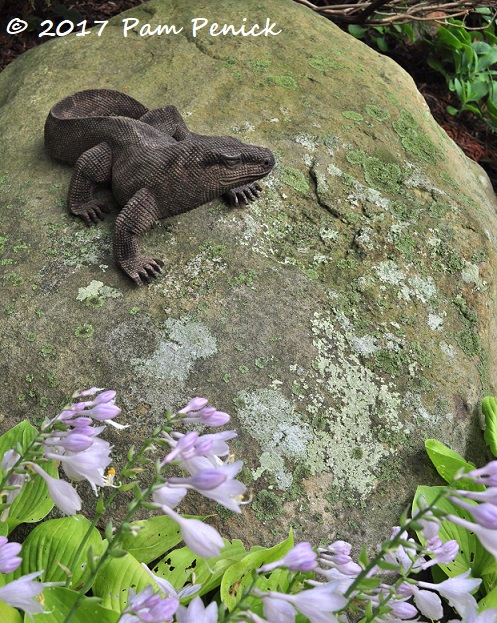 I enjoyed Barbara's playful garden art, like this lizard seemingly sunning himself on a boulder…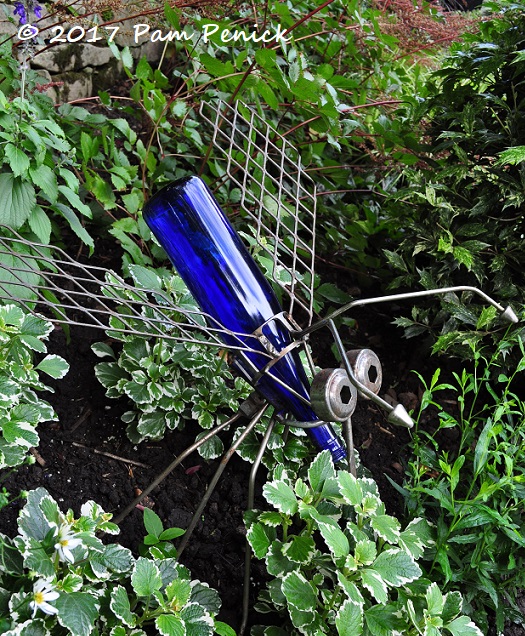 …and this "bottle fly."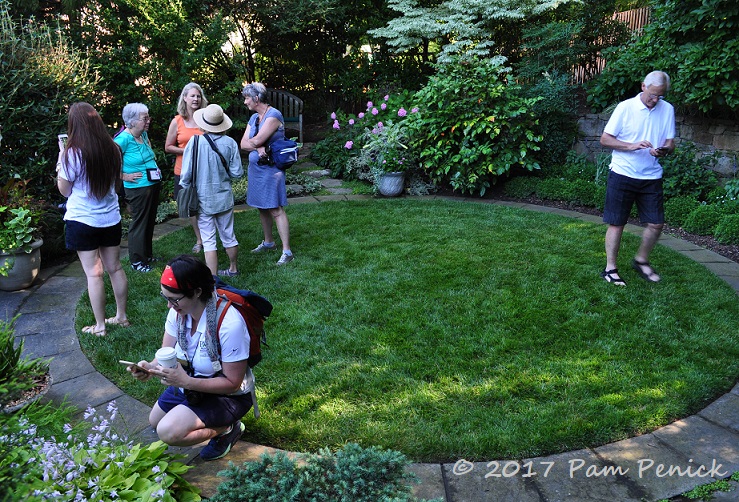 You enter the upper garden via a perfect circle of emerald lawn, a calm counterpoint to the lush garden beds. Behind the pink hydrangeas on the far side of the circle (near owner/designer Barbara in the orange tank top)…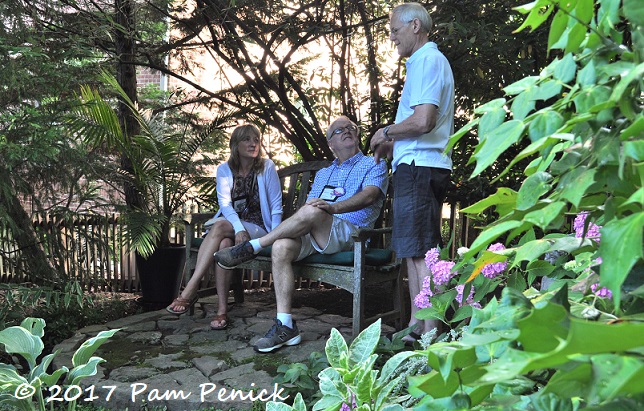 …a path leads to a nearly hidden stone patio and bench. Here are Garden Design publisher Jim Peterson and his wife, Val, chatting with Barbara's husband.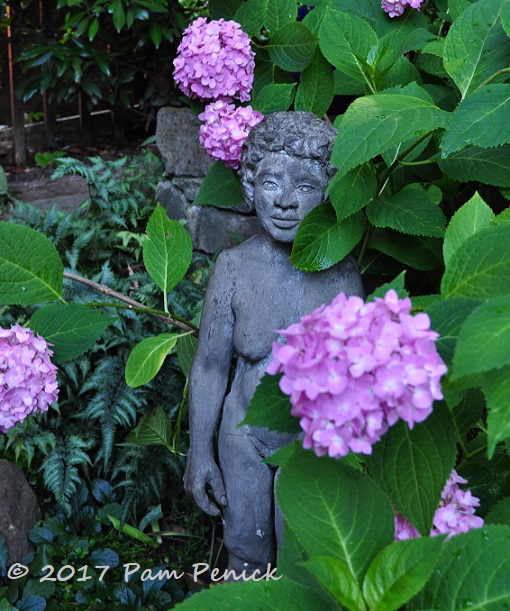 Tucked amid the hydrangea blossoms, a woman's face peeks out.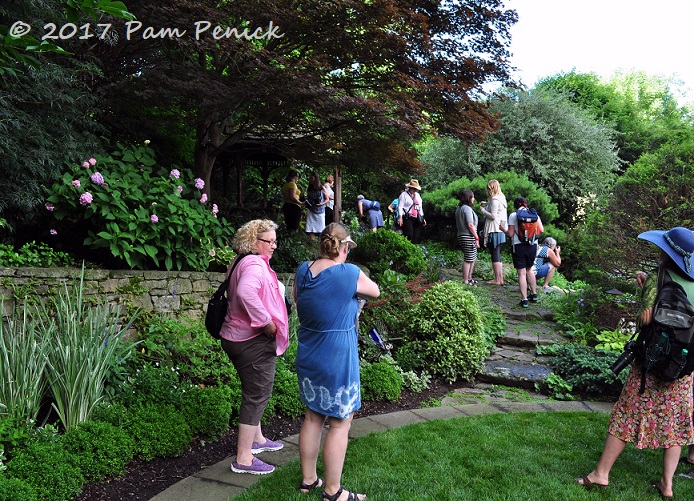 A more-traveled path beckons across the top of the slope…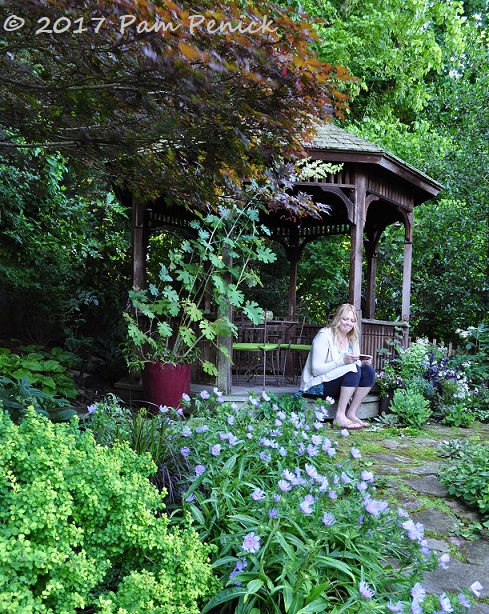 …leading to a woodsy gazebo.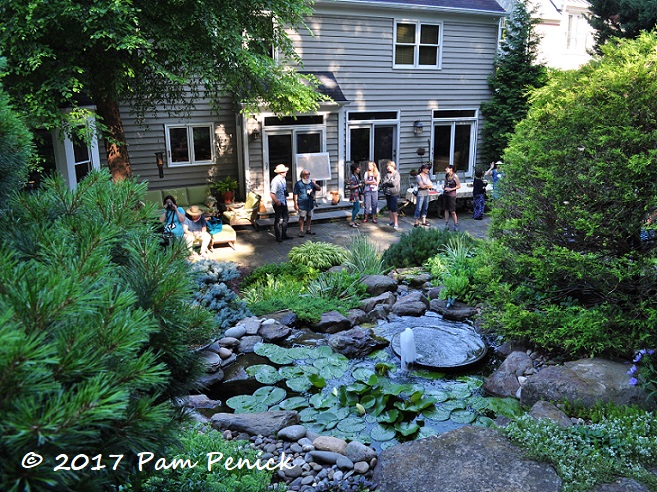 From here you enjoy a view of the house and lower patio and an upper pond with a bubbling fountain.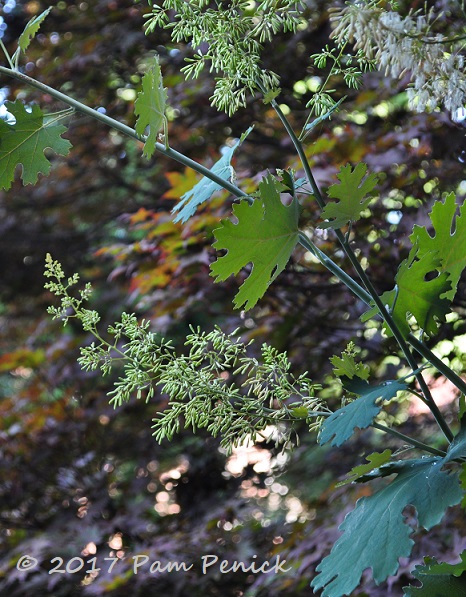 This plume poppy (Macleaya cordata) stands tall in a pot near the gazebo (see the gazebo picture, above), so pretty against a burgundy Japanese maple.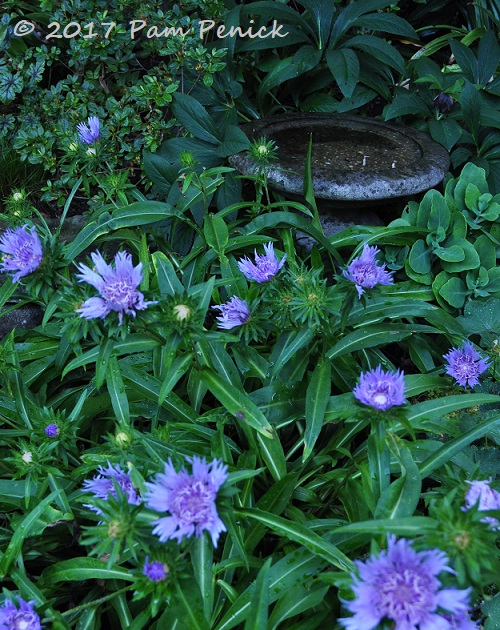 Stokes' aster 'Klaus Jelitto' in full bloom alongside a shady birdbath. On her Facebook page, Barbara recently wrote that the aster is "still going strong after 22 years in the exact same spot, with zero maintenance."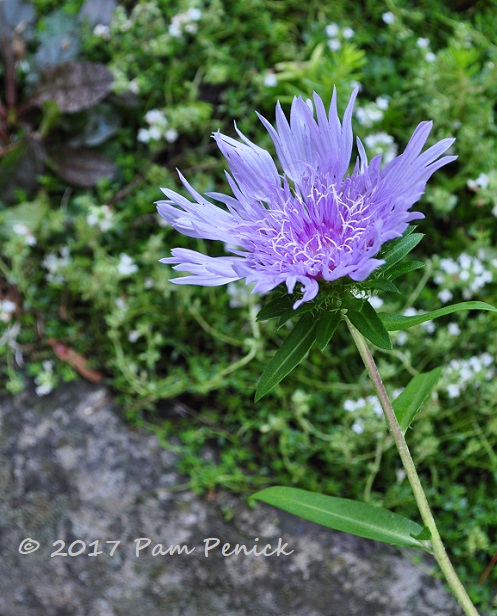 A closeup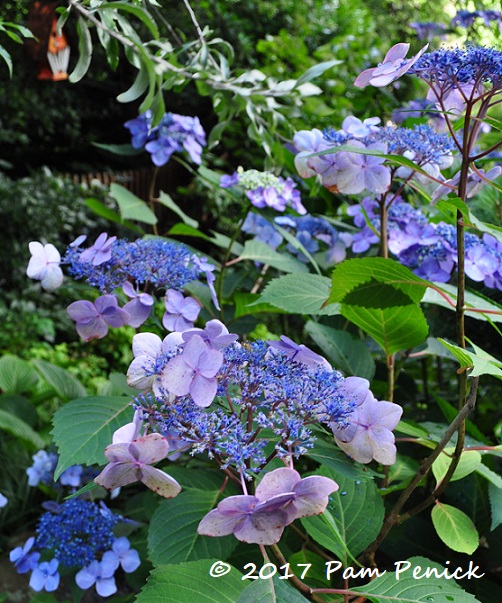 A lilac-and-blue lacecap hydrangea harmonizes…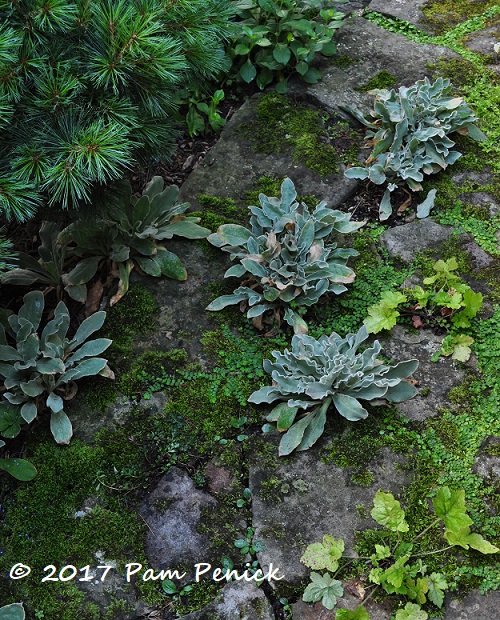 …as do these cute little plants growing in the cracks of a mossy stone path — rose campion?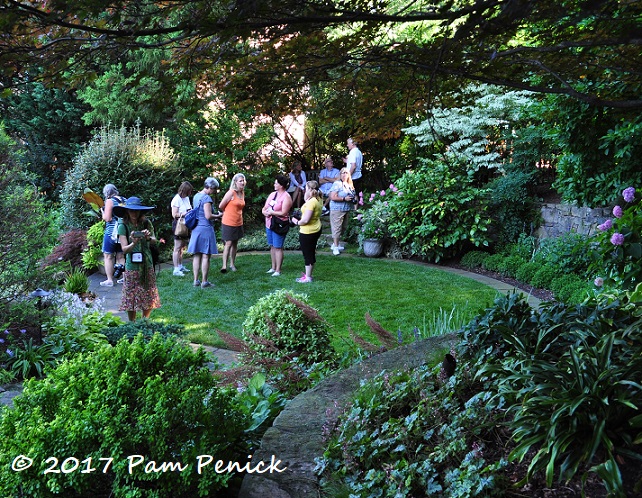 Looking back to the circular lawn — what a stunning space!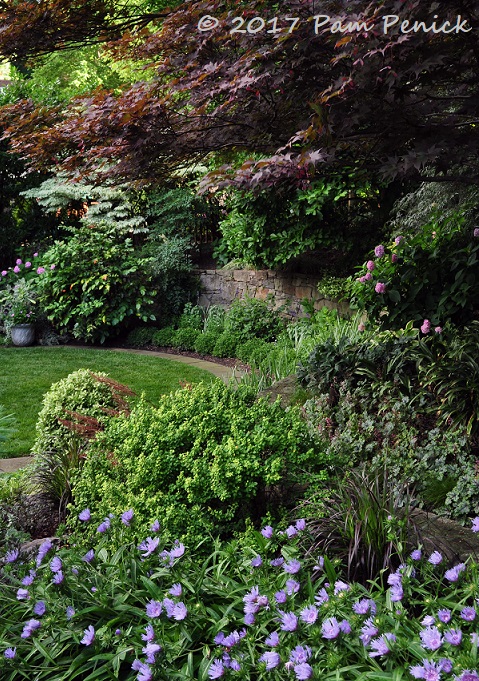 There's not an inch of this garden that didn't wow me. I'm thrilled to have been able to visit.
Up next: Scenes from Brookside Gardens and a Patrick Dougherty twig sculpture. For a look back at the whimsical woodland garden of Ellen Ash, click here.
I welcome your comments; please scroll to the end of this post to leave one. If you're reading this in a subscription email, click here to visit Digging and find the comment box at the end of each post.
_______________________
Digging Deeper: News and Upcoming Events
Book Giveaway! I'm giving away a copy of a fun new book, Potted, that'll inspire you to DIY your own uniquely cool garden planters for porch, patio, or deck. Just leave a comment on my giveaway blog post to enter (click the link and comment there), and good luck! The giveaway ends Friday, July 14, 2017.
Get on the mailing list for Garden Spark Talks. Inspired by the idea of house concerts, I'm hosting a series of garden talks by talented designers and authors out of my home. Talks are limited-attendance events and generally sell out within just a few days, so join the Garden Spark email list for early notifications. Simply click this link and ask to be added.
All material © 2006-2017 by Pam Penick for Digging. Unauthorized reproduction prohibited.
posted in
Agaves
,
Bugs
,
Cactus
,
Color
,
Containers
,
Daylily
,
Fish
,
Fling DC/VA
,
Flowers
,
Fountains
,
Garden art
,
Garden structures
,
Garden tours 2017
,
Grasses
,
Groundcovers
,
Hillside
,
Lawns
,
Lizards
,
Paths
,
Patios & decks
,
Ponds
,
Porch
,
Rivers & creeks
,
Rock
,
Sculpture
,
Seating
,
Shrubs
,
Succulents
,
Summer color
,
Travel
,
Trees
,
Walls
,
Water features
,
Water gardening
,
Waterfalls
,
Yuccas